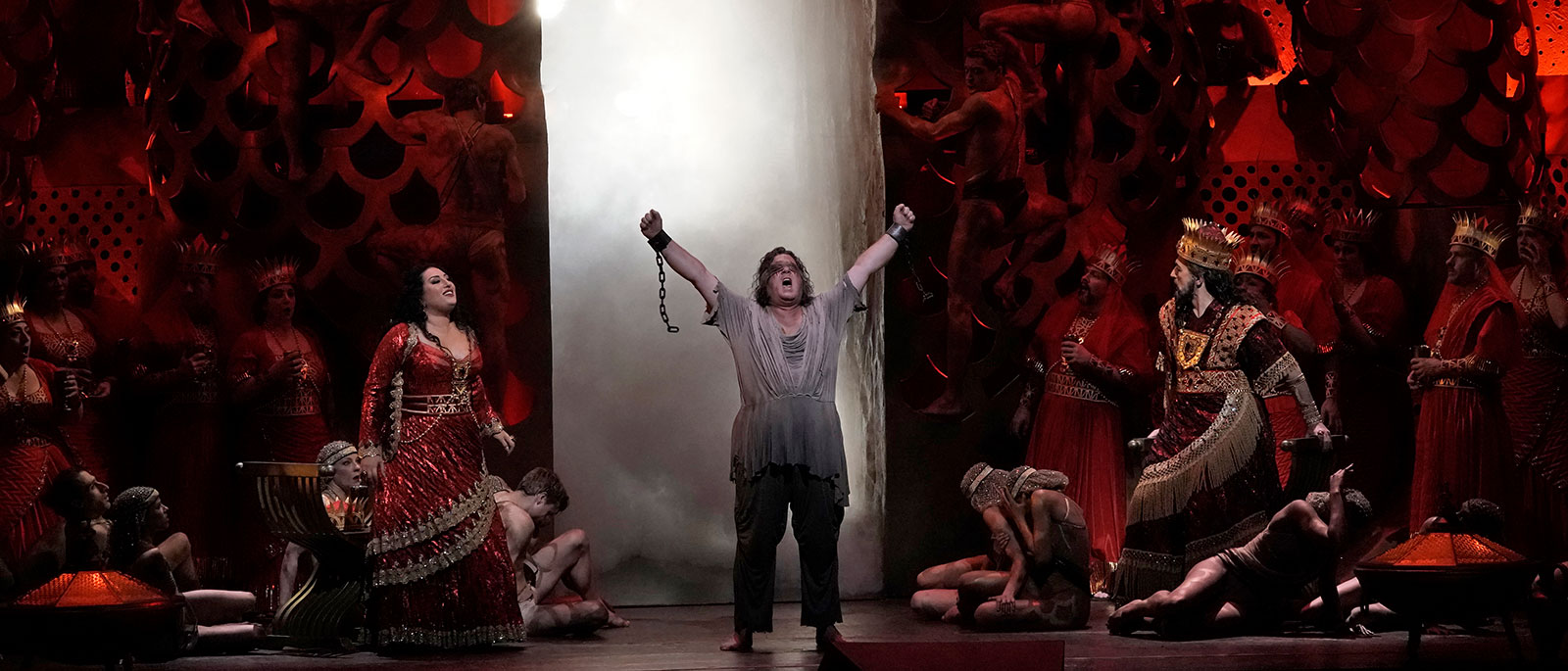 Eleventh-Hour Hero
A surprise appearance in Samson et Dalila has brought much attention to American tenor Gregory Kunde, who stepped in at the last minute to replace an ailing colleague. In advance of Kunde's remaining performances as Samson, the Met's Joel Rozen examines the late-career success of the man electrifying press and public alike.
Last Wednesday's return of Saint-Saëns's Samson et Dalila to the Met was expected to mark a watershed moment for one its stars. Mezzo-soprano Anita Rachvelishvili seemed a perfect fit for the role of the biblical temptress, and she had already triumphed twice this season, in both Aida and Adriana Lecouvreur.
Rachvelishvili did indeed triumph a third time—yet the surprise was that after opening night, she was sharing the headlines with an unexpected co-star, tenor Gregory Kunde.
"A surprise tenor jolts the Met Opera's Samson," marveled the New York Times.
"Kunde proves a hero in every sense of the word," declared the Observer.
If critics seemed a bit stunned by Kunde's performance, it was because the veteran tenor wasn't scheduled to be onstage in the first place. Called in at the last minute to replace an ill Aleksandrs Antonenko at the top of Act II, Kunde had only arrived in New York a few hours before he went on. His family didn't even have time make it into the city from upstate in time to catch his sudden jump-in.
Audience members and critics were thrilled to discover a star. As Zachary Woolfe wrote for the New York Times, "Mr. Kunde had a beautiful success as Samson, singing with clear, strong, focused tone and acting with moving reserve."
Still, those familiar with Kunde's career know that the replacement was far from a gamble: At 65 years old, Kunde has cemented an international reputation as a seasoned professional, a performer of great versatility, and a reliable team-player who has headlined operas as diverse as Les Huguenots, Don Pasquale, A Life for the Tsar, Les Troyens, and Aida. He made his Met debut in 1987 as Des Grieux in Manon and last appeared with the company in 2007.
Originally from Illinois, Kunde began honing his craft as a florid practitioner of high notes in the apprentice program at the Lyric Opera of Chicago, where his easy high C nabbed him an early debut singing Cassio in Verdi's Otello in 1978.
Although he could handle the darker material—he dazzled as Tybalt at the Opéra de Montréal in 1986—Kunde soon proved himself an expert in the elegant repertoire of Bellini, Rossini, and Donizetti. He took star turns, for example, at Italy's Rossini Opera Festival, where he impressed as Idreno in Rossini's Semiramide, and as Rinaldo in an incandescent 1996 concert performance of Rossini's Armida at Carnegie Hall, alongside Renée Fleming.
In the early 2010s, however, he was surprised by the thickening and deepening of his tenor into a more dramatic range. "I was just a bit confounded because it was getting more difficult to sing the bel canto repertoire," he said in a 2017 interview. "My voice was getting heavier … It became a different sound, and a little more difficult to sustain." Kunde suddenly had to prove his newfound dramatic heft to agents and operagoers, and he did so in convincing fashion in November 2012, making his Venice debut as Verdi's Otello and becoming one of only a small handful of tenors to sing both Rossini's and Verdi's treatments of Shakespeare's tragic hero in the same year.
Over time, Kunde also developed a compelling stage presence, combining economy of movement and unshakeable focus. In the Met's Samson, he brings much of this steely pathos to the title role. Take his Act III aria "Vois ma misère, hélas," in which the audience's focus is entirely on Samson. Or, in a more subdued episode, how he tenderly embraces Rachvelishvili during one of her own big arias, "Mon cœur s'ouvre à ta voix." The end result is a characterization greater than the sum of its parts, which, as the New York Times remarked, achieves "genuine nobility." Combine that with a "cleaner, more robust voice than many tenors a generation younger," and it's no wonder his performance was met with such enthusiasm.
Audiences can catch Kunde's final two performances as Samson, opposite Rachvelishvili's "exhilarating" (New York Times) Dalila, on March 19 and March 23.


Joel Rozen is the Met's Staff Writer.