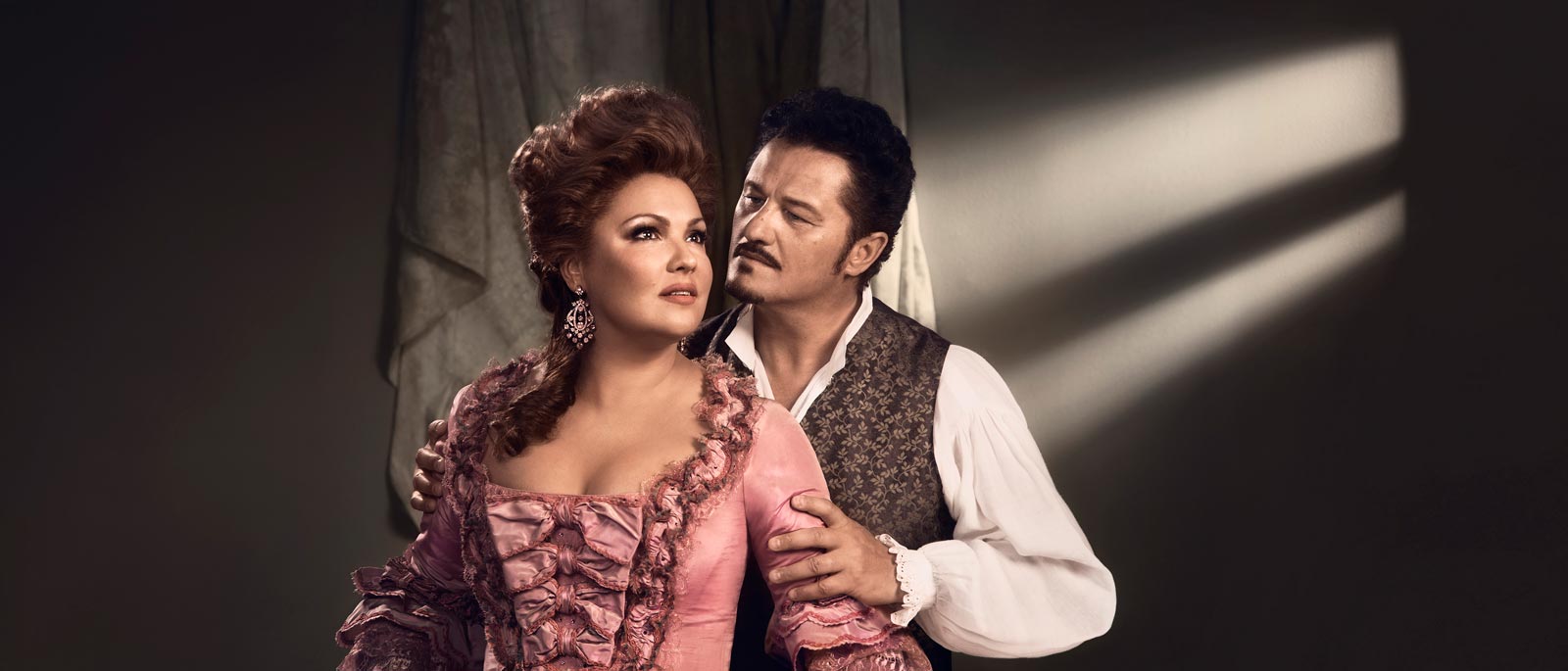 Drama Queen
October 15th, 2018
On New Year's Eve, Francesco Cilea's Adriana Lecouvreur returns to the Met with soprano Anna Netrebko in the touchstone title role. She teams up with tenor Piotr Beczała as her lover, Maurizio—a brilliant pairing of stars fresh off a joint triumph in performances of Adriana in Vienna. Mezzo-soprano Anita Rachvelishvili rounds out the all-star principal trio, and maestro Gianandrea Noseda is on the podium. Sir David McVicar's new staging—the Met's first new production of the work in more than half a century—embraces Cilea's glamorous 18th-century Parisian setting but also mines for deeper artistic significance in an opera that is often underestimated. By William Berger
The real-life 18th-century French actress Adrienne Lecouvreur (1692–1730) was the celebrity sensation of her day. Onstage, she was both adored and reviled for her emotionally frank, naturalistic method of performing—a shock to the senses for a public accustomed to the staid, mannered styles that had long ruled French theaters. Meanwhile, offstage, scandal was her constant companion. Often embroiled in feuds with her numerous romantic (and theatrical) rivals, Adrienne had children by various men and liaisons with many more, including one especially notable affair with the handsome soldier Maurice de Saxe. A legend in his own right, Maurice was the illegitimate son of the king of Poland and a hero on the battlefield. He was equally distinguished in the boudoirs of Paris, where he fathered several illegitimate children of his own. When Adrienne died suddenly and mysteriously at the age of 37, thousands of wagging tongues quickly fanned the sparks of rumor into the roaring blaze of fact and fantasy that myths are made of. Public consensus pinned the actress's demise on her imperious rival, the Princess of Bouillon, who was suspected of having engineered Adrienne's premature final curtain call with a most theatrical murder weapon—a bouquet of poisoned violets.
Such a tantalizing blend of history, drama, and lurid gossip cries out for operatic treatment—and a commanding star to portray the larger-than-life central character. This season, New York audiences will get both. On New Year's Eve, for the first time since 1963, the Met will premiere a new production of Francesco Cilea's deliciously red-blooded Adriana Lecouvreur, with reigning diva Anna Netrebko—the obvious choice to sing the title actress—making her Met role debut as Adriana. Cilea's opera provides music of unique splendor for its leading lady, and in fact, dazzling star power is essential to the opera, as director Sir David McVicar explained when he was staging his production for the first time at London's Royal Opera in 2010. "There is little point in doing Adriana Lecouvreur unless you have a grand diva because that's what it's about," he said. "It is absolutely about the act of performing."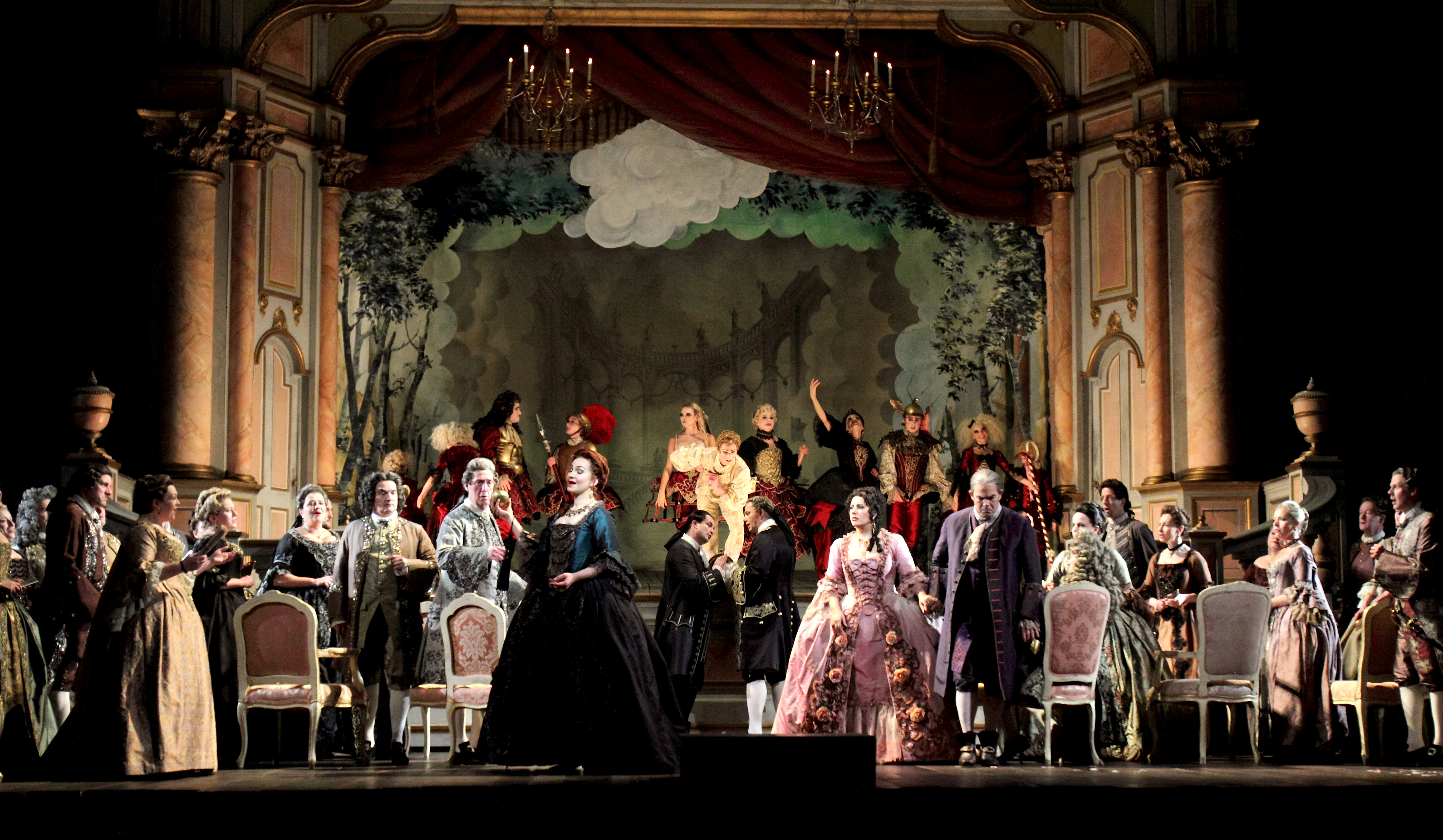 McVicar's choice to direct this opera came as something of a surprise: He had previously made his mark with operas that addressed more obviously political and sometimes controversial themes than the idealized romanticism people associated with Adriana. The director, however, saw the deep conflicts lurking beneath the drama's Rococo trappings. The physical production revels in the unsurpassed elegance of the period—crucial because its glories and treasures, as well as its hypocrisies and failures, lie at the heart of the intense drama. And McVicar believes that the political issues of the story are emphasized, rather than covered up, by the luxuriousness of the setting, particularly in the theatrical world that is evoked. "It's a stage within a stage, and we're never quite sure who is performing and who is telling the truth." A replica of a Baroque theater, seen from multiple angles, is the centerpiece of Charles Edwards's set design. In this environment, Adriana's tragedy is her unwillingness to play along with the social falsehoods of her world. The production, with costumes by Brigitte Reiffenstuel and lighting by Adam Silverman, was a success in London and then again in Vienna, where in 2017 the same incendiary pairing of stars who will sing at the Met this season—Netrebko, opposite tenor Piotr Beczała as her dashing lover Maurizio (the operatic version of Maurice de Saxe), both in "glorious form," according to Opera News—brought down the house.
Adriana Lecouvreur first premiered at Milan's Teatro Lirico in 1902, its initial success all but guaranteed by its star-powered cast. The title role was created by Angelica Pandolfini, a Toscanini protégée, and the baritone was the emerging Giuseppe De Luca, destined for a memorable, 20-year Met career during which, among other things, he would originate the title role of Puccini's Gianni Schicchi at its 1918 world premiere. The biggest star of the premiere night, though, was the soaring tenor Enrico Caruso, who had just recorded the aria "Vesti la giubba" from Leoncavallo's Pagliacci in a Milan studio that same month. It would become the first record to sell a million copies. In addition to the stellar cast, Cilea's new opera offered many musical riches for the audience, including memorable arias for the soprano and tenor (especially of the short, melodically stunning type that would work so well on the new recording medium); a ravishingly sensual "moonlight" orchestral intermezzo; and a terrific confrontation duet between the two leading women. And of course, the composer created a title role that resonated then and has continued to enrapture audiences down to the present day.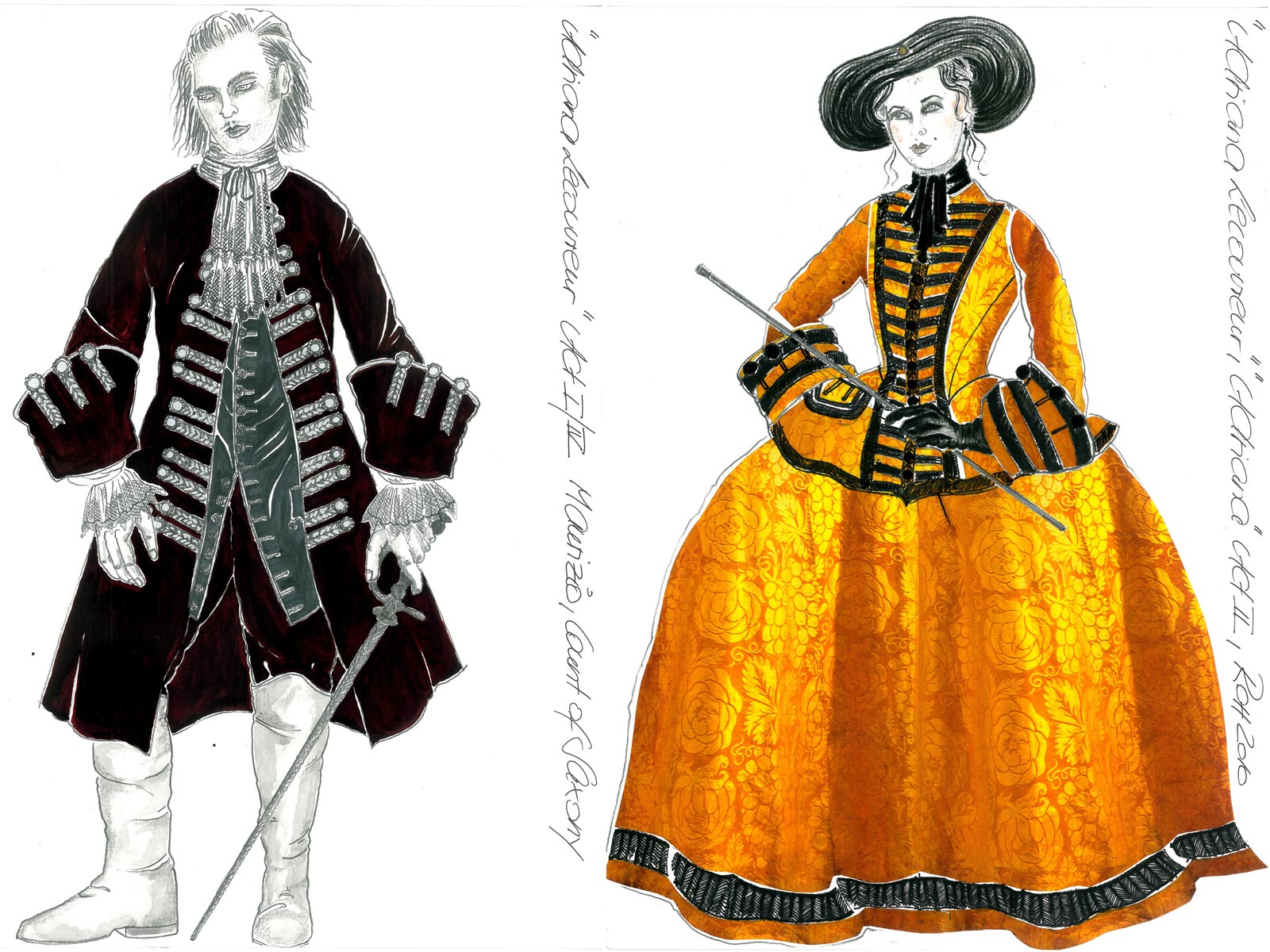 The year 1902 was a particularly interesting one in the annals of opera: Verdi had died the year before, and people were still debating who could take up his mantle. Puccini, whom London critic George Bernard Shaw had cited as the most likely new champion of Italian opera in 1893, did indeed appear to be leading, with his 1896 La Bohème already conquering the world and 1900's Tosca adding controversy (and bankability) to his profile. Yet others were contending as well: Leoncavallo and Mascagni had not yet been (unjustly) deemed "one-hit wonders," while others in the running included Giordano (Andrea Chénier, 1896), the Baron Franchetti, and Cilea himself (whose fascinating opera L'Arlesiana, still known for its haunting aria, the "Lamento di Federico," impressed Milanese audiences in 1897). The public and the musical establishment of 1902, moreover, were keenly aware of every new opera not only as a composer's bid for fame, but as a statement of how opera should be—a sort of manifesto.
Adriana Lecouvreur, it must be said, did not fare especially well beyond Italy after the initial frisson. Caruso was the reason it was brought to the Met in 1907 for three performances, but it disappeared after that for more than a half century. Since it returned in 1963, it has been popular among charismatic performers such as tenors Franco Corelli, José Carreras, and Plácido Domingo (who made his unexpected Met debut as Maurizio in 1968), mezzos such as Regina Resnik and Fiorenza Cossotto, and, above all, sopranos (such as Renata Tebaldi, Montserrat Caballé, and Renata Scotto) drawn to the title role. Any soprano who performs Adriana is attempting more than a role that has been championed by some of the most commanding divas of the past—a daunting enough proposal in itself. She is making her own artistic statement—her own manifesto—about what it means to be a diva.
People often call Adriana Lecouvreur an "opera-lover's opera," a cliché that contains more truth than one might realize. Far from being derisive, this epithet directs us toward the vein of gold to be mined in this work. It is actually an opera about opera, about the mad magic of the theater and the women who star in it. (The lead role echoes and foreshadows many other unforgettable women in opera, ranging from the title roles of Bellini's Norma and Massenet's Manon to Violetta in La Traviata, and even looking ahead to the irresistible yet depraved title character of Berg's Lulu.) Cilea sets his drama in a deftly created mystical space that is both real and unreal in its depiction of an iconic theater—a place that is very much like a temple with its host of traditions, superstitions, and the possibility for one to meet death or immortality, or both. And presiding over this temple is the high priestess, the diva, who announces her identity in her memorable opening aria, "Io son l'umile ancella"—"I am the humble handmaid of the creative spirit." These are the things that truly make Adriana Lecouvreur an opera-lover's opera in the best possible sense: More than most other works, it revels in and cherishes those things that can only be found, uniquely and gloriously, in opera.
William Berger is a Met staff writer and radio producer and the author of Puccini Without Excuses and other books on opera.