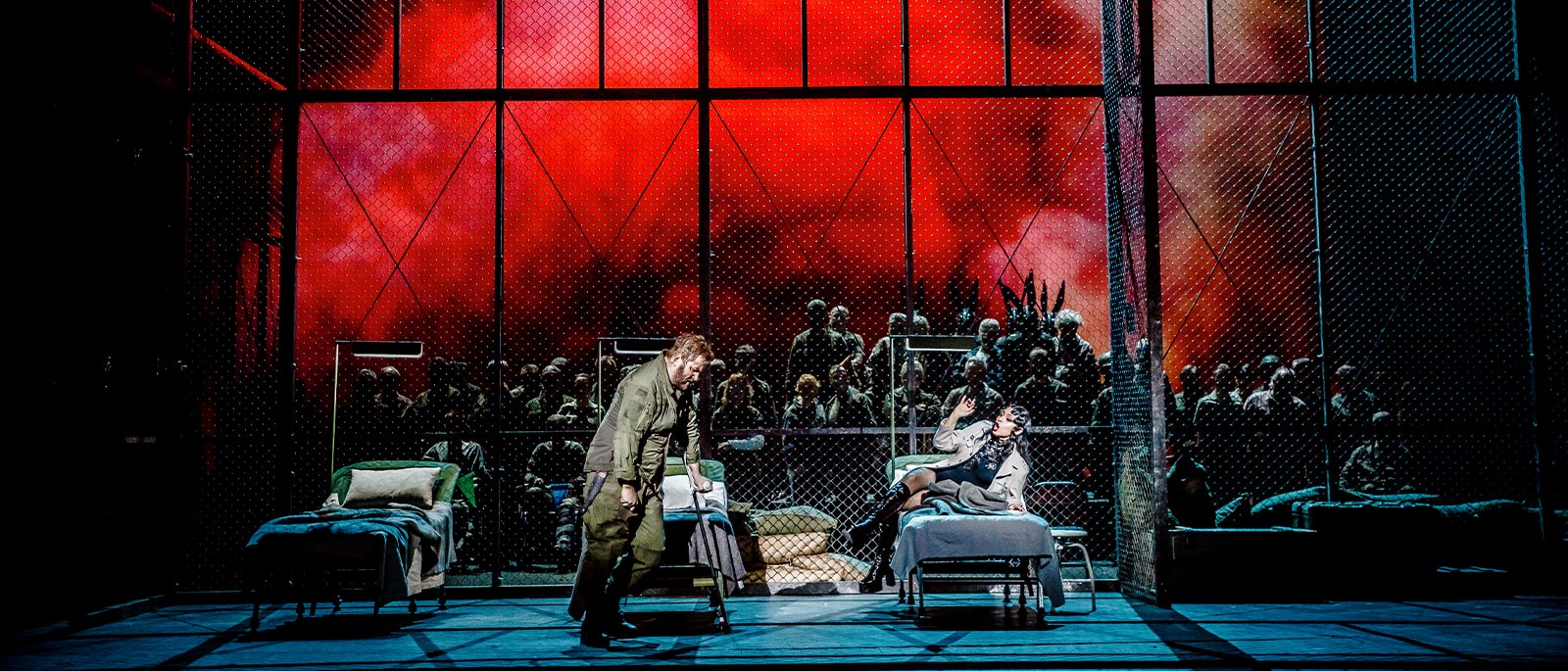 Destiny's Children
On February 26, for the first time in nearly 30 years, the curtain goes up on a new Met production of La Forza del Destino, Verdi's epic drama of inexorably cascading catastrophe. Electrifying soprano Lise Davidsen makes her role debut as one of the repertory's most tormented heroines, and Yannick Nézet-Séguin takes the podium for a gripping modern-day staging by Mariusz Treliński, in which the oppressive forces that bring the characters to their knees feel disquietingly familiar. By Jay Goodwin
"In essence, La Forza del Destino addresses a question that philosophers and scientists have been asking forever—a very simple question, but very difficult to answer: Do we have free will, or are we puppets in the hands of fate?" So says Mariusz Treliński, who returns to the Met this season to direct Verdi's blood-soaked tale of doomed love, a work that captures the composer at his most ambitious and most tragic.
The basic mechanisms of the story are customary for Verdi and for high-drama Italian opera: an overbearing father with a rebellious daughter, a forbidden lover, a vengeful brother, hidden identities, convenient coincidences, dramatic confrontations, and deadly consequences. But in its sprawling scope and breadth of ideas, Forza is exceptional.
"It tells a vast story that spans many years, a story about the profound transformation of its protagonists," says Treliński, an experienced hand at staging epic operas at the Met after creating productions of both Wagner's Tristan und Isolde and the double bill of Tchaikovsky's Iolanta and Bartók's Bluebeard's Castle. The action revolves around Leonora, who in Verdi's original setting is the beautiful daughter of the wealthy Marquis of Calatrava. She has fallen in love with Don Alvaro, a Peruvian nobleman who, because of his Incan blood, is deemed unworthy. Forbidden to see one another by Leonora's father, the pair plan to elope but are caught before they can make their escape. When Alvaro throws down his gun in surrender, it accidentally discharges, killing Calatrava. Leonora's brother, Don Carlo, swears to avenge his father's death with the blood of both Alvaro and his own sister, and in the ensuing chaos, the lovers become separated, each beginning a long, tortuous journey that, over the course of four acts, brings misery at every turn and leaves them unrecognizable as their former selves.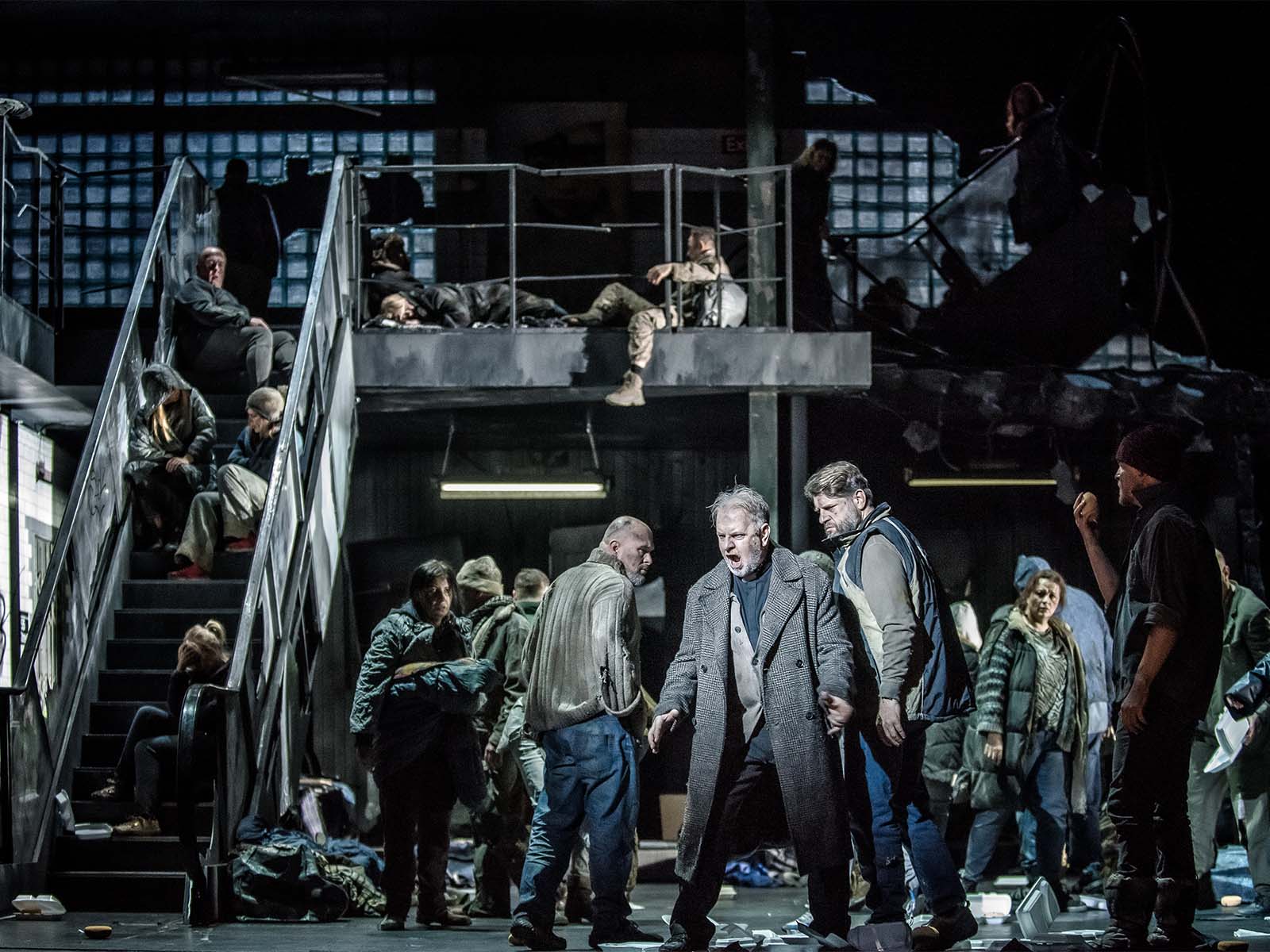 A scene from Treliński's new production, seen at Polish National Opera.
The opera's title suggests that a higher power controls these characters' fates, but Treliński has a different definition of destiny. "It's difficult to think in terms of divine decrees today," he says. "For me, Calatrava's accidental death is the turning point. Like most fathers in Verdi operas, he is domineering and even brutal in the way he exercises his authority. This permanently marks his children, who are unable to escape the roles he has given them. Then, the trauma caused by his violent death is like a break in billiards. It propels all the characters along a fixed trajectory from which there is no release—not because it's been ordained by God but because it's the way people are, because of our psychological makeup. We never get over some of the things that happen to us." In the new production, this unstoppable progression is made visible through extensive use of the Met's turntable, which is kept in constant motion.
Verdi, of course, makes all of the action audible. "The score is full of energy and drama in every bar, and a wonderful showcase for our fabulous orchestra and chorus," says Music Director Yannick Nézet-Séguin, who adds another of Verdi's lesser-known works to his Met resume after introducing the French version of Don Carlos to the company in 2022. "I love conducting any Verdi opera, but bringing Forza, which many audience members will be experiencing for the first time, back into the Met repertoire with this new production is especially exciting."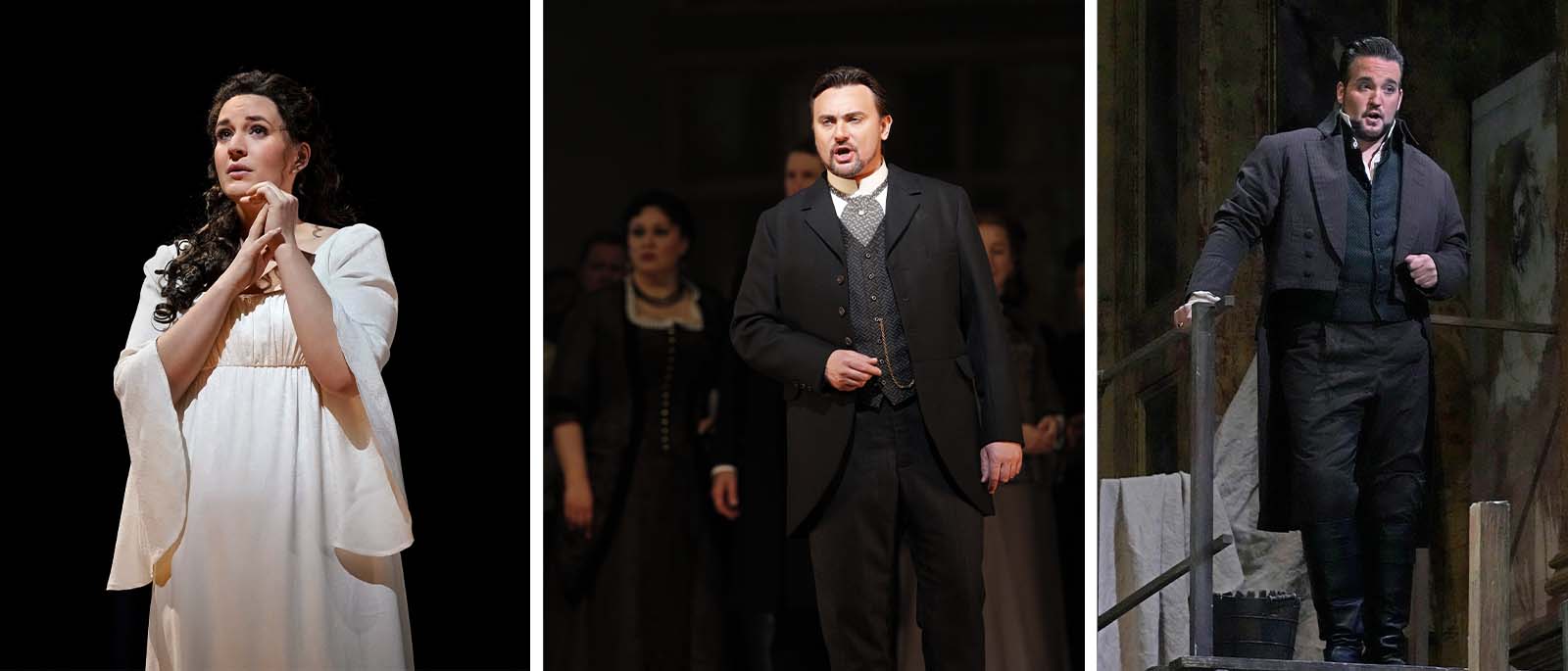 Soprano Lise Davidsen stars as Leonora, opposite tenor Brian Jagde (center) as Don Alvaro and baritone Igor Golovatenko (right) as Don Carlo.
Verdi's writing in Forza stands out for its variety, with everything from martial marches to ethereal religious hymns, chaotic crowd scenes to the hushed, tense atmosphere that precedes impending calamity. There is also a Dickensian tendency to digress into slice-of-life vignettes that are only tangentially related to the main thrust of the drama and that even incorporate some buffo comedy. Vocally, the opera is a feast, with a large cast and plentiful opportunity for each artist to shine—not least the two male protagonists: Don Alvaro, sung this season by tenor Brian Jagde, and Don Carlo, sung by baritone Igor Golovatenko. Bitter enemies who unwittingly swear an oath of friendship to one another while in disguise, only to discover their mistake and renew their deadly hostilities, they are complex characters that offer a wide dramatic range and run the vocal gamut.
But the opera's pivotal role is that of Leonora, which offers both a daunting challenge and a thrilling showcase for the intrepid soprano who takes it on. In addition to meeting the prodigious technical demands, she must have the expressive power to melt the heart one minute and curdle the blood the next. And she has to spend all of Act III and half of Act IV in her dressing room, then be ready to immediately deliver her biggest and most famous aria, "Pace, pace, mio Dio," the moment she returns to the stage. Adding to the pressure is the Met's staggering tradition of past Leonoras, a list that reads like a pantheon of 20th-century divas: Rosa Ponselle, Leonie Rysanek, Renata Tebaldi, Eileen Farrell, Zinka Milanov, Martina Arroyo, Grace Bumbry, Leontyne Price, Deborah Voigt.
Taking up the mantle this season is Lise Davidsen, a sensation at the Met since her 2019 debut in Tchaikovsky's The Queen of Spades. Davidsen's turn as Leonora marks not only her first time singing the role, but also her first Italian role with the company, following rapturously received portrayals of Eva in Wagner's Die Meistersinger von Nürnberg and three high-flying Strauss heroines: the title role of Ariadne auf Naxos, Chrysothemis in Elektra, and the Marschallin in Der Rosenkavalier. "Hearing Lise sing is such a thrill, for me just as much as for the audience," says Nézet-Séguin of the Norwegian soprano, whose effortless delivery and radiant upper register are already making her a legend in her own time. "I know she will bring so much power and beauty and feeling to Leonora, which truly is one of the great Italian soprano roles."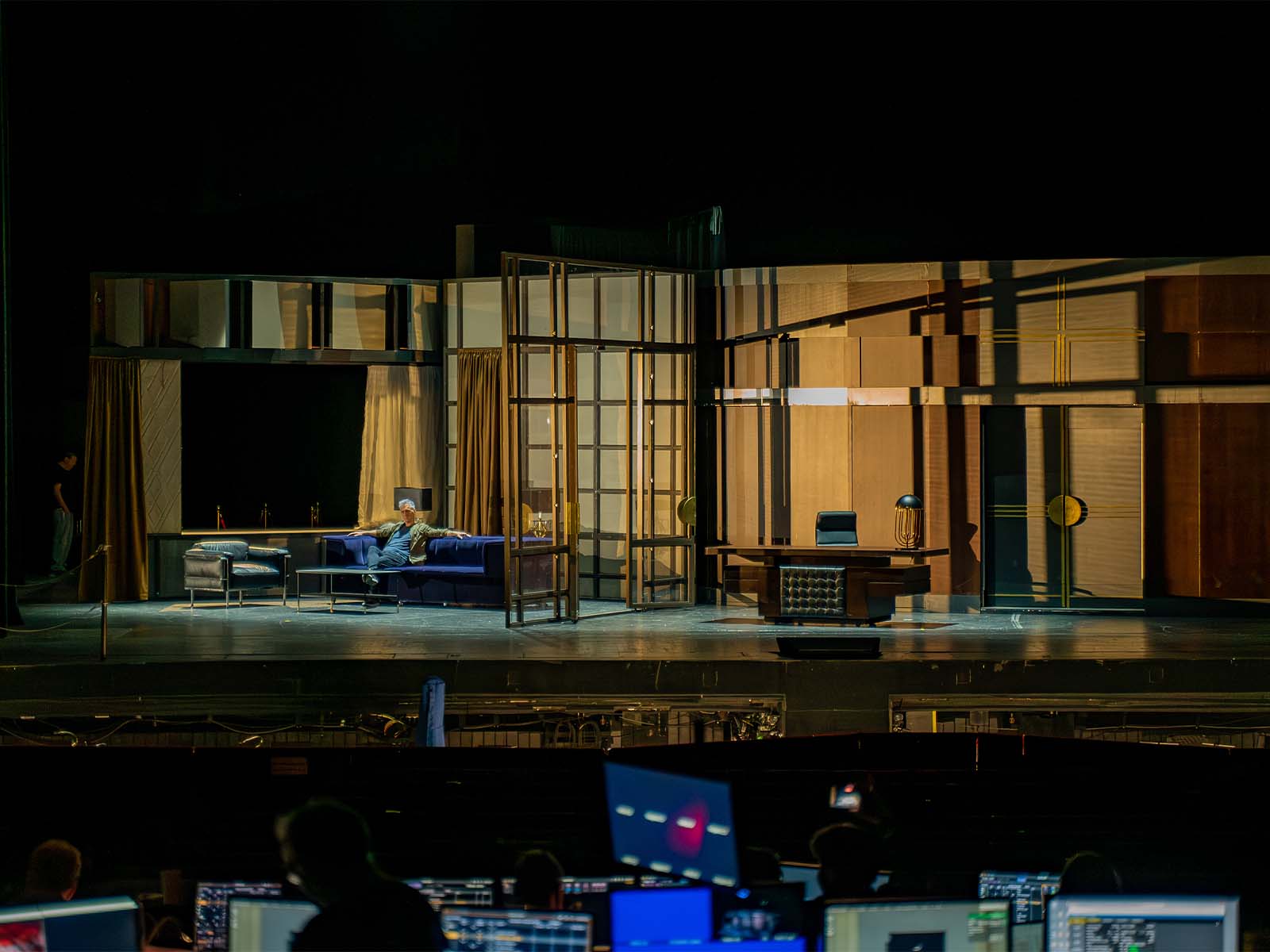 A scene from Treliński's production in an early technical rehearsal
"It's always wonderful to sing Verdi," says Davidsen. "His music is so dramatic, and it calls for a flexibility and agility in the voice that is different from Strauss and Wagner." Every bit of her vocal and dramatic flexibility will be called upon to portray Leonora, a character racked by inner conflict, who suffers endlessly and searches fruitlessly for meaning. By Act IV, she has renounced life itself and become a recluse in rags, determined to spend the rest of her miserable days doing solitary penance in a cave—or, in the case of the Met's new production, a bombed-out, post-apocalyptic subway tunnel.
Treliński has given Forza an ambiguous, roughly present-day setting because he sees in the story many of the societal ills that still surround us, and much of the same existential dread that keeps us up at night. "After the pandemic, amid the climate crisis, and with the war in Ukraine, our optimistic vision of the world has been disrupted, and we're all on the defensive," he says. "We've become pessimists."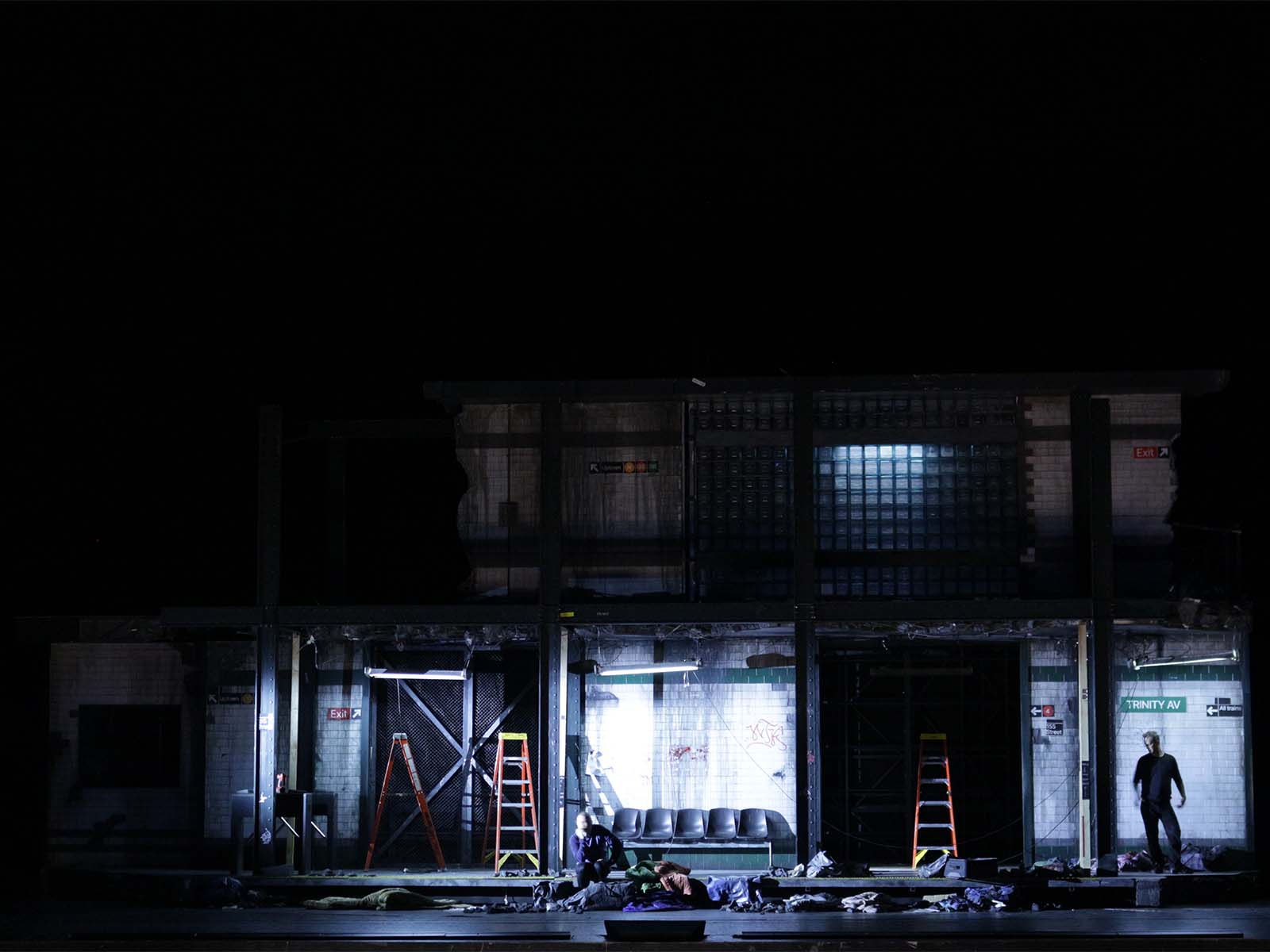 A scene from Treliński's production in an early technical rehearsal
The director and his creative team—set designer Boris Kudlička, costume designer Moritz Junge, lighting designer Marc Heinz, and projection designer Bartek Macias—have created a striking series of stage images, each depicting a different phase in the collapse of society. "First, we have a world in which people believe that war is beautiful, that war leads to victory—a sick, nationalist euphoria. By Act III, we see the truth of war, how brutal it is and what happens to that euphoria when it's exposed to the reality of blood and death. And then for Act IV, we see a world in ruins." In this reading, the tribulations of the protagonists stand in for civilizational conflict on a global scale. Alvaro's outsider status reveals systemic racism. The death of Calatrava represents the collapse of a patriarchal system that has led us to the brink of disaster. The subsequent uncertainty, violence, and destruction are the fallout of a shattered world order.
"Perhaps this will usher in a new beginning, and a new civilization will be born out of the ruins," Treliński says. "Or a new vision might save us. But we don't know what it is yet, and Verdi doesn't give us any hints. I hope that the audience will find the answer."
Jay Goodwin is the Met's Editorial Director.