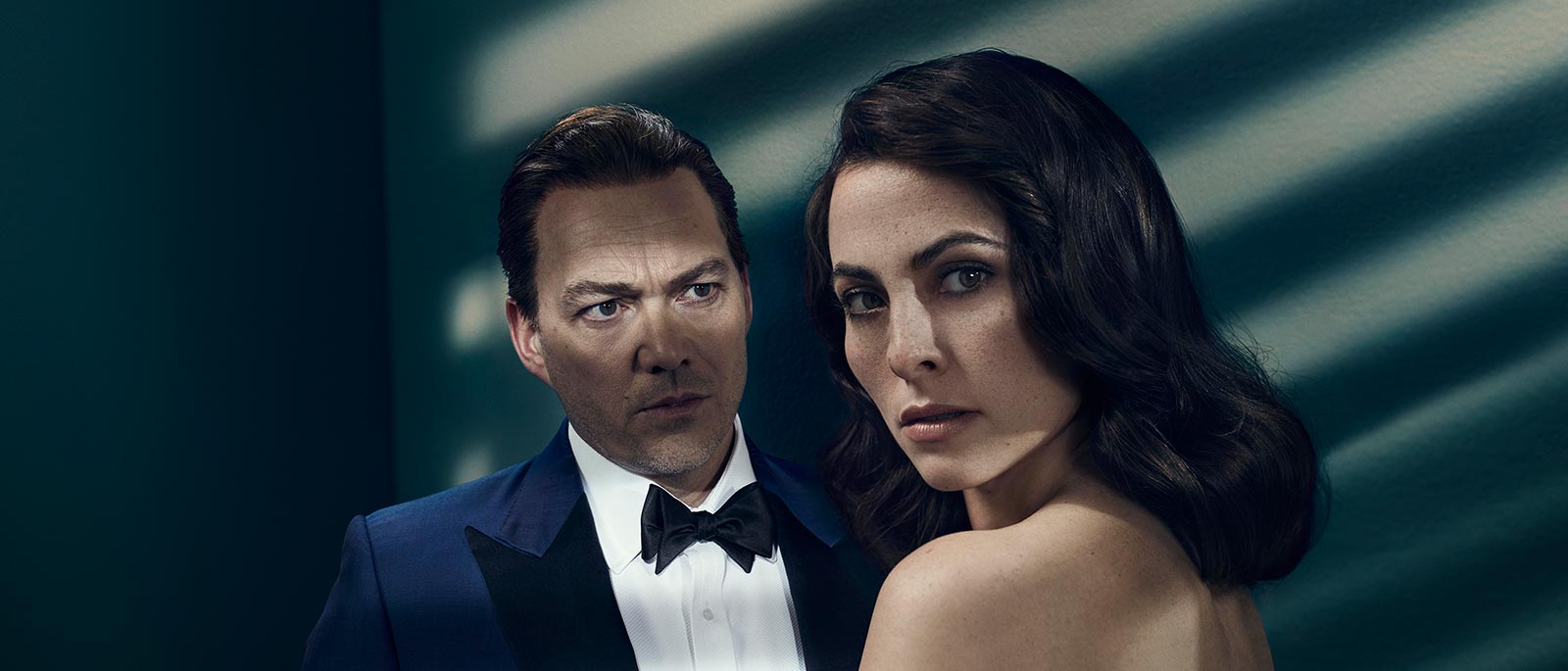 Cunning Little Vixen
October 03rd, 2018
Nico Muhly's gripping new opera Marnie, based on Winston Graham's novel, arrives at the Met for its U.S. premiere on October 19. Michael Mayer's fast-paced, cinematic production—complete with foxhunt— features mezzo-soprano Isabel Leonard as the title character, a mysterious young con-woman who assumes multiple identities. By Elena Park
The character of Marnie, that elusive, intriguing thief at the center of English novelist Winston Graham's dark, psychologically probing 1961 novel, has long been a subject of fascination for readers as well as fans of Alfred Hitchcock's liberal 1964 adaptation starring Tippi Hedren and Sean Connery. With a compelling heroine, a startling storyline, and the vast emotional range of the characters, Marnie packs a wallop both on the page and onscreen. The film was long a secret favorite of director Michael Mayer, so much so that in 2013, he suggested it as an operatic subject, initially to composer Nico Muhly and then to librettist Nicholas Wright. Fate was on his side: Muhly happened to have been reading Graham's brooding Poldark novels (famously adapted for television by the BBC), and Wright himself, coincidentally, was immersed in Marnie.
Convinced that Graham's modern classic called out for operatic treatment, the trio set to work with the novel as their guide. Marnie offered all manner of dramatic challenges: a complex character whose horrific childhood trauma drives her serial thievery and deception, perpetual reinvention, and desperate avoidance of intimacy; sexual predation; Marnie's troubled relationship with her grasping, disparaging mother; and the long-simmering power struggle between two brothers (cousins in Graham's novel), not helped by their domineering mother. Not to mention marriage-by-blackmail, a foxhunt gone terribly wrong, penetrating psychoanalysis sessions, and attempted rape and suicide.
In short, it was the kind of story rife with "emotionally intense ambiguity" that appealed to Muhly. The youngest composer ever to be commissioned by the Met, he had found previous operatic inspiration in the shadowy swirl of Internet chat rooms (Two Boys, his prior Met commission, performed by the company in 2013) and the confining world of a polygamous Utah cult (Dark Sisters, a chamber opera that premiered in 2011).
A singular artist of expansive curiosity, breadth and inventiveness, the Vermont native came up steeped not only in the music of John Adams and Philip Glass, but also in the Anglican choral tradition. Echoes of these formative influences can be heard in Muhly's music, which ranges from large-scale works for the Philadelphia Orchestra and the Paris Opera Ballet to collaborations with such artists as illustrator Maira Kalman, Faroese musician Teitur, and Icelandic icon Björk. The prolific composer and pianist has also written haunting scores for the Broadway revival of The Glass Menagerie, the film The Reader, and the recent TV-series adaptation of Howard's End.
New York audiences will have the chance to witness the U.S. premiere of a major new work by the composer when Muhly's operatic adaptation of Marnie, featuring his distinctive vocal writing and evocative orchestrations, arrives at the Met on October 19, 2018. The cast features mezzo-soprano Isabel Leonard in the title role opposite baritone Christopher Maltman (her eventual husband, Mark Rutland), joined by countertenor Iestyn Davies (playboy Terry Rutland), soprano Janis Kelly (Mrs. Rutland), and mezzo-soprano Denyce Graves (Marnie's mother). Robert Spano makes his Met debut on the podium. In addition to operagoers at the Met, audiences worldwide will be able to experience Marnie through a Live in HD transmission and a radio broadcast.
Themes such as the threat of discovery and of being trapped or captured pervade the piece, which unfolds in England in 1959. In Graham's novel, Marnie shares her first-person story with the reader. While the opera offers a wider perspective, the work still presents a peculiar challenge: "a woman discovering her own complicated emotional landscape while lying about it to those around her, and indeed, to herself," explains Muhly. The work's creators sought to convey, musically and dramatically, the chasm between what Marnie says and what she does, what she understands about herself and about the forces driving her. (Most of the revisions since the work's unveiling in November 2017 at English National Opera have served to clarify her tortured past, inner conflict, and nightmares, as well as her increasingly complicated feelings for Mark.) Through internal monologues he calls "Links," Wright gives the audience a glimpse into Marnie's private thoughts and feelings. "You get this duality of someone who is completely present, and yet is untouchable," says Mayer.
For Leonard, Marnie affords the rare and rewarding opportunity to inhabit someone entirely new to opera audiences. "It's always interesting and exciting to step into a new role and to essentially create that character from scratch," she says. "It's a constantly evolving process, and there's something very challenging about that but also liberating, because you don't necessarily have a great performance practice to either live up to or alter completely. You have to forge your own path, along with all other amazing people working on the project. And Marnie is certainly unlike any character I've done so far."
Muhly relishes the fact that Marnie has "so many different registers ... what she's saying, what she's thinking, and then kind of a deeper source that we only hint at." He adds that Leonard, whom he has known since their contemporaneous Juilliard days, is "able to do 'come hither' and 'go thither' at the same time." Mayer confirms that he had Leonard in mind when he first hatched the idea to adapt Marnie. The admiration goes in both directions: "Michael and Nico have infectious positive energy," Leonard says. "I think the only way to do a really interesting character like Marnie is if you're allowed to take risks, and I'm so excited they're there to hold my hand along the way."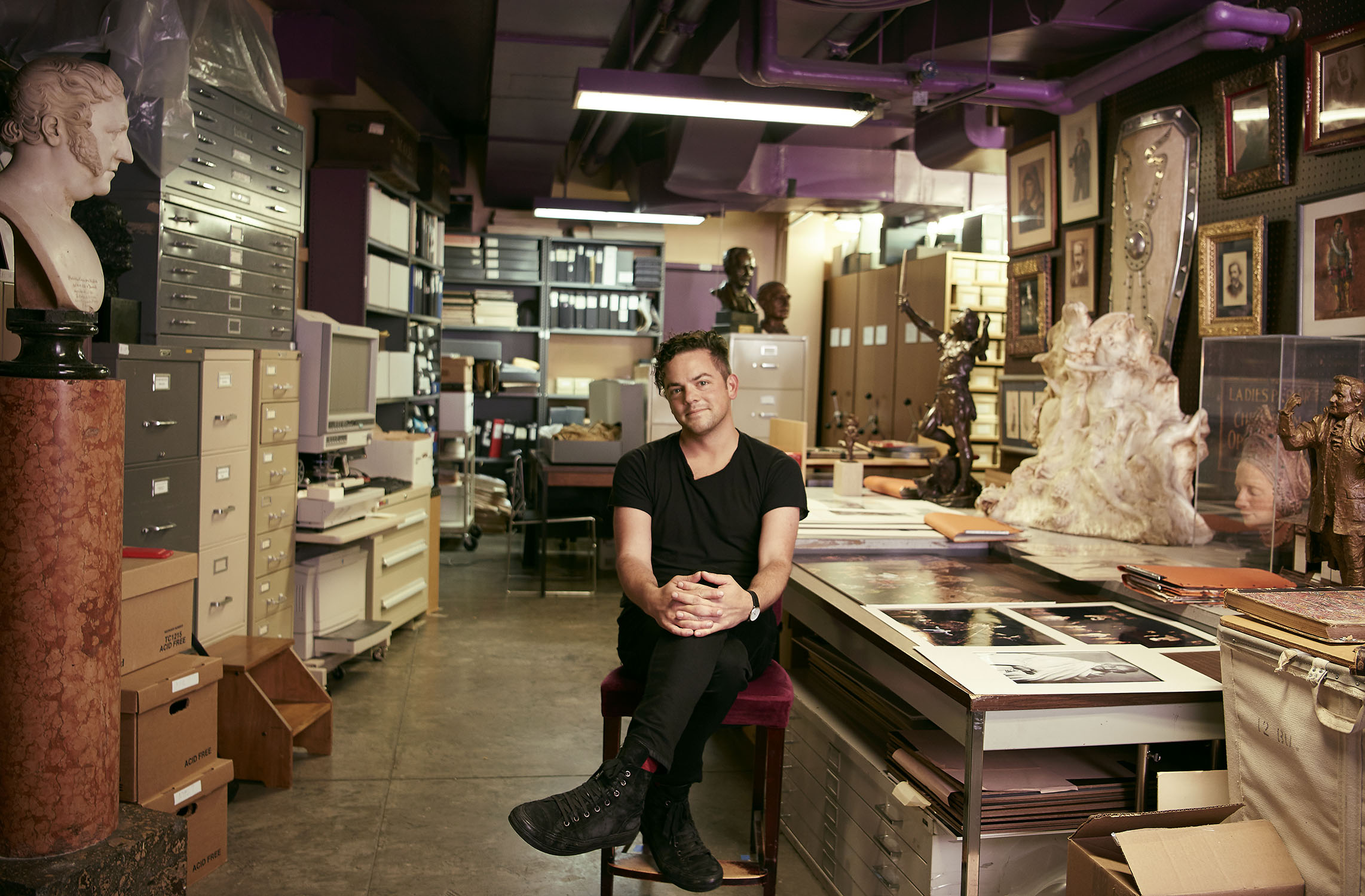 Muhly in the Met Archives
Leonard, whose repertoire extends from Mozart to Jennifer Higdon (she starred in the recent adaptation of Charles Frazier's Cold Mountain), has a busy Met season, starring as two other heroines in addition to Graham's troubled figure: the courageous Blanche de la Force (Poulenc's Dialogues des Carmélites) and the fragile Mélisande (Debussy's Pelléas et Mélisande), whom Muhly likens to Marnie. "I think the challenge is finding a way for the audience to sympathize with Marnie and not write her off," says Leonard. "She's very complicated—and not truly by choice, but by circumstance. It will be interesting to hear how the audience feels about her toward the end of the opera. I think the more complicated the feeling, the better."
In his first opera based on fictional characters, Muhly sought to convey their more hidden intentions with his layered, complex score. "What immediately became clear as both a solution and a challenge was that each of the principal characters needed to be 'twinned' with an orchestral instrument," he writes. "With very few exceptions, nobody actually tells the truth to one another in the show, and the twin instruments can help reinforce the chamber music–like tugging between various deceits and agendas" Muhly's choral writing, a rich and enduring preoccupation for the composer, also provides a shimmering, textured character to the music. Whether portraying office workers or passersby, the choristers are "free to be a weather system in flux," Muhly says. "Floating narrators about the nature of guilt," they serve as a "psychologically oppressive force" (evoking Britten's chorus in Peter Grimes).
And in an ingenious stroke, the storytelling is abetted by four "Shadow Marnies" (referred to playfully by the creative team as the Marnettes), an all-female barbershop quartet that sings in an early-music style with little vibrato. Conveying a sense of fracture, Muhly describes the desired effect "as if her inner monologue is actually a warped recording of the Tallis Scholars singing a single chord from an obscure Tudor motet." Often surrounding Marnie on stage, they represent "not just her anxieties but the cruel release of her coping mechanisms"—never more so than in the pivotal Act II scene on the analyst's couch, when she relives her childhood distress. Donned in striking, bright-hued period attire—the work of costume designer Arianne Phillips—the Marnettes help evoke the era, combining with a backdrop of evocative designs by Julian Crouch and 59 Productions, with lighting by Kevin Adams, to bring the two-act opera's 19 scenes (streamlined from 24) to life. "There's a kind of abstract, jazzy, punchy feel to the graphic qualities that continually shift," says Mayer.
The creative team embraced this abstract approach in staging the ill-fated foxhunt in Act II; Wright chose to set it from the point of view of the hunted, as Marnie despairingly identifies with the cornered fox. The hugely challenging scene utilizes not only the principals and chorus, but a group of male dancers—silent figures who encroach upon their prey. The tempo of Muhly's engrossing, percussive music increases as the pace of the hunt, and Marnie's panic, intensifies.
Oddly, the tragic events of the hunt lead to a kind of liberation for Marnie. During the hunt, her beloved horse Forio (the only creature she has been able to love) is critically injured and has to be shot. She then finds that her glimmer of feeling for Mark, who has also been injured, renders her incapable of fulfilling her customary plan of theft and escape. The audience has witnessed this subtle shift in her feelings for him even before she has. As the Met's dramaturg, Paul Cremo, explains: "As the opera progresses, the intervals Marnie sings become tighter. By the time she gets to the end, she's singing more tonally and lyrically, reflecting her dawning realization of her emotions ... She begins to realize that she must reject the false selves she's created and embrace whatever fragmentary authentic self she can access if she is to live any kind of real, complete life."
To Muhly, it's the ambiguity of the tale that is most haunting: "Do we ever know, can we ever settle on, who is a hero and who is a villain?" In the end, after Marnie is arrested and Mark pledges that he will be there for her, she is incapable of responding in kind. Marnie remains ever-elusive, leaving him (and us) to wonder. In the opera's closing bars, she sings three times, "I'm free."
Elena Park curates the NationalSawdust+ performance and conversation series in Brooklyn and is music producer for the new feature film Bel Canto. She serves as supervising producer of the Met's Live in HD series and executive producer of its Saturday radio broadcasts.