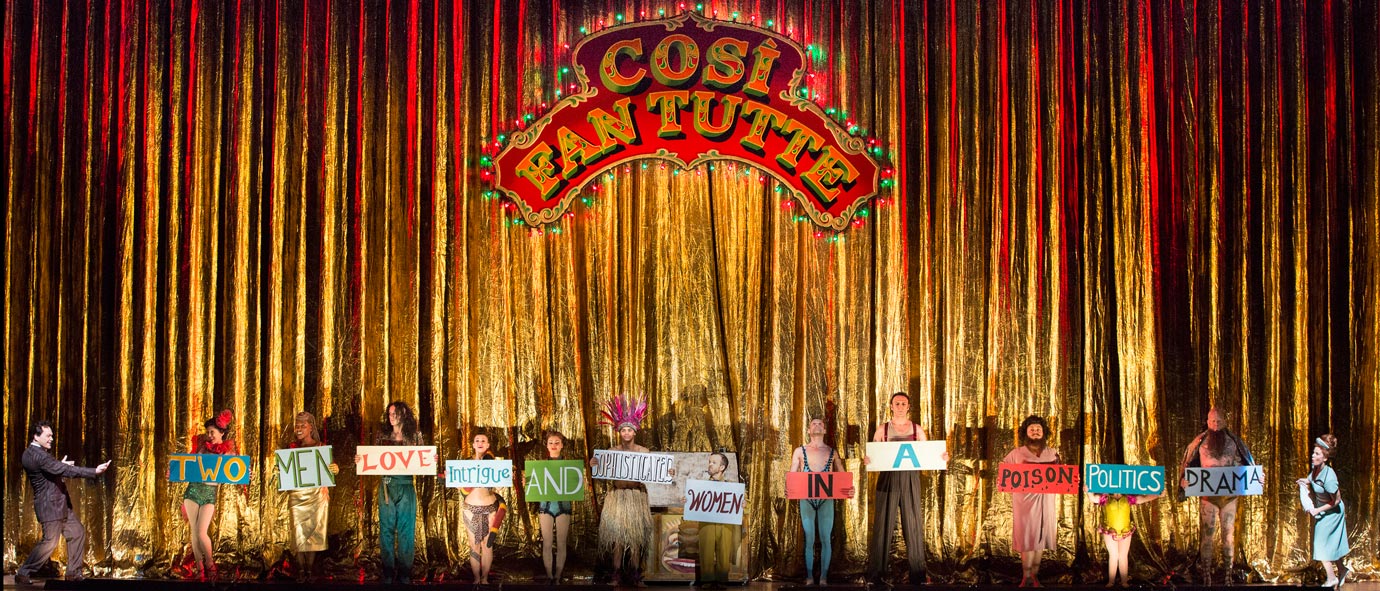 Così in Conversation
March 19th, 2018
Phelim McDermott's Coney Island–inspired reimagining of Così fan tutte, onstage through April 19, sets Mozart's comedy amid the spectacle of the side show. As they prepared to bring the new production to the stage, McDermott and the opera's celebrated conductor, David Robertson, joined Tony Award–winner Kelli O'Hara and baritone Christopher Maltman—two of the show's stars—for a conversation with Met General Manager Peter Gelb.
PETER GELB: Phelim, how did your arrive at your vision for Così fan tutte?
PHELIM MCDERMOTT: Well, my designers and I thought that if we set the piece in the beautiful, romantic world of Coney Island, where the rules and realities are not quite thesame, then the audience could more easily buy into the main conceit of the opera, that these guys dress up as other people—in ourcase as rough, slightly scary, slightly sexy fairground workers—and convince their fiancées that they're two different men.
DAVID ROBERTSON: That's the crux, and it's usually difficult to bring off. I think Mozart and [librettist Lorenzo] Da Ponte wanted to get across that everyone here is learning about how love is not one thing that you achieve and then it's done forever. In this piece, we get a larger picture of humanity.
PM: I think that's why we were drawn to Coney Island. On many levels, this world embraces the marginalized. And the opera is really about people coming to terms with aspects of themselves, of their own humanity, that they have marginalized.
DR: One could look at this piece and say these are stock characters, but I don't think so. What makes Mozart's characters so real is that they're all flawed and evolving. Over the course of the drama, we discover the incredible mutability of human emotion.
PG: Turning to some members of our extraordinary cast—Chris, this is an opera in which you've appeared many times throughout your career.
CHRISTOPHER MALTMAN: Yes, I've sung Guglielmo many, many times, and now I'm coming to Don Alfonso.
PG: What have you discovered about his character?
CM: There is an almost altruistic side to Don Alfonso. He's there to educate these people and to lift the scales from their eyes. We've discovered a much deeper, more human side to him, and I think he carries a large wound as far as love is concerned.
KELLI O'HARA: And I definitely see a similarity there with my character, Despina. In the way we've approached this production, she's been hurt. She's bitter. And I like that she has pain. I tend to play the wholesome characters, who believe in love first and foremost, but Despina, although she does care about Fiordiligi and Dorabella, also wants to pull them down a notch because she's been hurt, especially by men. She's very real.
CM: This is one of the most amazing things—as time moves on, we see different things in these operas. The interactions that go on between these people are about timeless human problems and timeless human feelings.
PG: And Kelli—unlike Chris, you are brand new to your role.
KO: Oh, yeah. And being invited to sing onthe Met stage is a dream that I never thought would come true. I'm so grateful and am working as hard as I possibly can to earn that privilege every day.
PG: But although you've achieved an incredible career in musical theater, you actually studied to be an opera singer first?
KO: Yes, I have a degree in opera. For many reasons, after my undergraduate degree, I moved to New York, went to acting school,and changed my whole path, which I don't regret. But I've always missed opera. And so the grandness of this opportunity is not lost on me. It's very special.
PG: Do you approach singing opera any differently from performing on Broadway?
KO: I try not to change that much, and I always tend to do Broadway roles that require more classical, rounder singing. The real difference is the absolute physicality of it in a space the size of the Met. On Broadway, we rely on microphones to get us through eight shows a week. Even though I give 110 percent of myself in musicals, singing opera on this stage is grander and greater than I've ever felt.
PM: This was my big discovery about opera, too. As the world gets more amplified and more technologized, there is this art form that still exists that is incredibly powerful but at the same time incredibly vulnerable—because it totally depends on the acoustic human voice.
CM: Phelim has created an incredible atmosphere in the rehearsal room, one that is more inclusive and more empowering than I think any other experience I've had in opera. And with the amount of talent we have in the room, the ingredients are there for a really fizzing final product.
KO: I couldn't say it any better.
—Edited by Christopher Browner
Christopher Browner is the Met's Associate Editor.