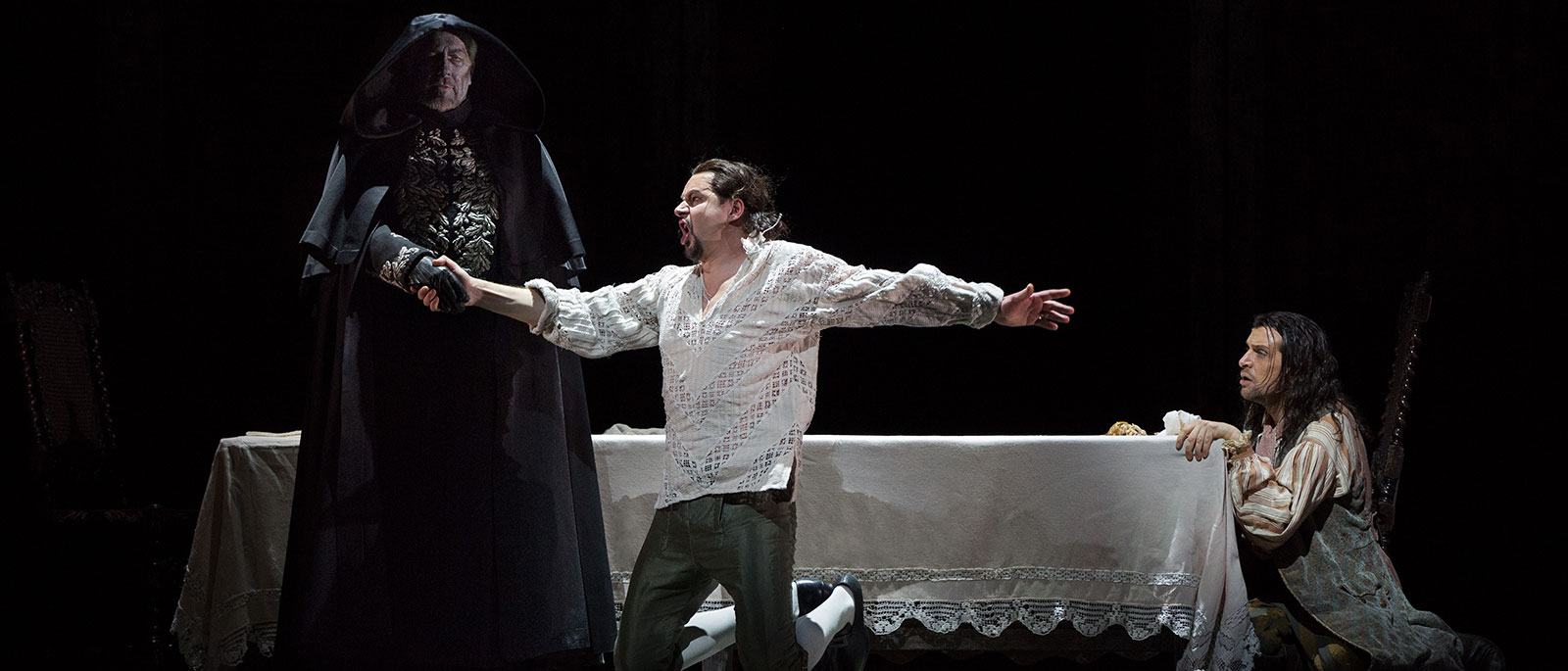 Consummate Characterization
Swedish baritone Peter Mattei has become a regular on the Met stage, with 140 performances behind him and a headlining turn in the company's new production of Berg's Wozzeck coming up next season. As he returns to the Met this spring in the title role of Mozart's Don Giovanni, on stage through April 18, the Met's Joel Rozen explores what makes Mattei's take on one of opera's touchstone roles unique.
There are many ways to portray Don Giovanni, Mozart's ultimate anti-hero, from suave Lothario to irredeemable villain, or anything on the spectrum in between. Peter Mattei, with his warm, red-velvet voice, might seem destined to take the first course, giving a seductive performance that hews to the character's most sympathetic side.
Instead, Mattei's interpretation depends on subtlety and nuance. In each successive act of the Met's vivid production, the star baritone proves himself a chameleon: first an irresistible charmer in his Act I duet with Zerlina, then a melting troubadour in his famous serenade "Deh vieni alla finestra," and finally, in Act II, sneering and chillingly calculated as he roots out his enemies.
Don Giovanni has become something of a signature role for Mattei: he's sung it six times for the Met alone, including in the premiere of Michael Grandage's production in 2011. And though he plays a convincing devil, the heart of his portrayal is his ability to make the venal and corrupt seem relatable. "All humans go through moral challenges in life," Mattei says. "And with Don Giovanni, I don't feel that I'm playing an evil person. He can be evil, but he has different colors, and he can use all of them successfully—evilness, goodness, happiness, freedom, beauty. As a singer, you also have to use them all."
Mattei also finds a key to the role in Giovanni's childlike enthusiasm and impulsiveness. "Everything has to come easily, with a lightness of touch," he says. "The moment you put effort into him, you lose the magic."
Mattei first demonstrated his theatrical flair at the Met in 2002 as Count Almaviva in Mozart's Le Nozze di Figaro. Since then, he's built a diverse repertoire of nine roles with the company, including Figaro in Il Barbiere di Siviglia, Shishkov in Janáček's From the House of the Dead, Amfortas in Wagner's Parsifal, and the title role of Tchaikovsky's Eugene Onegin.
Still, Mattei remains a natural fit for Mozart, a composer who lends the baritone many opportunities to put an individual stamp on his roles. And when he identifies Don Giovanni's ability to trade identities and personas, to vanish behind masks, as the character's definitive talent, he might as well be describing himself: "The best way to capture him is to be different in every moment—to never let anybody think that they know him. He has to change all the time."


Joel Rozen is the Met's Staff Writer.