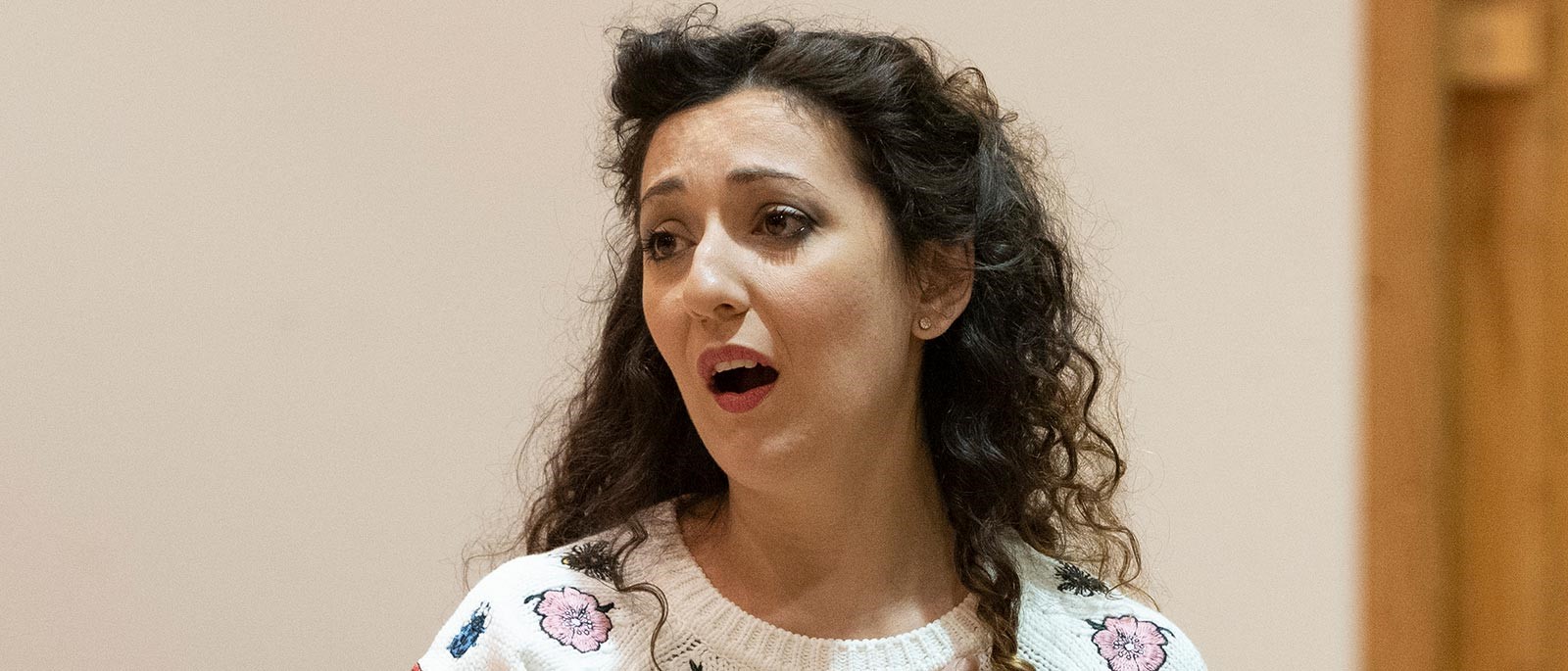 Coming Up Rosa
The return of the Met's neon-bedecked Rigoletto this month features a number of familiar faces in leading roles, among them baritone George Gagnidze as the title jester and tenors Matthew Polenzani and Stephen Costello as the Duke. Newer to the Met stage, however, is Italian soprano Rosa Feola, a rising star who makes her company debut as Rigoletto's wide-eyed daughter, Gilda—a role she has sung to acclaim throughout Europe. Between rehearsals, Feola spoke to the Met's Joel Rozen about her affinity for the character and how being married to another opera singer has helped her artistry.
Michael Mayer's Las Vegas staging of Rigoletto is a very different vision of the classic opera. Has the new setting impacted your approach to Gilda?
At first, I wasn't sure how it was going to be. But I have to say that I like the production very much. Vegas gives a kind of modernity to a story that is timeless. We've had fathers and daughters from the beginning of the world. But in this production, Gilda is sometimes the parent of her own father. She's not a child anymore.
What about the character do you identify with?
I find myself in her energy, in her strong character. When Gilda speaks with her father, she is secure in what she's talking about; she also decides by herself to die. To me, this means she's very strong. I would like to imagine that I am strong like her. Not to the death maybe! [Laughs.] But I like that she can think for herself.
Do you still find the music technically challenging, or has the role become easier the more you've sung it?
Oh, it's not easy to sing—oh, my God, no! [Laughs.] The role is very long, and you have to balance your energy from the beginning to the end. It helped me that I did this character many times. I've learned not to run around the stage a lot and not to move too much before some vocal lines. Emotionally, it's also something very deep: By the end of Rigoletto, I feel very consumed and very tired. But the music helps you find the energy to make it to the end.
I know your husband is also an opera singer, the baritone Sergio Vitale.
Yes, we met in the city where we live, in Caserta, in a small conservatory production of La Traviata. We were friends for two years, and after that, we understood that this was something different. It's very important for me to have somebody who helps with my entire, musical life. We support each other, listen to each other.
And he was the one who encouraged you to study with legendary soprano Renata Scotto, your mentor.
Yes, she is my idol, my diva. And she was my teacher for ten years. To prepare for Gilda, she taught me the purity of the character. When you sing the aria "Caro nome," she said, you have to sing it like it's fresh music. Because the more pure you are, the more real you are.


Joel Rozen is the Met's Staff Writer.