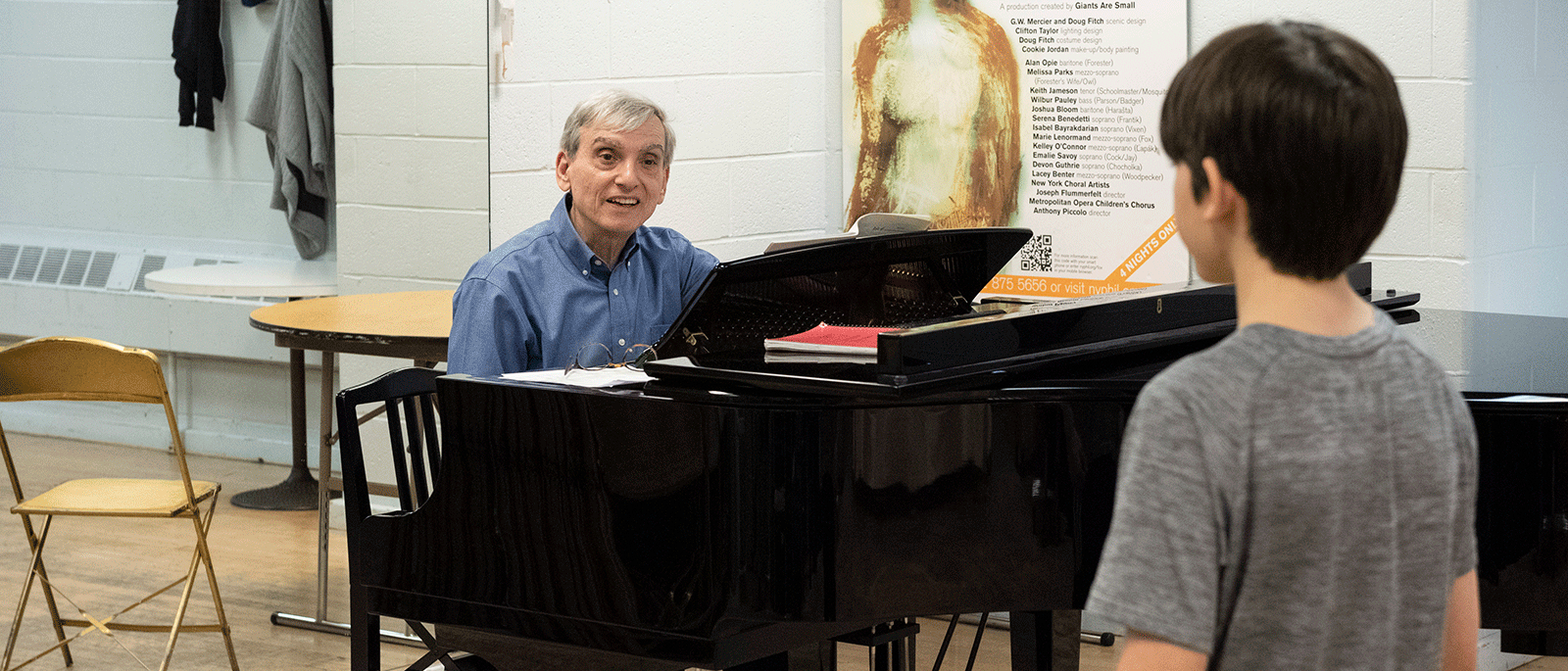 Child's Play
January 04th, 2019
Each year, the Met relies on hundreds of singers of all stripes to bring grand opera to life—from the company's devoted choristers to international divas. But the 2018–19 season is a particularly busy one for the Met's youngest stars: the Children's Chorus, led by director Anthony Piccolo.
"We have a mega season," Anthony Piccolo declares. "We've performed in ten operas in one season before, but not so many big operas." In January alone, members of the ensemble, who range from eight to 14 years old, will appear in 17 performances of four operas, including The Magic Flute, Otello, Carmen, and Pelléas et Mélisande.
Piccolo, who took over as director of the Children's Chorus in January 2009, trained as a pianist, becoming assistant chorus master at New York City Opera in 1989 and director of their children's chorus in 1996. Thirteen years later, he made the journey across Lincoln Center Plaza.
With his years of experience, Piccolo is an expert at identifying potential talent. "I'm listening for the core of the voice," he explains. "I'm looking for a voice that sounds like it might really develop." To join the group, children undergo an audition that consists of various musical exercises, including singing "Happy Birthday" in multiple keys. Once selected, they start taking classes to improve their musical and language skills. Only when they've reached the advanced level—currently about 55 of the nearly 90 singers in the program—do they appear on stage.
The Children's Chorus's contributes its distinct sound in anything from a brief offstage passage in the finale of Suor Angelica to extended scenes in Mefistofele and La Bohème. They sometimes undertake solo roles as well—the Little Boy in Marnie or the Shepherd in Tosca. "Yniold is, I think, the greatest example of a solo role for a child," Piccolo says of the character in Pelléas et Mélisande. "There's the scene with Golaud, which is a highly dramatic, physical scene that lasts almost ten minutes. And then, there's his solo scene, which is three minutes with just the orchestra."
Even in the face of daunting challenges, Piccolo's charges are well equipped for their unique job. "The first half of the season was especially demanding," Piccolo says. "It's a tight knit group, and part of the cohesion of their singing is the fact that they pull together on stage and off." Piccolo finds his greatest reward away from the spotlight. "Hearing a child who's been trying to do something finally get it, and seeing their satisfaction, that's a great feeling," he says. "To see the light go on, their whole faces just beam—it's unmistakable." —Christopher Browner
For more information, including how to audition, visit metopera.org/children.


Christopher Browner is the Met's Associate Editor.