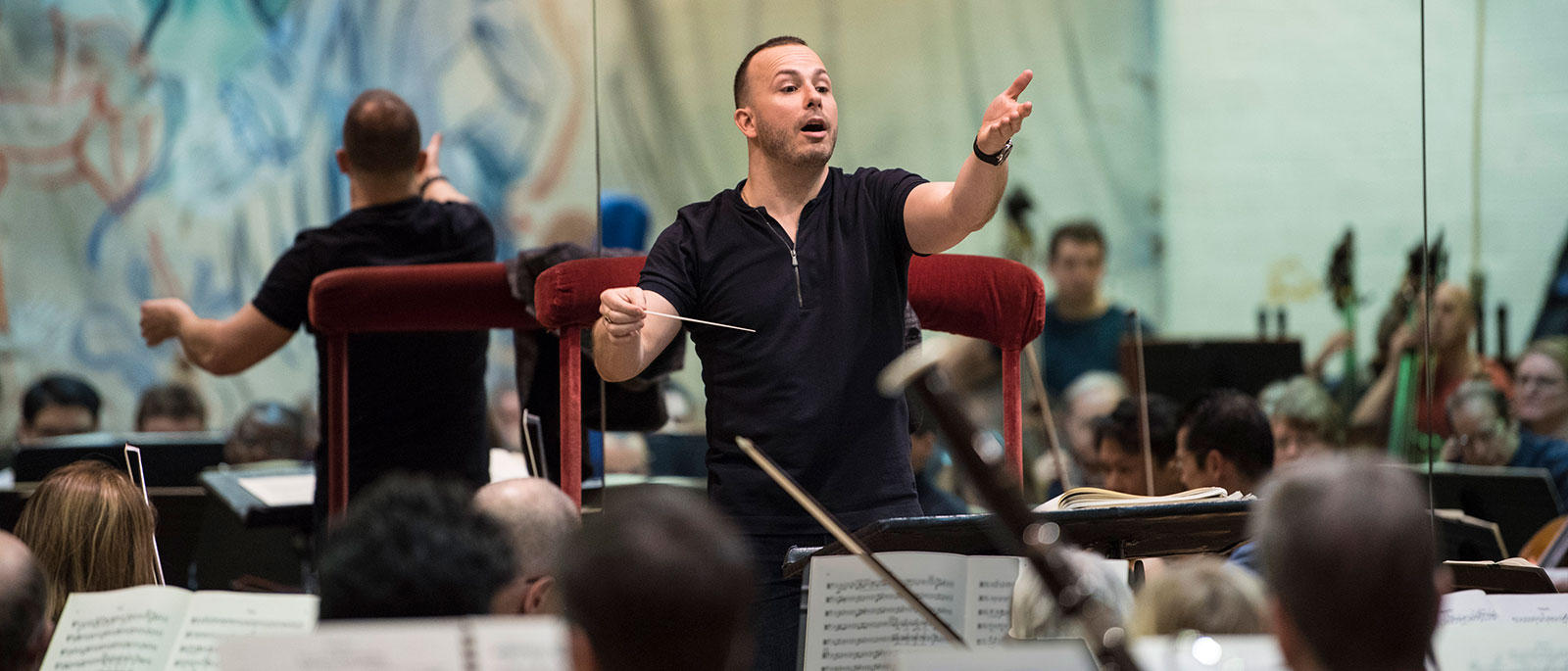 Bringing It All Back Home
Yannick Nézet-Séguin brings his first season as the Met's Jeanette Lerman- Neubauer Music Director to a close with a revival of Poulenc's Dialogues des Carmélites, opening May 3, and two concerts with the Met Orchestra at Carnegie Hall on June 3 and June 14. He recently spoke to the Met's Jay Goodwin about what makes Poulenc's opera unique and how the Carnegie Hall concerts benefit the orchestra's performances at the opera house.
You finish your 2018–19 opera season with Poulenc's Dialogues des Carmélites. Have you conducted it before?
No, but I worked on it as chorus master and assistant conductor when I was in Montreal, years ago. And around the same time, I attended a performance of this great John Dexter production at the Met. Both experiences made the most lasting and profound impression on me.
It's an opera that seems to have such an effect on almost everyone, the first time they encounter it. What do you think gives it such power?
The first thing is Poulenc's musical style, which is a mixture of very simple meters and harmonies, but which is charged with tension that goes right to the soul and immediately affects us psychologically and emotionally. It brings us, right away, to a place where we can be moved.
And, of course, the story of a group of nuns who are martyred during the French Revolution is devastating.
Yes, it's a story about friendship, purity, sacrifice, love, rejection, aspirations— subjects that you find in other operas, but rarely so tied together the way they are in Carmélites. And it's hard not to be moved by the final scene, which puts right in front of you the cruelty of this moment in history as you watch, with emotional music, the passing of all these devoted women.
It's an unusual work in that, for obvious reasons, it depends almost entirely on female voices. What effect do you think that has on the music and the drama?
In the creative discussions we have with composers as part of the Met's commissioning program, there's often discussion about how we have to be careful to distribute the voices evenly, and not have only high or only low voices. But this is an opera that breaks all of these rules, putting all the weight of the story on female voices. This has the risk of becoming tiring or unbalanced, but Poulenc counterbalances it with the harmonies, and with the delineation of the characters. Constance, for example, is the most pure and innocent of them all and sings in the highest register, whereas the lowervoiced ones are older. They've lived, and are more tired. This is all masterfully done and becomes an integral part of the story. All of this is where Poulenc shows his genius.
Your upcoming performances with the Met Orchestra at Carnegie Hall will mark the first time you've conducted the orchestra outside the opera house. What are you most looking forward to?
For decades, we've been talking about how the Met Orchestra is a fabulous orchestra, not only an incredible orchestra in the opera repertoire, but also just an orchestra of outstanding quality. And I think it's important to showcase the orchestra as much as we can, including in repertoire that's non-operatic. In the same way that I am a symphonic conductor as much as an opera conductor, I believe that it's important for an orchestra to be fluent in both languages.
What do these concerts provide artistically that the orchestra can then bring back to their opera performances?
In the same way that breathing with the music and knowing how to listen to and perfectly accompany the melody is an important muscle, so to speak, for a musician—one that the Met Orchestra naturally has mastered—there are other muscles that the symphonic repertoire develops more fully, like the layering of rhythmic complexities. A good example of why this is important is Dvořák's Rusalka—a very beautiful opera, but one which has all the complexity of his writing in his symphonies. If I play Rusalka with a symphony orchestra, they're very comfortable with this intricacy, but they might miss some of the lyrical character. And it's the opposite when it's an orchestra that's used to the operatic repertoire. So I think as musicians, we always evolve, and the broader our reach, the better we become.
What is noteworthy about the repertoire for these concerts?
Well, first, that our performance of Bruckner's Seventh Symphony on June 14 will mark the first time that the orchestra has played any Bruckner symphony, which I find remarkable. And this gorgeous music is perfect for an orchestra that's so good at playing the great Wagner operas. Another remarkable element of the programming that I'm looking forward to is Dutilleux's song cycle Le Temps l'Horloge, a work from 2007 that gives the orchestra an opportunity to perform contemporary music. This is part of the June 3 French program, which also includes music by Debussy and Ravel and is tied to the fact that I'm conducting two French operas this season at the Met. When we program these concerts, I want to connect them with the rest of our season while also choosing repertoire the orchestra has never played, or hasn't played in many years.
Another interesting note is that both of those French operas—Pelléas et Mélisande and Carmélites—as well as this French concert program, feature Isabel Leonard.
I believe very much in friendship in music. I believe the more we make music together, the better we are at knowing each other, and we can then bring out the best of the music we play and sing. Isabel has had a big year at the Met, starring in three operas, and it has been great to share this French focus and perspective with her throughout the season.
The June 14 concert features another great mezzo-soprano, Elīna Garanča. What excites you about working with her on Mahler's Rückert Lieder?
Elīna has one of the most beautiful voices of our time, with this very dark color that I always thought would be perfect in Mahler. And it's interesting to hear artists who are well known for their big operatic roles sing lieder, changing their approach from telling a story with a character to communicating through music which has no precise character. This is why I prefer, when we feature singers in our concert programs, to have them sing concert repertoire rather than opera arias. It sheds a different light on their abilities.


Jay Goodwin is the Met's Editorial Director.