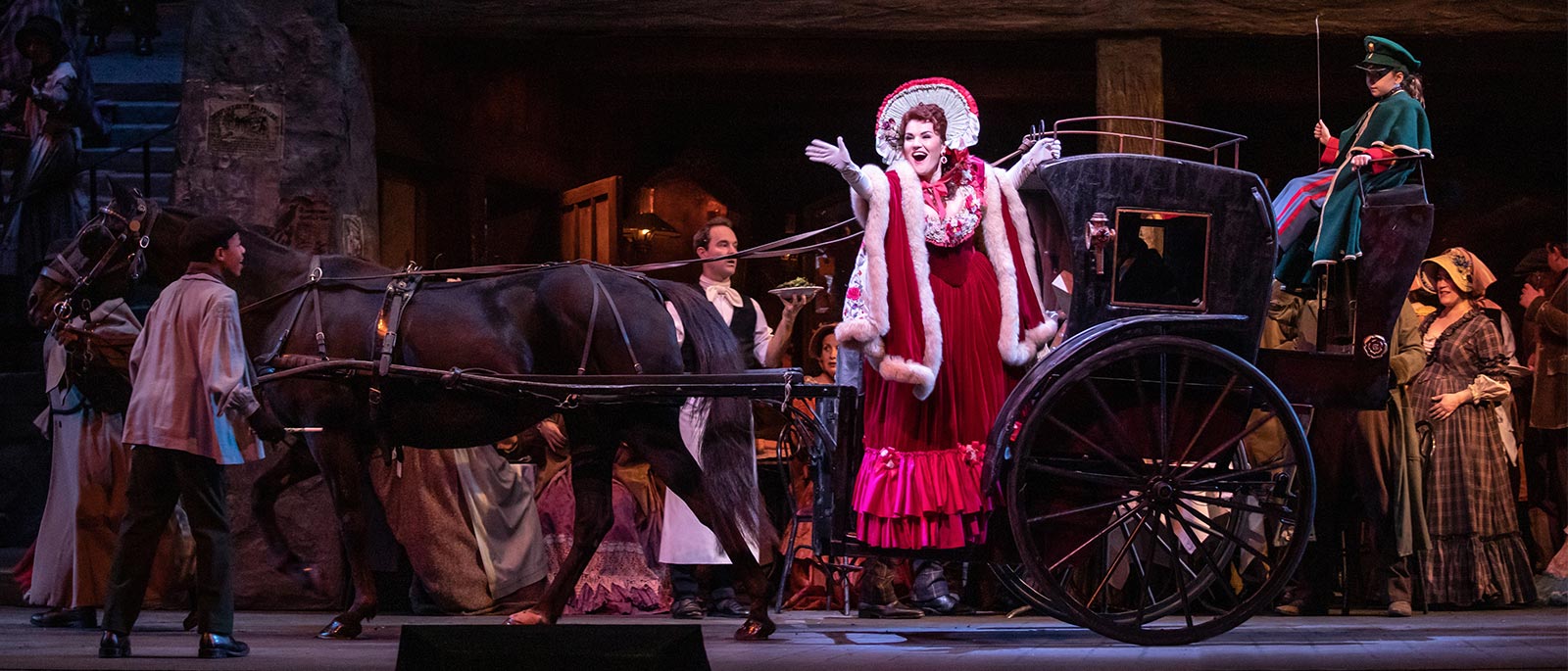 Breakout Bohemian
A standout in Puccini's La Bohème this season, Ukrainian soprano Olga Kulchynska has been thrilling audiences with her vivacious portrayal of Musetta. While still a newcomer to the American stage, Kulchynska's star has been swiftly rising overseas, particularly in Russia, where her career began at the Bolshoi, and elsewhere in Europe, where she's won broad acclaim for her appearances in operas by Mozart, Rossini, and Rimsky-Korsakov. As she completes her debut run at the Met, Kulchynska spoke with the Met's Joel Rozen about her breakout performance.
You've taken Musetta around the world—presenting her at top houses in Moscow, Barcelona, Rome, Amsterdam, and, next year, in Zurich.
Yes, I think people were excited to see some other side of this woman. To me, she's not just some fiery prostitute. She's ambitious, and she needs to find a way to adapt to the difficult conditions of her life. It's interesting—she doesn't really reveal her moral character until the last act, so the challenge is finding ways to show that her seeming wickedness in the second act is actually just a mask for who she really is.
Has your interpretation of the role evolved?
My interpretation depends on the production. For example, in Amsterdam, the production of La Bohème was set in the 1990s. Musetta was in high heels and had a slim dress, sunglasses, and a fur coat. My Musetta was different—her gestures were different, her walk was different. I will say that I really enjoy performing in a modern production like that. But a traditional production like Zeffirelli's often feels closer to the main ideas, to the libretto, so it's easier to do what's written in the score. You can tell that Zeffirelli was really thinking about the singers. You don't need to overact because he's provided so much atmosphere already.
Would you ever play Mimì?
Oh, I know I will in a few years! [Laughs.] I already know this music by heart—I could play Rodolfo!—and I like to imagine how I would sing each moment, like the scene with Marcello and Rodolfo. How would I cough? I don't know for sure yet, but it's coming to me …
What got you interested in opera?
I'm from Ukraine, from a provincial city called Rivne. My parents are musicians, they both teach in the music school, and my mom sometimes plays in the local orchestra. My first time hearing opera, I was around 12 or 13. It was an old recording of The Queen of Spades, starring Russian superstars like Tamara Milashkina. I remember I loved the recording and Tchaikovsky's amazing music—but it wasn't the singing I loved, it was the drama. I would sit and listen to the recording like it was a play, like I was listening to actors. I cannot say I was in love immediately with voices. Opera to me is more a kind of dramatic theater. That's what makes the art so wonderful.
Still, you have had an impressive run of it as a musician, singing in many different styles. Do you have a favorite period or style for opera?
I can't say which style is my favorite because I always love the experience of learning any new role. I might talk about my debut as Leïla in Bizet's Les Pêcheurs de Perles last year in Zurich, for instance, which was an incredible experience, and felt very different from other roles I'd sung. But I also love to sing Mozart. His characters—Pamina, Susanna—give me great joy, and his music has some special energy. It's spontaneous and alive, and I'd love to perform him and Puccini for as long as I can.


Joel Rozen is the Met's Staff Writer.