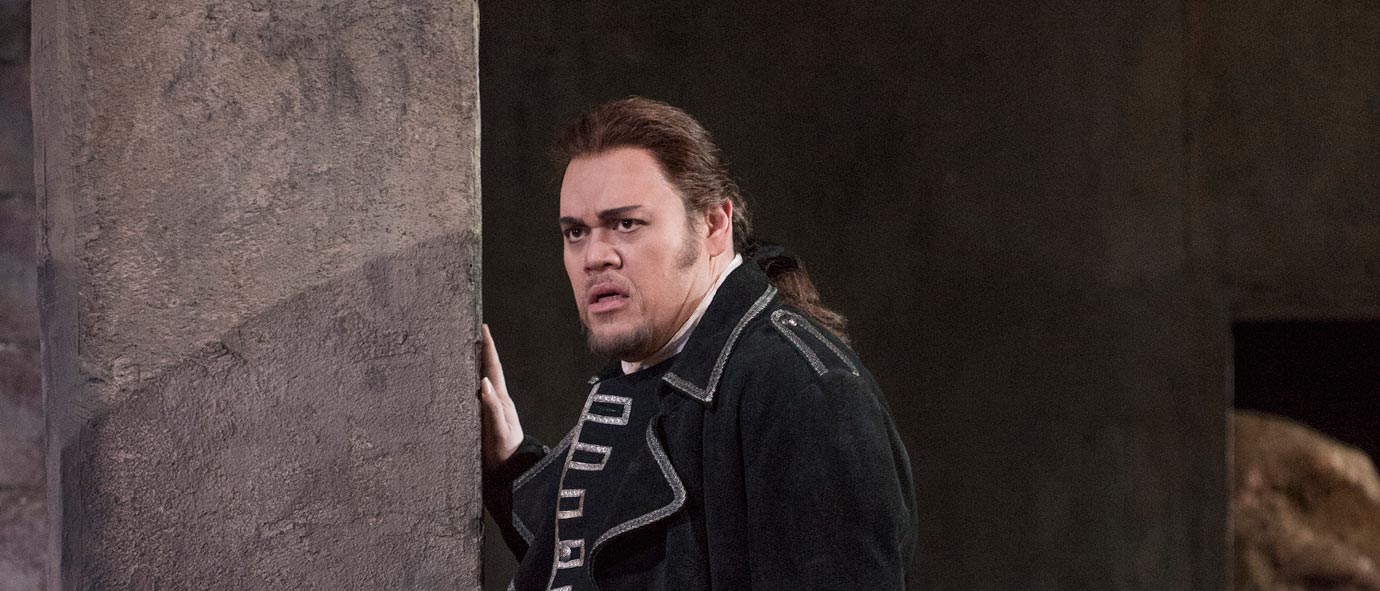 Booming Baritone
March 19th, 2018
Since his 2008 debut as Schaunard in La Bohème, Hawaiian baritone Quinn Kelsey has steadily taken on more and more prominent roles at the Met. This season is his busiest yet, with Peter in Hansel and Gretel and Count di Luna in Il Trovatore already behind him and performances as Enrico in Lucia di Lammermoor coming up this month. Kelsey recently spoke with the Met's Jay Goodwin about his journey so far.
A decade on from your debut, you're now singing benchmark baritone roles at the Met. What has that climb been like for you?
One of the hardest things for a young artist is patience. You have that instinct to push and take on everything that you can, but there has to be a plan. You have to take advantage of everything that you're able to, but also be careful and know what to wait for. Ten patient years later, I have to pinch myself once in a while to make sure this is actually happening.

This month, you're singing Enrico in Lucia. Is he a character you can relate to?
I can sympathize with his predicament. Mom and dad are dead, and so he has to take care of the family name, or whatever they have left of it. And the way to accomplish that isto marry off his sister, Lucia, to a rich family. He loves her, and he doesn't mean to be so controlling, but he doesn't have the luxury of being more compassionate.
How do you portray that conflict between his love for his sister and his other priorities?
Well, in their Act II duet, he tries to convince her that everything will be okay if she marries Arturo, even though he can tell that she's not really paying attention. But I try to show tha the does have her best interests in mind.
Speaking of duets, baritones get to sing many of opera's greatest tête-à-têtes. How do you find the right vocal and dramatic balance with each new partner?
That's the great challenge each time, even when coming back to a role you know well. But it's wonderful to start over with new colleagues and to see what you can create. Everyone brings their own interpretation, so I try to be unselfish and leave myself open to see what we can come up with.
Next season will be another banner year for you at the Met, with performances of Amonasro in Aida and of Germont in a new production of La Traviata. What excites you about singing those roles?
Well, the two are similar parts, in a way. Neither is the longest role, but Verdi writes so much for me in that short amount of time. In both cases, without my character, the story might go in a totally different direction. I definitely enjoy being that one important puzzle piece that has to fit in perfectly.
One more thing—don't you get tired of playing all these villains and overbearing fathers and brothers?
I do wish I could get the girl sometimes, you know? I mean, come on—throw me a bone!
Jay Goodwin is the Met's Editorial Director.