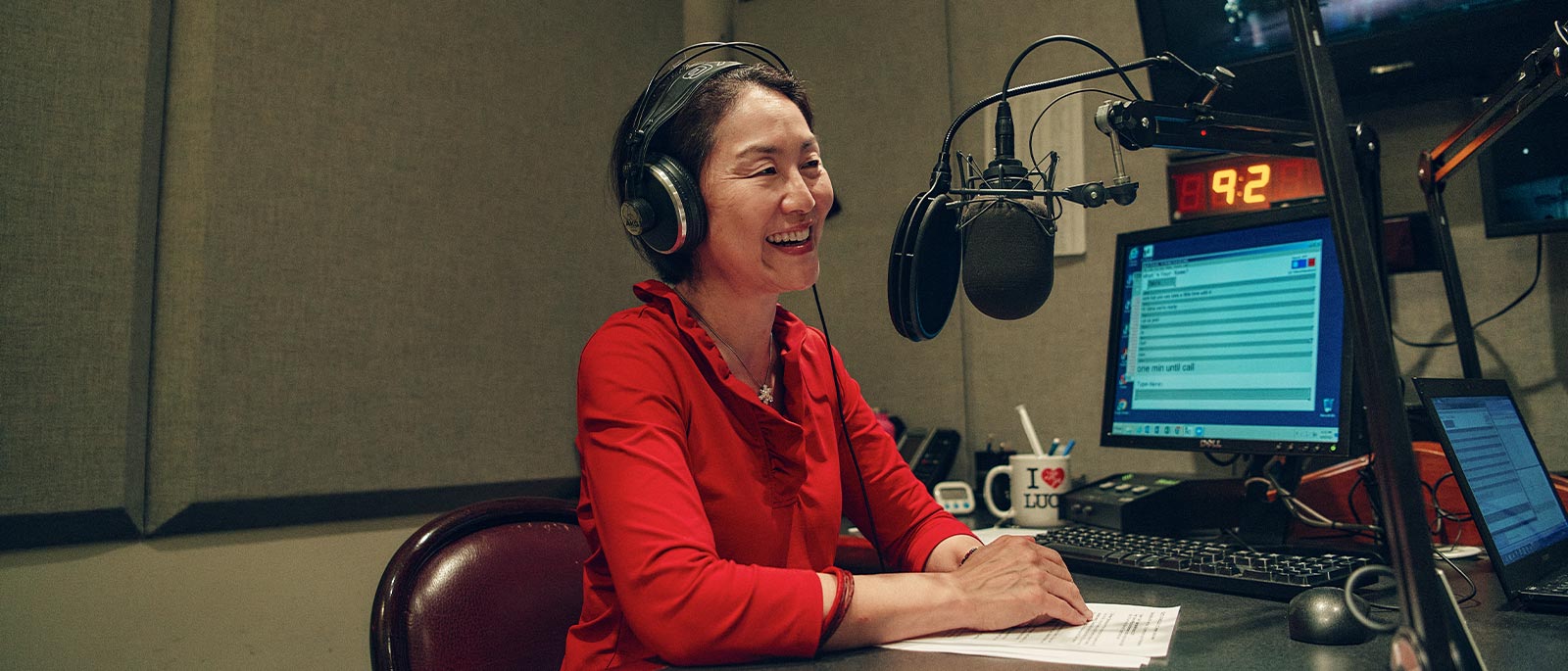 Back for More
Last season, opera lovers around the globe were introduced to Debra Lew Harder, who became only the fifth full-time host in the history of the Met's Saturday Matinee Radio Broadcast series. An accomplished concert pianist and former announcer on Philadelphia's classical radio station, WRTI, Harder will be back at the microphone when the Met broadcasts begin their 92nd season on December 10 with Kevin Puts's The Hours. As she looked ahead to the 2022–23 broadcast season, Harder recently spoke to Christopher Browner about returning as the voice of the Met.
You joined the radio team during a very daunting period for the company, as we continued to combat the effects of the Covid-19 pandemic and fought to keep the doors open and the curtain raised. What impact did that have on your first season on the air?
It was certainly a challenging season. My first official day was just a week before Opening Night, so between jumping in pretty quickly and having to deal with the impacts of Covid, sometimes it was intense. We actually wore masks a lot when interviewing artists, which was a bit of a challenge. But artistically, it was such an incredibly varied and rich season, and I was especially delighted to broadcast three incredible contemporary operas at the end of the season.
Was there a moment when it all clicked and you felt that you were really settling into your new role?
In a way, it clicked right from the beginning. And I thank my team for that. Many of them have been doing this for a very long time, so it was easy to trust their judgment as I worked out my own personal style. They let me experiment and see what felt best. Within a few months, I found that I could put a lot of drama into my storytelling, especially with the synopses. For something dramatic, like Madama Butterfly, I could almost go full Meryl Streep!
What are some of the operas that you're most excited to broadcast next season?
I came to love so many of our artists this past season, and I'm excited to see many of them returning. For instance, I am a big fan of Terence Blanchard. There's a certain direct human quality to his music that translates across genres, both jazz and classical, so I'm really looking forward to Champion. And there's also Lise Davidsen in Der Rosenkavalier and Allan Clayton and conductor Nicholas Carter reuniting for Peter Grimes after being so brilliant in Hamlet. And Michael Volle, who was so tremendous as Hans Sachs in Wagner's Die Meistersinger von Nürnberg, now taking on Verdi's great comedy, Falstaff. It's like having all these dear friends that are going on this journey with me, and to be able to hear their voices and see what they bring to their roles will be really lovely.
With one season now under your belt, how are you approaching your second year as host?
My main objective is always to make the story very clear and to help people understand what they can listen for, to give them something to hang their hat on. And even though I'm communicating with a global audience, I try to make it feel as if I'm speaking to a friend one-on-one, to be their companion for this amazing performance rather than pontificating. Because when it all boils down, it's about storytelling—music in general, but especially opera. Opera makes people face some of the most important questions in life, and does it through music, so to be able to bring that to people from all walks of life is such a great privilege.