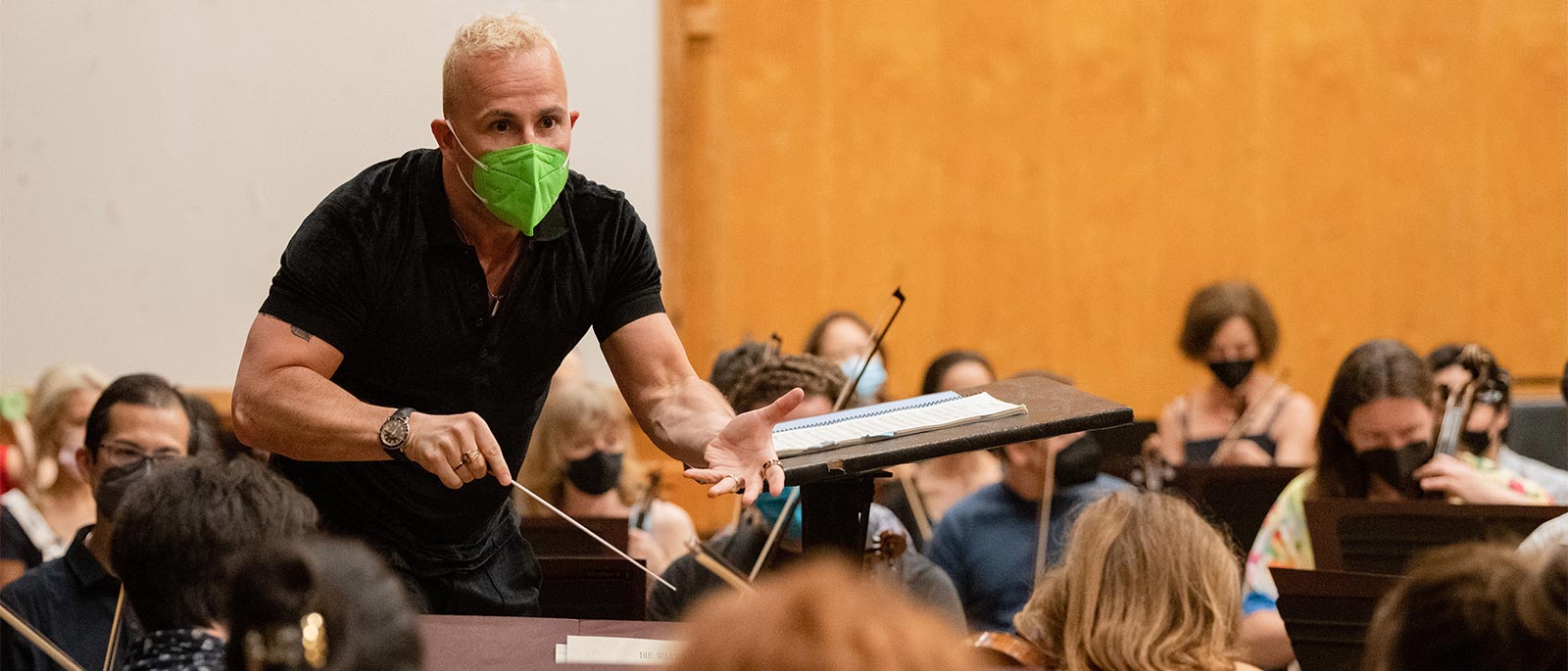 Ask Yannick
Not only is Yannick Nézet-Séguin a regular in the world's great opera houses and concert halls, he's also a social-media maestro. In anticipation of the 2022–23 season—which sees Nézet-Séguin conduct four productions—we put out a call on Facebook and Instagram for some of his biggest fans to send in their burning questions for the Met's Jeanette Lerman-Neubauer Music Director.
@miss_vanille39
Qu'est-ce qui vous a donné envie d'être chef d'orchestre?—What made you want to become a conductor?
It was the fun and joy of being in a group making music—singing in a choir and feeling that the person at the front could still make music, really embody the music, while also leading others. It's that aspect of being with people and helping them give their best, to help them feel joy while making music, that still drives me to this day.
@wings_and_crystals
What do you do to really understand singers' voices when you conduct them?
To really understand singers, one has to open his or her ears all the time while conducting. We have to be so prepared—and not be buried in the score—that we can actually be in the moment and feel every little sign from a singer and anticipate their breath. We also try to take risks together, as if we were performing chamber music, and this in-the-moment approach is really what makes opera conducting so great.
@morgur
What has it been like to prepare for Wagner's Lohengrin, and what are you most looking forward to about conducting that piece this season?
Preparing for Lohengrin is like preparing for any other opera, except that it's one of the long ones, so I have to carve out more time for studying the score. It's a piece I love and that I've conducted twice—once in Montreal and once at the Vienna State Opera. I'm so excited to conduct Wagner again at the Met with the very special sound of our orchestra. Last June, we performed Act I of Wagner's Die Walküre in concert at Carnegie Hall, and that experience really got me excited to work on this masterpiece. And of course, to have François Girard directing the new production is also thrilling. I conducted his Parsifal at the Met, and I ama big fan of his work—plus, he's a friend coming from the same corner of the world.
Jennifer Eory
Maestro, are you as excited about conducting La Bohème at the Met this season as I am to hear your take on it?!
Of course! What is there to say other than that it's a complete masterpiece, which never fails to get me emotional—even when I conduct it. Even though we all know the story, Puccini is such a master of emotions in his musical writing that when we get to the final bars, I'm always really, really emotional. And like everyone in our audience, I find our Zeffirelli production absolutely magical, so I've been looking forward to conducting it ever since I first attended Met performances back in my youth.
@benjamin9617
What's your best advice for a young singer currently studying opera in college or at a conservatory?
My best advice for a young singer is to never forget your own voice. Never forget the joy of singing. Singing is a very complex thing—it demands a lot of technical training, of course, but that training is necessary to then be able to be free and express who you are. We should never forget that that's the main goal—to express who you are. The truly remarkable voices have always had great individualities, and that's what we're looking for. The world is a better place for that diversity.
@vinneyt
What operatic role—regardless of vocal register or gender—would you most like to sing?
I would love to sing Tosca, probably with the voice of Sondra Radvanovsky—soaring above the orchestra and extracting all the dramatic juice out of that role. Similarly, I would love to be Christine Goerke and sing Elektra or be Elza van den Heever and sing the Empress in Die Frau ohne Schatten. Those are the kinds of roles I'd love to sing, ones who can dominate the orchestra and express the full range of emotion in a way only possible in opera.
Kaitlyn Kendrick
What non-classical music do you listen to?
I listen to a lot of jazz and R&B. These days, I really have enjoyed artists like Daniel Caesar, Ledisi, and James Blake. I love artists that really inspire me—there are really so many. Recently, I've been listening to Beyoncé's new album, Renaissance, on repeat. I think it's a masterpiece. I love every song on it.
@britta_licharz
If you were to conduct only one opera for the rest of your life, which one would that be and why?
Well, that's absolutely impossible since I cannot say that I have only one favorite opera. So I think I am allowed to pick a few! I think that Pelléas et Mélisande and Parsifal would be way up there on the list of what I love to conduct. But then, as soon as I mention that, I would say maybe Elektra or Salome or Don Giovanni or Don Carlos or Otello. I have a lot of favorites. And while I cannot choose just one 21st-century opera, I have passion for them as well. I'm doing more and more contemporary works at the Met, and I feel like I could really spend the rest of my life discovering only new operas.
@souzanaalviano
How many cats do you have? And do you and your husband have a favorite getaway?
Pierre and I used to have three cats. We always had a trio of cats. First, there was Parsifal. Then, Pelléas. Both have left us now. And then we had Mélisande, Rodolfo, and Rafa, but Mélisande just left us a few months ago. So now it's down to two cats, one who's singing all the time, Rodolfo, and one who doesn't sing at all, Rafa, named after the famous tennis player. As for our favorite getaway, it's anywhere with islands, sand, and the Caribbean Sea.
@impressionist_dreams
Being the music director of two of the world's top musical organizations must be so musically fulfilling but also hectic and draining at times. I love that you prioritize health and take breaks sometimes as needed. What are some of your favorite things to do for self-care to help keep you at the top of your game or to reset when you're feeling a bit overwhelmed?
Yes, I do live a very busy life. I believe that musicians in general have busy lives, and mine is especially full of responsibilities because a lot of people depend on me and these institutions with such great histories depend on me. But self-care is very important too. It's very important for every musician because we need to have something to say with the music, and therefore, we need to live. So, I believe very much in mental health and physical health. I believe in the virtues of jogging, training, weightlifting, doing sports, going outside, doing a lot of yoga, breathing, and having moments to recharge. That is really important and for me the key to a long and happy life in music.
Edited by Christopher Browner