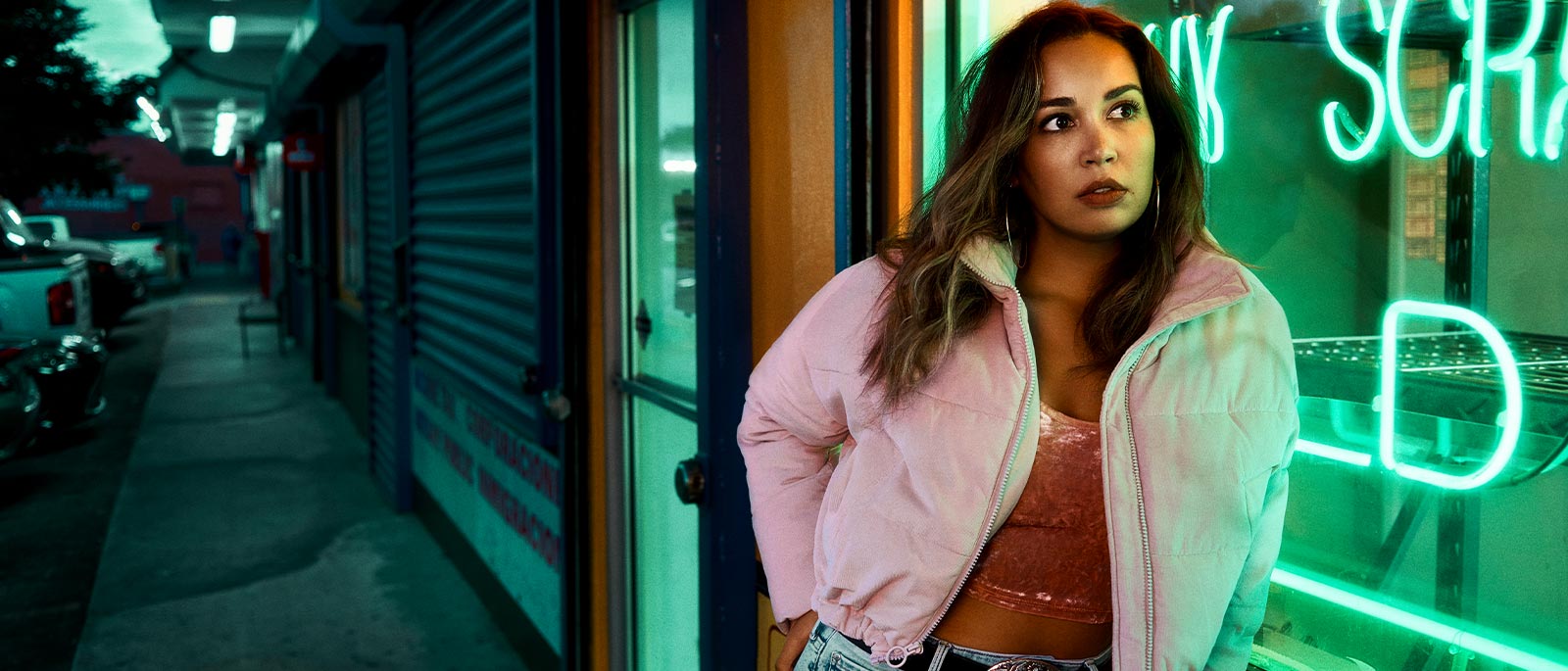 Arrival Time
Starting April 23, soprano Nadine Sierra sings the title role in the Met's new production of Lucia di Lammermoor, heralding her arrival as a major Met star. One of opera's fastest-rising singers in recent years, she has already sung nearly 40 performances of four different roles with the company, but headlining Simon Stone's modern-day new staging marks a watershed moment she's been working toward since she was ten years old. By Jay Goodwin
When Nadine Sierra returned to the Met late last month to begin rehearsals for Lucia di Lammermoor, she was greeted by an unfamiliar sight: her own face on a 14-foot-tall banner facing Columbus Avenue. It's just one of the surreal elements that come along with headlining a new production at the world's biggest opera company—a pinch-me moment that the radiant young soprano has been dreaming about since she was ten years old, when a VHS copy of Franco Zeffirelli's Met staging of La Bohème kindled a passion that has fueled her rise to the top of the field.
"My initial reaction was amazement," says Sierra of being asked to sing the title role in Simon Stone's new take on Lucia di Lammermoor this season. "But it also feels like a natural thing to happen at this point in my career. Everything I've done so far has been to prepare myself for this opportunity." And "everything," in her case, is quite a bit. Though just 33 years old, Sierra already has 20 years of experience, having started studying opera seriously at age 13 and getting her first professional engagement, as the Sandman in Humperdinck's Hansel and Gretel at Palm Beach Opera, just three years later.
When she was 18, the South Florida native moved to New York to attend the Mannes School of Music—still in its old location on the Upper West Side—at which point the Met became the symbol of a suddenly more tangible goal. "It was only a few blocks away, and it was this beacon of hope and light that I had been trying to get to ever since I fell in love with opera," she says. "To be so close to this institution of great art, world-renowned singers, and historic performances changed my life. I felt that the path to this place was becoming shorter."
Sierra travelled that path quickly, first by winning a slew of competitions—including becoming the youngest-ever winner of the Met's National Council Auditions in 2009—and then making important debuts around the world. In 2015, she gave her first official Met performance, as Gilda in Rigoletto, and she made her debut at La Scala the following year in the same role. That was another formative moment, as the audience demanded an encore of her Act II duet with legendary Italian baritone Leo Nucci, singing the title role. "I had this feeling that this must have been what it was like in the golden days of opera," Sierra says. "The people were freaking out. It was like a rock concert. To see opera celebrated in such an enthusiastic way—this is what I live for."
So far, the only thing capable of slowing her rise has been a global pandemic, during which she had Covid three times and endured the personal, professional, and economic losses suffered by so many others over the last two years—not to mention the dystopian pall it cast over everything, "making us all feel like we have to be afraid of people, which is awful." But even that crisis provided Sierra with something valuable: a chance to take stock and to rest. "I needed that time to reflect, not just on my career but on my personal life," she says. "I realized very quickly what I needed to focus on and what I needed to get rid of, people I needed to leave behind and people I needed to become much closer to—my family and some important friends. I came out of it stronger as a person."
Now, as she arrives for her massive moment in the Met spotlight, Sierra is poised to become one of opera's biggest stars. Her shining yet supple soprano is in demand everywhere, she is a Grammy-nominated recording artist with a major Deutsche Grammophon contract, and nearly 65,000 people follow her every move on Instagram, where she provides a window into a diva's daily life—both the grandeur and the hard work.
This combination of glamour and down-to-earth approachability makes Sierra the perfect fit to portray the modern, Middle-American heroine in Simon Stone's audacious reimagining of Lucia di Lammermoor. And she welcomes the chance to tell a true-to-life story. "Being human is not just innocence and beauty, but also the nitty-gritty, the dirty, the sexual," she says. "I think people will leave this Lucia thinking more about her as a real person than as a vocalist singing high notes."
She also looks forward to the opportunity to take a fresh look at a role she has sung many times before, and to insert more of the modern woman—and more of herself—into the character. "I'll probably be a bit more combative, have a bit more anger and put up more of a fight, rather than being a wilting flower who lets everyone control her," she says. "I think it will be a more fiery Lucia because that's what's most natural to me. I'm a Latina, you know!"
None of this is to say that Sierra or her colleagues will lose touch with Donizetti's music, which, she emphasizes, "will always take precedence." Translating the drama to a more immediate context only amplifies the emotional relatability already present in the score. As an example, she cites her favorite scene in the opera, when Lucia's controlling brother, Enrico, presents her with a forged letter, purportedly from her beloved Edgardo, indicating that he has thrown her over for another woman. "There's a moment when time is just suspended, when everything absolutely stops and Lucia sings through her shock," she says. "It's beautiful and realistic, and I think everyone can relate to that feeling. The pain that's associated with that beauty—that's what opera is all about."
Jay Goodwin is the Met's Editorial Director.