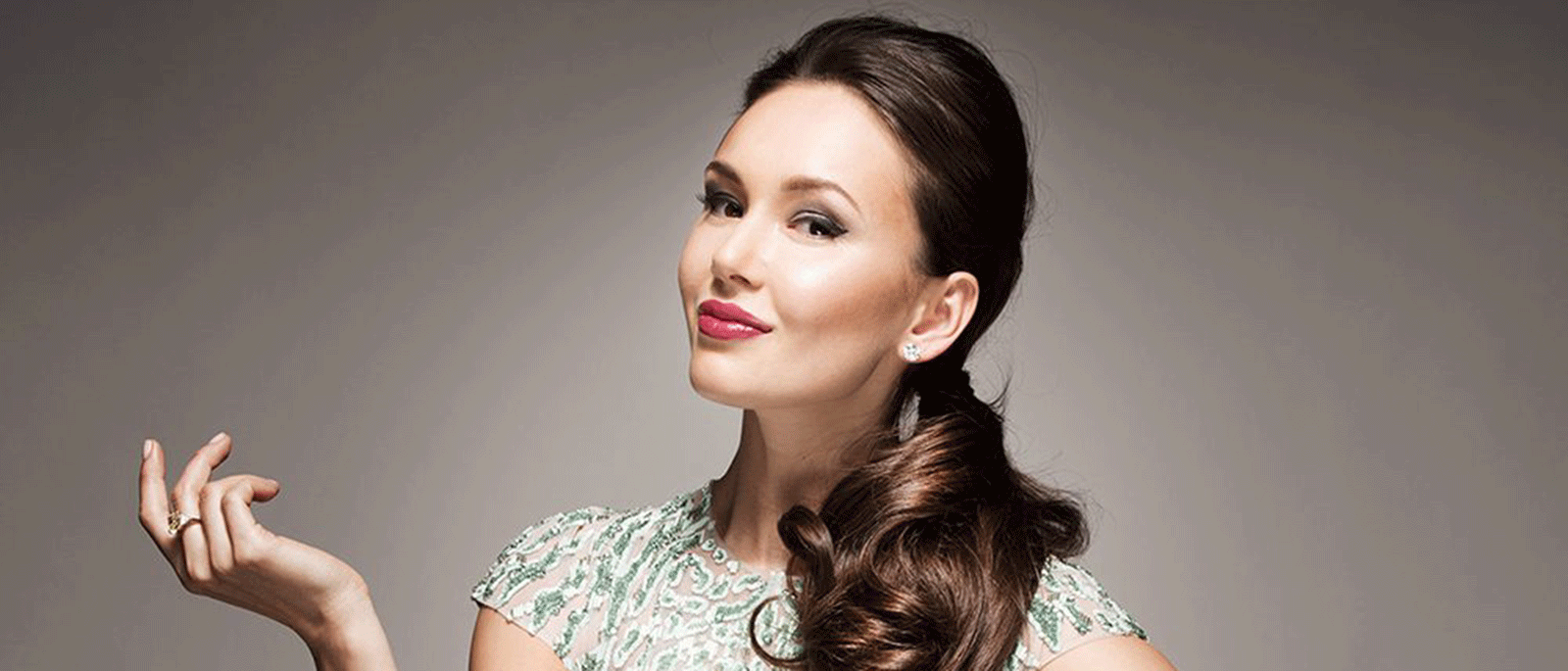 A Star is Born
January 04th, 2019
After winning Plácido Domingo's Operalia competition in 2013, Russian soprano Aida Garifullina quickly became one of opera's most sought-after young singers—even landing a role alongside Meryl Streep in the film Florence Foster Jenkins. This month, she makes her Met debut as the spunky bride-to-be Zerlina in Don Giovanni. Garifullina recently spoke to the Met's Christopher Browner about her blooming career and love of Mozart.
I can't think of a better name for a soprano than Aida. Were you named after Verdi's opera?
[Laughs.] My mother loves Verdi, but, actually, in Arabic my name means "a gift." My parents were dreaming about having a baby girl, so when I finally was born, it was like a gift.
I understand that your mother was your first singing teacher.
Yes. My parents always surrounded me with classical music. When I was four, they took me to a ballet, and it was like I was in the world of dreams. I knew that I had to be on stage somehow. My mother is a choir conductor, and she started to teach me music. A year later, I sang in a children's song competition in Moscow. That was my first experience on stage, and I knew I wanted to be a singer.
How did you get your start in opera?
After I had finished my studies, I met conductor Valery Gergiev after a concert. It wasn't an audition. I told him that I was a singer, and he asked me to sing. I sang "Je veux vivre" from Roméo et Juliette, and soon after, I got a call from the Mariinsky Theatre asking me to sing Susanna in Le Nozze di Figaro. That was my professional debut.
And now you're making your Met debut in another Mozart role.
Yes. I love singing Zerlina. Mozart's music is very good for my voice. There is a lightness in my voice, especially at the top of my range, that works well for his operas.
How do you approach playing this role?
Zerlina is a character that has so many colors. I love her purity. I don't think that she plans to leave Masetto, but she wants to try something new. She's young and doesn't really know a lot about passion. So she wants to meet Don Giovanni and maybe explore these new feelings. But at the same time, she's clever, and she has a sense of humor.
Do you have favorite moments in the opera?
I really enjoy Zerlina's vulnerability and her softness. For each character I sing, I try to find aspects that are similar to my personality. I want to put in a touch of my soul. As artists—and as women—we are vulnerable. Even when we are strong, we are still soft. So in those moments, especially in the aria "Vedrai, carino," I can really bring in that part of myself.


Christopher Browner is the Met's Associate Editor.