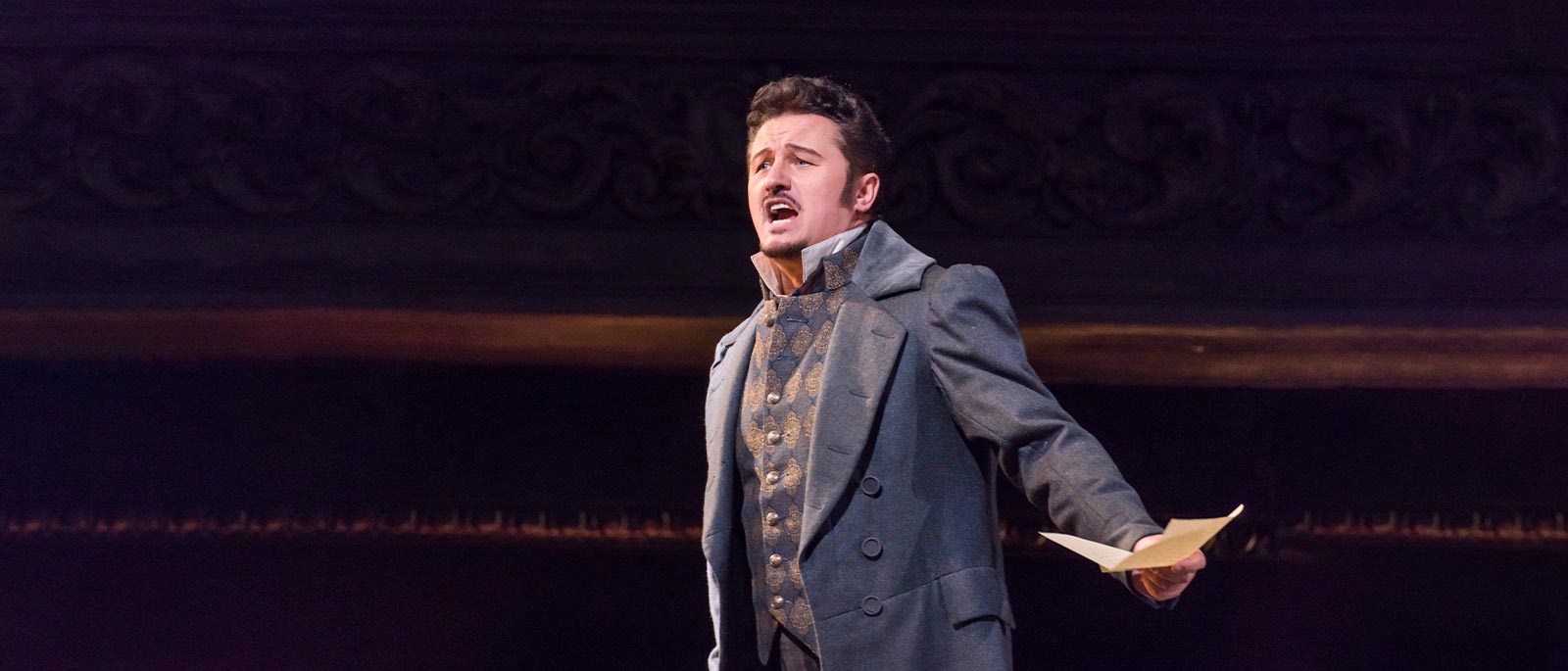 A Man of Extremes
This month, tenor Piotr Beczała sings one of his trademark roles on the Met stage for the first time: the tortured title character of Massenet's Werther, whose impossible love overwhelms him. He recently spoke with the Met's Jay Goodwin about why this role pushes him to the limit—yet always pulls him back for more.
Werther is obviously a troubled character—how would you describe him?
Well, he is a romantic hero, of course, but the more I've performed the role, the more I've discovered a character who is not so nice. He's very selfish and egoistic in the way he relates to his beloved Charlotte and to the world around him. The story is headed for a tragic end from the very beginning because he doesn't want to be happy with Charlotte, or to live a nice, peaceful life. He wants to suffer.
Do you feel like you're being pushed to the extreme vocally in the same way that the character is being pushed emotionally?
Absolutely. You can't just sing Werther—you have to be Werther. I describe Massenet as pre-verismo, but in French style. It's not as brutal as Italian verismo, but the same intensity and expression are there in the vocal lines and in the orchestra, and there's an energy in this character that naturally turns you up to a very high level. Plus, the score calls for a big orchestra and is sometimes very, very loud—and of course the Met is a big house, so you have to sing with free and full voice.
You've sung Werther often throughout your career. Why does it resonate so much with you?
Werther is the kind of role I like most. Not only musically, but the story is based on Goethe, so it began as very high level literature. It's like Faust, or Verdi's operas based on Shakespeare and Schiller. The characters are so complex, and with each production you discover a new part of them.
Next season, you'll star in your second Opening Night at the Met, singing Radamès—a recent addition to your repertoire—in our new production of Aida, alongside Anna Netrebko and Anita Rachvelishvili, with Yannick Nézet-Séguin conducting. Pretty high stakes.
Yes, there will be some pressure. But I'll do my first Aida two months earlier in Spain, so I won't be singing it for the first time on Opening Night. Also, I've been working on the music for a couple of months already, and I've discovered that Ramadès is not actually a very heavy role. It has a couple of places that are really heroic and loud, but the heart of the role is lyric, and there are many moments when the tenor can sing with beautiful cantilena and a lot of color. So I can use my experience from Un Ballo in Maschera, Rigoletto, and Luisa Miller to build my Radamès, and I'll be ready in September.
Jay Goodwin is the Met's Editorial Director.