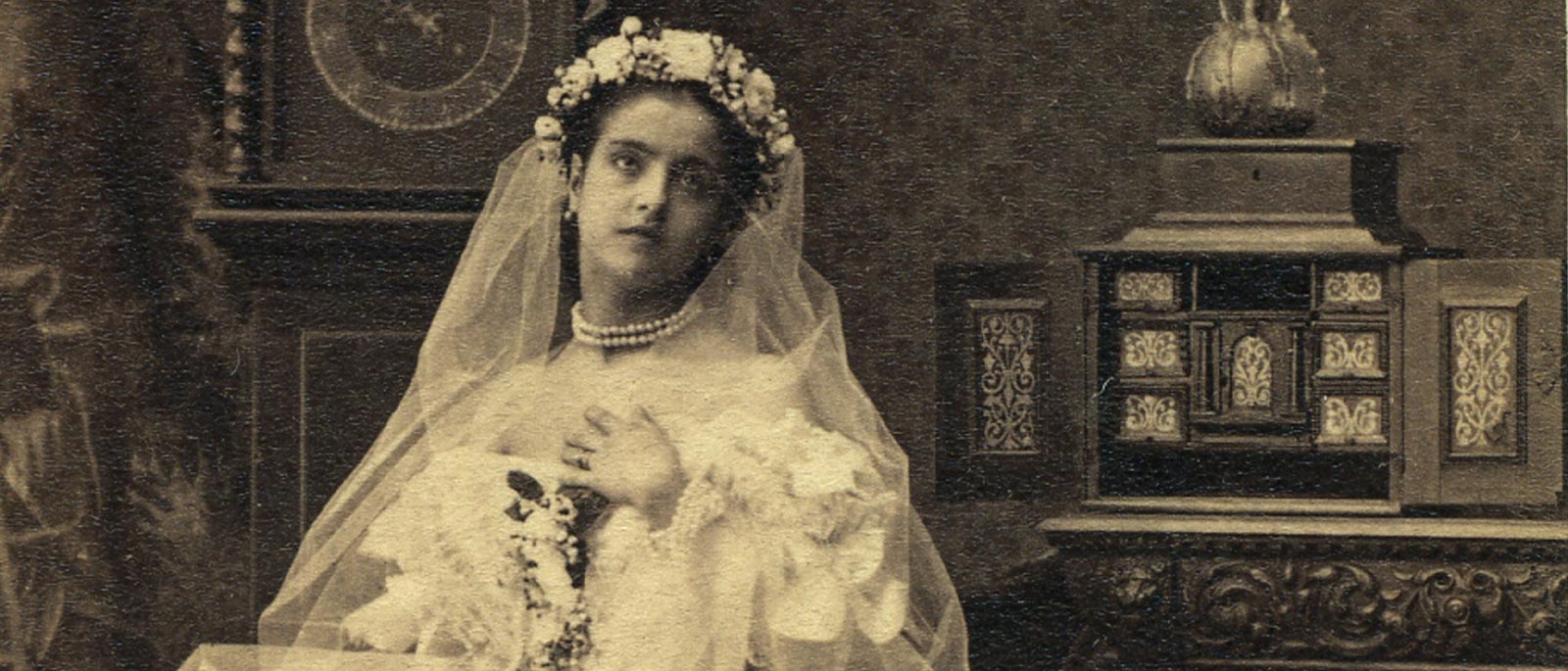 The Met's First Semiramide
By Peter Clark
When the Met's first performance of Rossini's Semiramide took place on tour in Boston on March 22, 1892, Adelina Patti, maybe the most famous singer of the latter half of the 19th century, took on the title role. It was the only performance Patti that sang of Semiramide with the company, and the only season she appeared with the Metropolitan. But Patti's significance in Met history went far beyond the small number of performances that she sang as part of the official troupe, for her unsurpassed fame and extraordinary talent were such that she was the yardstick by which all other prima donnas were measured for many years. The Met's longtime archivist Robert Tuggle observed in his book The Golden Age of Opera that she was probably the highest paid singer in the history of the art form, with a fee of $5,000 per evening that she insisted on having delivered to her dressing room in gold before she would sing (about $143,000 in 2020 dollars by one calculation).
In its initial 1883–84 season, the Met had to compete with New York's previous main opera venue, the Academy of Music, where the manager had engaged Patti. Her popularity alone virtually guaranteed box office success. The Met's first impresario, Henry E. Abbey, faced financial ruin at the end of the company's initial season and subsequently gave up the opera house lease. For the next seven seasons, a troupe performing opera in German took over the Met. Abbey learned his lesson though and assembled a company that included Patti to perform Italian and French opera. He then rented the Met in 1887 and 1890, presenting some of the era's greatest singers and billing both seasons as Patti's "farewell," which helped spur the public to the box office. (Patti would continue to make "farewells" for many years to come). Eventually, Abbey convinced the opera house proprietors again to accord him the lease beginning in the 1891–92 season, and it was in these circumstances that Patti finally made her Met debut.
Patti as Semiramide
Adelina Patti was born in Madrid in 1843 to itinerant Italian singers, who moved the family to New York City when she was still a child. Adelina was raised in the Bronx along with two older sisters and a brother, all of them musicians, and was a precocious singer who performed from an early age. Her vocal training was undertaken by her elder sister Amalia's husband, Maurice Strakosch, who also managed her early career. A pianist himself, Strakosch, had played in the teaching studio of the great soprano Giuditta Pasta, Bellini's original Norma.
Exactly what elements of bel canto Patti received from Strakosch is hard to know, but she clearly must have had an extraordinary musical aptitude and an innate vocal endowment. Her debut at New York's Academy of Music in 1859 at age sixteen in the title role of Donizetti's Lucia di Lammermoor (Patti is pictured as Lucia at the Met at the top of this page.) created an immediate sensation. Three years later, her career was launched in London and Paris with brilliant triumphs as Amina in Bellini's La Sonnambula, among other roles. No less an admirer than Giuseppe Verdi, recalled his first impressions of her in a letter some years later: "A born artist in every sense of the word. When I heard her for the first time in London … I was stunned, not only by the marvelous technique, but by several moments in the drama in which she showed that she was a great actress … an exceptional artist." Verdi, who was not one to give idle compliments to singers, knew her well and referred to her as among the greatest singers of the day on numerous occasions.
And he was not the only composer to admire her. Gioachino Rossini had retired as an opera composer by Patti's day but remained one of the musical world's most revered figures from his home in Paris, where he maintained regular music salons frequented by many of the world's greatest artists. Patti became a regular performer at these, though her first appearance at Rossini's salon was the occasion of one of the composer's famous barbed quips. As recounted second hand by Camille Saint-Saëns:
It is known that when she had performed the aria from [Rossini's opera] Il Barbiere, he said to her, after many compliments: "By whom is this aria that you have just let us hear?" I saw him a few days later: He still had not calmed down. "I know perfectly well," he told me, "that my arias must be embroidered; they were made for that. But not to leave a note of what I composed, even in the recitatives­—really, that is too much!"
Patti seems to have quelled Rossini's ire by asking his advice, and Saint-Saëns concluded the incident, "Two months after this encounter, Patti, with the Maître accompanying, sang arias from La Gazza Ladra and Semiramide, coupling with her brilliant qualities the absolute correctness that she has always displayed since then."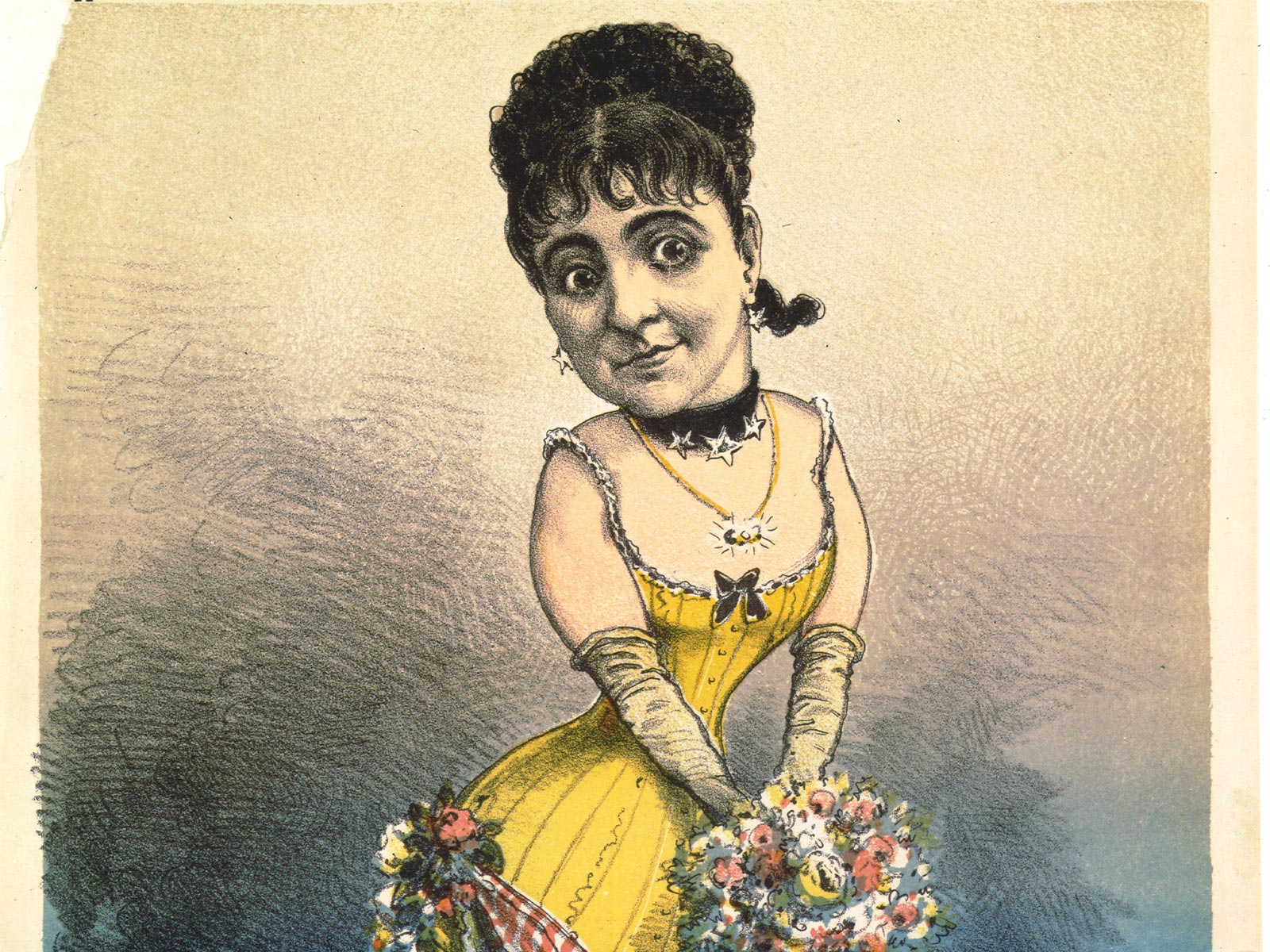 A caricature of Patti in Puck magazine
By most accounts of Patti's singing during her prime, the sheer quality of her vocal timbre was astoundingly beautiful. Lilli Lehmann, herself perhaps the greatest Wagnerian soprano of the age and later a noted pedagogue, wrote:
Adelina Patti was the greatest Italian singer of our time. Everything about her singing was absolutely beautiful, impeccable and pure; her voice resonated like a bell and left the impression of continued ringing long after its final vibrations.
Though she sometimes sang heavier repertory, Patti's basic vocal category was that of a lyric coloratura soprano, and her greatest successes were in either the bel canto showpieces of Rossini, Bellini, and Donizetti, or the lyrical roles of Verdi and Gounod. Her vocal method was so secure that her career lasted for a half century or so, with multiple highly profitable farewell tours. In 1905 and 1906, she made some recordings that are much prized by collectors of historic singers. Through the haze of the early sound, it is difficult to detect the magical timbre of her voice, and in any event, she was 62 years old, and the voice was well worn through decades of singing. Nevertheless, aficionados delight in these historic documents. Michael Scott, in his encyclopedic book The Record of Singing noted:
In her recordings, we can hear so many of the ancient graces of singing; here are the real portamento style, the elegant turns and mordents, the trill free of any suggestion of mechanical contrivance. Behind the singing, we can almost see the face, even if, by 1905, it was that of an old lady and heavily enameled.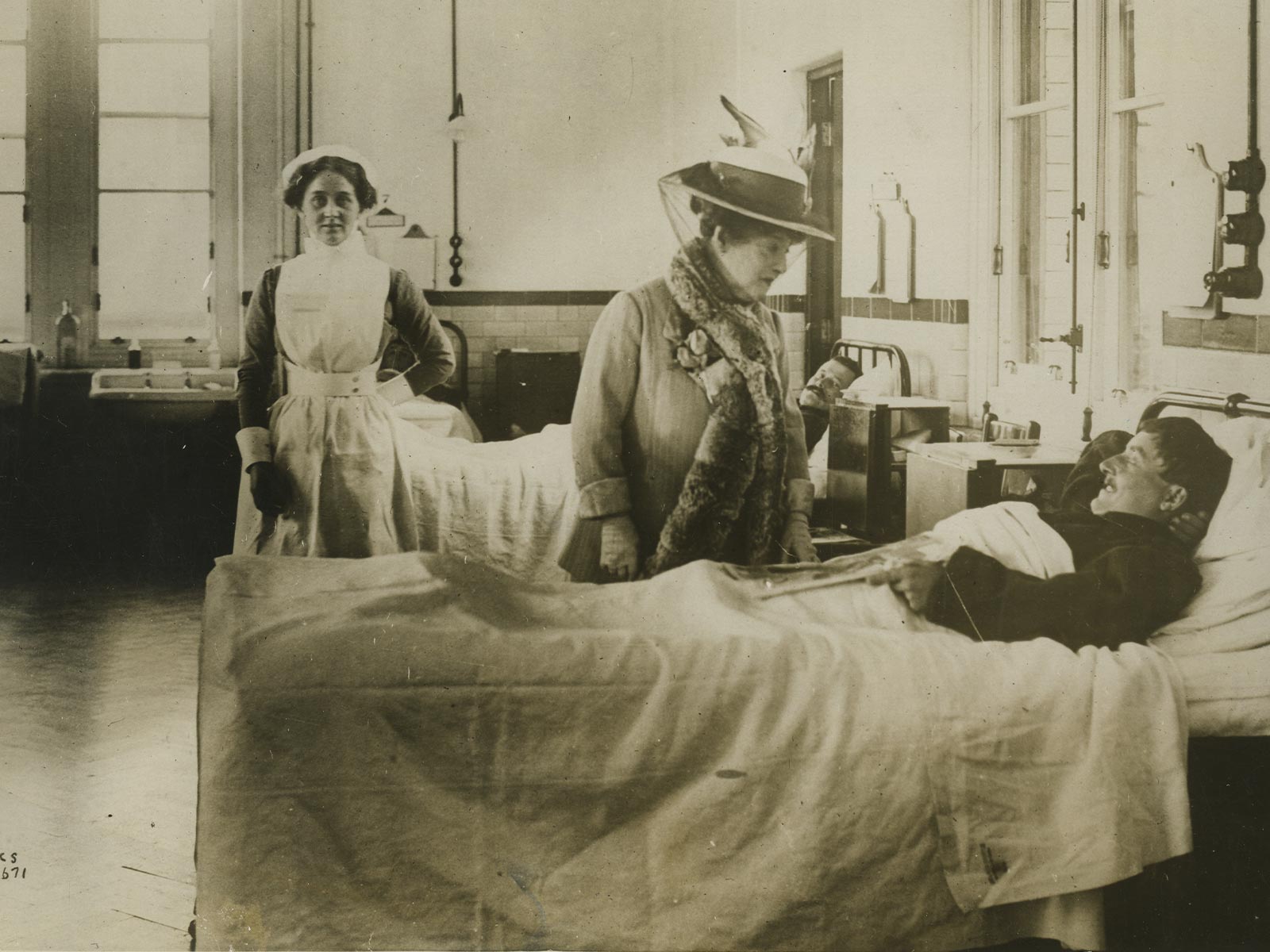 Patti visiting a wounded soldier
The most heralded and worshipped of singers, Patti was not without her critics. As she absorbed the adulation, Patti must have become less focused on portraying the characters she sang and more content to be simply the prima donna assoluta. She was renowned for wearing her personal collection of jewelry onstage whether appropriate for the character she was interpreting or not. George Bernard Shaw was not disposed to the style of opera she sang and made fun of her self-regard: "Patti will get up and bow to you in the very agony of stage death if you only drop your stick accidentally."
Patti only sang 12 performances and five roles with the Met, though she appeared on its stage with Abbey's visiting troupes, including as Semiramide, before her performances with the official resident company. In addition to her vocal gifts, Patti had a reputation as a savvy businesswoman who accumulated a large fortune for her old age. She died in her Welsh castle, Craig-y-nos, in 1919 and is buried in Paris's Père Lachaise cemetery not far from her old friend Rossini.

Peter Clark is the Met's Archives Director.