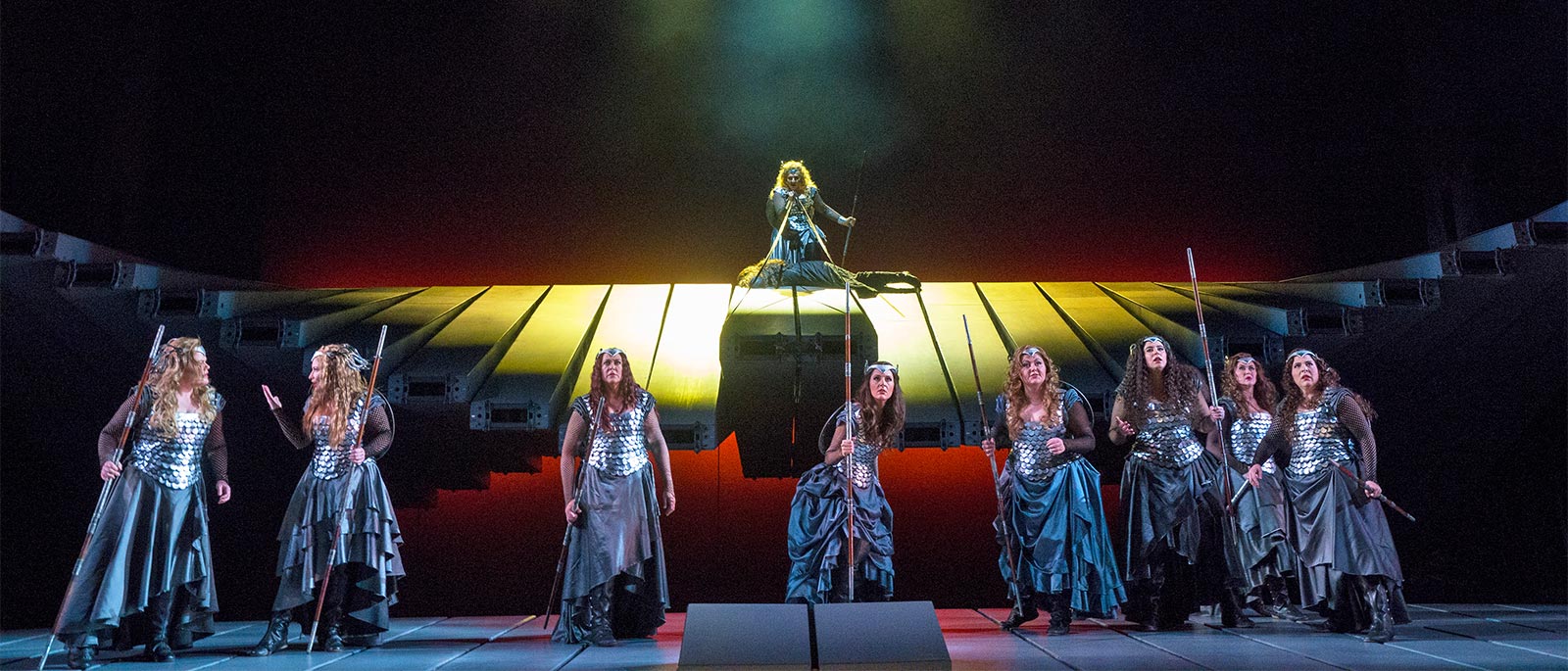 From the Archives: Wagner at the Met
By Peter Clark
Richard Wagner's operas were modern music when the Metropolitan Opera first opened its doors in 1883. The composer had died just eight months before the Met opened on October 22 for a season of performances in Italian. The troupe performed Wagner's Lohengrin in Italian in that opening season, with a starry cast better known for their interpretations of Gounod and Verdi than of German opera.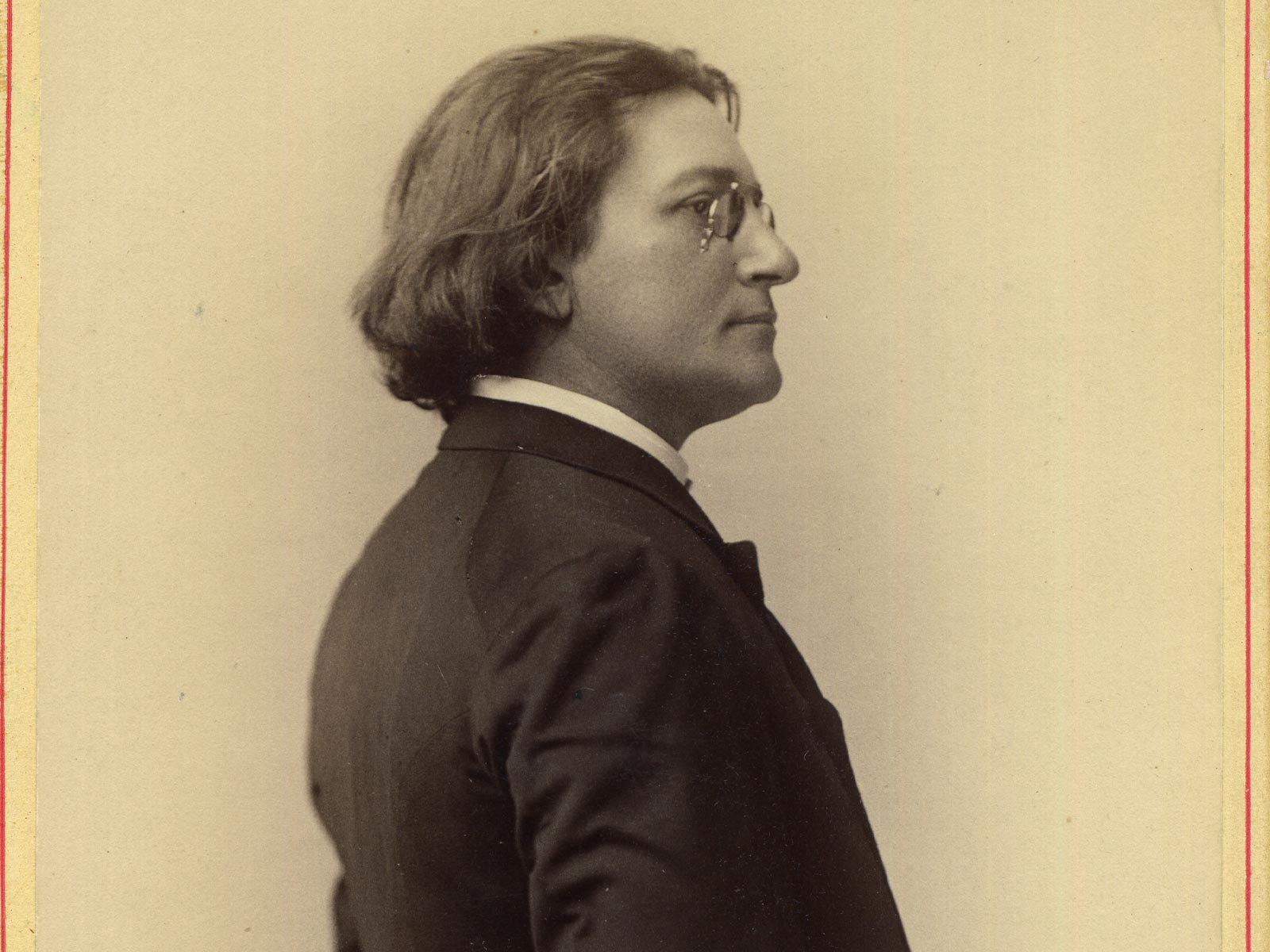 But as the avant-garde music of the time, Wagner's operas were experiencing a surge in interest, and the Met became the epicenter of his music in America during its second season. From 1884 to 1891, the Met engaged a German troupe of artists who performed only in that language, with Wagner's works central to the repertory. Five Wagner operas had their United States premieres at the Met in these years: Die Meistersinger von Nürnberg (1886), Tristan und Isolde (1886), Siegfried (1887), Gotterdämmerung (1888), and Das Rheingold (1889). In addition, the Metropolitan gave the first complete Ring cycle in the Western Hemisphere in 1889. All of the premieres took place under the baton of the eminent conductor Anton Seidl (pictured above), who had worked with Wagner on the first Bayreuth Festival and conducted his works in Vienna, Berlin, and London before coming to New York in 1885. Some of the most renowned Wagnerian singers in the world starred in the Met performances, such as sopranos Amalie Materna and Lilli Lehmann (pictured below as Isolde), mezzo-soprano Marianne Brandt, tenors Albert Niemann and Max Alvary, baritone Adolf Robinson, and bass Emil Fischer.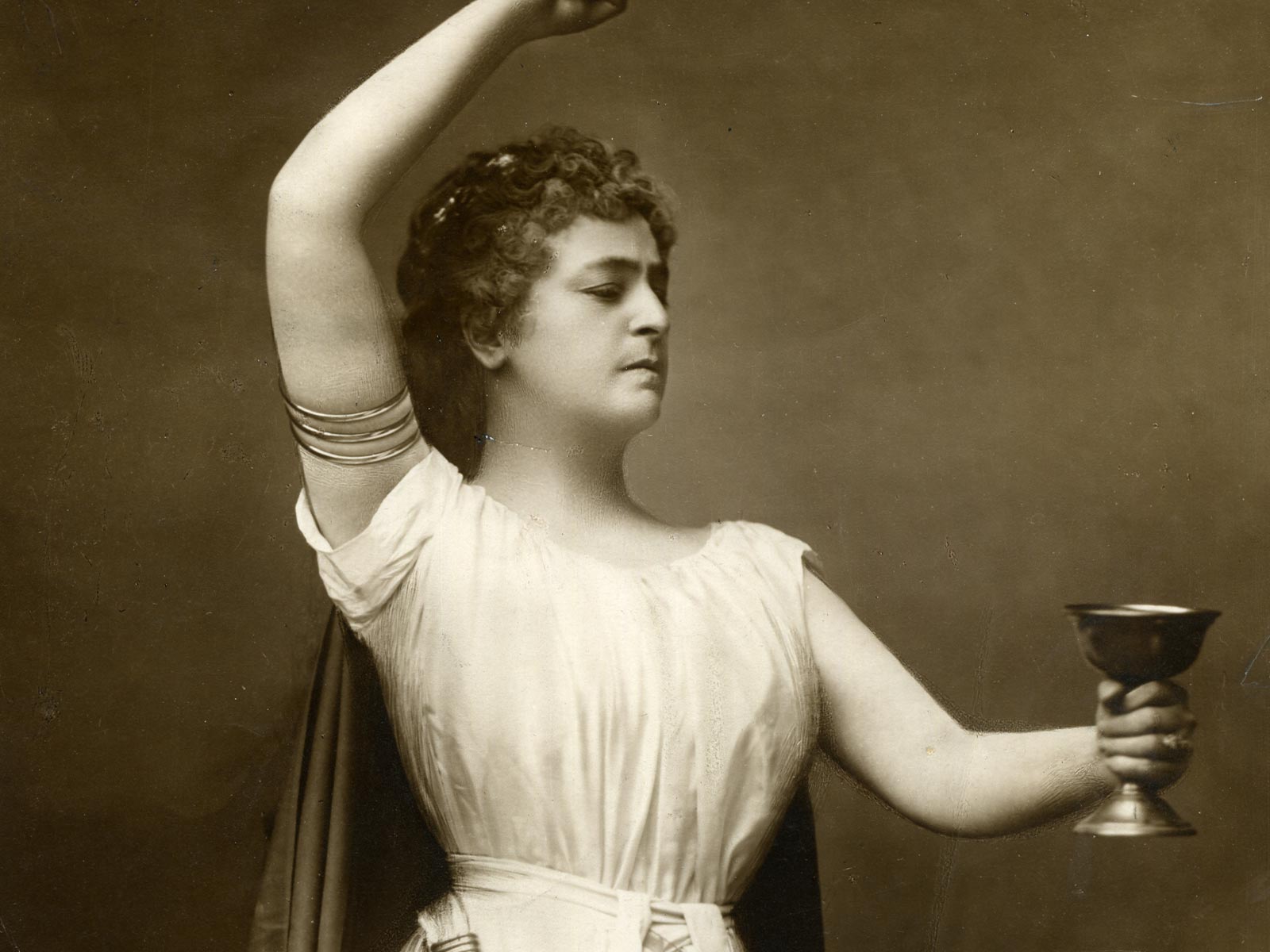 Even though the Met turned to Italian and French operas in the 1890s, Wagner remained an audience favorite. Artists of the "Golden Age of Singing" took on Wagner roles with superstars like tenor Jean de Reszke (pictured below as Siegfried) taking on Tristan and Siegfried, his brother, bass Edouard de Reszke, adding Hans Sachs in Meistersinger to his repertory, and soprano Nellie Melba attempting (unsuccessfully) Brünnhilde. Simultaneously, a new generation of Wagnerian singers emerged: American soprano Lillian Nordica became the Brünnhilde of choice, contralto Ernestine Schumann-Heink began an epic career, and bass-baritone Anton van Rooy made Wotan his signature part.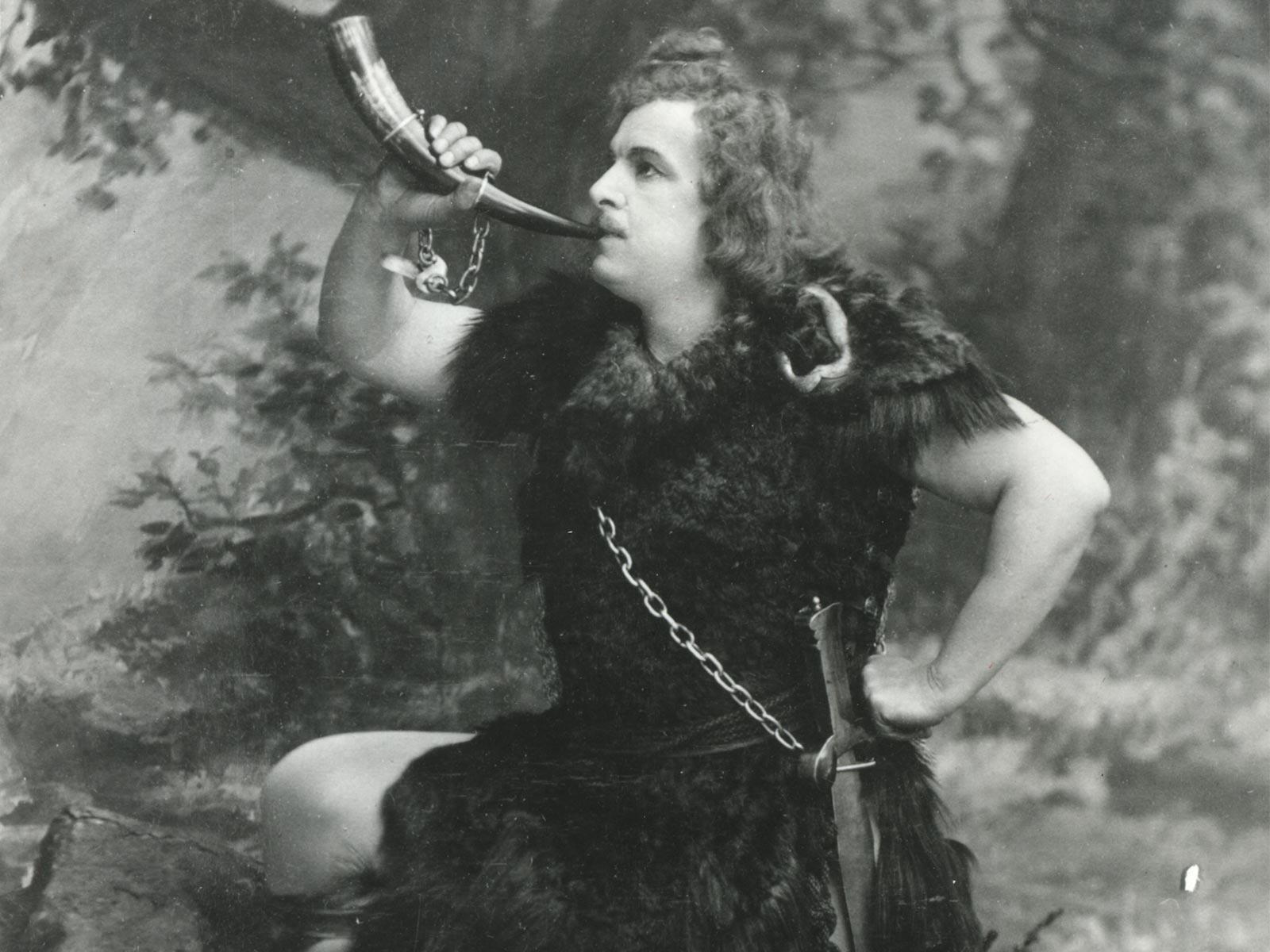 In 1903, the Met made history as the first opera house outside Bayreuth to stage Wagner's Parsifal. The composer originally intended Parsifal only to be produced as part of the Bayreuth Festival, and his family took legal steps to oppose the Met's performances. But the legal restrictions did not apply in the United States, and the performances went forward under the baton of Alfred Hertz, with an all-star cast.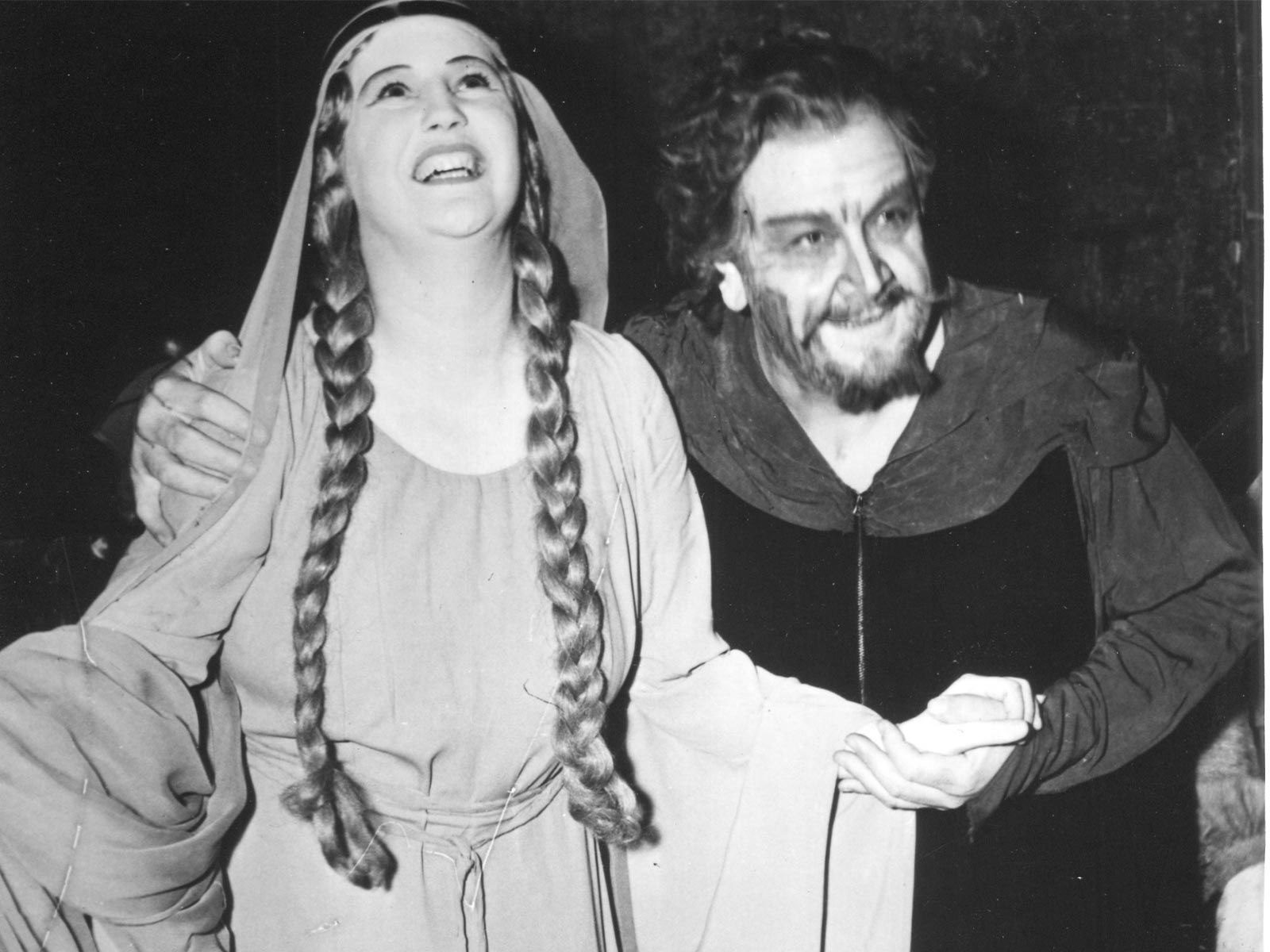 Wagner's operas remained perennial favorites at the Met up until World War I, when German opera was banned for a couple of years. It was a soprano-tenor duo that brought Wagner back to the forefront of the Met repertory. Kirsten Flagstad made her Met debut in 1935 as Sieglinde in Die Walküre and proved the perfect partner for tenor Lauritz Melchior, on the company's roster since 1926. (The pair are picture above as Tristan and Isolde.) Their voices had all the power and stamina required by Wagner's long, demanding music dramas, and at the same time beautiful timbres that never gave out under the strain. Flagstad and Melchior became household names, with the kind of widespread fame that few others in the field have ever enjoyed. Their recordings and broadcast performances are still considered touchstones of Wagnerian performance history.
The Second World War interrupted this idyll, but Wagner's operas continued to hold an important place in the Metropolitan's repertory.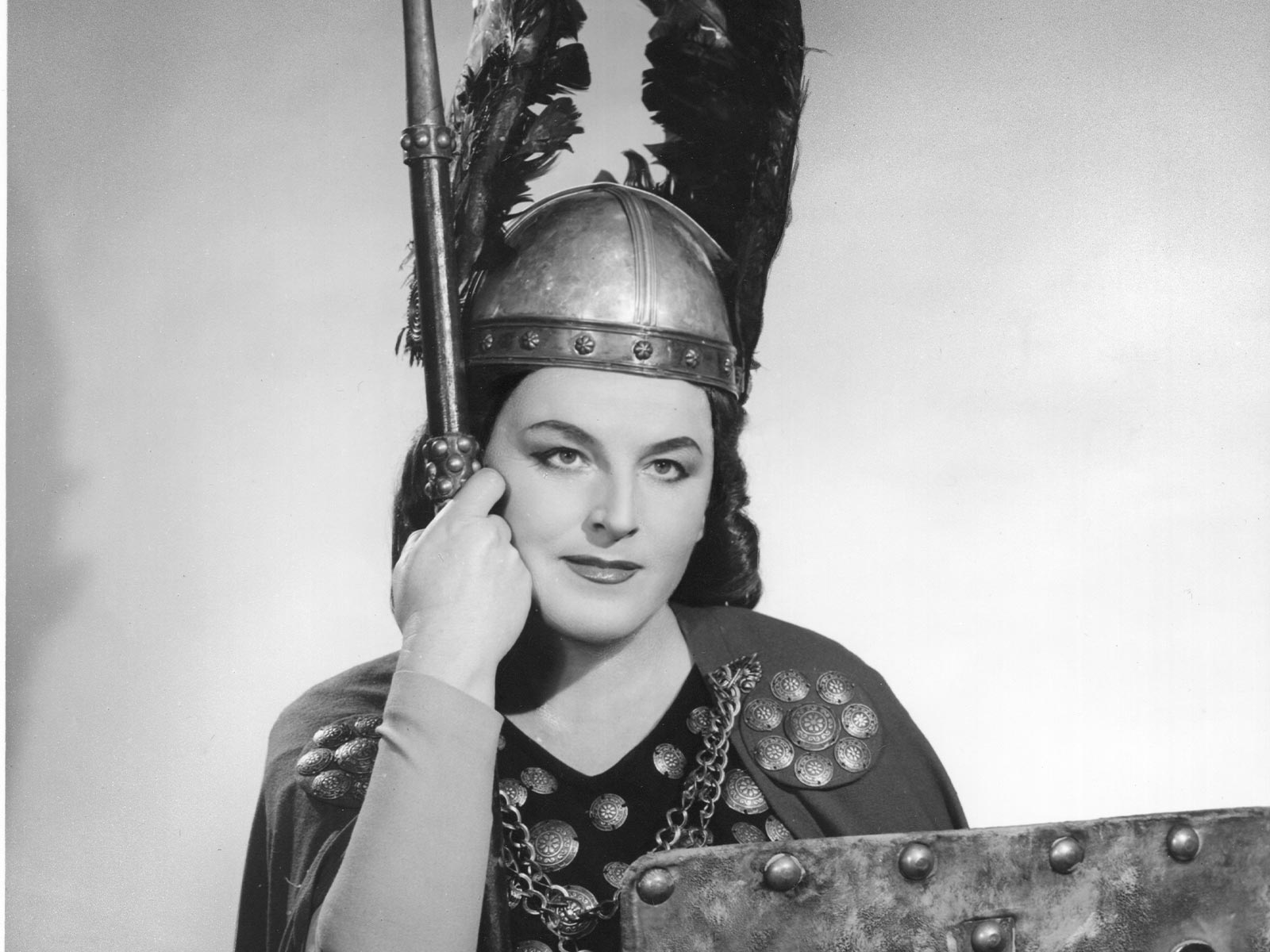 From 1945 on, there were too many noteworthy Wagnerians to name, but it would be impossible not to recognize Swedish soprano Birgit Nilsson (pictured above as Brünnhilde), who made a sensational Met debut as Isolde in 1959. Following this triumph, she became the Met's premiere Brünnhilde, and the company's general manager, Rudolf Bing, flatly refused to consider mounting a Ring production without her.
A new production of the Ring Cycle completed in 1989 at the Met, conducted by James Levine and directed by Otto Schenk, with designs by Günther Schneider-Siemssen, presented a realistic staging that became wildly popular with audiences, even as re-interpretive styles became the rule in Europe. The Schenk and Schneider-Siemssen team created a comprehensive realistic Wagner style at Met with, in addition to the Ring, productions of Tannhäuser (1977), Parsifal (1991), and Die Meistersinger von Nürnberg (1993).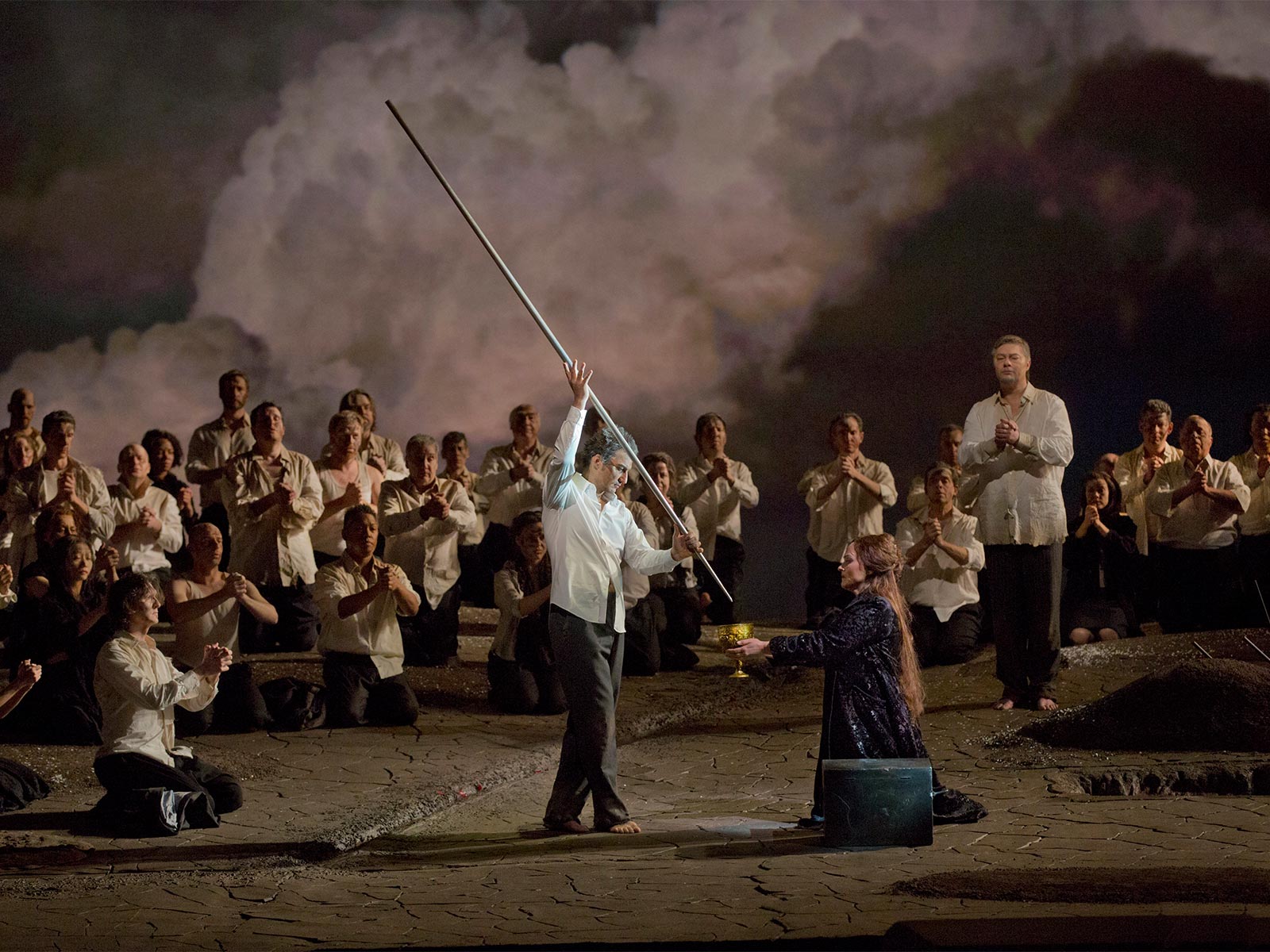 In the last few decades, productions of Wagner's operas have searched for more probing interpretations. Director Robert Wilson's Kabuki-like Lohengrin in 1998 created considerable controversy, and Canadian director Robert Lepage's videographic and mechanical wizardry in his new production of the Ring cycle (a scene from his production of Die Walküre is pictured at the top of this page), completed in 2012, gave rise to spirited conversation among critics and audiences. François Girard's psychological approaches to Parsifal (2013, pictured above) and Der Fliegende Holländer (2020), and director Mariusz Treliński's production of Tristan und Isolde—which opened the 2016–17 season with the powerful Isolde of Nina Stemme and the dynamic conducting of Sir Simon Rattle—have been the most recent additions to the Met's catalogue of Wagner stagings.
Peter Clark is the Met's Director of Archives.