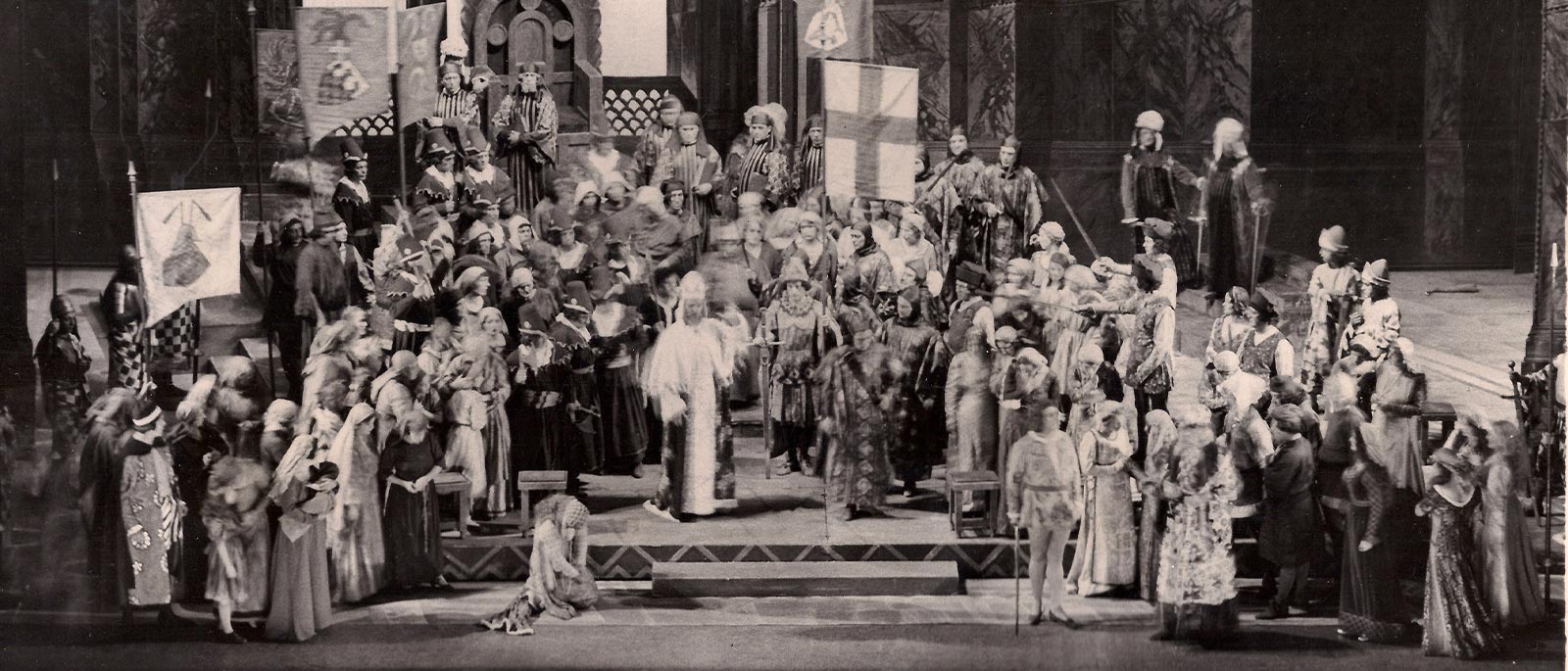 Verdi at the Met
By Peter Clark
The operas of Giuseppe Verdi (pictured below) have been performed around 5,700 times at the Metropolitan Opera, more than those of any other composer by a wide margin. The majority of this total were performances of his "big four" in popularity: Aida, and the trio that Verdi wrote in the short span between 1851 to 1853, Rigoletto, Il Trovatore, and La Traviata. This mid-career triptych was represented in the Met's first season, 1883–84, and the works were clearly already proven attractions to the public. The New York Times, contemplating the immense size of the new Metropolitan Opera House and the difficulty in filling it, noted that "Il Trovatore with such a cast as that of last night is always a strong enough attraction to test the capacity of an opera house." At the Traviata premiere, the newspaper observed "the audience was numerous and enthusiastic."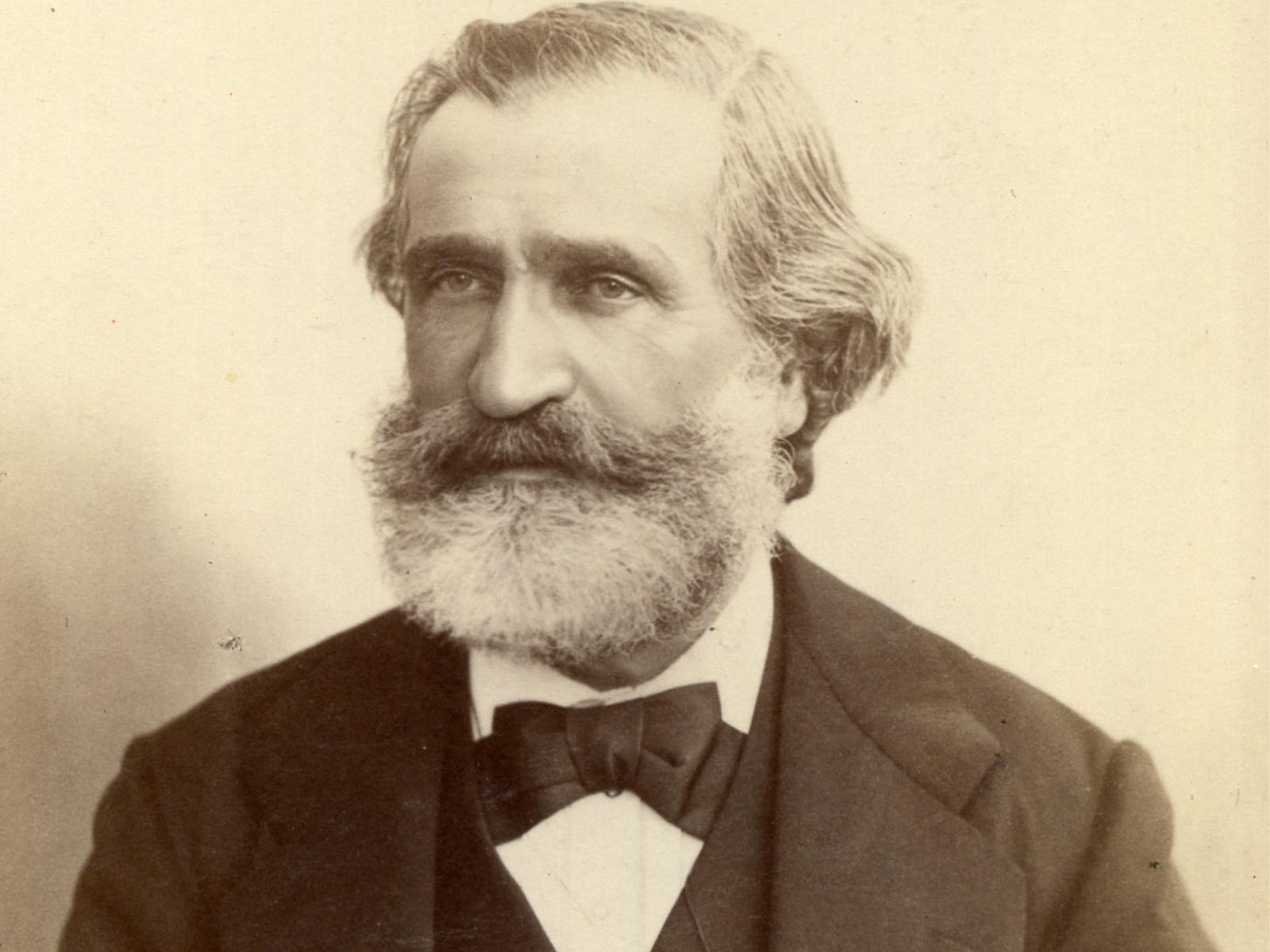 Aida first appeared at the Met in 1886, during the period from 1884 to 1891 when a German troupe was in residence and performed everything in their native language. But it was the scenic grandeur of Verdi's opera that made its reputation: "It will be a long while ere New York audiences look upon scenes of equal brilliancy," said the Times. The writer also remarked that Aida was not new to the city "Persons acquainted with Verdi's latest work, which has had such frequent performance in New York as to be familiar to almost everybody, are aware of its spectacular requirements … the most recent revival … is marked by unprecedented liberality and taste."
The German troupe also gave the company premiere of Un Ballo in Maschera in 1889. While remarking that "the familiar suavity of 'la bella lingua Toscana' had been replaced by the unyielding consonants of the Vaterland," the critic welcomed the dramatic talent if not the vocalism of the cast, though he praised the Amelia, Lilli Lehmann, for her singing and acting. He further commented that, "The revival of Un Ballo in Maschera, however, is a novelty in its way, and for it the public should thank the busy and capable director, Edmund C. Stanton. The opera has fine moments which may be enjoyed rationally even by lovers of the true music drama." The "lovers of true music drama" to which he refers are of course New York's passionate Wagnerites, who, by 1889, judged every opera by the standards established by the idolized "Master of Bayreuth."
But the true Wagnerites were about to lose their hold on the Metropolitan, and for the 1891–92 season, Italian and French opera returned featuring a troupe of the era's greatest vocalists in what would come to be called the "Golden Age of Singing." Thus, Verdi's two final masterpieces, Otello and Falstaff, had their first Met performances with illustrious casts. Having had its world premiere in 1887 at La Scala, Otello was first given by the Met on tour in Chicago in fall 1891, with the world's great superstar tenor Jean de Reszke in the title role. The following January, the Met presented Otello in New York, where it immediately acquired the status of "masterpiece" within the critical community.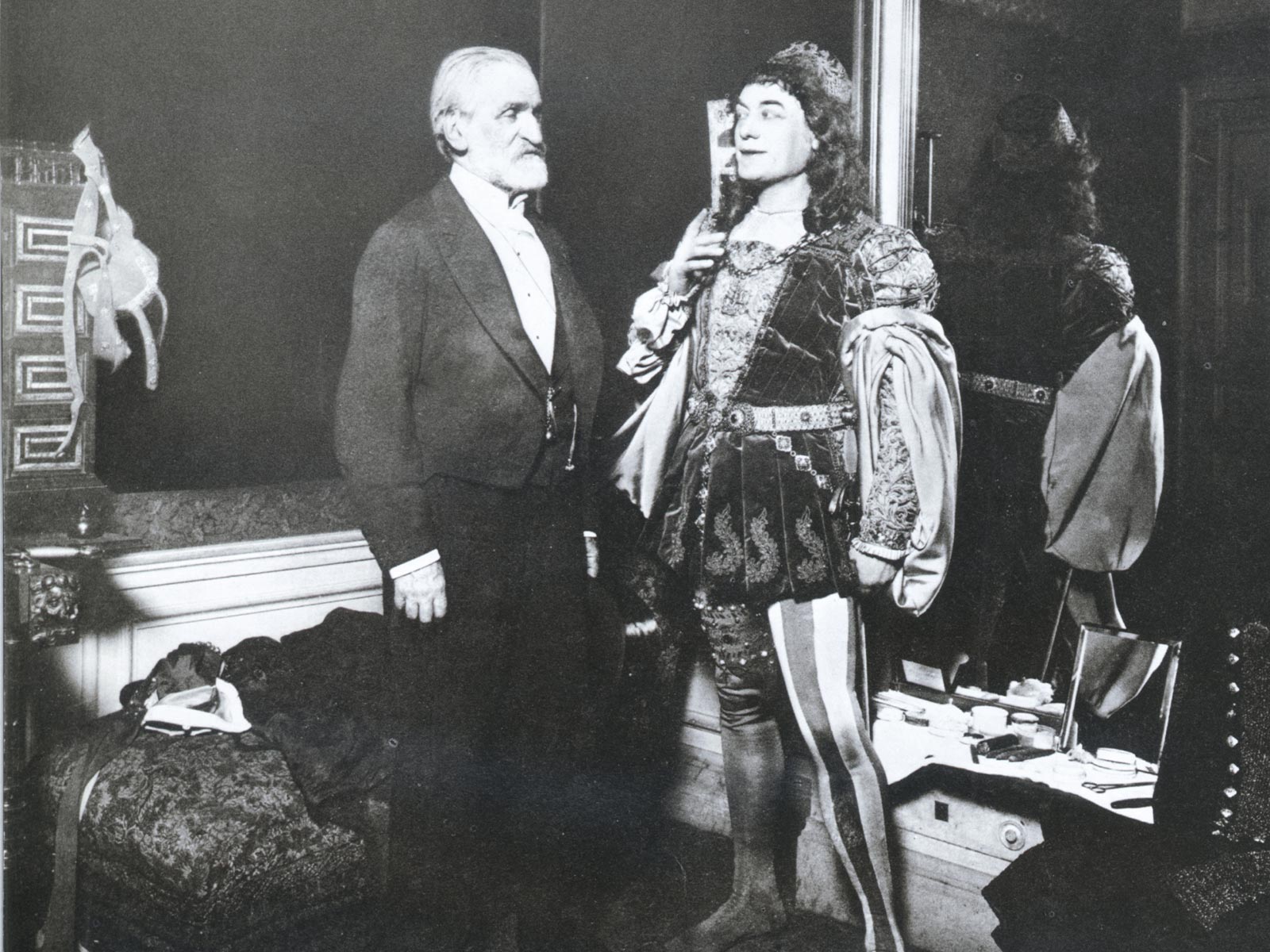 When Falstaff had its Met premiere in 1895, two years after its first performances in Milan and with the same baritone, Victor Maurel (pictured above, costumed as Rigoletto, with Verdi), in the title role, critics again enthused: "The advent of a new work by the greatest genius now writing for the stage … is surely an event which dwarfs all other occurrences of an amusement season … Surely none could have left the auditorium without feeling that they had been in the presence of a masterwork." But in spite of the generally acknowledged musical and dramatic near perfection of Otello and Falstaff, neither has ever quite captured the audience's hearts the way the "big four" do.
Under the Met's Italian General Manager, Giulio Gatti-Casazza, from 1908 to 1935, the Verdi repertory was widened to include his other mature operas, composed after La Traviata (1853) but before Otello (1887). These included La Forza del Destino in 1918, Don Carlo in 1920, and Simon Boccanegra in 1932 (pictured at the top of this page). In addition, Gatti-Casazza tried out the slightly earlier (1849) composition Luisa Miller in 1929, in performances featuring the greatest Verdi soprano of the day, Rosa Ponselle, who had made her sensational company debut in the 1918 La Forza del Destino premiere (pictured below) opposite Enrico Caruso and José Mardones. Ponselle was also the Met's first Elisabetta in Don Carlo in 1920, opposite the tenor Giovanni Martinelli in the title role.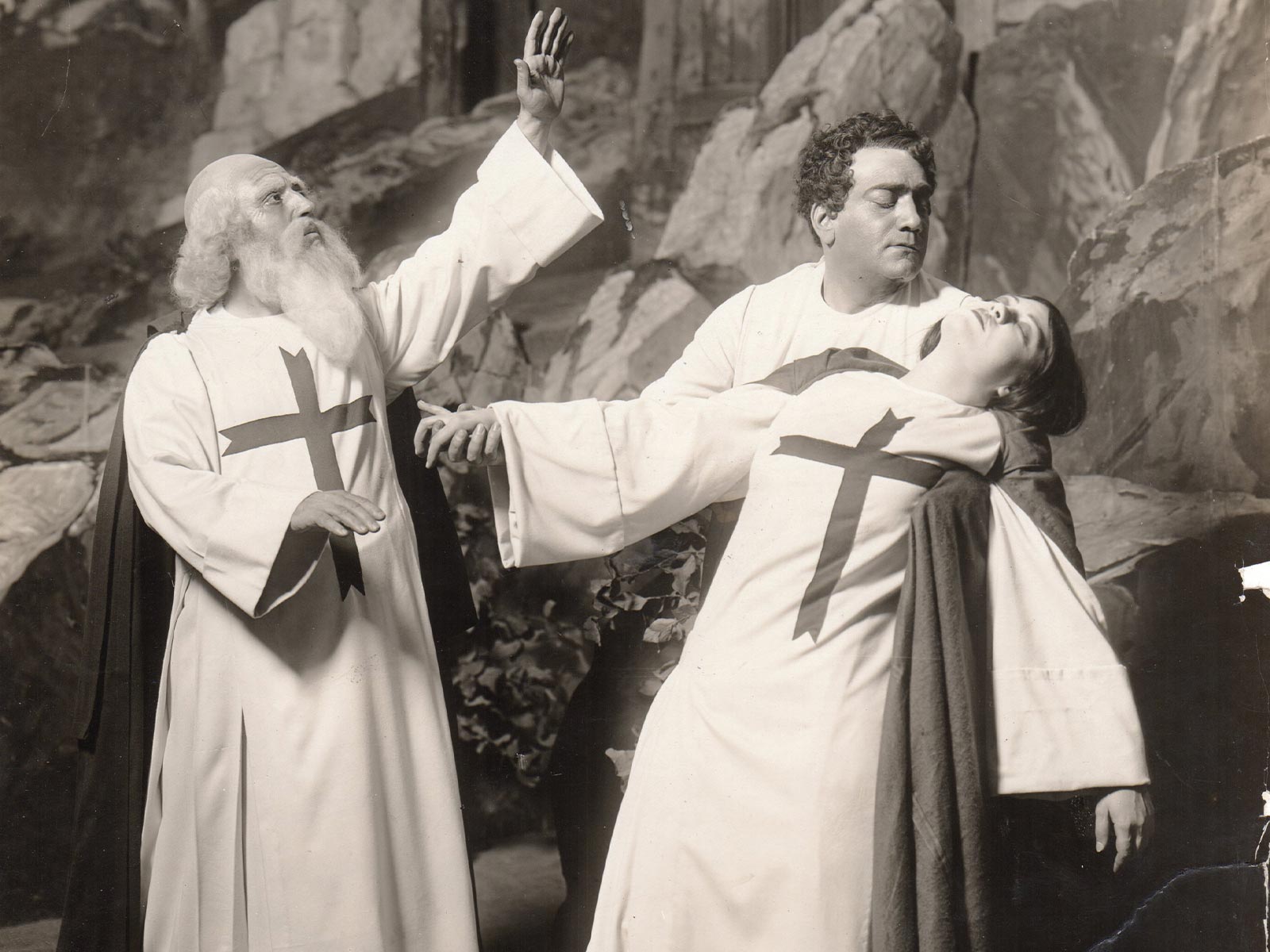 For the entire administration of Edward Johnson, 1935­­–50, no Verdi operas were added to the Met repertory, though performances of his works were given as regularly as before. When Rudolf Bing took over as General Manager in 1950, however, he brought an appreciation for Verdi nurtured by the German revivals of his lesser known works that had flowered in the 1930s. Bing hired Carl Ebert, with whom he had worked in Germany during those years, to stage the Met's first Macbeth in 1959. Initially meant as a vehicle for Maria Callas, Macbeth had a considerable triumph in spite of Bing's having fired the prima donna in a notorious media circus. Leonie Rysanek, who had successfully taken the role of Lady Macbeth, was again tapped by Bing for the Met premiere of Verdi's Nabucco two seasons later (pictured below), though this proved less happy. Nabucco would only begin finding more favor at the Met with a handsome new production in 2001 by Elijah Moshinsky that remains in the repertory today.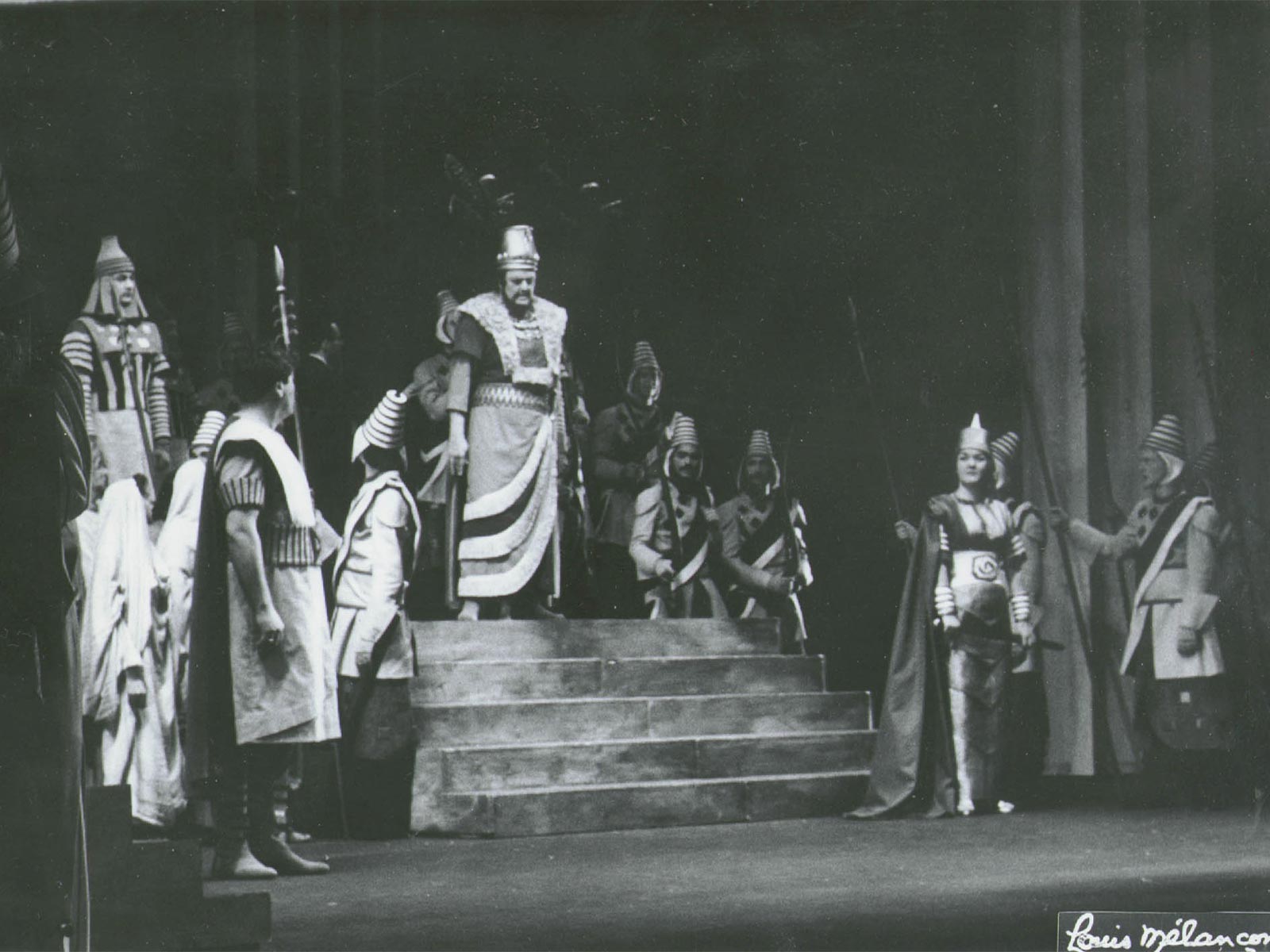 Verdi's I Vespri Siciliani received a Met premiere in 1974 (pictured below starring Montserrat Caballé) under the baton of then Music Director James Levine in an untraditional production by John Dexter with sets by Josef Svoboda dominated by a starkly lit staircase. The work was shorn of some of its music originally conceived for the Paris Opéra, as noted by the critic Irving Kolodin: "Pared of its un-Verdian accommodations to the conditions under which it was commissioned, I Vespri Siciliani emerges as just what it is—a missing link in the chain [of Verdi's output] between La Traviata, which precedes, and Un Ballo in Maschera, which follows."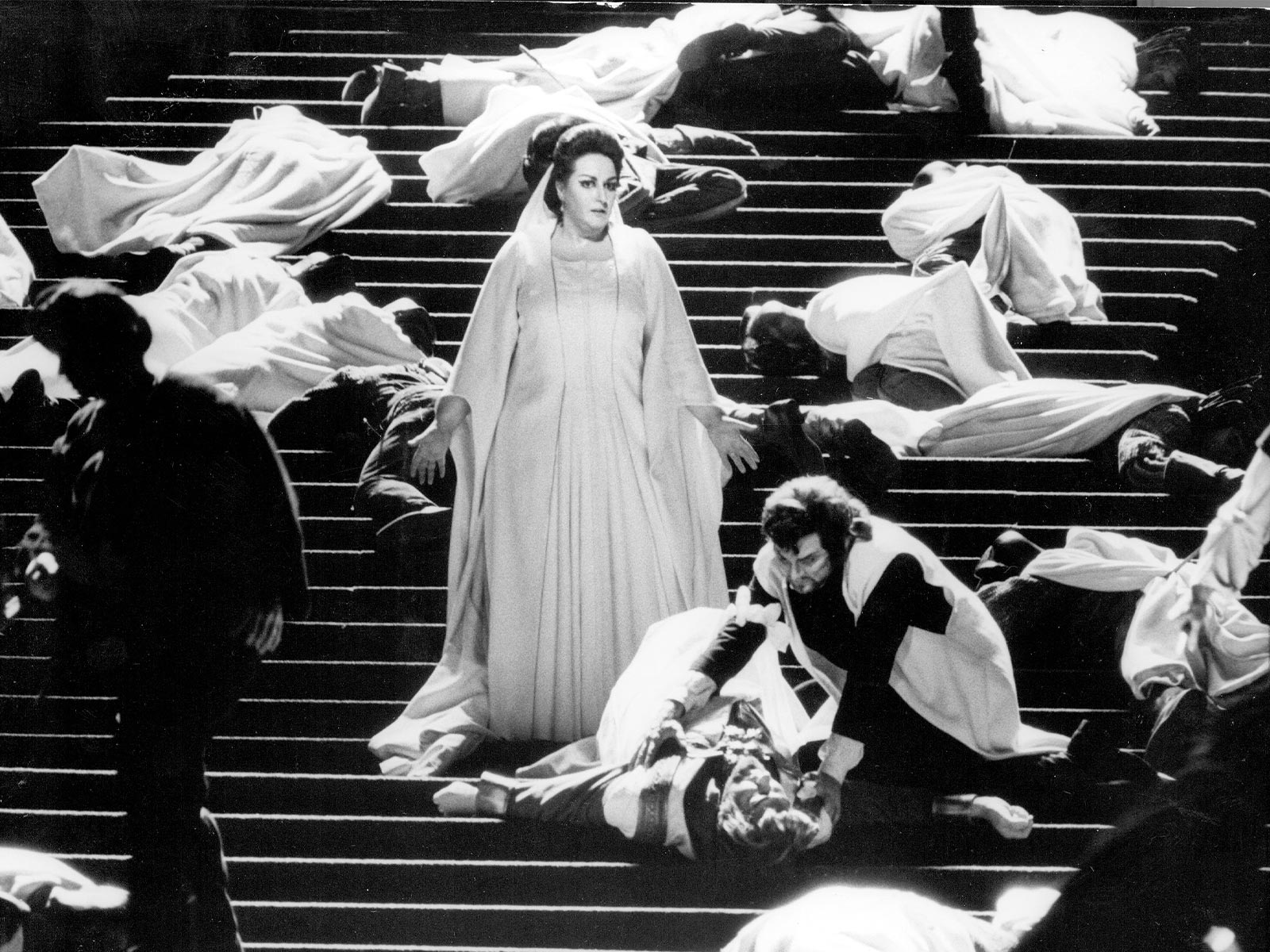 Of Verdi's early works—those composed before the famous trio of Rigoletto, Il Trovatore, and La Traviata that are the basis of his popularity—only Ernani (1844) was performed in the Met's first few decades. Although seen as "old-fashioned," Ernani had its Met premiere in 1903, largely as a showcase for Polish soprano Marcella Sembrich, but was only performed four times. Gatti-Casazza revived it in the 1920s for Ponselle and Martinelli; then, it was dropped again until Bing brought it back as part of his taste for the lesser known Verdi pieces. Other works from this part of the composer's career only began to appear at the Met in the 1990s under General Manager Joseph Volpe, and later under Peter Gelb. 1993­–94 was a banner season for Verdi, with his Stiffelio (1850) and I Lombardi alla Prima Crociata (1843) both having Met premieres. The company's leading tenors at the time divided up the honors, with Plácido Domingo singing the title role of Stiffelio and Luciano Pavarotti (pictured below with Aprile Millo) in the role of Oronte in I Lombardi. The most recent addition to the Met's Verdi repertory was the 2010 production of his Attila, starring Russian bass Ildar Abdrazakov and conducted by Riccardo Muti in his Met debut.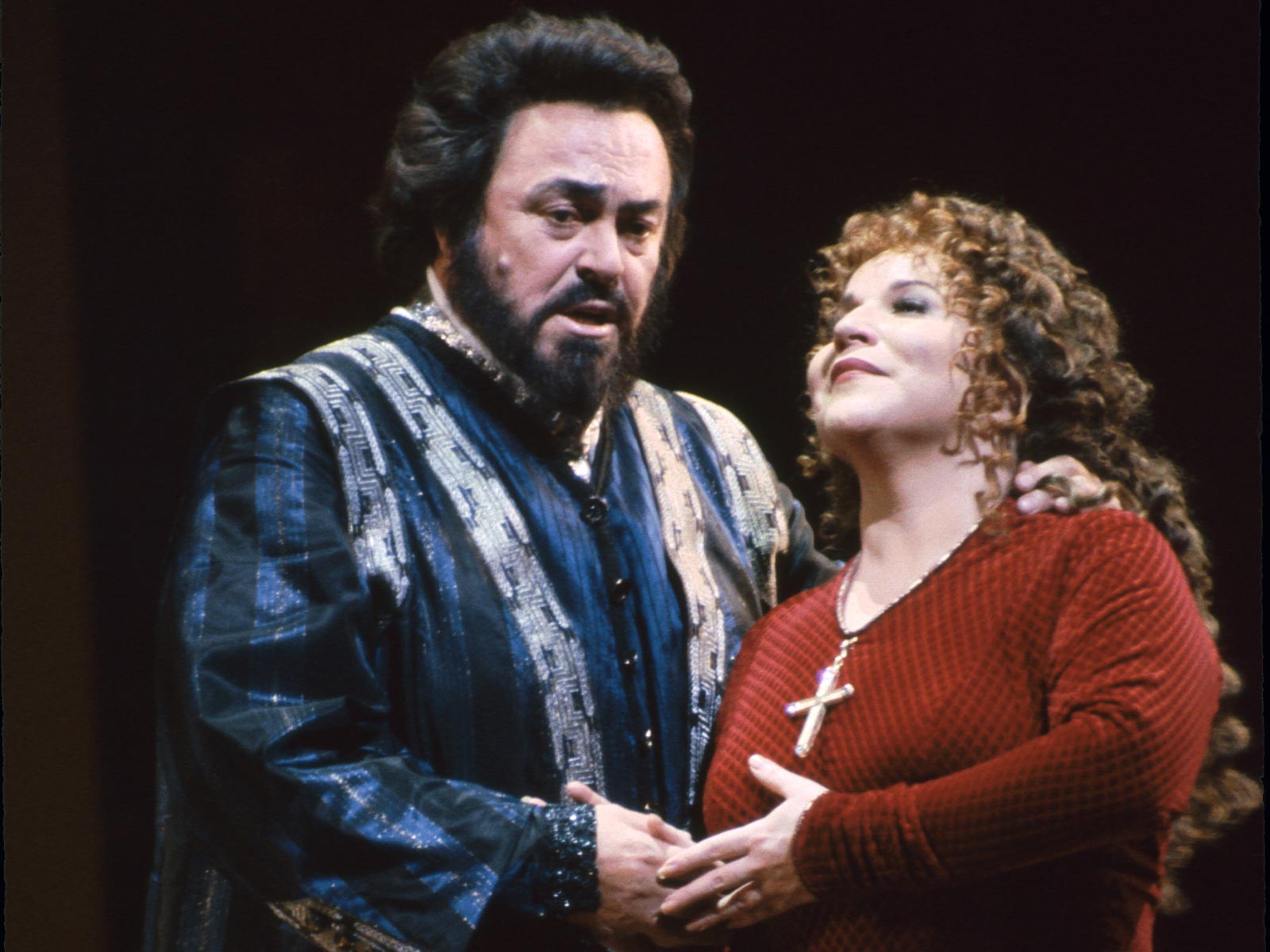 Eight Verdi operas, all from his early career, have never been performed by the Metropolitan Opera: Oberto (1839), Un Giorno di Regno (1840), I Due Foscari (1844), Giovanna d'Arco (1845), Alzira (1845), I Masnadieri (1847), Il Corsaro (1848), and La Battaglia di Legnano (1849). In addition, the Met has never given the original French versions of Don Carlo (Don Carlos) and I Vespri Siciliani (Les Vêpres Siciliennes), the French-language revision of I Lombardi (Jérusalem), or the revision of Stiffelio (Aroldo).
In all likelihood, Verdi will remain the most performed composer at the Met, given the number of operas he wrote and the ongoing popularity of his most famous works. In addition, some works such as Don Carlo, Otello, and Un Ballo in Maschera have become much more frequently performed in the last 50 years than they were at the outset of the Met's history. His early works often require a rarely heard combination of virtuoso bel canto singing, dramatic power, and a strong stage presence. Typically, these operas are revived, or given initially, as a vehicle for a particular performer, as was the case with Ernani in 1903 and later with Stiffelio and I Lombardi in the 1990s. More recently, singers such as Anna Netrebko and Sondra Radvanovsky have shown interest in this sort of repertory, and, if history is a guide, it will take performers of their caliber to extend the Verdi canon at the Met.
Peter Clark is the Met's Director of Archives.