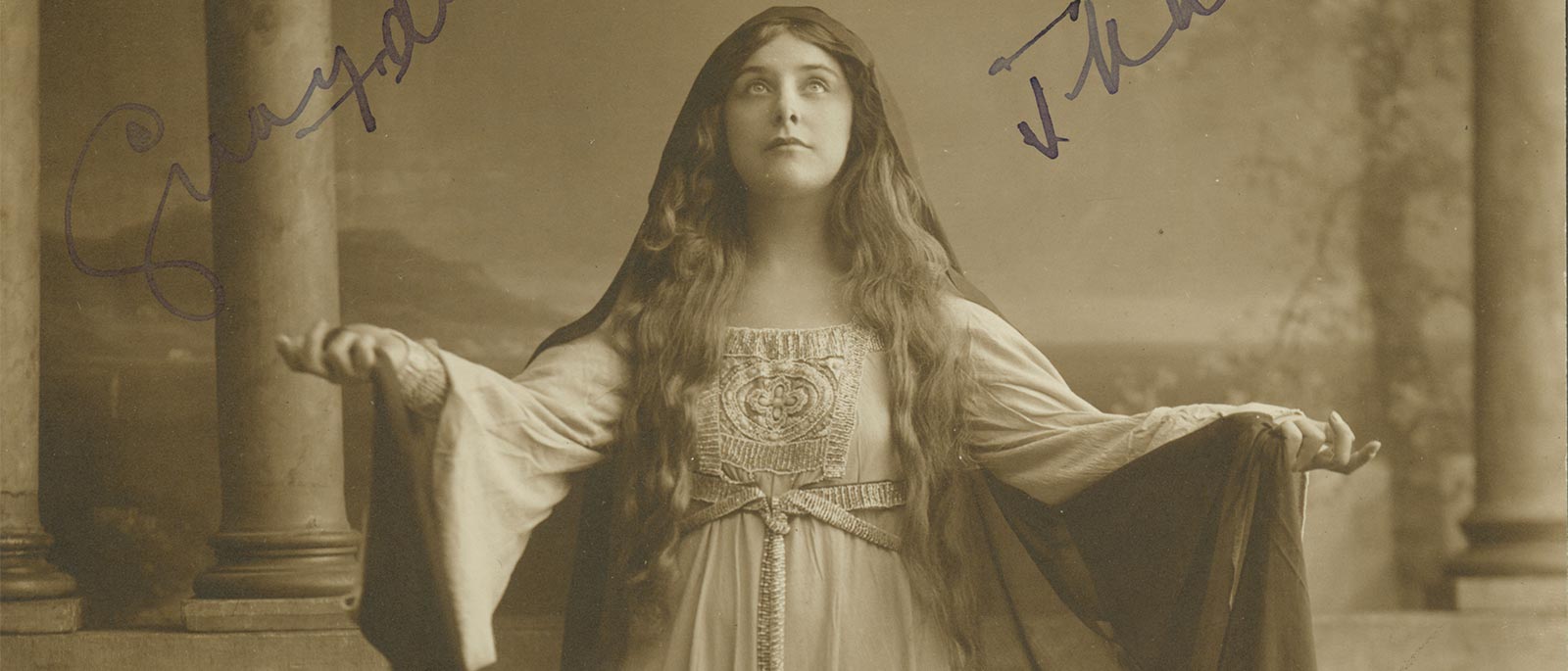 From the Archives: Thaïs at the Met
By Peter Clark
For three years from 1907 to 1910, the Metropolitan Opera was in a life-or-death competition with another major opera company featuring international stars and repertory: the famed theatrical producer Oscar Hammerstein's Manhattan Opera. Located on West 34th Street near Eighth Avenue (the building is still there), the Manhattan Opera concentrated its repertory on contemporary French opera, filling a gap in the Met's programming which tended towards Italian and German works or vintage French opera. As one of his chief draws, Hammerstein imported the Scottish-American diva Mary Garden from Paris where the charismatic soprano had captivated the public with her highly individualistic portrayals of heroines in contemporary works, particularly those by Massenet. Thaïs was one of Garden's most notable triumphs in the Manhattan's initial season, and her interpretation became a reference point for future artists in the role.
The Met ended its competition with Hammerstein by buying him out in 1910 for $1.2 million. The terms of the agreement included the performing rights he had obtained from publishers for works such as Thaïs and forbade him to produce opera in New York City for ten years. In addition, it was agreed that Hammerstein's artistic company, largely transferred to Chicago and Philadelphia, would perform at the Metropolitan on Tuesday evenings. So it was that the much heralded Thaïs of Mary Garden (pictured below), along with her equally admired Athanaël, French baritone Maurice Renaud, and the conductor Cleofonte Campanini—all stalwarts of the defunct Manhattan Opera—performed Massenet's opera on the Met stage as a guest company in January 1911.
The divas who excelled in the title role of Thaïs in the early part of the 20th century were, first and foremost, personalities. Garden, whose talent for lively quips endeared her to the press, was more famous for her physical allure than for her voice. When a critic once observed that she didn't actually have a voice, she responded "why I didn't have one voice, I had twenty." She reveled in shocking puritanical mores and had an affinity for operatic seductresses such as Thaïs, Carmen, and Salome (the noted critic W. J. Henderson said that she "couldn't sing a note of Strauss's music").
The first Metropolitan Opera production of Thaïs was in 1917, with the immensely popular Geraldine Farrar (pictured at the top of this page) in the title role and Pasquale Amato as Athanaël, under the baton of Giorgio Polacco (the famed Pierre Monteux conducted revivals). Farrar resembled Garden in several respects and was in direct competition with her in various roles. Like Garden, she was known for her attractiveness and enjoyed donning revealing costumes, as noted in a 1919 review. "Miss Geraldine Farrar's many operatic admirers never previously saw so much of her as they did yesterday afternoon at the season's first performance of Massenet's Thaïs … In fact, little of her charming self above the waist was concealed from the four thousand pairs of eyes." She had legions of fans, often young women who aped her style known as "gerryflappers" and who cheered her at curtain calls. Still, Farrar had to compete against Garden's reputation as Thaïs. "Those of us who have had the privilege of seeing Miss Garden as Thaïs, and could bear the same in memory, must account Miss Farrar as but a very faint and shadowy substitute … The vigorous claque—when shall we be freed from this nuisance—applauded constantly; the audience less so, for all that, Miss Farrar is a Metropolitan favorite."
Farrar's reign as the audience's favored soprano met a formidable challenge with the Met debut of Maria Jeritza (pictured below), star of the Vienna Opera, in 1921. With her "blond bombshell" looks, Jeritza proceeded to mesmerize Met audiences with her energetic acting style, particularly claiming the role of Tosca, one of Farrar's old calling cards. Jeritza's specialty in stage tricks was to throw herself violently to the floor in a sudden move that would stun the audience, who were not used to seeing divas sing while sprawled on the stage. (She coined the move of singing Tosca's great aria "Vissi d'arte" from a prone position on the floor, a feat often repeated by her successors in the role.)
In Jeritza's second Met season, the company mounted a new production of Thaïs, beautifully designed by Joseph Urban, especially for her. Reviews were mixed, but public reaction was enthusiastic, and a new jewel was added to her crown as a company star. Again she found a moment for her preferred coup de théâtre at the end of Act I, Scene 2, as described by Musical America: "When Athanaël strode from her boudoir, after her defiance of his efforts to appeal to her spiritual nature, she sprang after him with a leap that rattled the boards of one of Urban's platforms; then, with a hysterical laugh and gestures of frenzied helplessness, she tottered and fell to the stage-level below, the crash resounding through the opera house."
Again some reviews compared her to Garden. "Jeritza's Thaïs might be summed up as a series of sometimes effective, but palpably conscious poses, whereas Mary Garden really seems to live the part … her [Jeritza's] physical energy was far more in evidence than her voice, which had little color and was unevenly and sometimes unpleasantly produced." Others presented an entirely opposite reaction. "Mme. Jeritza sang the part of Thaïs on opening night with abounding spirit, charm and vocal opulence, and threw herself into the histrionic interpretation of the redeemed courtesan with marked enthusiasm."
While the title character always assumed prime importance, the baritone role of the tortured monk Athanaël also drew plenty of attention. Garden's partner, Maurice Renaud, set the standard. "Undying memories of Mr. Renaud in the role came to mind to interfere with great enjoyment," was a typical comment from a 1918 review. But Pasquale Amato, Farrar's co-star, enhanced the first Met performances. "Mr. Amato was admirable as Athanaël, acting with sincerity … His voice, more suave than usual, was well suited to the role." Clarence Whitehill, particularly known for Wagnerian roles, sang opposite both Farrar and Jeritza. "Clarence Whitehill was a thoroughly impressive Athanaël. A veteran of many operatic campaigns, the American baritone enacted the role of the monk with great force and dramatic power."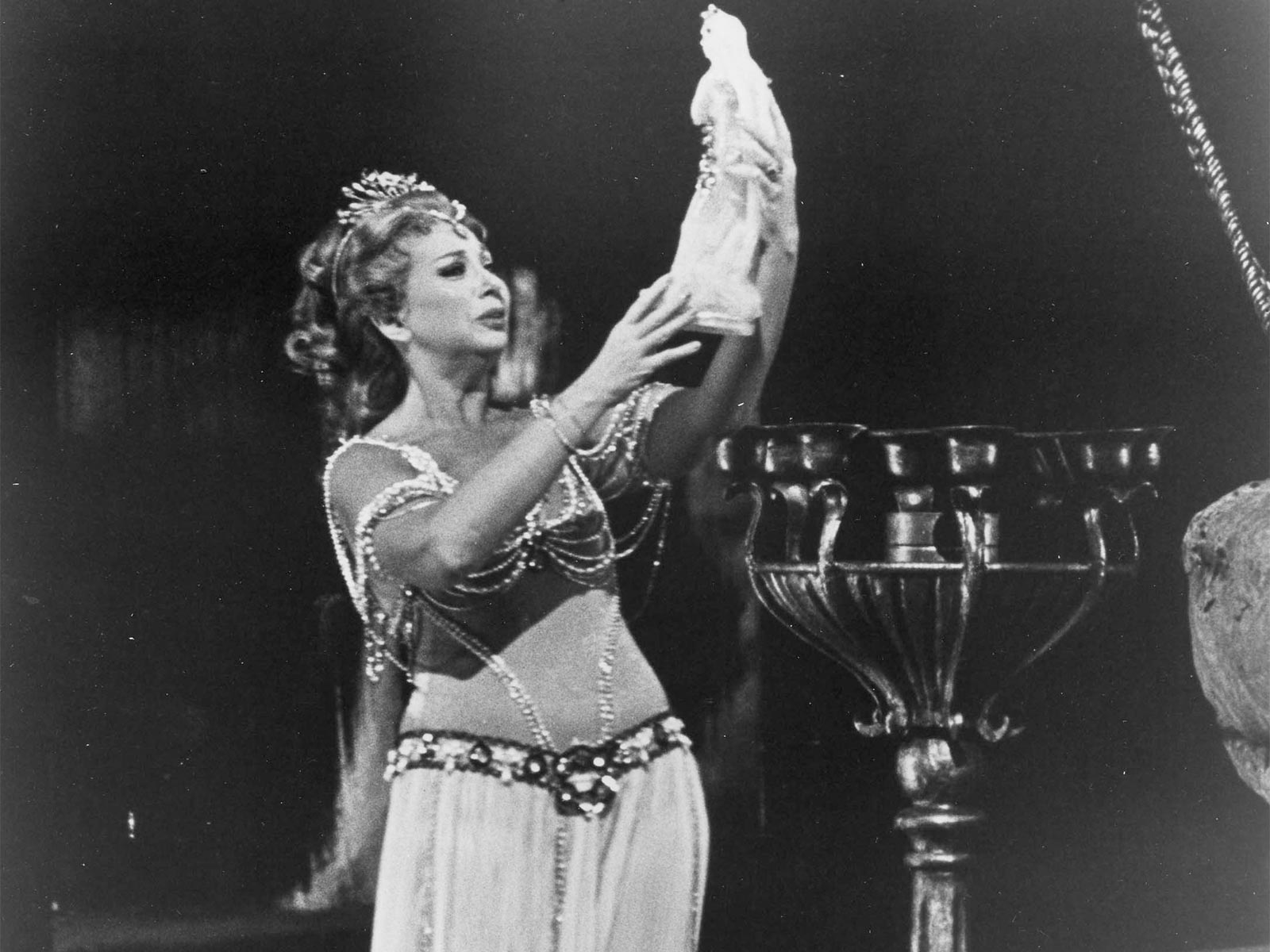 After Jeritza and Whitehill's final Thaïs in 1926, the opera was revived only in the 1939–40 season for seven performances with American soprano Helen Jepson and baritone John Charles Thomas before going dormant for nearly 40 years. Then in 1978, Thaïs returned with Beverly Sills (pictured above) and Sherrill Milnes in the lead roles in a production that was borrowed from San Francisco Opera. Sills arrived at the Met late in her career, which she had established principally at the New York City Opera. Her public persona as a humorous, unpretentious but brilliant homegrown star had earned her the sobriquet "America's Queen of Opera." Enamored of her as a frequent television celebrity, the audience was delighted to see her in anything, and Thaïs was a new vehicle tailored to her strengths. There were admiring critics, such as Harriet Johnson in The New York Post, who listed her famous predecessors before concluding, "I can't believe, however, that any of these made the role any more their own than Miss Sills did last night. She was wonderful, and she had every help possible from a strong supporting cast. Sherrill Milnes was magnificent as Athanaël." It was not, however, one of the Brooklyn-born diva's great successes, and there were no revivals of this production at the Met.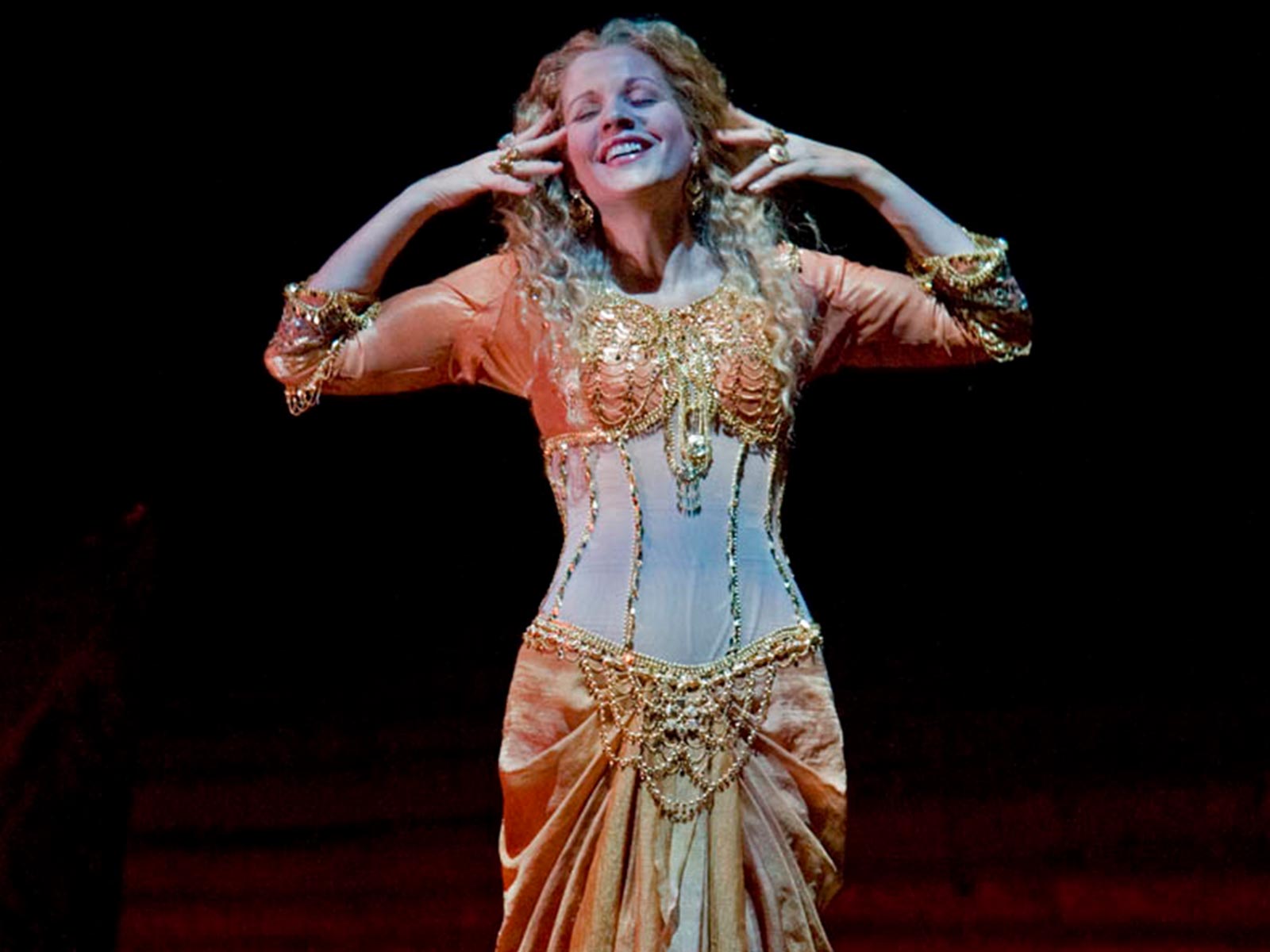 Thaïs entered another slumber, this time for 30 years, until a new American diva, the glamorous Renée Fleming was given a new production at the Met in 2008. Her Athanaël was American baritone Thomas Hampson, and the performances were conducted by Jesús López-Cobos. New York Times critic Anthony Tommasini astutely observed: "An opera company does not decide to mount a production of Massenet's Thaïs and then look for a soprano to sing the title role. The only reason to produce this ultimate star vehicle today is that a company has a genuine star who wants to sing it." He then went on to praise the lead protagonists, "Ms. Fleming justified the company's faith by delivering a vocally sumptuous and unabashedly show-stealing Thaïs … In the scene most crucial to this drama of conversion, Ms. Fleming and Mr. Hampson are inspired." The production was again a borrowed one, this time from Lyric Opera of Chicago, but high-fashion costumes for Fleming were designed and made by the noted Parisian couturier Christian Lacroix. The production has been revived once, in the 2017–18 season, with Ailyn Pérez in the title role, Gerald Finley as Athanaël, and Emmanuel Villaume on the podium.
Peter Clark is the Met's Archivist.