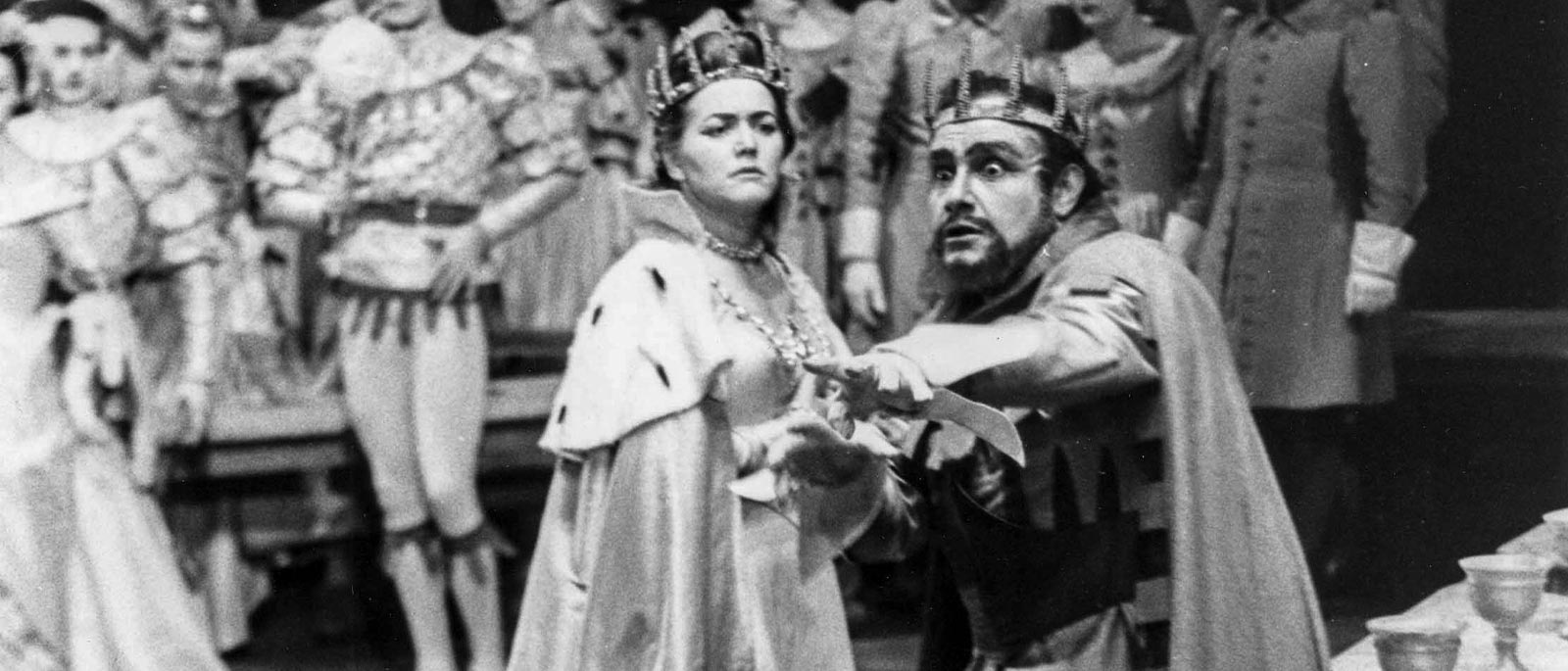 From the Archives: Macbeth at the Met
By Peter Clark
Verdi's Macbeth has a history of controversy at the Met, where it was first performed in 1959. The opera's Met premiere became inextricably mired in the notorious dispute between General Manager Rudolf Bing and famed diva Maria Callas—an incident that made headlines worldwide in probably the biggest opera-related story of the day. From the time Bing became the Met's General Manager in 1950, he was aware of the growing reputation of the Greek-American soprano in the opera world. But he had been slow to offer her the kinds of artistic opportunities that she had enjoyed elsewhere, notably at Milan's La Scala. Callas's extraordinary vocal and dramatic gifts were particularly suited to reviving seldom performed, or even forgotten, works that required a powerful soprano protagonist. By 1958 at La Scala alone, she had sung in new productions of such rarely staged works as Verdi's Macbeth and I Vespri Siciliani, Spontini's La Vestale, Gluck's Ifigenia in Tauride, Cherubini's Medea, and Donizetti's Anna Bolena. Meanwhile at the Met, Bing had only offered her standard repertory works, Bellini's Norma, Verdi's La Traviata, Donizetti's Lucia di Lammermoor, and Puccini's Tosca, none of them new productions, although her debut Norma was a season-opening performance.
New productions are plum assignments for any singer, so for the 1958–59 season, Bing finally offered Callas the sort of opportunity she wanted: not only a new production but the Metropolitan Opera premiere of Macbeth. It was an opera that had never had the success of Verdi's ever-popular "big three"—Rigoletto, Il Trovatore, and La Traviata—although it had been composed (in its initial version) only a few years earlier than these. Verdi had heavily revised Macbeth later in his career, adding music in his mature style, but still, it had not caught on.
The work was brought renewed attention with stagings in Germany in the 1920s and '30s in a production by Carl Ebert, designed by Caspar Neher. Present for those revivals was the young Rudolf Bing, who worked for Ebert at the Berlin Staatsoper. At the Met in 1958, the opportunity to stage Macbeth's company premiere fit well into Bing's plans to stage lesser known Verdi works, and he hired Ebert and Neher to create the new production. That it would also serve as a vehicle for Callas in the redoubtable role of Lady Macbeth assured a box office hit. Just weeks before rehearsals were to start, however, the project hit a snag. Artists were rarely engaged for a single role at the time but were generally contracted for a period of weeks in which they would sing several different roles in the repertory. Bing wanted Callas to intersperse her appearances as Lady Macbeth with performances of other operas, such as those she had already sung at the Met (Tosca, Lucia, etc). Though she had signed a contract that she would sing several roles, once confronted with the prospect of alternating such a difficult role as Lady Macbeth with other repertory, Callas balked. Bing stuck to his guns and, after weeks of fruitless negotiations, he fired Callas in a scandal that was carried by news organizations around the world. Thus, news of the Met premiere of Macbeth was as much about the Callas-Bing feud as about the opera itself.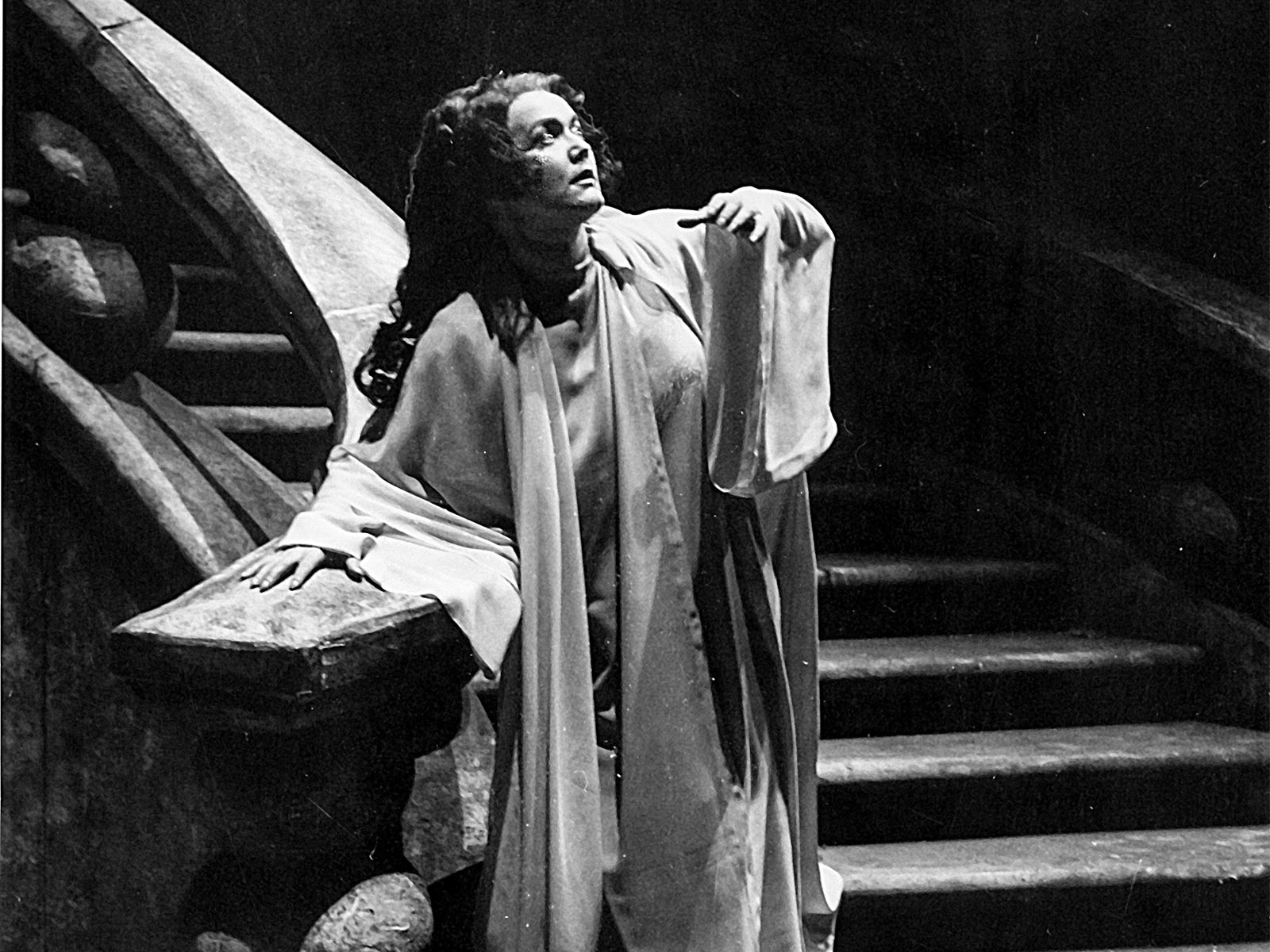 To replace Callas as Lady Macbeth, Bing hired the young Austrian soprano Leonie Rysanek (pictured above), known primarily for her portrayals of Wagner and Strauss heroines but with the requisite vocal range and dramatic talent to succeed in the role. Bing later revealed that he hired an audience member to yell "Brava Callas!" at Rysanek's first entrance, in the certainty that the rude remark would put the audience on the side of the underdog performer. Whether this bit of tactical maneuvering was the reason or not, Rysanek had a triumph. "Miss Rysanek, gifted with a superb voice and marked acting ability, proved a sensation in the role of Lady Macbeth," declared the World Telegram. Her costars, Leonard Warren as Macbeth (pictured with Rysanek at the top of this page), Carlo Bergonzi as Macduff, and Jerome Hines as Banquo, also had important successes. Ebert and Neher's production, on the other hand, was criticized as a "revival of a revival" by writers who pointed out that the sets and staging were merely retreads of their pre-war German production. The conductor, Erich Leinsdorf, was himself a substitute for the dynamic Greek conductor Dimitri Mitropoulos, who had fallen ill and had to cancel on short notice—an additional complication in the entire project. In spite of the distractions, Macbeth was acknowledged as an opera worthy of the Met's repertory and was revived regularly for the next twelve years.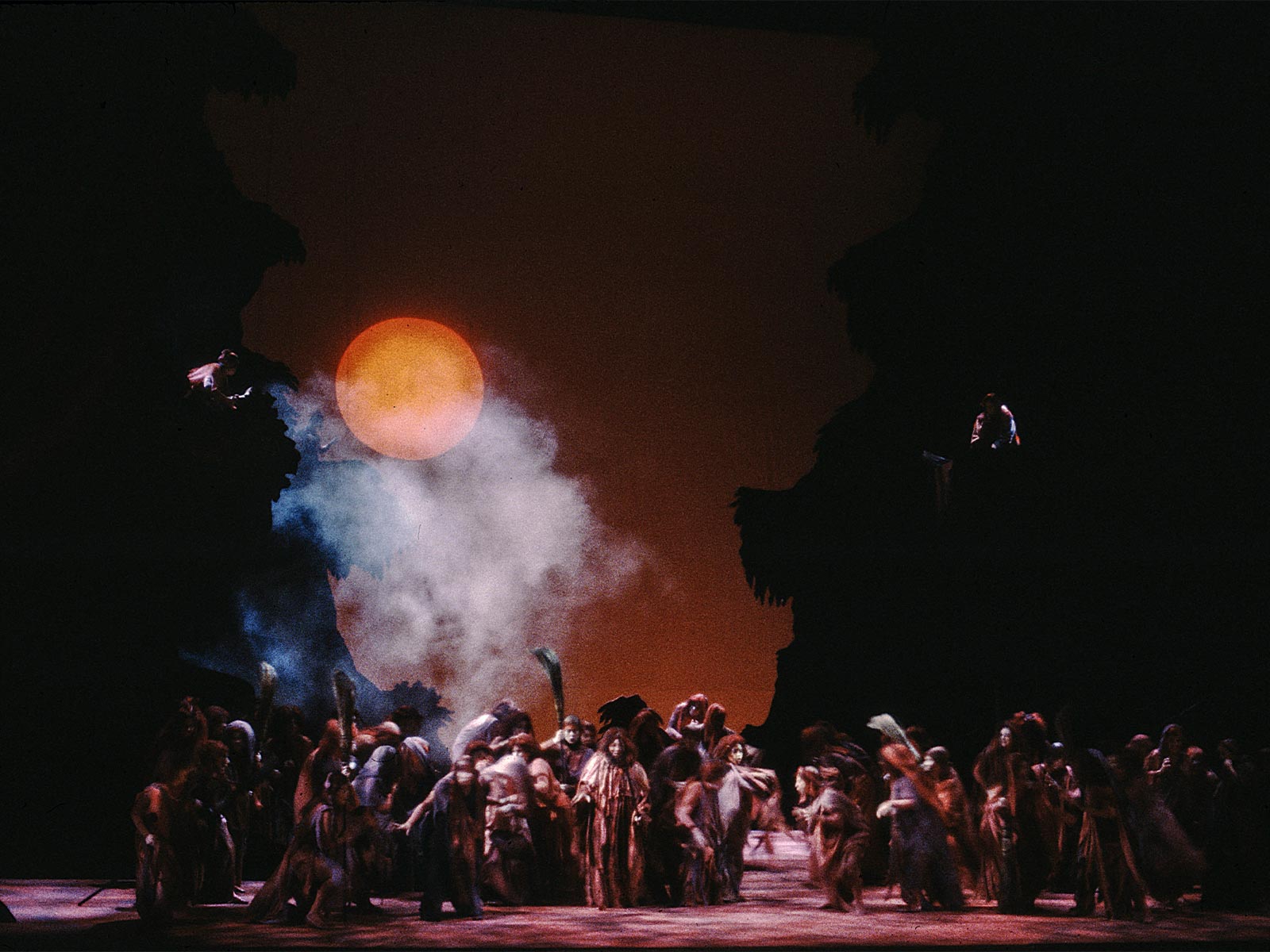 A new production in 1982 (pictured above), however, was again the source of controversy. This time, it was the production rather than the performers who created a scandal. Sir Peter Hall, artistic director of Britain's National Theater, gave interviews before the premiere explaining his intention of staging Macbeth as it would have been done in Verdi's own day. At the premiere, witches riding broomsticks, masks with moving lips, and especially the inclusion of a ballet that had Macbeth in a faint surrounded by tutu-clad ballerinas brought gales of laughter from the audience. Wall Street Journal critic Manuela Hoelterhoff described a typical scene: "At the Met, the witches sail though the nighttime sky on brooms attached to wires. The audience chuckled as one hag seemed to plummet behind a cliff. In a later scene, the creatures hold stuffed cats as they welcome their leader, Hecate, who arrives on stage wearing absolutely nothing but a little cloth patch beneath her stomach. This was greeted with boos, laughter and some rustling as people searched bags and laps for opera glasses."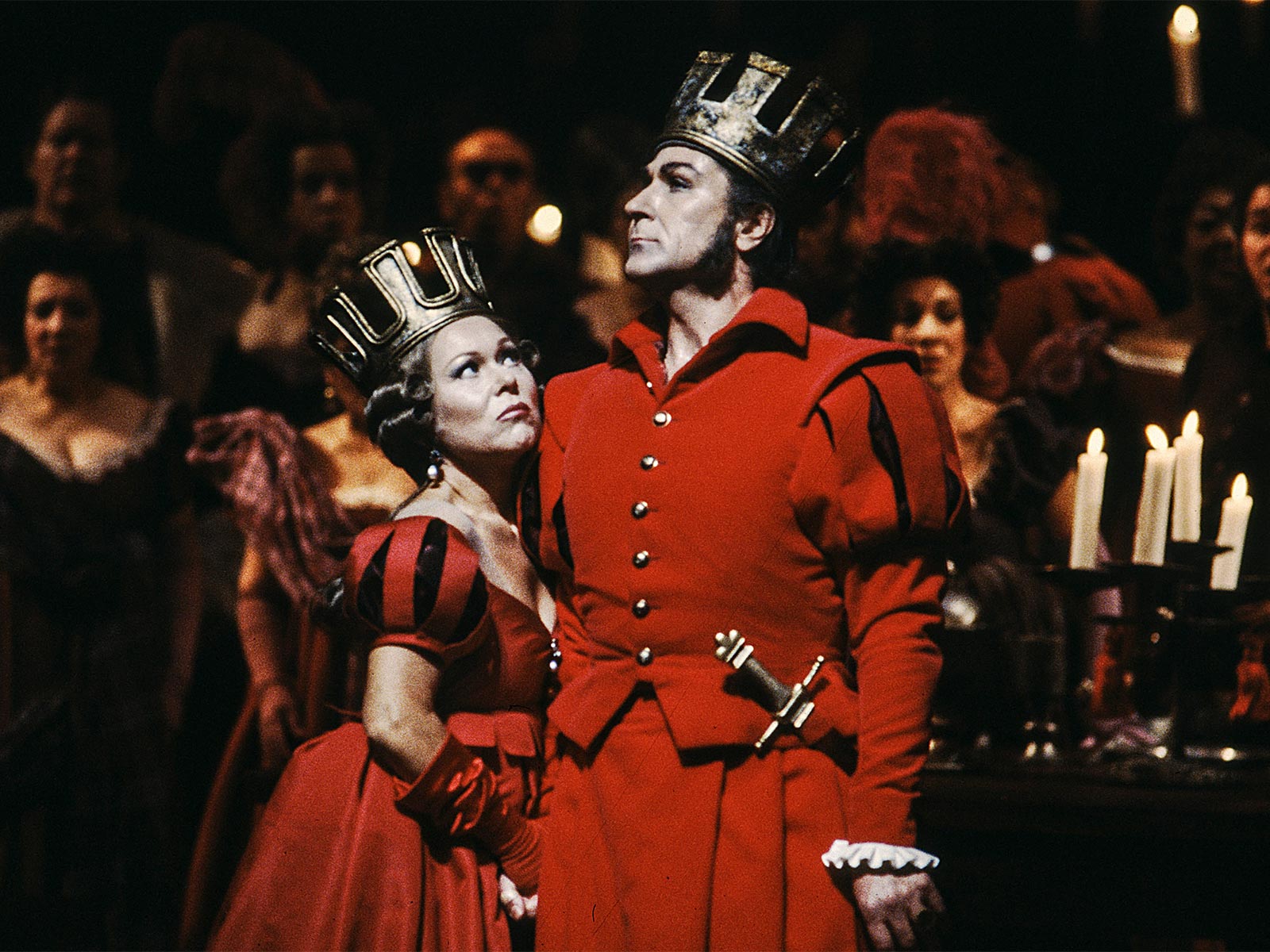 Rarely has a Met audience shown such disapproval as they did for the 1982 Macbeth production. Even respect for the performers, Renata Scotto as Lady Macbeth and Sherrill Milnes as Macbeth (pictured above), and conductor James Levine, didn't save the evening. The result was that there were few revivals of Macbeth until another new production arrived in 2007. (It should be noted that, during a matinee performance of the 1988 revival, a terminally-ill audience member leapt to his death from the Balcony level of the auditorium.) Staged by Adrian Noble, the artistic director of the Royal Shakespeare Company, the 2007 Macbeth arrived with relative calm. Levine again conducted with Russian soprano Maria Guleghina and Željko Lučić as the Macbeths (pictured below), Dimitri Pittas as Macduff, and John Relyea as Banquo. The production avoided traditional clichés and placed the action in a vaguely modern setting with contemporary costumes. It has been revived thrice, most recently with popular Russian diva Anna Netrebko in one of her finest portrayals as Lady Macbeth.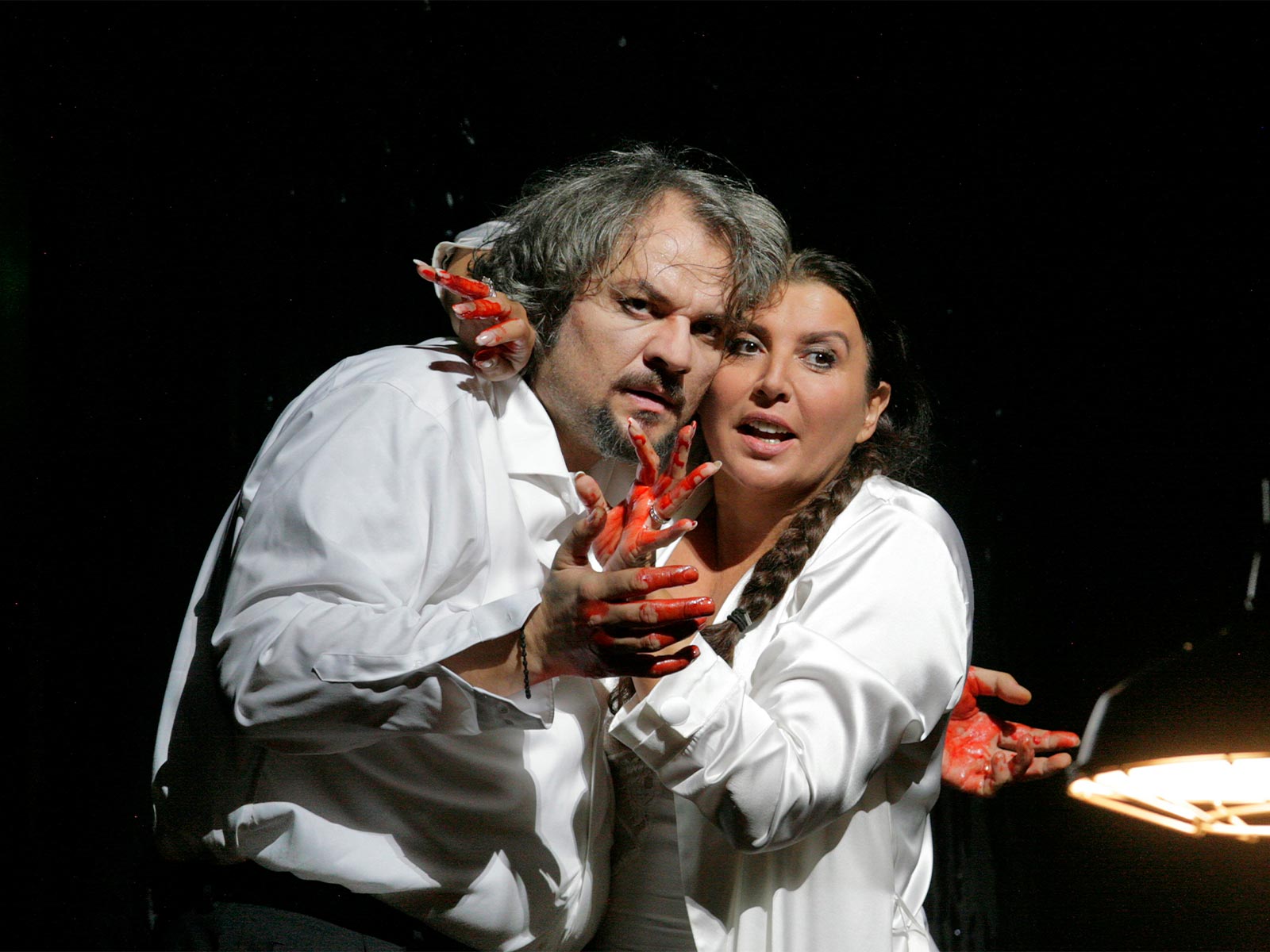 Peter Clark is the Met's Director of Archives.