Handel at the Met
By Peter Clark
When George Frideric Handel's Rinaldo premiered at the Metropolitan on January 14, 1984, it was the first opera by the renowned 18th-century composer to be performed by America's premiere opera company. Handel's best known vocal work, the oratorio The Messiah, had been performed three times by the Met as part of its Sunday evening concert series, twice in 1892 and once in 1895. But his dramatic works for the stage had fallen into oblivion for many years before the Met opened its doors in 1883. Arias were occasionally excerpted for concert fare, but the operas were generally unknown.
The initial revivals of Handel's operas took place at two festivals in central Germany, at Göttingen in 1920, and at Halle, Handel's birthplace, in 1922. However a real renaissance of Handel's operas only began tentatively in opera houses after World War II. Milan's famed La Scala, in existence since 1778, first produced a Handel work in 1956, but performances in major opera houses were sporadic at best. Staging Handel's operas successfully for modern audiences required two major developments: First, stage directors had to create productions that would make the highly stylized action work theatrically, and secondly, musicians had to reconnect with the vocal and instrumental techniques that would reveal the music's intrinsic beauty. The second of these developments began in the 1950s along with the revival of early 19th-century Italian Romantic opera—the works of Rossini, Bellini, and Donizetti that demanded a florid vocal art called bel canto. Virtuoso singers such as Joan Sutherland, Janet Baker, Marilyn Horne, and Beverly Sills, who specialized in bel canto, began exploring older repertory, including Handel's operas, that showcased their artistry. It was fitting that celebrated singers should be the motivation for opera houses and festivals to revive Handel's works for the stage. After all, he had composed his operas as showpieces for the stars of his day, many of whom were the legendary male castrati (male singers castrated as youths to preserve their high voices), reputed to be among the greatest voices in opera history. As for the instrumental component, specialized "original instrument" ensembles began to grow in the later decades of the 20th century, revolutionizing performance practices of Handel's music.
In the Met's initial season at Lincoln Center, 1966–67, the New York City Opera, just across the plaza, mounted a hit new production of Handel's Giulio Cesare, starring Sills as Cleopatra and bass Norman Treigle as Caesar. City Opera's success challenged the widely shared conviction that New York's opera auditoriums were too large and lacked the intimacy necessary for works from the Baroque period. But in spite of Giulio Cesare's triumph, Rudolf Bing, the Met's general manager, remained convinced that Handel operas were not appropriate for his company. Another decade passed in which opera companies and festivals increasingly programmed Handel operas, but the Met ignored the trend.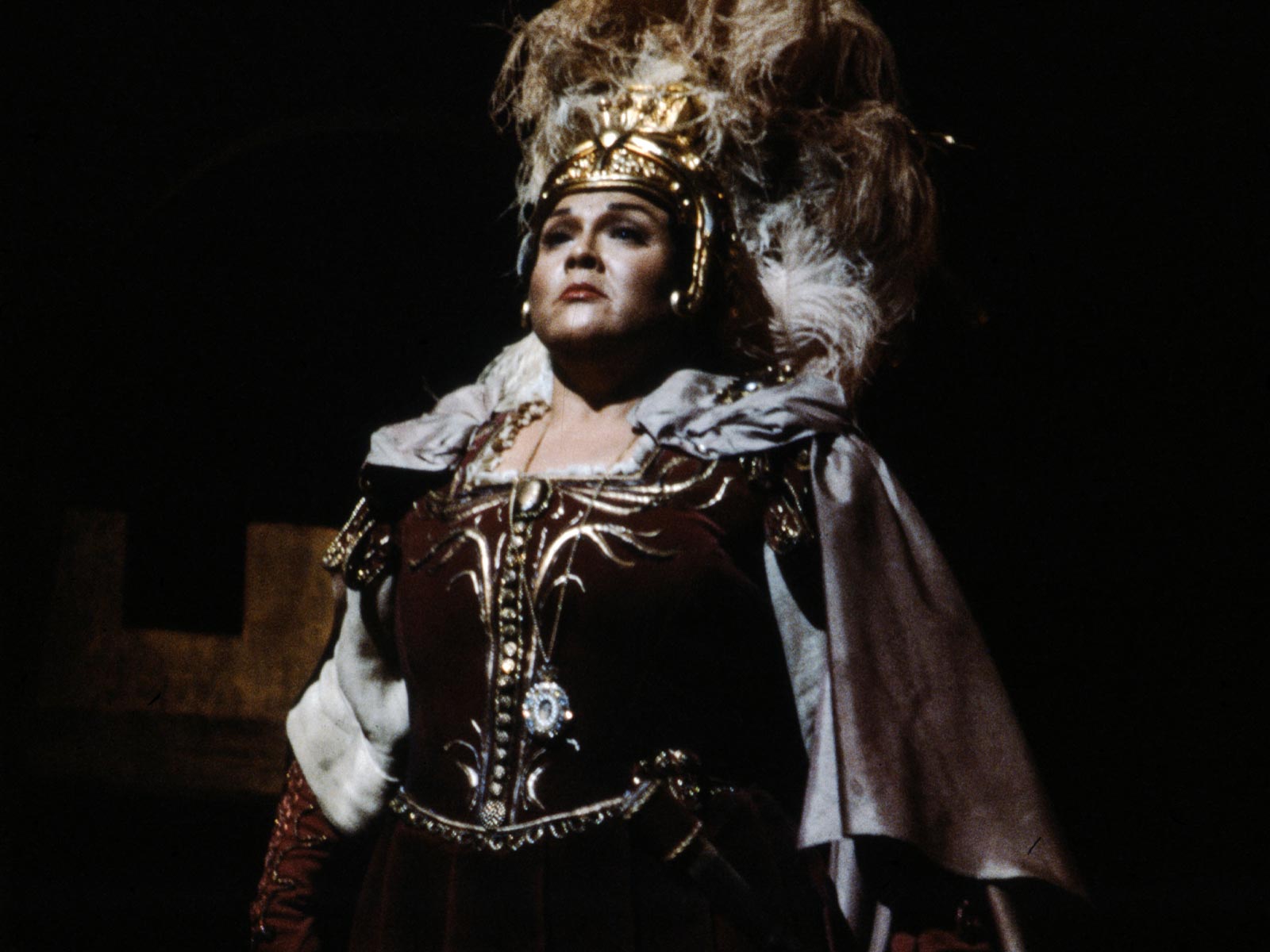 Finally, the Met's centennial season in 1983–84 provided a high-profile opportunity for the company to broaden the company's repertory in new directions. And so it was that a Handel opera was at long last performed at the Met. The extraordinary artistry of Marilyn Horne (above) was a primary inspiration for the selection of Rinaldo, but the opera also served as the Met debut of Samuel Ramey, who created a sensation with his sonorous bass and vocal flexibility in the part of Argante (below). Accustomed to sopranos and mezzo-sopranos who could sing rapid scales and roulades, the audience had rarely, if ever, heard a low voice male with such vocal agility. The production by Frank Corsaro was borrowed from the Canadian National Opera and conducted by Mario Bernardi. New York Times critic Donal Henahan confirmed the challenges of giving Handel operas at the Met, "Transporting a Handel opera from its Baroque setting to a modern house the size of the Met presents enormous problems, many of which this attractive production solves … Above all, however, Handel opera demands important voices capable of handling the breathtaking coloratura and exhausting repetitions that figure so greatly in the opera seria genre."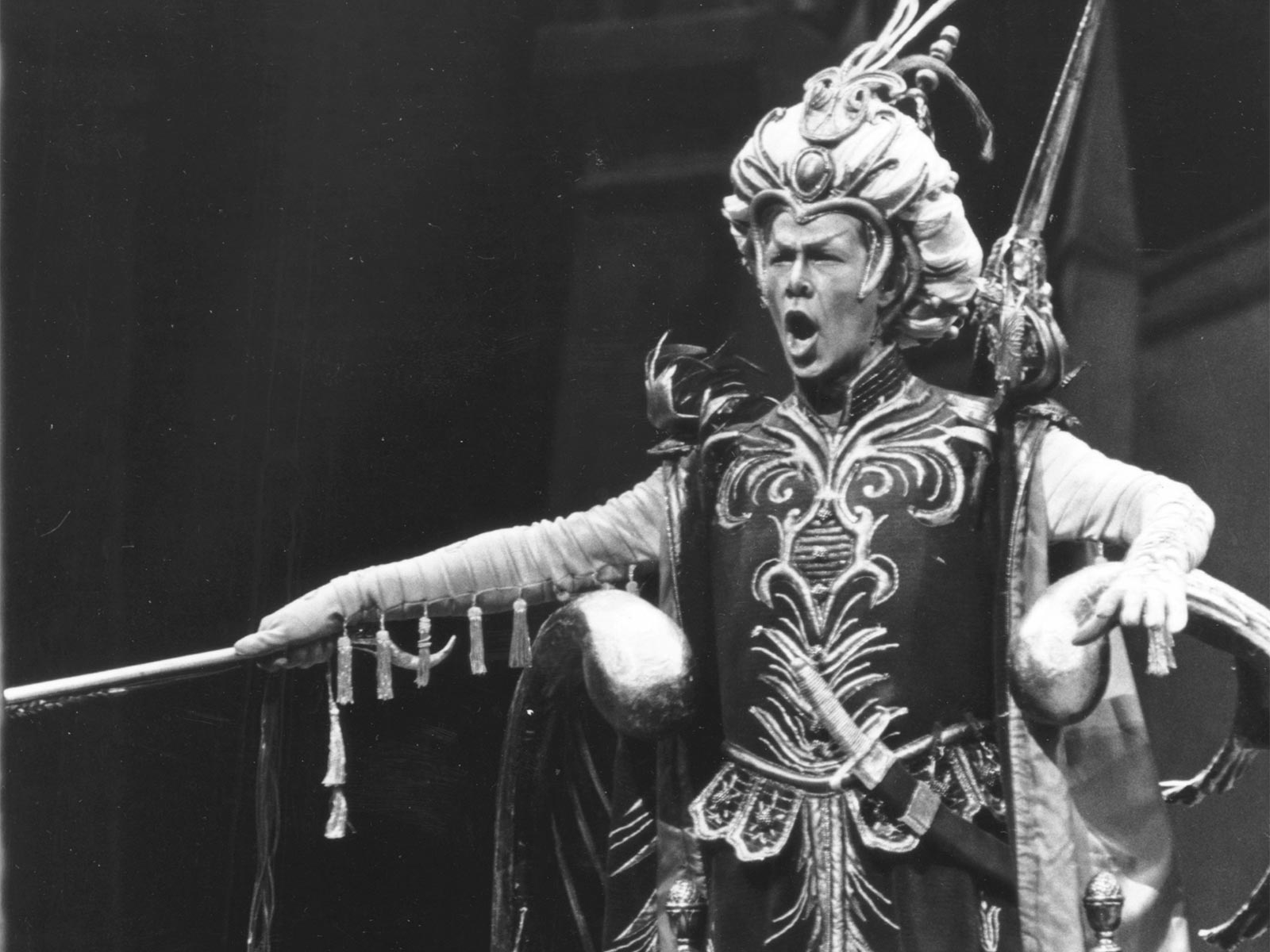 Two seasons later, the Met staged Handel's oratorio Samson as an opera, again motivated by the presence of a star singer, in this case Canadian tenor Jon Vickers. "The principal reason for this project was the mighty presence of Jon Vickers (below), who inhabited another of his memorably towering, majestic portrayals," wrote Opera News. Rather than virtuosic coloratura, Vickers' artistry relied on ringing declamation and a strong identification with his character. "The voice doesn't merely deliver, it actually embodies the drama in Handel's music, now howling invective, now muted to a pure, insistent thread of prayerful tone," Newsday declared. Also achieving a notable success was the young American soprano Carol Vaness, who had made her Met debut as Armida toward the end of the 1984 run of Rinaldo, and as the Philistine Woman in Samson sang the work's most famous aria "Let the bright seraphim" to much acclaim. Samson was a co-production with Covent Garden and Lyric Opera of Chicago, and was conducted by Julius Rudel, who, as the artistic director of New York City Opera, was responsible for its Giulio Cesare twenty years earlier.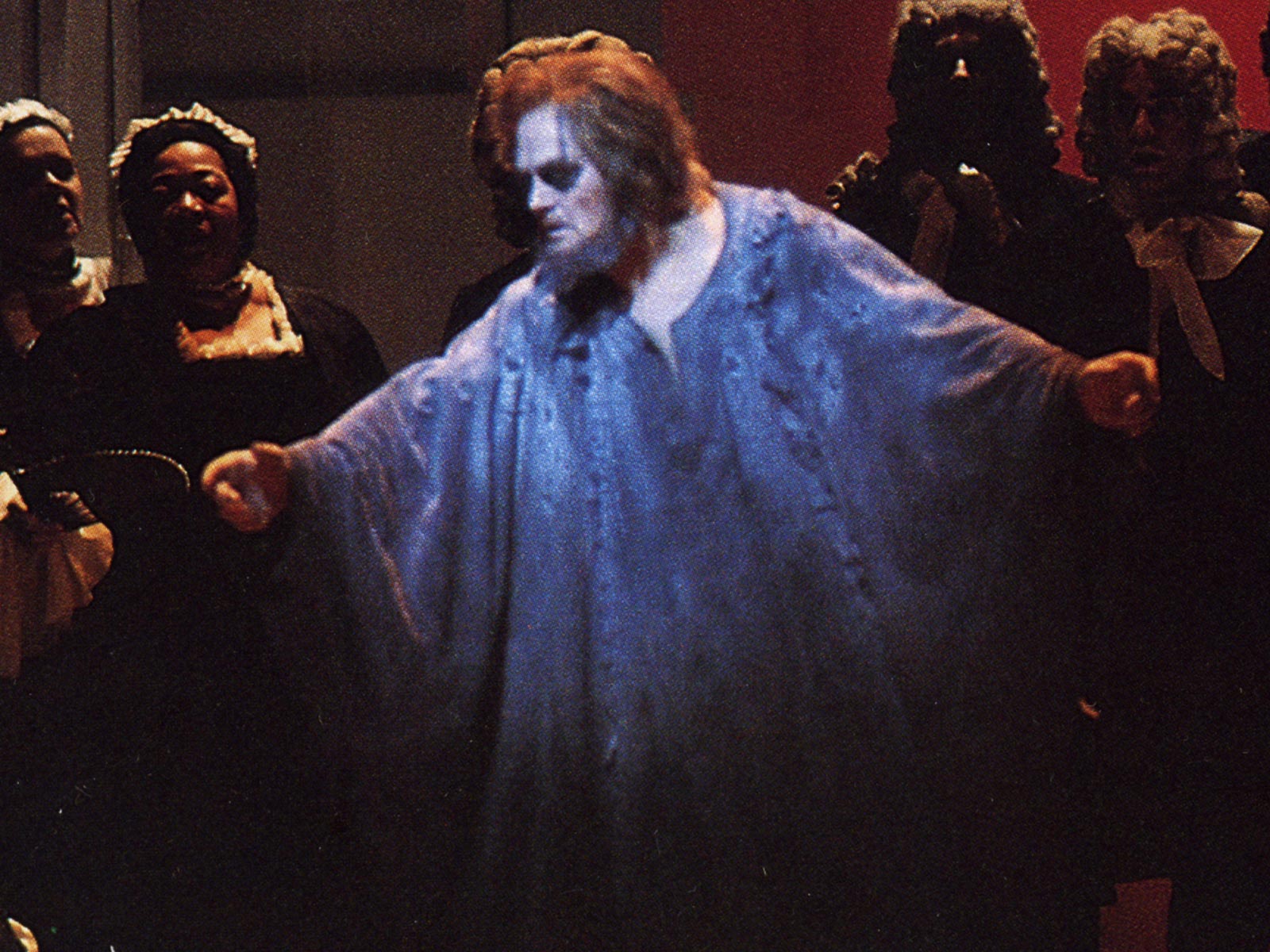 Neither Rinaldo nor Samson has ever returned to the Met stage, but a Handel opera finally achieved something close to regular repertory status when Giulio Cesare at last had its company premiere in 1988. Again the production was borrowed, this time from English National Opera, but there were some important new trends evident. Trevor Pinnock, who conducted, was the first Baroque music "specialist" to lead a Handel opera at the Met. Having established the English Concert, an original instrument ensemble, Pinnock was part of a broad movement to restore authentic style to Baroque music. While the Met Orchestra continued to play their modern instruments, Pinnock and his successors, such as Harry Bicket (below), brought a wealth of stylistic knowledge to the company's performances of Handel's operas, helping the musicians adapt their playing to produce an appropriate Baroque sound.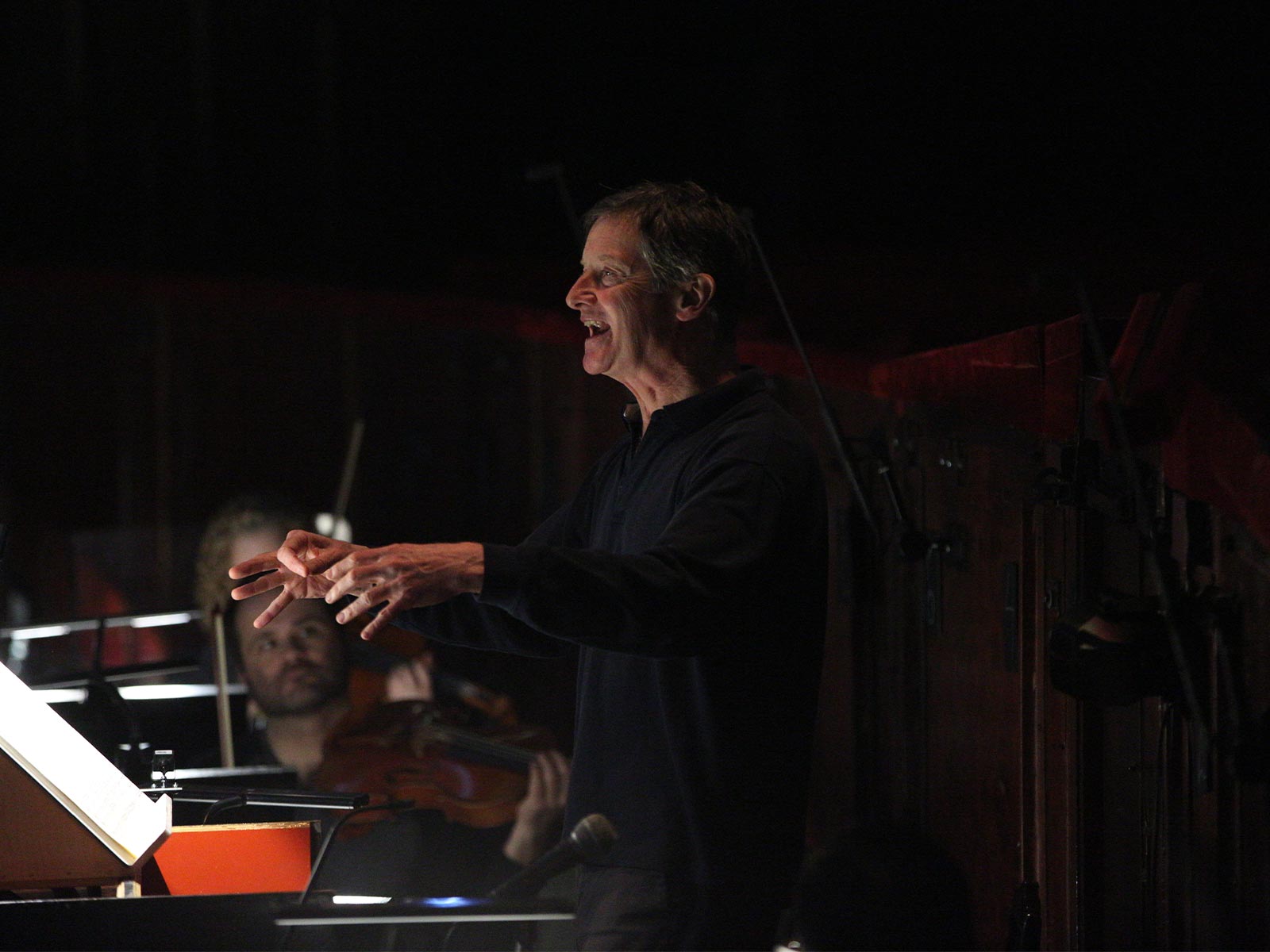 The other novelty of this Giulio Cesare was the introduction to the Met of the countertenor voice. Male vocalists who use their falsetto or head voice to sing in the same register as females, countertenors established a place in Baroque concert music in the 1950s. Though scarcely used by Handel himself, the countertenor has in modern times come to be cast in roles originally intended for castrati. Other available options have been to cast women singers—the 1988 Giulio Cesare featured the vibrant mezzo-soprano Tatiana Troyanos in the title role—or to simply transpose the music for a male voice such as City Opera did when Treigle sang it. But the advantages of having both a male character and a singer performing the music in the original register have become, since the late 20th century, the standard of Handel opera performance. Jeffrey Gall as Tolomeo and Derek Lee Ragin as Nireno initiated the new trend at the Met that would eventually lead to such highly accomplished countertenors as David Daniels, Bejun Mehta, Andreas Scholl, Anthony Roth Costanzo, and Iestyn Davies, starring in both Baroque and contemporary operas.
Indeed, when Giulio Cesare was revived in 1999, David Daniels made his Met debut as Sesto, with countertenors Brian Asawa as Tolomeo and David Taylor as Nireno, though the title role remained with a mezzo-soprano, Jennifer Larmore. Sylvia McNair was a lyric soprano Cleopatra as Kathleen Battle had been in 1988, and Stephanie Blythe lent her luscious mezzo-soprano to the role of Cornelia for the first time. John Nelson conducted John Copley's production from 1988. This production was revived one final time, in 2007, this time with Daniels in the title role, soprano Ruth Ann Swenson as Cleopatra, countertenors Lawrence Zazzo as Tolomeo and Michael Maniaci as Nireno, both in Met debuts, and Bicket on the podium.
Giulio Cesare would become the only Handel opera (to date) to receive a second production when Sir David McVicar's staging from the Glyndebourne Festival was transplanted to the Met in 2013. Daniels again led the cast in the title role with soprano Natalie Dessay (above) as a particularly physical and enchanting Cleopatra, Alice Coote as a mezzo-soprano Sesto, and countertenor Christophe Dumaux in an amazingly acrobatic turn as Tolomeo. McVicar's direction, along with Robert Jones's sets, Brigitte Reiffenstuel's costumes, Andrew George's choreography, were a fanciful mix of middle Eastern exoticism, the British raj, 1920s vaudeville, and Baroque formality that never allowed the opera's formal conventions to ossify the action.
Rodelinda was the first opera revived at the Göttingen Handel Festival in 1920. Joan Sutherland sang the title role a few times in her long career beginning with a 1959 London performance, but never performed it in New York. In 2004, the Met mounted a lavish new production of Rodelinda with Renée Fleming in the title role (pictured at the top of this article with Andreas Scholl), David Daniels as Bertarido, and Stephanie Blythe, John Relyea, and Bejun Mehta in other major roles, under the baton of Bicket in his company debut. Stephen Wadsworth directed a production that "was a successful compromise, a blending of Baroque stylistics with the house's traditional performance and production values," according to Opera News. With sets by Thomas Lynch and costumes by Martin Pakledinaz, "the handsome production is sure to win Met audiences to this powerful, melodious work. It should also help advance the company's previously hesitant relationship with Handel." Rodelinda was a considerable success and was repeated the following season with some of the same cast, but countertenor Andreas Scholl making his Met debut as Bertarido, and Christophe Dumaux in his company debut as Unulfo. Fleming sang the title role of Rodelinda one more time in 2011, again with Scholl as Bertarido, and during the run two important countertenors were introduced in the role of Unulfo, Iestyn Davies and Anthony Roth Costanzo.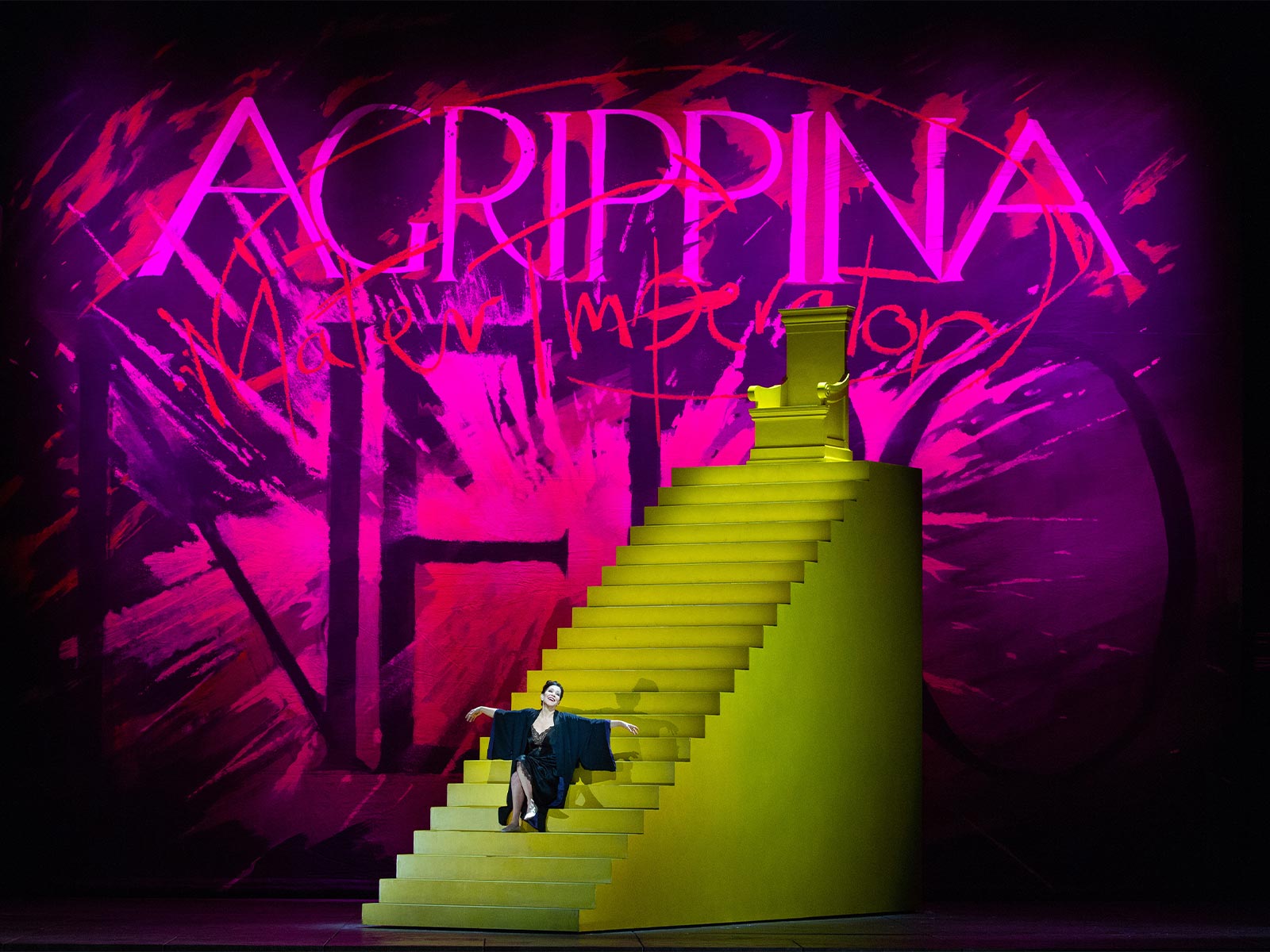 The most recent Handel opera to reach the Met was Agrippina (pictured above), one of the triumphs of the most recent season. After his widely admired Giulio Cesare, McVicar seemed the logical choice for another Handel revival. The director and his team, designer John MacFarlane and choreographer Andrew George, presented a theatrical production that overcame the Baroque conventions to create a captivating experience for the 21st-century audience. Maestro Bicket conducted a cast led by Joyce DiDonato in the title role, with Kate Lindsey as Nerone, Brenda Rae in her Met debut as Poppea, Iestyn Davies as Ottone, and Matthew Rose as Claudio. New York Times critic Zachary Woolfe finally debunked the old reservations about Handel at the Met. "Agrippina—yanked from ancient Rome into a deliciously bleak vision of our time, played with electric vividness, and starring a guns-blazing Joyce DiDonato—should put to rest, once and for all, the notion that Handel belongs at the Met less than Verdi, Puccini, or Wagner. Bold, snicker-out-loud funny, magnetic and unsettling through its power-struggle convolutions, this production musically and dramatically fills the company's looming proscenium."
Peter Clark is the Met's Archivist.