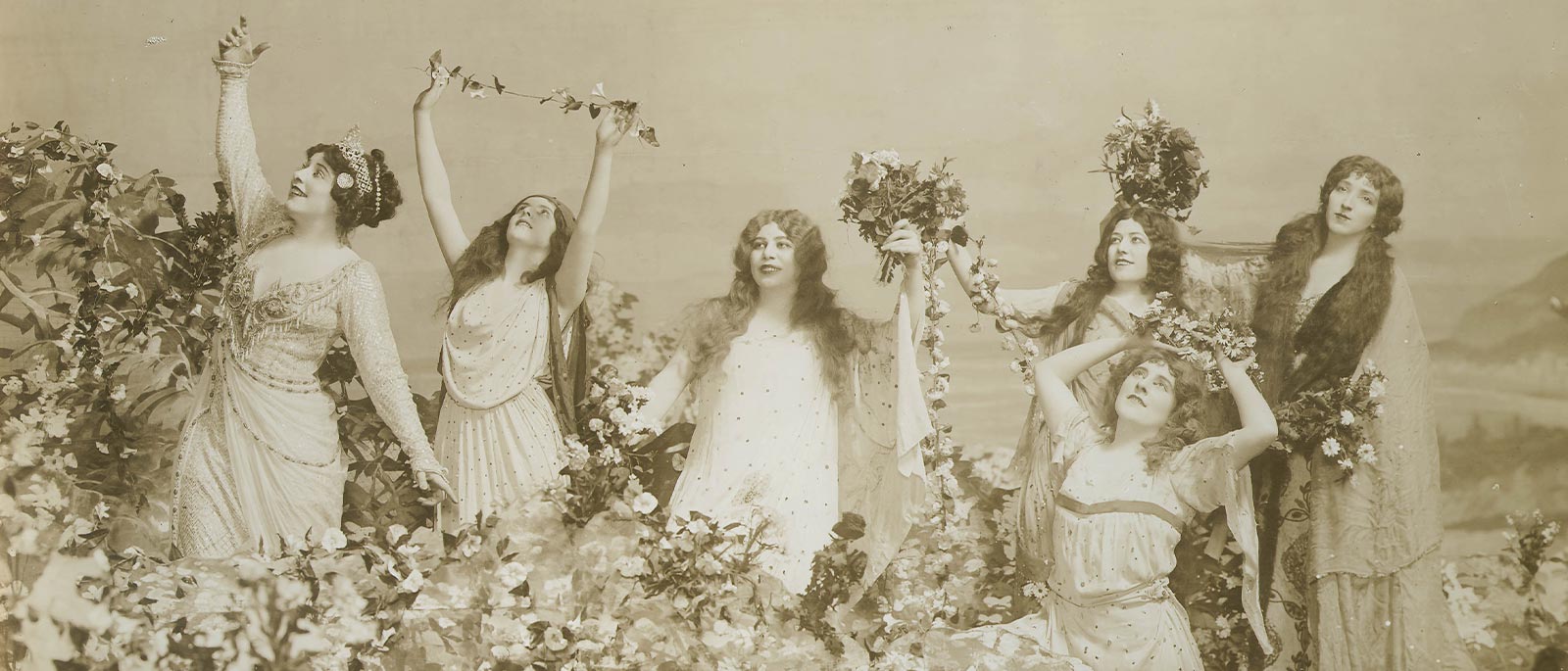 French Opera at the Met
By Peter Clark
The inaugural season of the Metropolitan Opera in 1883­–84 featured twenty operas, including eight by French composers. The Opening Night presentation of Gounod's Faust affirmed the public's taste for French music, as did the ten performances of Bizet's Carmen, then a recently composed hit. All performances that season, however, were sung in Italian as the troupe of artists assembled by Henry E. Abbey, the theater's lessee, were specifically hired to give opera in that language. For the following seven seasons from 1884 to 1891, the Met hired a German troupe who also performed works by French composers, but always in German translation.
It was not until the 1891–92 season that French opera began to be performed in its original language at the Met. Indeed, the 1890s turned out to be a real heyday for French opera. Gounod's Roméo et Juliette was the first opera sung in French. Délibes' Lakmé, in its Met premiere, was also sung in French that season, as was Thomas's Hamlet, and probably Meyerbeer's Le Prophète. It is sometimes difficult to tell from materials in the Met's Archives whether certain performances were in French or Italian. The two languages were treated as somewhat interchangeable during the decades from about 1890 to 1920, and it is probable that certain performances may have mixed the two, with some artists singing in French and some in Italian. For 1891–92, Carmen, Faust, Thomas's Mignon, and Meyerbeer's Dinorah remained in Italian, but two years later, the season-opening Faust debuted in French, as did Carmen.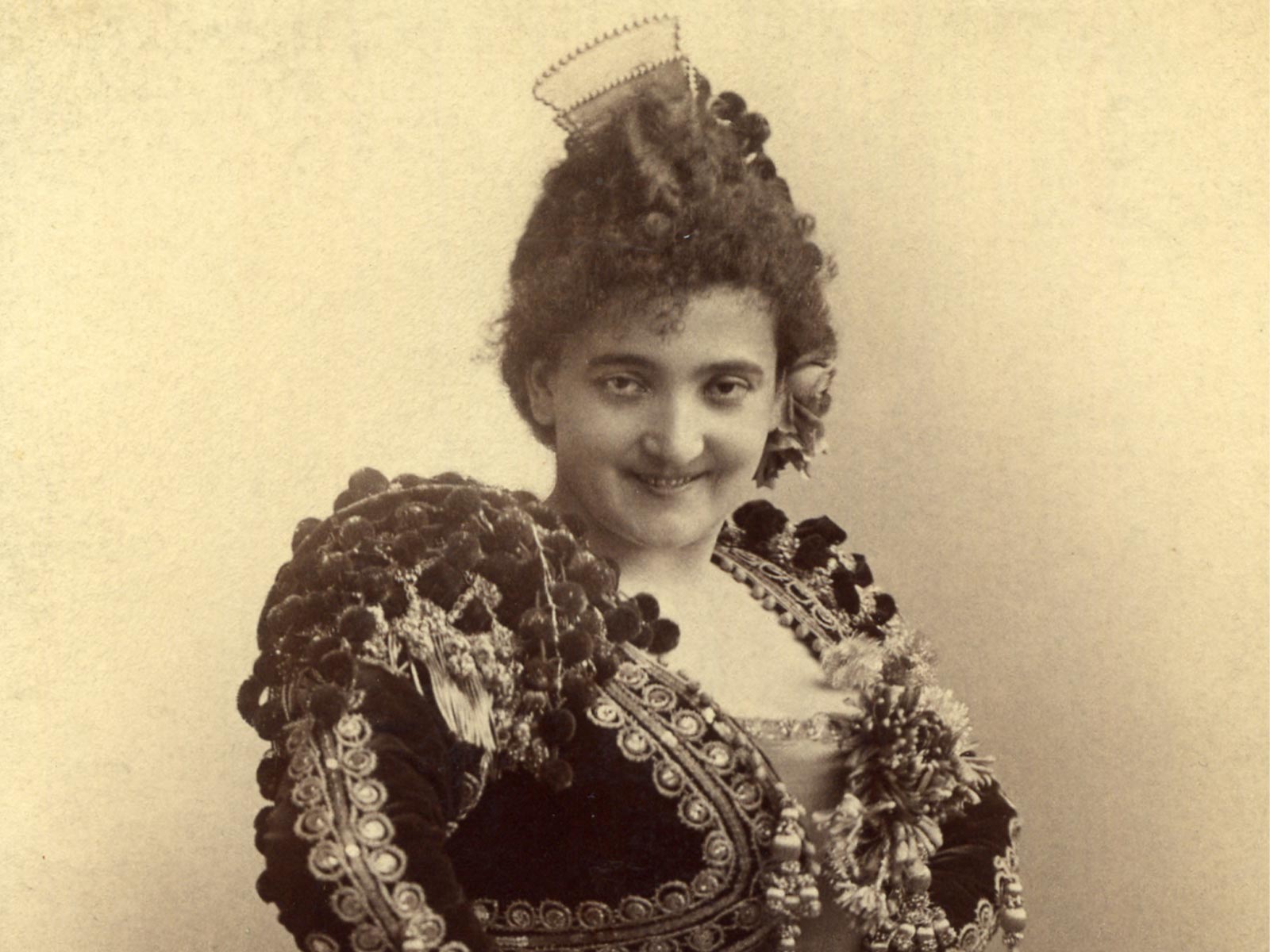 Prominent French singers and artists who had spent much of their training time and performing careers in France appeared at the Met in the 1890s and doubtless influenced the performing tongue. The colorful soprano Emma Calvé had such a triumph as Carmen (pictured above) that the Met scheduled 30 performances of it for her in the 1893–94 season alone, and in her career with the company, the French singer appeared a record 138 times as the seductive gypsy. Calvé was also the motivating factor in adding Massenet's La Navarraise to the repertory in 1895 and De Lara's Messaline in 1902.
The De Reszke brothers, tenor Jean and bass Edouard, were Polish by birth, but the fact that they Gallicized their given names is an indication of how culturally French they were. Both studied in Paris and had major careers there. They sang the first French-language Faust and Roméo et Juliette at the Met, and Jean was Don José in the first French Carmen, opposite Calvé. Jean also sang the lead tenor parts in the Met premieres of Massenet's Werther, Manon, and Le Cid.
Other francophone stars of the period at the Met included sopranos Emma Albani and Lucienne Bréval; tenors Albert Alvarez, Thomas Salignac, and Albert Saléza; baritones Jean Lassalle and Victor Maurel; and bass Pol Plançon. Celebrated Australian soprano Nellie Melba, a student of the legendary teacher Mathilde Marchesi in Paris, was the raison d'être for the Met premiere of Bemberg's French opera Elaine in 1894, as well as a famous Juliette (pictured below), Marguerite in Faust, and Micaëla in Carmen.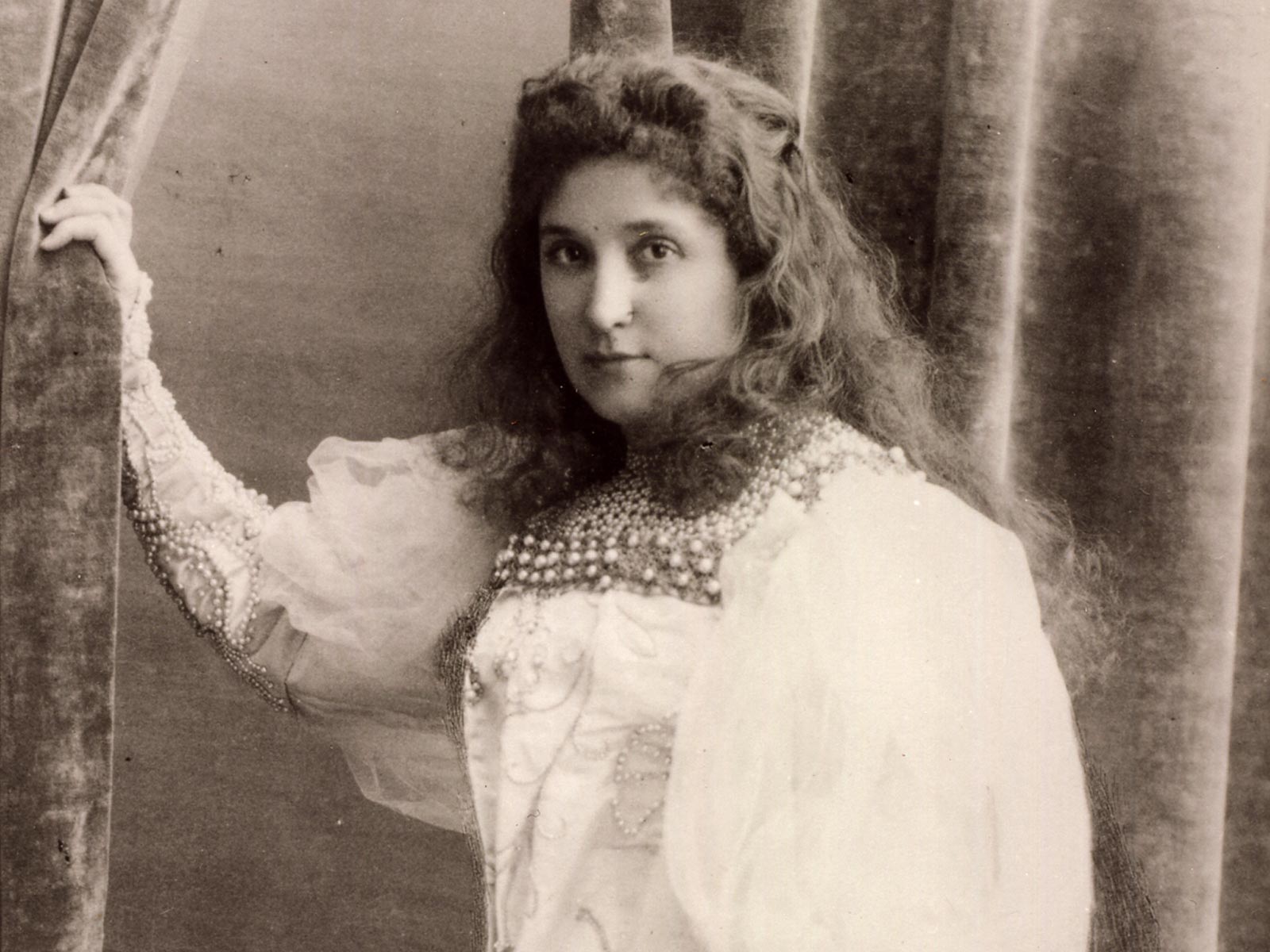 Gounod's Faust and Roméo et Juliette were among the most popular operas in the repertory during the Belle Époque, and his short opéra comique Philémon et Baucis was also given during that period, usually as a double bill with Mascagni's Cavalleria Rusticana.
In addition to Carmen, Bizet was represented by Les Pêcheurs de Perles, the first two acts alone given in 1896 as a curtain raiser for Calvé's tour de force in La Navarraise. The complete opera was performed for the opening night of the 1916–17 season in French with Enrico Caruso, Frieda Hempel, and Giuseppe De Luca. Berlioz's mighty La Damnation de Faust was first introduced in concert in 1896, then staged in 1906 with noted French tenor Charles Rousselière. It would not return to the Met stage until 2008, in a technically stunning production by Robert Lepage. Samson et Dalila by Camille Saint-Saëns had its Met premiere in 1895 with the Italian dramatic tenor Francesco Tamagno as Samson, which would later become a favorite part of Caruso. Despite its Italian interpreters, Samson et Dalila was always sung in French at the Met.
The grand operas of Meyerbeer had been crowd pleasers since the Met's first season and remained so well into the early 20th century. After 1891, these works were sometimes given in Italian, sometimes in French, frequently within a single season. Even the nationality of the singers did not always account for which language would be used. In 1898–99, Les Huguenots with the De Reszkes, Maurel, and Plançon in the cast was sung in Italian, but a later performance of the same work with prominent Germans and Americans and a smattering of French and Italians was given in French. In the same years, L'Africaine was always in Italian, but Le Prophète was most often in French. Caruso sang L'Africaine and Les Huguenots in Italian, but Le Prophète in French.
By contrast, the operas of Massenet, perhaps because they were contemporary works, were always in French. After Werther (1894), Manon (1895), and Le Cid (1897), there was a lull in Met premieres of his works until Thaïs debuted in 1917, with Geraldine Farrar in the title role. Le Roi de Lahore was given a lavish production in 1924 (a costume design from that staging is pictured below), then Don Quichotte, a star vehicle for the great Russian singing actor Feodor Chaliapin, premiered in 1926. It was nearly a century before another Massenet opera came into the Met repertory, when Cendrillon with Joyce DiDonato in the title role was given in 2018.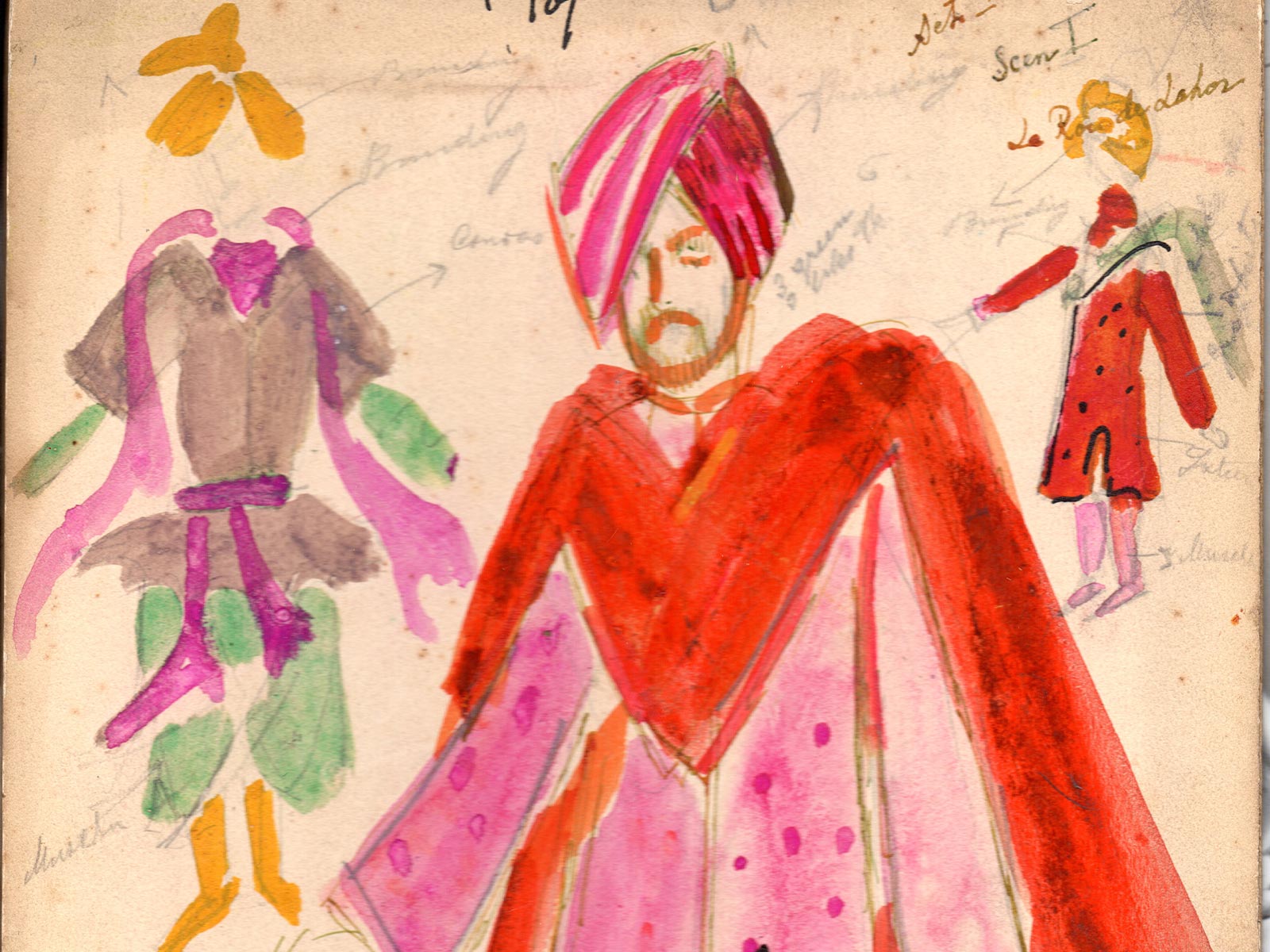 After 1908, when the team of General Manager Giulio Gatti-Casazza and conductor Arturo Toscanini took over the reins at the Met, their policy of expanding the repertory with works from all national schools gave new impetus to French works too. Dueing the 1909­–10 season, a short-lived attempt to present lighter works at the New Theater on Central Park West led to the Met stage premiere of Auber's Fra Diavolo and the first company performances of Bruneau's L'Attaque du Moulin and Lecocq's La Fille de Madame Angot, all in French. More important premieres were performed at the Met itself: Dukas's Ariane et Barbe-Bleue (1911, pictured at the top of this page), Offenbach's Les Contes d'Hoffmann (1913), and Charpentier's Julien (1914).
America's entry into World War I in late 1917 presented new opportunities for French works at the Met. Anti-German feeling among the public was so vehement that the Met banned all opera in German and replaced most of that repertory with works in Italian, French, and English. Additions to the French repertory while the ban lasted (until the 1921–22 season) were: Rabaud's Mârouf, Leroux's La Reine Fiammette, Gounod's Mireille, Wolff's L'Oiseau Bleu, and Gustave Charpentier's Louise. In addition, a new production of La Juive with Caruso as Eléazar (pictured below with Rosa Ponselle) presented Halévy's opera in French for the first time at the Met.
Though Gatti-Casazza was General Manager for 27 years, he did business at the Met in Italian and French, using assistants who translated from English for him. He arrived ignorant of the local language and later seemed not to want people to know if he had actually learned it or not. In any case, his correspondence and other documents in the Met Archives are in Italian or French. This was perhaps less of a problem than it may seem in a day when many educated people everywhere had at least a modicum of ability to communicate in French.
Gatti-Casazza's regular programming of new works persisted until the financial constraints of the Great Depression hit in 1931. In addition to several works already mentioned, Met premieres of French operas included Lalo's Le Roi d'Ys (1922), Debussy's Pelléas et Mélisande (1925), and Ravel's L'Heure Espagnole (1925). Russian operas also entered the Met's repertory for the first time under Gatti-Casazza but never in the original language. (There was one exception: Chaliapin always sang Boris Godunov in Russian with everyone else singing in Italian). In general, Russian works were divvied up between Italian, French, and German. The United States premieres of Rimsky-Korsakov's Le Coq d'Or (1918), Snegurotchka (1922), and Sadko (1930), were all given at the Met in French, as was Igor Stravinsky's Le Rossignol (1926).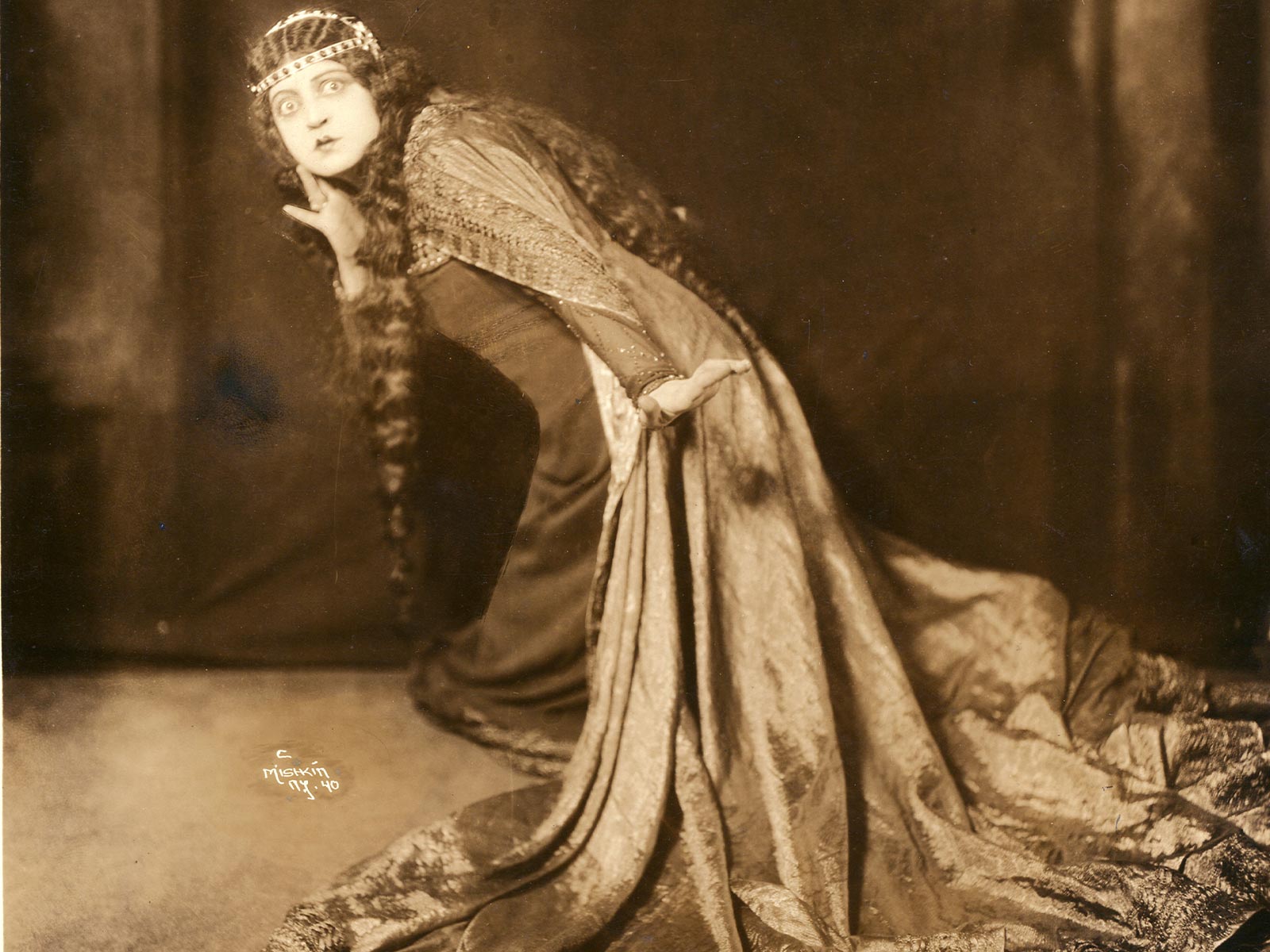 Numerous 19th-century Italian composers had composed operas for Paris in French, but those works have most often appeared at the Met in their Italian versions. Chief among these are Verdi's Don Carlos and Les Vêpres Siciliennes, to this day only given as Don Carlo (Met premiere, 1920) and I Vespri Siciliani (Met premiere, 1974). Spontini's La Vestale was presented as a star vehicle for Rosa Ponselle (pictured above in Le Roi d'Ys) in 1925 in Italian, while Rossini's Guillaume Tell was performed in German in the 1880s, then Italian for most of its Met career until the new production of 2016 finally reverted to the original French. Rossini's comic opera Le Comte Ory was also sung in French for its 2011 company premiere. But Donizetti's La Favorite has only been heard at the Met in the Italian version as La Favorita. On the other hand, his opera comique La Fille du Régiment has usually been in French beginning with its Met premiere in 1902, though, curiously, this paean to the French military reverted to Italian in the World War I years, 1917­–19, and with a German prima donna, Frieda Hempel, in the title role (pictured below).
Many operas of Gluck exist in both Italian and French versions. His Orfeo ed Euridice has only been given at the Met in its original Italian version rather than its later, revised, French version. Armide premiered in French in 1910 under the baton of Toscanini. Alceste, originally programmed for the company debut of France's premiere dramatic soprano, Germaine Lubin, in 1940, was given with the Australian Marjorie Lawrence when Lubin was unable to leave occupied France. Though the premiere season it was in French, later revivals of Alceste used an English translation. Gluck's Iphigénie en Tauride made it to the Met stage as early as 1916, but in a German version by Richard Strauss. It only returned in 2007, this time in French.
In the 22 years from 1950 to 1972 that Rudolf Bing was General Manager, French operas were regularly featured in revivals, but only one was added to the repertory for the first time, Offenbach's genial operetta La Périchole in 1956.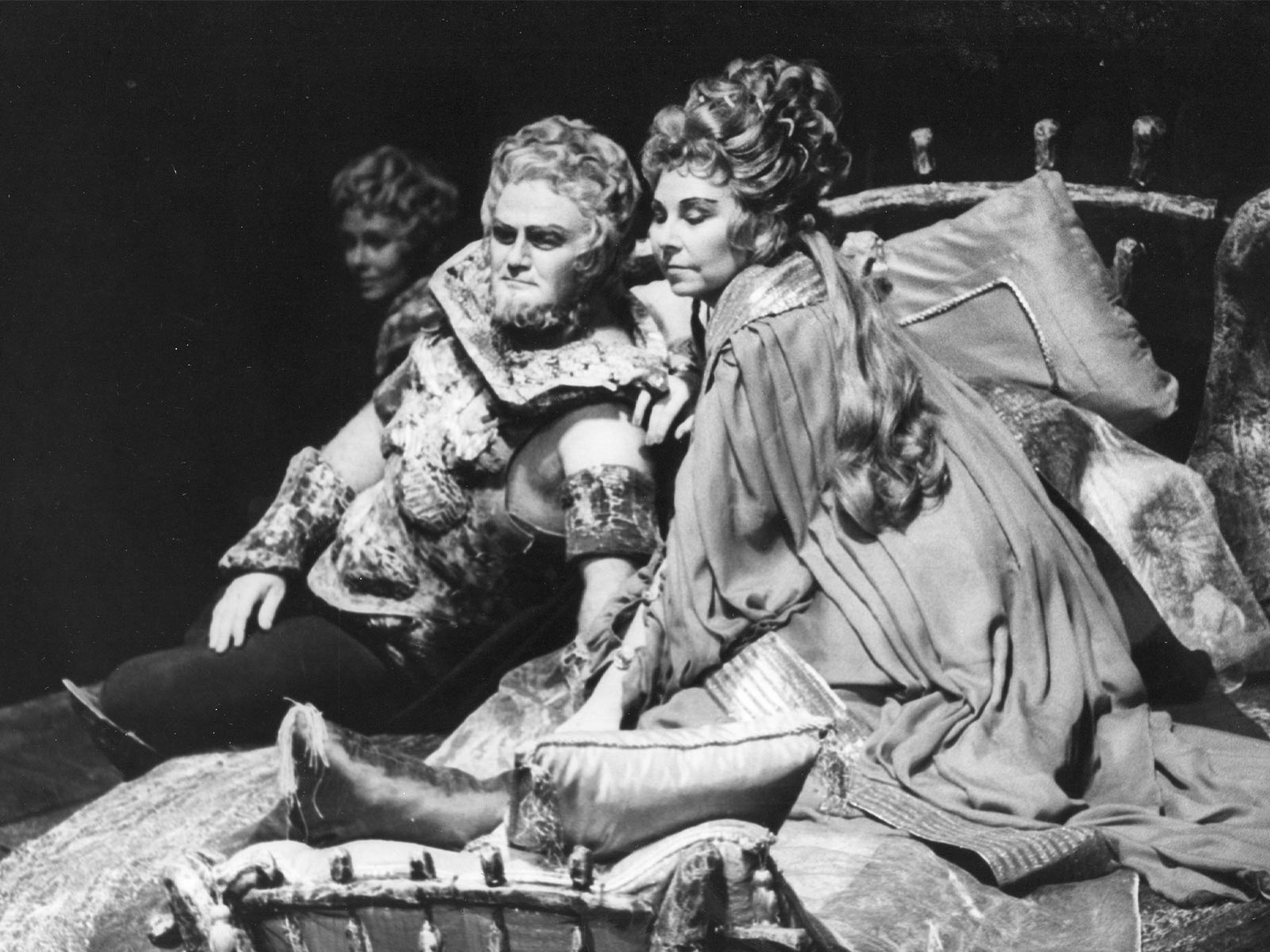 In the last half century, a number of French works, many of them unjustly ignored for years, have joined the Met repertory. A worldwide new appreciation of Berlioz's operas led to his grand chef d'oeuvre, Les Troyens, finally making it to the Met stage in 1973 (pictured above starring Jon Vickers and Christa Ludwig), and his earlier work, Benvenuto Cellini, followed in 2003. Massenet's rarely heard Esclarmonde was mounted for star soprano Joan Sutherland in 1976. Two operas by Francis Poulenc have had particular success at the Met: His searing drama Les Dialogues des Carmélites was first given in English in 1977, but three years later returned in French. The striking production by John Dexter played a large part in the work's success, and the same director also produced a highly successful triple-bill called Parade that included Poulenc's Les Mamelles de Tirésias (pictured below). The Parade triple bill, with its riotously colored sets by David Hockney, ended with Ravel's delightful one-act opera L'Enfant et les Sortilèges. In 2005, Cyrano de Bergerac, an opera by the Italian composer Franco Alfano set to a French text, had its United States premiere at the Met.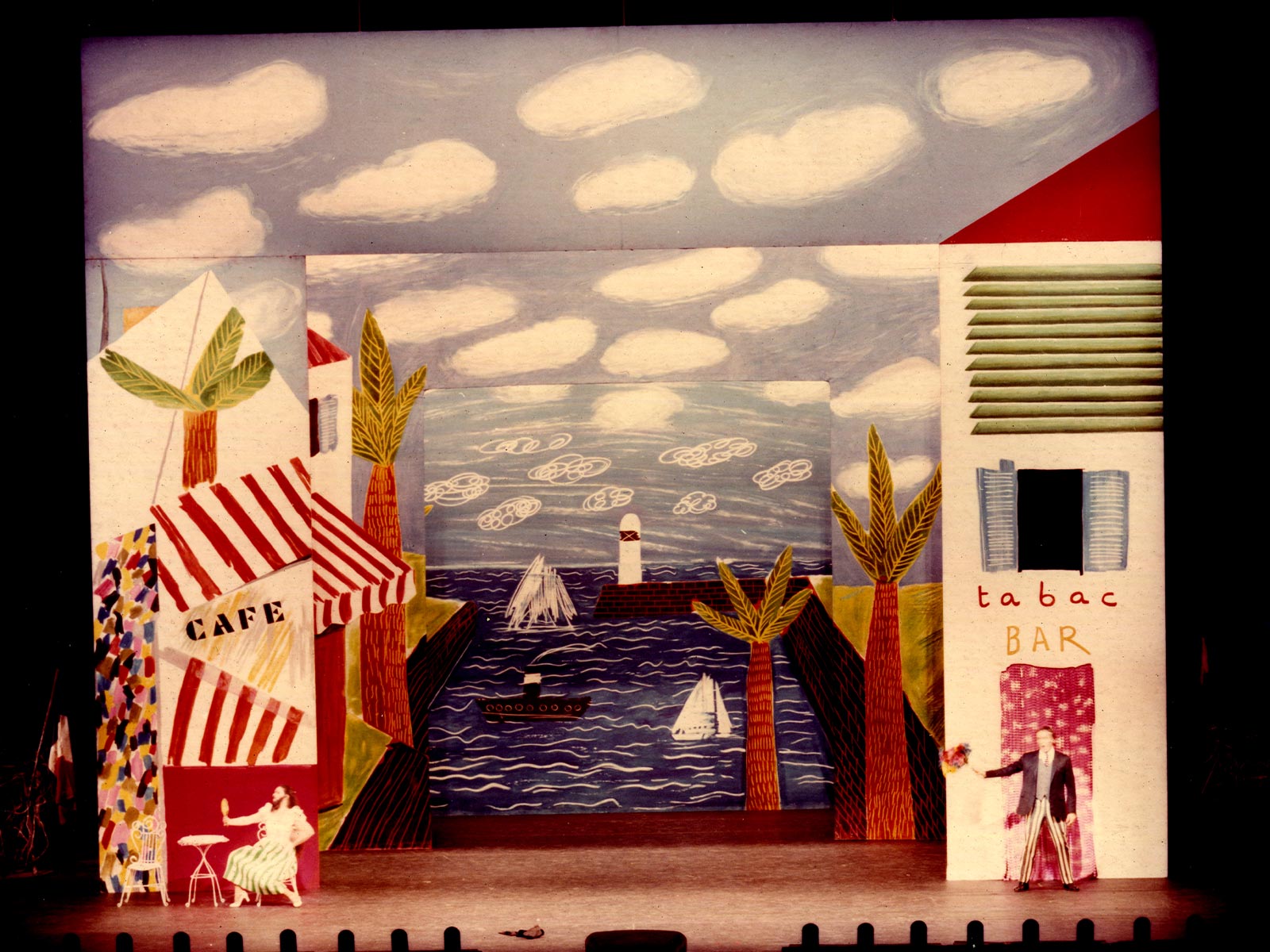 Contemporary operas in French have been rare since the early 20th century, but not unheard of. A new experiment with performing in a smaller space in 1973, the Mini Met, featured the U.S. premiere of a contemporary opera in French by Maurice Ohana entitled Syllabaire pour Phèdre. Most recently, the Met added another contemporary work in French when it staged L'Amour de Loin by Finnish composer Kaija Saariaho in 2016.
Peter Clark is the Met's Director of Archives.