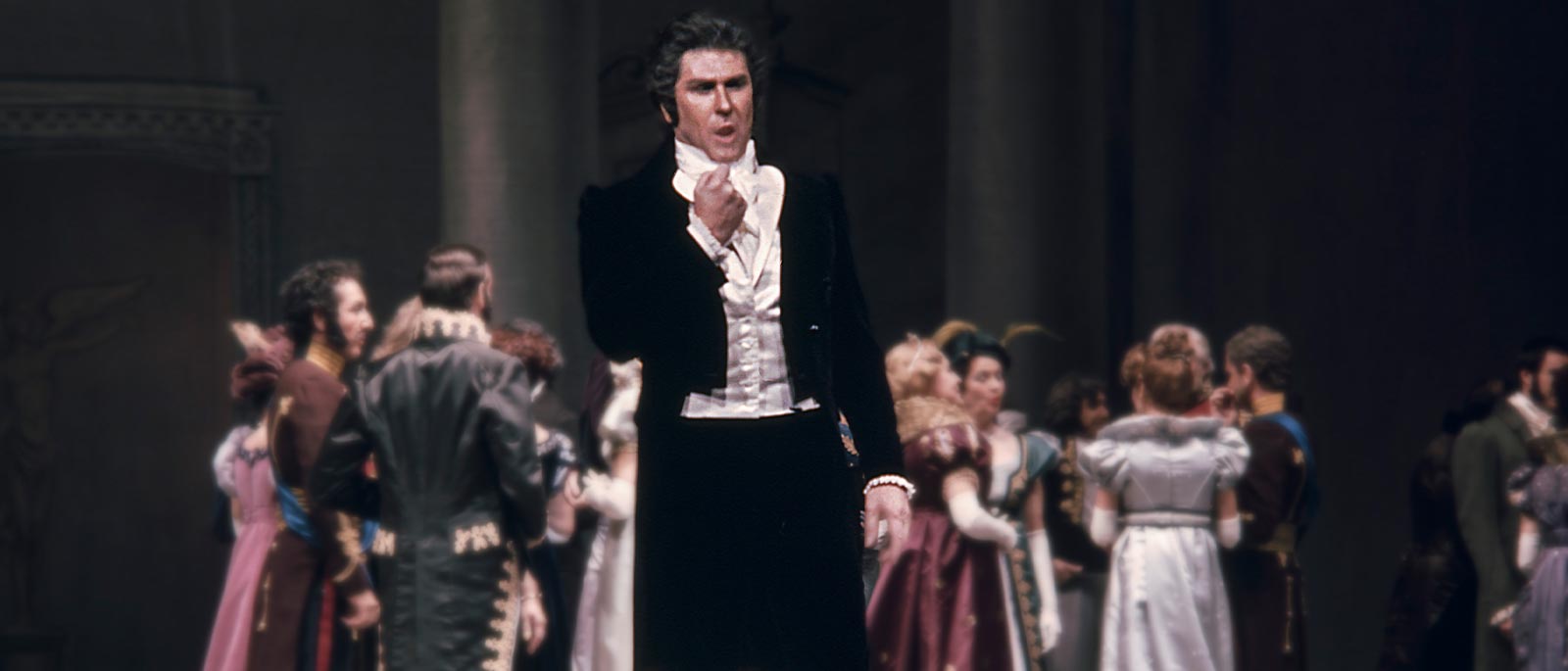 From the Archives: Eugene Onegin at the Met
By Peter Clark
Russian opera got a slow start at the Metropolitan when Gustav Mahler conducted the United States premiere of Tchaikovsky's Queen of Spades in 1910. Ten years later, Tchaikovsky's other operatic chef d'oeuvre, Eugene Onegin, had its U.S. stage premiere at the Met. In both cases, Tchaikovsky's operas were staged as an offshoot of standard western European repertories—The Queen of Spades was given in German, while Eugene Onegin was sung in Italian and performed in the tradition of Verdi and Puccini. Certainly, there is something Italianate about the lyrical melodies and the very human emotional conflicts of the leading characters in Onegin. And the Met took advantage of its strong stable of Italian singing actors to give the Russian novelty a tryout without the risk of presenting the audience with an unknown language and style.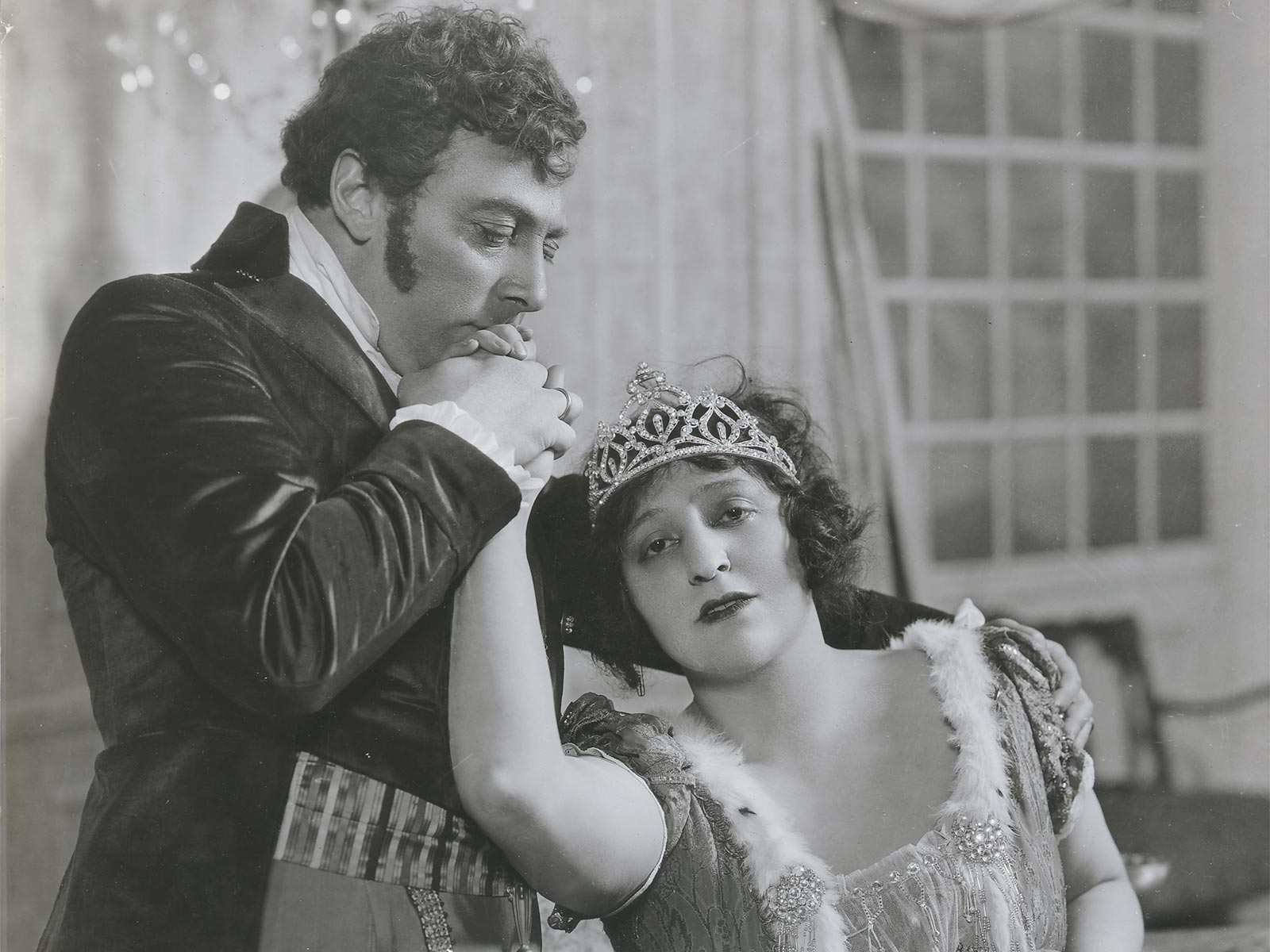 An illustrious trio of Italian stars, Claudia Muzio, Giuseppe de Luca, and Giovanni Martinelli (the former two pictured above) sang the pivotal roles of Tatiana, Onegin, and Lenski, with Artur Bodanzky conducting. Polish bass Adamo Didur, in the role of Prince Gremin, was the only non-Italian in a leading role. "Miss Muzio has sung no better this season her allotted airs. They are so Italian that they suited her fervid lyrical style," remarked the critic of The New York World. Mistaking Didur's nationality, he continued "Mr. Didur, the only Russian in the cast, was as Italian as his colleagues."
Today, aficionados of historic voices may relish the recordings Muzio and Martinelli made of arias from Onegin at the time and wish they could be transported back to hear these renowned artists in Tchaikovsky's emotion-drenched music, but the opera failed to seduce contemporary audiences. After five performances in its initial season, and three more the following one, Eugene Onegin disappeared from the Met's repertory for 36 years.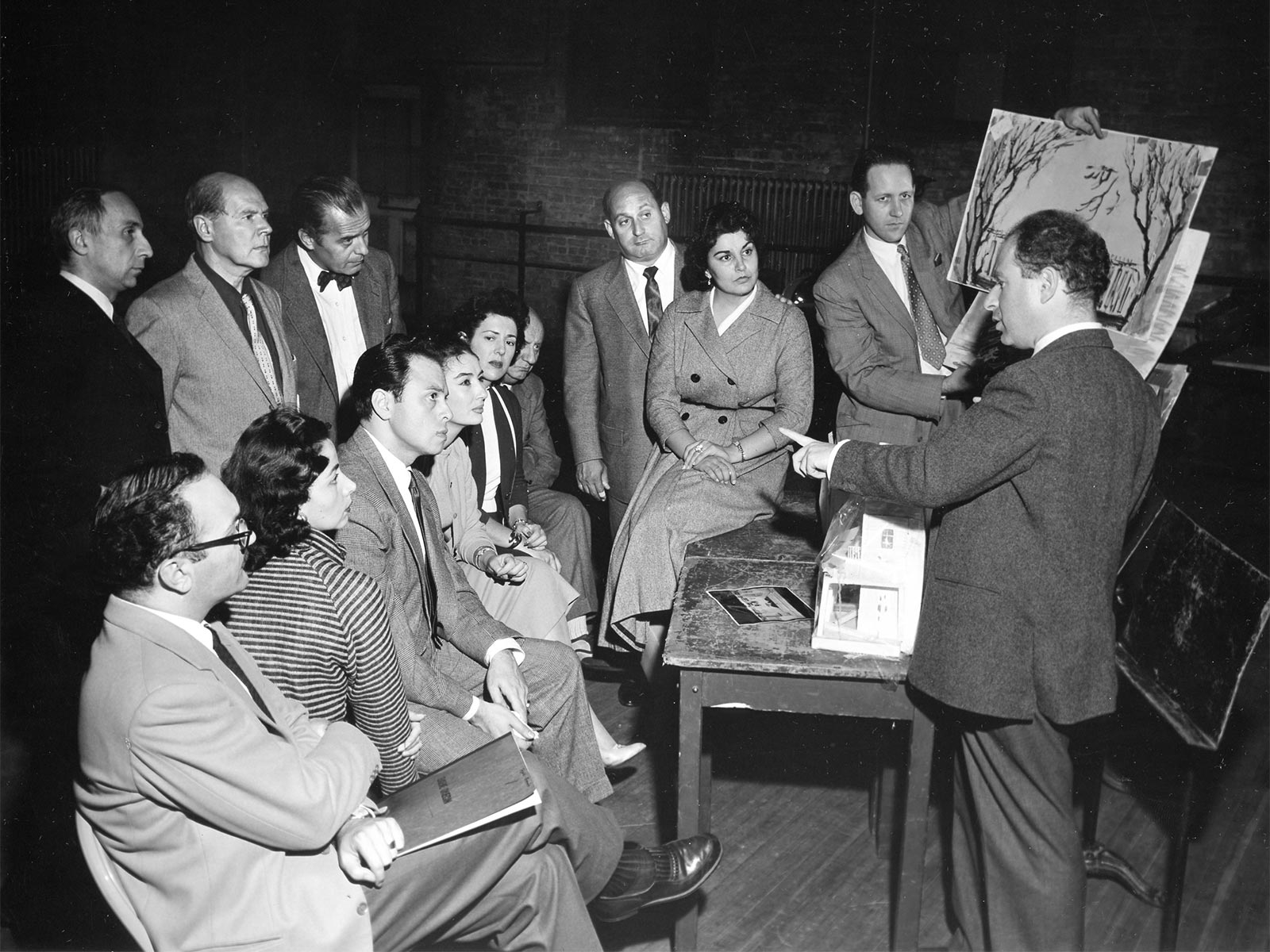 In 1957, the Met again tried to introduce Eugene Onegin yet continued to avoid the essential Russian character of Tchaikovsky's work. The company employed an English-language version (seen in rehearsal above), and conductor Dimitri Mitropoulos led a cast that included George London in the title role, with Lucine Amara as Tatiana, Richard Tucker as Lenski, and Giorgio Tozzi as Prince Gremin. In a serious attempt to create a theatrically effective production, the Met engaged noted theater director Peter Brook and designer Rolf Gérard. Critical reaction was particularly favorable to London, who already had a reputation in Russian repertory for his strong impersonation of the title role in Boris Godunov, and whose dark bass-baritone and handsome stage presence suited him well for the part of Onegin. While Eugene Onegin achieved some degree of success in this production, its place in the Met's repertory was episodic for the next two decades. Performances during the 1958–59 season introduced one of the great interpreters of Lenski, Swedish tenor Nicolai Gedda (pictured below), whose astounding linguistic abilities allowed him to transition with complete stylistic fluency from the English version to the original Russian later in his career. A 1964 revival presented the extraordinary soprano Leontyne Price in a novel role as Tatiana with debuting baritone William Dooley as Onegin and tenor Jess Thomas as Lenski, under the baton of Thomas Schippers.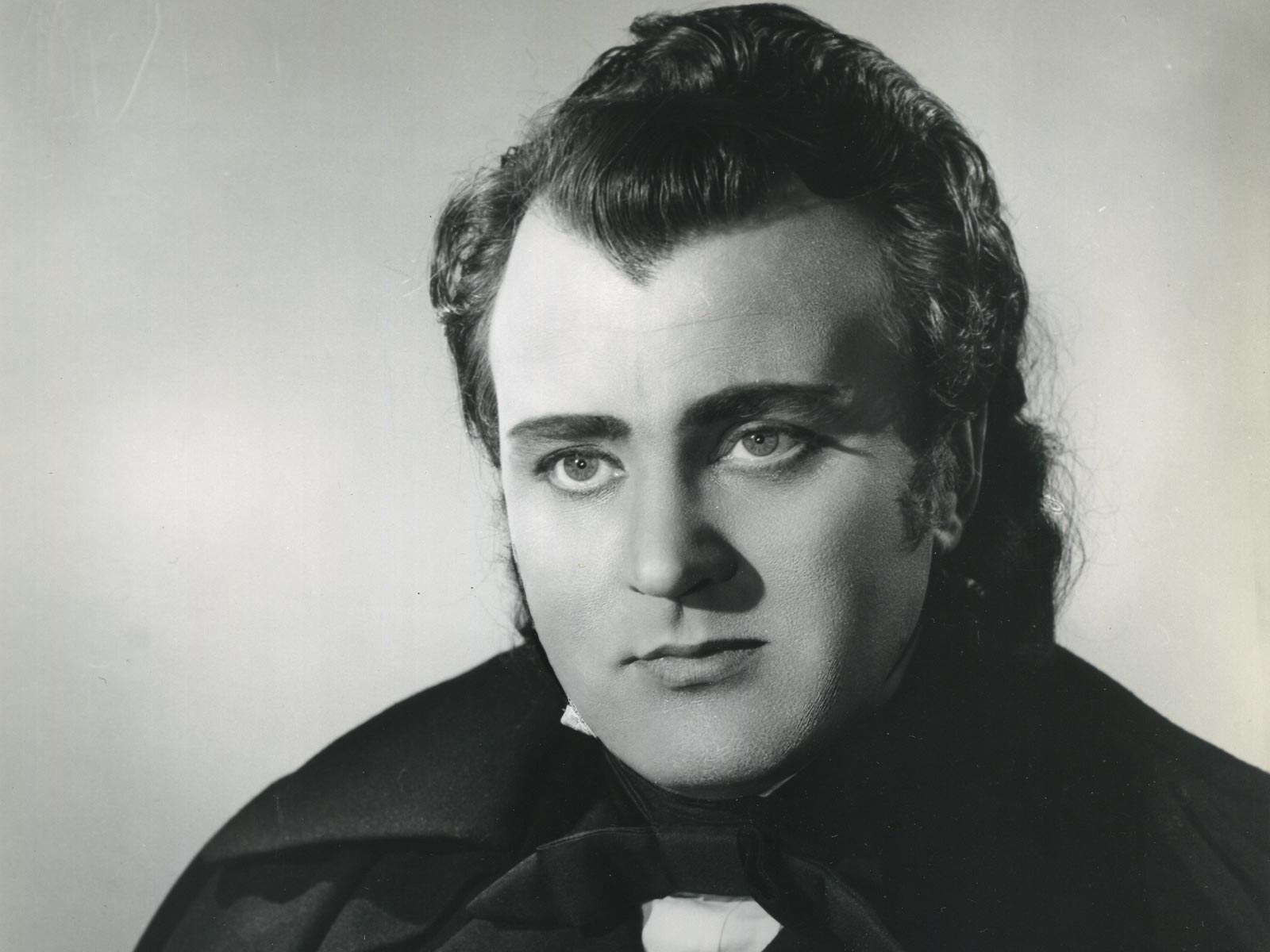 Finally, the original Russian-language Eugene Onegin was performed at the Met in 1977, conducted by James Levine. The company's star baritone, Sherrill Milnes (pictured at the top of this page), sang the title role with Polish soprano Teresa Zylis-Gara as Tatiana, Gedda as Lenski, and Finnish bass Martti Talvela as Prince Gremin. It was from this point that Eugene Onegin gained a more permanent foothold in the Met's repertory. After having been given a mere 38 times from 1920 until 1977, Onegin has had 97 performances since then.
Certainly the flood of Eastern European, and specifically Russian, singers and conductors to the West that occurred in the latter half of the 20th century has enhanced the Met's ability to perform Tchaikovsky's masterwork in a stylistically appropriate and engaging way. Artists from the former Eastern bloc such as conductors Emil Tchakarov, Valery Gergiev, and Vladimir Jurowski and singers such as Sergei Leiferkus, Yuri Mazurok, Vladimir Chernov, Dmitri Hvorostovsky, Piotr Beczała, Nicolai Ghiaurov, Vladimir Ognovenko, Galina Gorchakova, Makvala Kasrashvili, Teresa Kubiak, Marina Poplavskaya, and Anna Netrebko are only a few of the best known who have taken leading roles in Eugene Onegin. Many more former Soviet bloc singers have filled the supporting roles, adding authentic style to the Met's performances.
The wave of Slavic performers has not, however, precluded other artists from enjoying triumphs in Eugene Onegin. American baritone Thomas Hampson and the Swede Peter Mattei have been prominent in the title role while the eminent Italian soprano Mirella Freni made a specialty of Tatiana. The American Renée Fleming and Finnish Karita Mattila also made their marks as Tatiana, while American tenors Jerry Hadley and Neil Shicoff were distinguished Lenskis, and American bass Paul Plishka holds the record for the most performances as Prince Gremin. Longtime conductor of the Boston Symphony, Seiji Ozawa, made his Met debut on the podium for Onegin, as did Sir Antonio Pappano, artistic director of the Royal Opera, Covent Garden.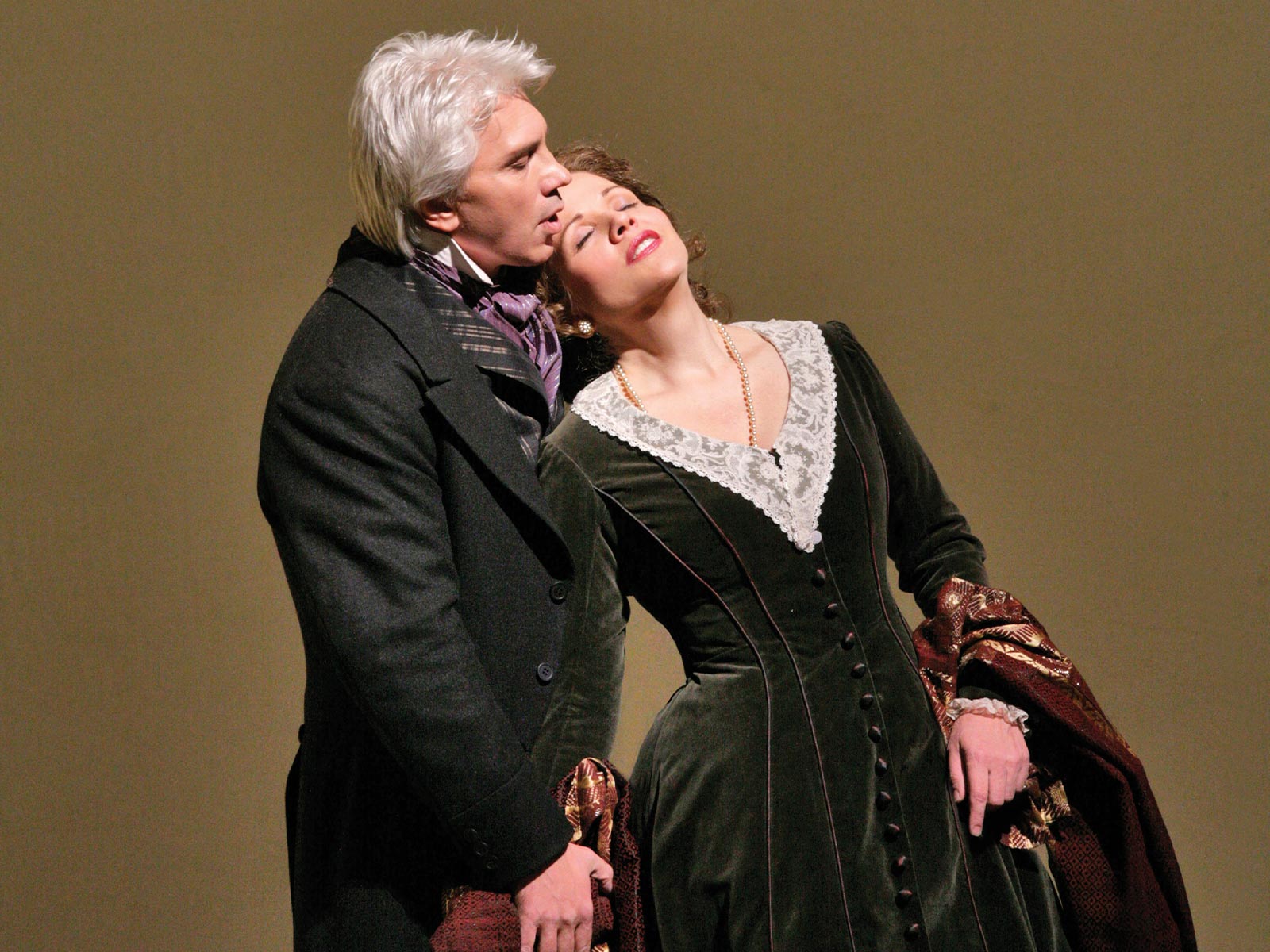 The 1957 Peter Brook production held the Met stage for an astounding 40 years until it was replaced by Robert Carsen's stark, somewhat controversial, production in 1997. New York magazine critic Peter G. Davis highlighted the heroine's Letter Scene, in which she is "surrounded by a carpet of autumn leaves through which Tatiana dreamily wanders … it is a breathtakingly romantic scene." The 2007 revival of Carsen's production brought together one of the Met's most outstanding Onegin casts for a searing performance captured live in HD (pictured above). Valery Gergiev conducted, with Dmitri Hvorostovsky in the title role, Renée Fleming as Tatiana, and Ramón Vargas as Lenski. David Baker's review for Opera News noted that "Hvorostovsky's debonair vocal style has never been more appropriate to a role," and calling his a "definitive performance." He went on to praise "the expert touch of Valery Gergiev," and the "endearing directness" of Fleming's characterization. "The final scene found Fleming and Hvorostovsky splendidly matched, as if inspiring one another to enact a tense and finally desperate confrontation."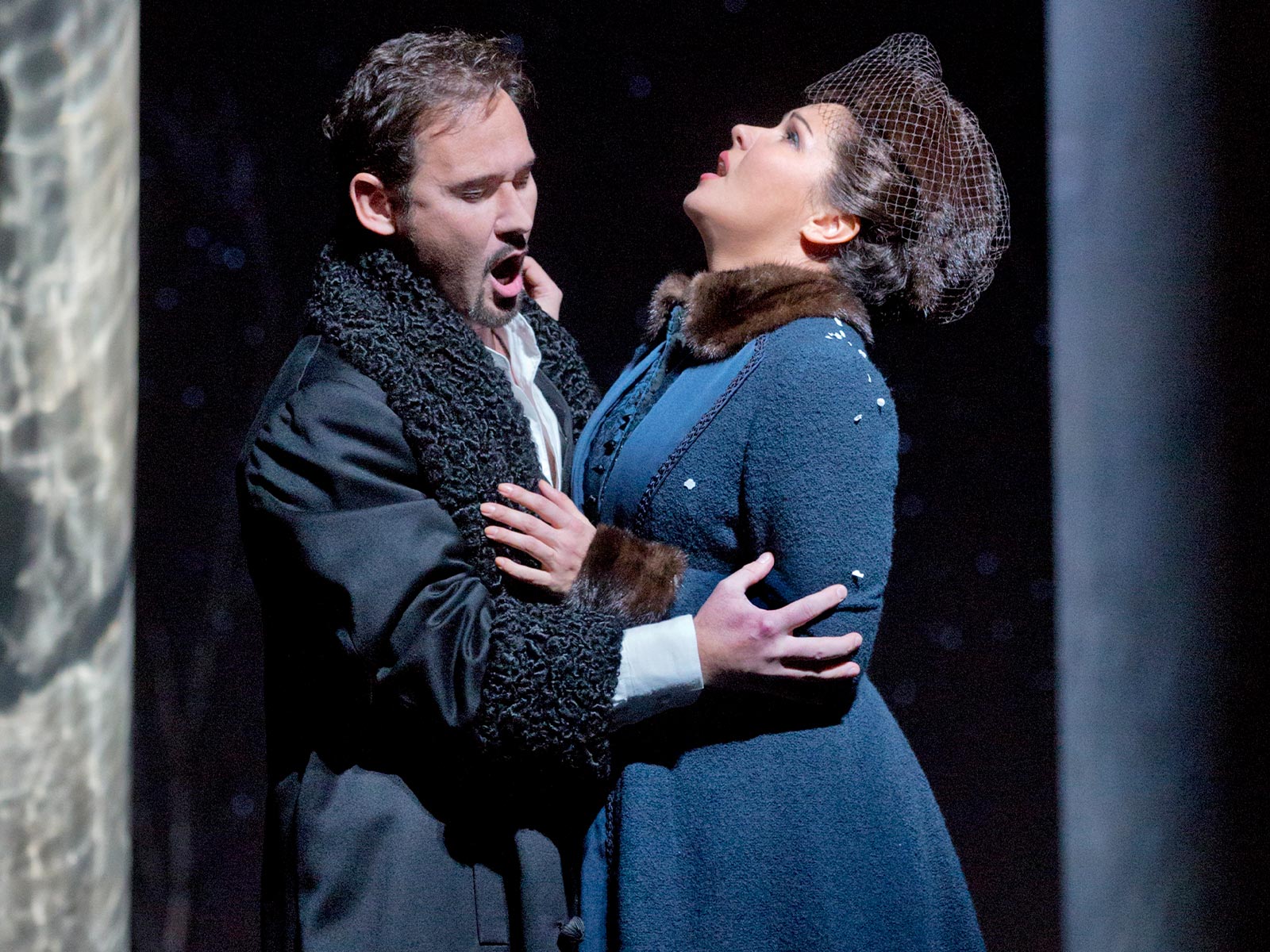 Gergiev again conducted when the Met introduced a new production of Eugene Onegin on Opening Night of the 2013–14 season (pictured above). The production by Deborah Warner, directed by Fiona Shaw, with sets by Tom Pye and costumes by Chloe Obolensky, returned to a more traditional visual style. Russian soprano Anna Netrebko, who had been the focus of numerous Met productions, was featured as Tatiana, one of the quintessential roles of her native repertory. Joining Netrebko were two of her most frequent and successful stage partners, baritone Mariusz Kwiecień as Onegin and tenor Beczała as Lenski, both of them Polish. Netrebko returned to the role of Tatiana in 2017, this time with Peter Mattei as Onegin, Russian tenor Alexey Dolgov as Lensky, and Slovak bass Stefan Kocán as Gremin, Robin Ticciati conducted.
Peter Clark is the Met's Director of Archives