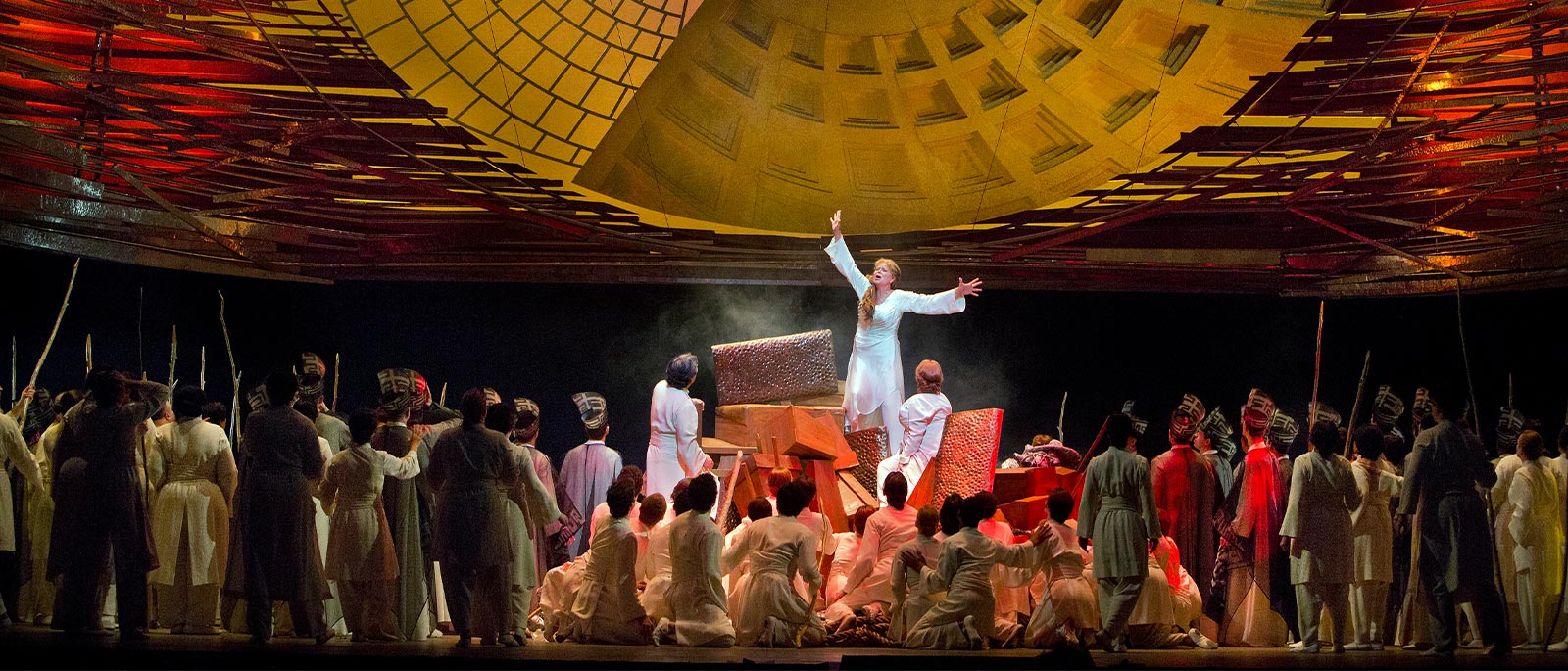 From the Archives: Berlioz at the Met
By Peter Clark
"The name of Berlioz does not, I think, mean or represent much to the general musical public nowadays, and yet it is the name of a musical colossus, of a man who made the modern orchestra, of a genius who did more for the development and advancement of his art from an aesthetic and scientific standpoint than any composer since Beethoven, excepting only Wagner."
So wrote Reginald De Koven, music critic for the The New York World in 1896 when the Metropolitan Opera first presented a work by Hector Berlioz. The occasion was Berlioz's "dramatic legend" oratorio La Damnation de Faust, premiered in 1846, given as a Grand Sunday Night Concert conducted by the eminent Wagnerian Anton Seidl that introduced the composer to the Met audience. Given three performances that season, two in New York and one in Boston, La Damnation de Faust then disappeared for a decade from the Met. It returned in a staged version in 1906, conducted by Arturo Vigna, with French singers Charles Rousselière and Pol Plançon as Faust and Mephistophélès and the beautiful young American soprano Geraldine Farrar as Marguerite. In fact, it was the United States stage premiere of the oratorio, which had been staged for the first time in 1893 at the Monte Carlo Opera. The New York Times reviewer paid grudging homage to Berlioz's gifts as a composer and observed: "The result of last evening's performance goes to show that the music undoubtedly gains by a pictorial setting. Whatever Berlioz's musical inventiveness may have been, he had a riotous pictorial imagination."
That season's six performance of La Damnation de Faust were, however, the last time one of Berlioz's dramatic works would be given by the company in the old Met on 39th Street and Broadway—though several of his instrumental pieces were programmed in the Sunday concert series (which lasted until 1946).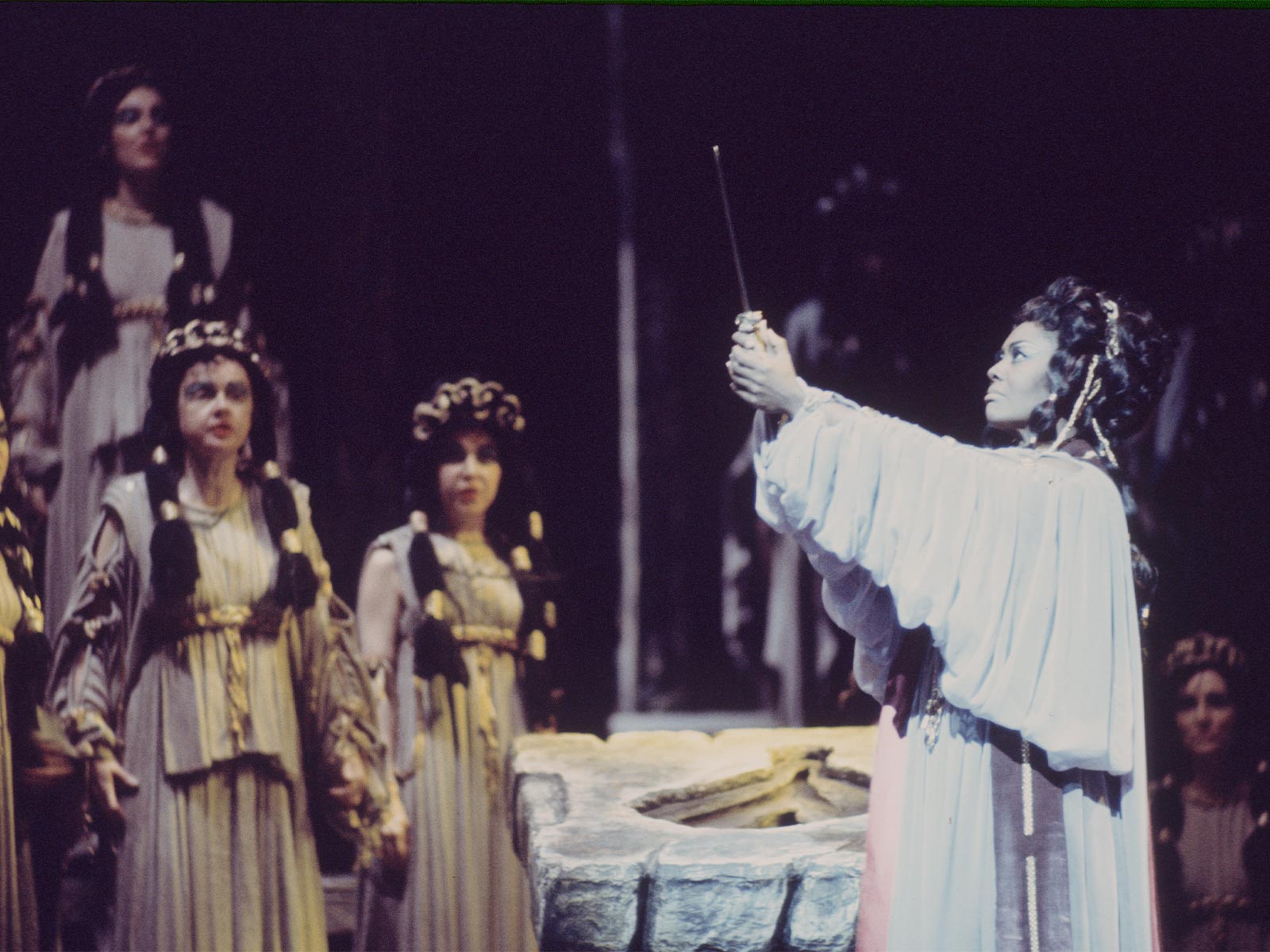 It was in the new Met at Lincoln Center that Berlioz's stage works would at last find their rightful place in the company's repertory. His chef d'oeuvre, the mammoth Les Troyens, consecrated two landmark moments for the Met. At its Met premiere on October 22, 1973, Les Troyens became the first new production to be entirely planned by a new regime following the 22-year reign of general manager Rudolf Bing. Among his several unfortunate prejudices, Bing had considered Les Troyens "a crashing bore" and refused to stage it. But his successor, Goeran Gentele, had collaborated with a new Music Director, Rafael Kubelík, to make Berlioz's masterpiece the highlight of the first season for which he was fully responsible. Tragically, Gentele was killed in a car accident in July 1972, but Kubelík and the new acting General Manager, Schuyler Chapin, went ahead with the grand plan and staged the grand two-part epic. Kubelík made his Met debut conducting, Jon Vickers sang the demanding role of Enée, and Shirley Verrett (pictured above), scheduled to sing Cassandre, ended up singing Didon as well at the premiere when the scheduled artist, Christa Ludwig, was ill. Verrett's tour-de-force singing both roles made headlines, though Ludwig returned for the subsequent ten performances.
Critics celebrated the new management's fresh programming ideas signaled by adding the Berlioz work to the Met's repertory. "Any way you look at it, the new production is a stupendous achievement. Most important, of course, is the simple fact that it restores to our eyes and ears a towering musical and dramatic masterpiece, whose stature has until recent years been little more than a shadow across the pages of music-history textbooks," wrote Alan Rich in New York magazine.
The Met was not alone in having ignored Les Troyens for so long. A reappraisal of Berlioz's music in general, and Les Troyens in particular, began in Britain in the 1950s and really blossomed in the 1960s. A critical edition of the Les Troyens score by Hugh Macdonald in 1969 led to performances at London's Covent Garden, led by Colin Davis, that altered traditional views of the work as being unperformable in its entirety. From that point on, Les Troyens became an important artistic challenge for the world's great opera houses to confront.
Les Troyens was again chosen to mark a significant date in Met history when it opened the company's centennial season on September 26, 1983. Preparations for the centennial celebration had been planned for years and included a new $100 million endowment campaign to secure the Met's future. Berlioz's heroic saga was the perfect launch for the new era in which the Met would, in fact, find a degree of stability that had been absent for the last decade or more.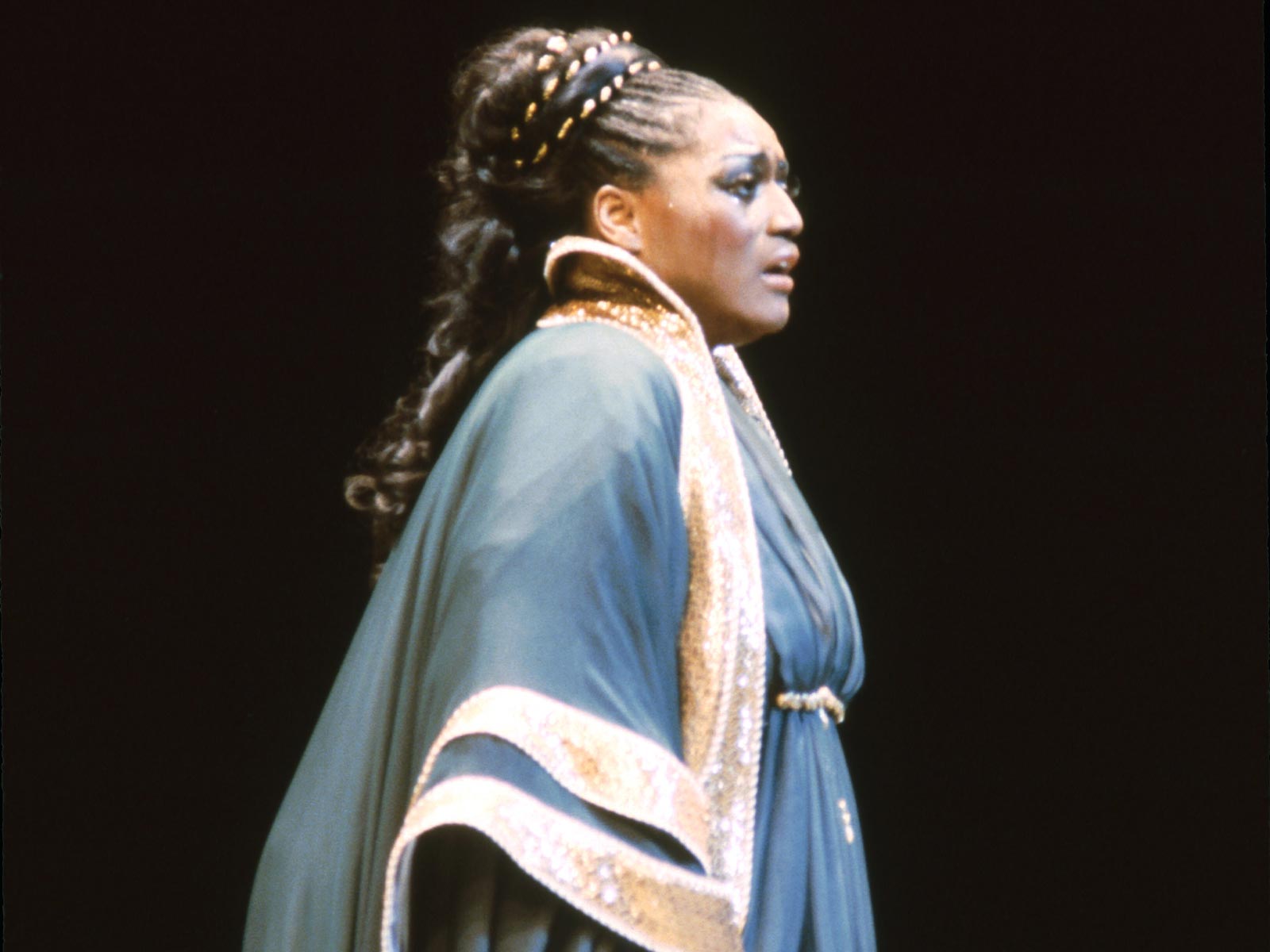 Again, the cast featured some of the world's top artists. James Levine conducted a blazing performance with soprano Jessye Norman (pictured above) as Cassandre, in her Met debut, Plácido Domingo as Enée, and Tatiana Troyanos as Didon. For the Saturday matinee radio broadcast on February 18, Norman repeated Verrett's feat from 1973 of singing both Cassandre and Didon due to a colleague's late cancellation. Pre-opening publicity gave an idea of just how massive an undertaking Les Troyens was. The staging "is, in this version, a monumental, semi-abstract production that involves thirty-three scene changes; a hundred and twenty-eight singers; sixty-one dancers, acrobats, and supers; an orchestra of eighty; three offstage bands; five ghost apparitions; and more than a thousand costumes."
Since 1983, Les Troyens has returned to the Met repertory at approximately ten-year intervals, with a revival in 1993; a new production by Francesca Zambello, with Deborah Voigt, Lorraine Hunt Lieberson (pictured below), and Ben Heppner in 2003 (pictured at the top of this page); then a revival of that staging during the 2012–13 season. In short, it has become a regularly scheduled important event in Met seasons, if too formidable to be adopted as a repertory staple.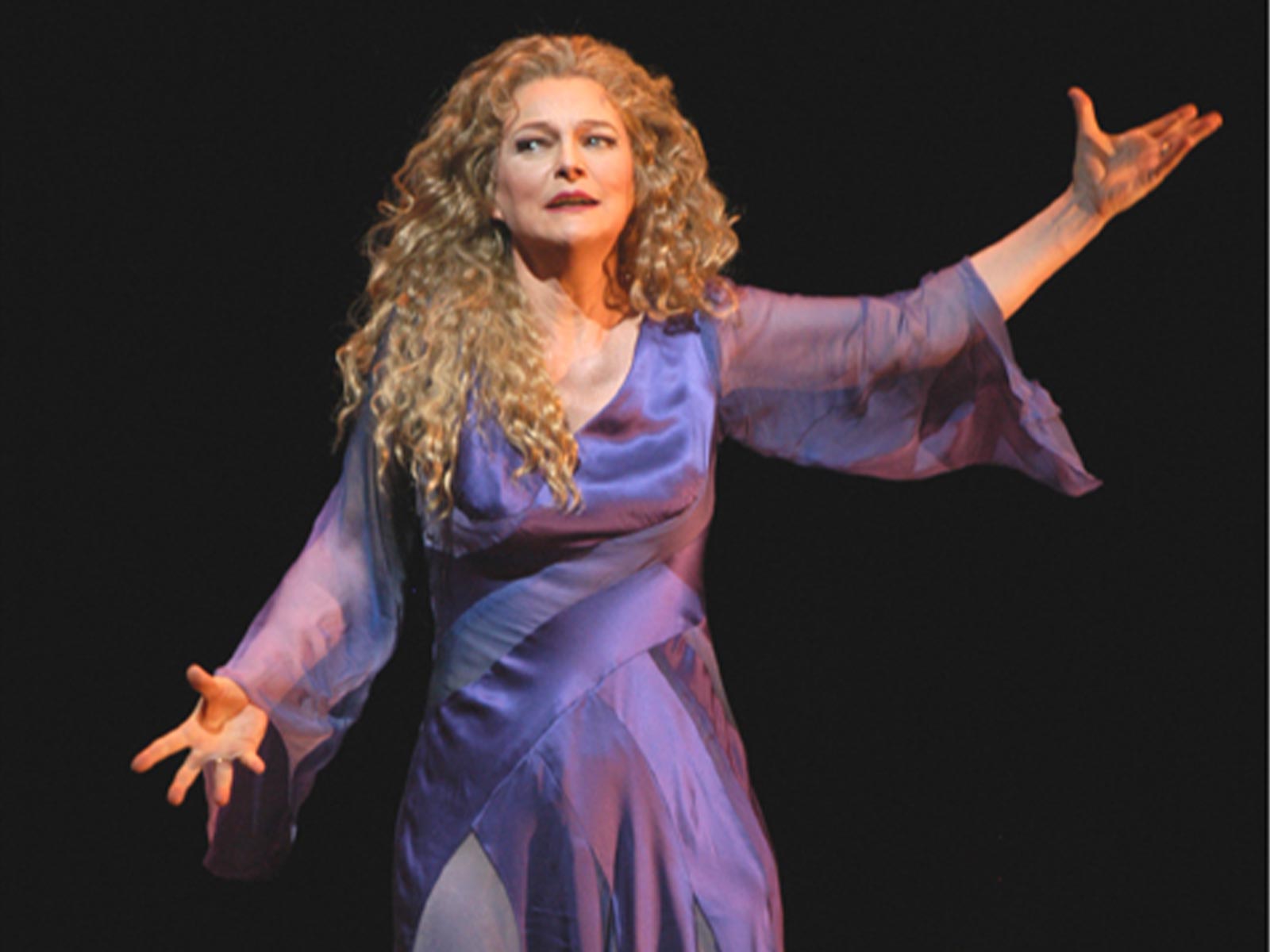 As part of the centenary celebration of Berlioz's birth in 2003, the Met Orchestra under Levine programmed two entire concerts in its May Carnegie Hall series to the composer's works. Then in December, the Met staged the company premiere of his earliest opera, Benvenuto Cellini, which had precipitated a financial disaster for the composer in 1838. David J. Baker wrote in Opera News that the Met "has enriched the company's repertoire with his remarkable Benvenuto Cellini," while acknowledging some of the work's problems and adding, "It's safe to predict that this most neglected of Berlioz's operas will not become a regular at Lincoln Center anytime soon." Nevertheless, Cellini was given an elaborate and "imaginative" production by Andrei Serban, conducted by Levine with Marcello Giordani (pictured below with Isabel Bayrakdarian as Teresa) in the perilous title role.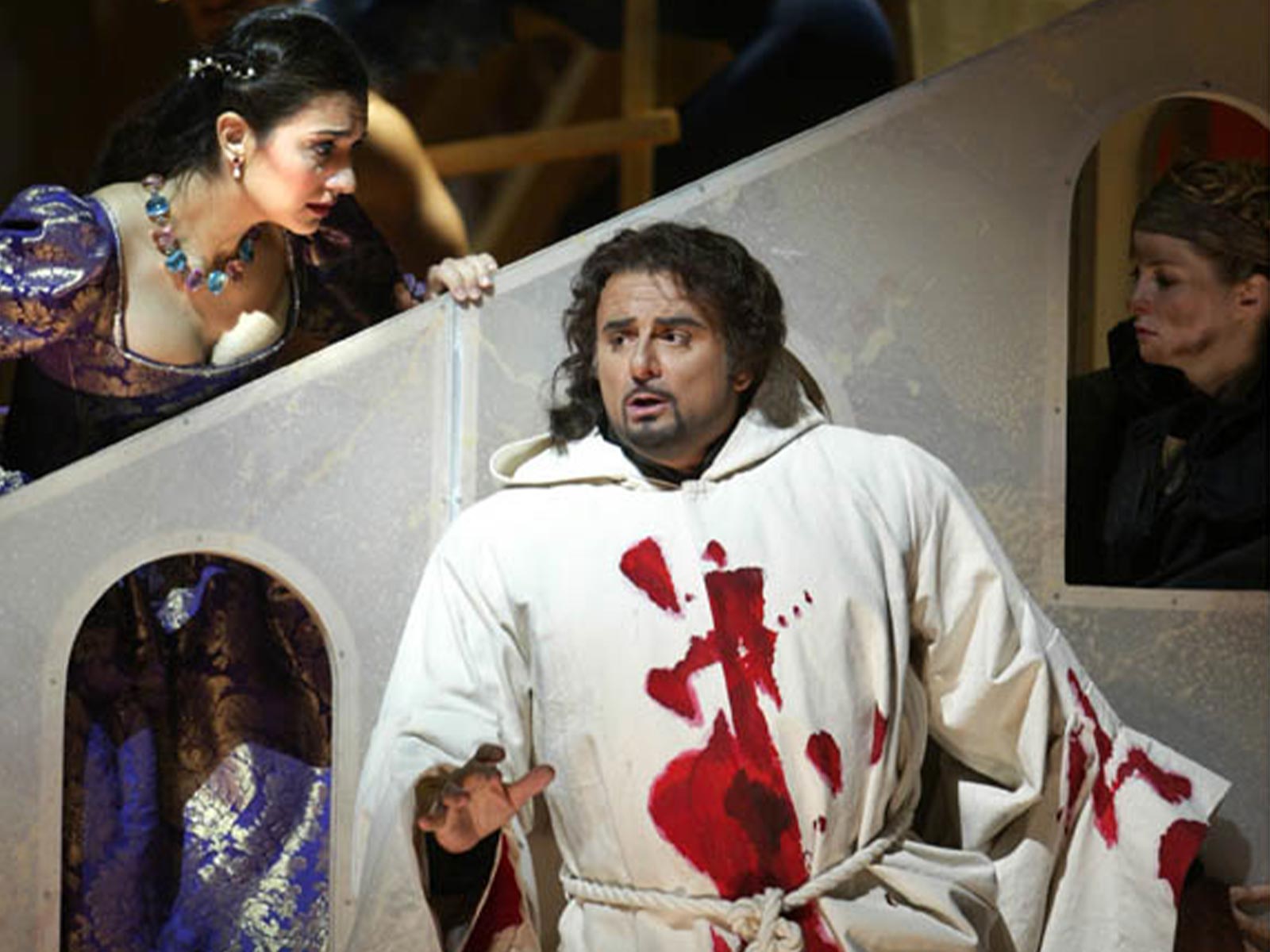 While Benvenuto Cellini has not been revived at the Met to date, La Damnation de Faust was given a brilliant new production in 2008, the first since its Met stage premiere in 1906. Canadian director Robert Lepage brought his technical wizardry to the Met for the first time with this production (pictured below), which had originally been staged at the Paris Opera. "The result is an inventive take on Berlioz, saturated with effects that are often technically ingenious and striking to behold. Sets (designed by Carl Fillion) morph from library to church, from autumn to winter; doubles of Faust and Marguerite dance underwater, and soldiers in the Hungarian March do a backward goose step for what seems miles," wrote Baker in Opera News in an attempt to describe the staging's astounding visual effects. Levine conducted again, with Marcello Giordani as Faust, Susan Graham as Marguerite, and John Relyea as Mephistophélès. The production played for fifteen performances in two consecutive seasons and was transmitted to movie theaters around the world as a feature in The Met: Live in HD series.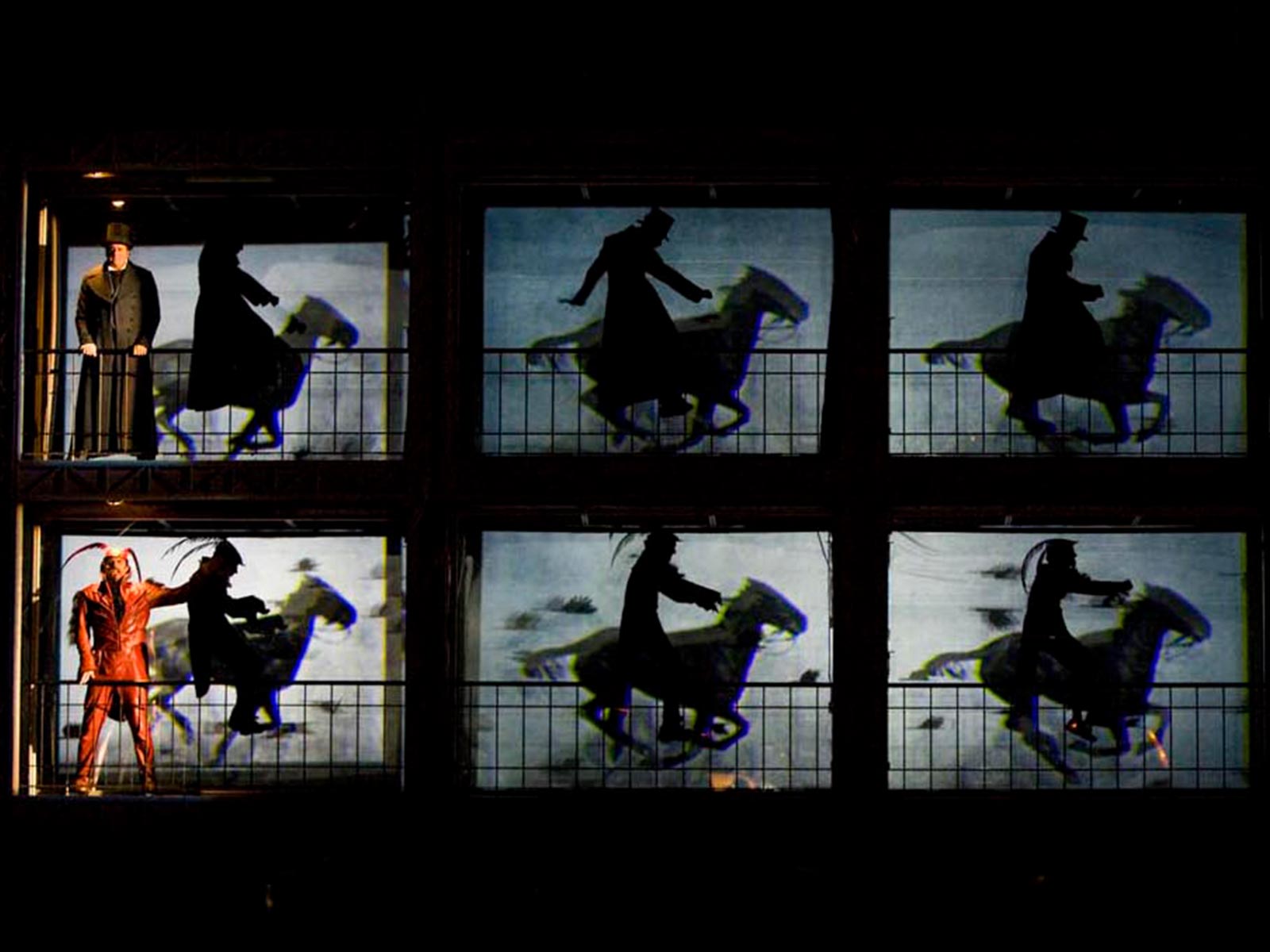 La Damnation de Faust returned in concert form in 2020 for five performances. Edward Gardner conducted a cast that included Michael Spyres and Bryan Hymel alternating as Faust, Elīna Garanča as Marguerite, and Ildar Abdrazakov as Mephistophélès.
The rise in Berlioz's fortunes at the Met in the last half century has paralleled his enhanced reputation, which resulted from the mid-century British-led revival. The composer also benefited from a champion at the Met in the person of James Levine who, during his tenure as Music Director, programmed and led many of the French composer's works with the Met Orchestra in concert as well as performances of Les Troyens, Benvenuto Cellini, and La Damnation de Faust. Only one of Berlioz's operatic works remains to be produced at the Met, his late comic opera Beatrice et Bénédict, based on Shakespeare's Much Ado About Nothing.
Peter Clark is the Met's Director of Archives.