This Month in Met History
April 01st, 2018
April: The U.S. Premiere of Mozart's Così fan tutte at the Met
On April 17, 1906, the artists and company of the Metropolitan Opera on tour in San Francisco retired for the night following a triumphant performance of Bizet's Carmen, starring Olive Fremstad and Enrico Caruso. Just after 5 a.m. on April 18, everyone was jolted from their sleep by a powerful earthquake, now estimated to have measured 7.8 on the Richter scale. The artists abandoned their luxury hotels and ran into the open spaces of Union Square. Many would spend the following days and nights outdoors in the parks while much of the city was consumed by fires that could not be contained due to broken water mains.
Only two of the Met's 16 scheduled performances had taken place, the opening night performance of Goldmark's Die Königin von Saba and Carmen. After the catastrophe, the company manager, Ernest Goerlitz, set about planning to get his company reassembled and organized to return east as quickly as possible. Miraculously, all 230 members of the company—from star singers to orchestra, chorus, and stagehands—had survived the tragedy.
The same could not be said of the Met's material goods. The scenery, costumes, props, and sheet music for 19 operas, along with many of the musicians' instruments, had been lost in the destruction. Only about 30 trunks of personal belongings out of nearly 500 were saved. Many company members were left with only the clothes on their backs. The Grand Opera House, where the company had been performing, survived the quake relatively unscathed but burned in the conflagration that consumed nearly five square miles of the city's center.
By Friday, April 20, the entire company had been evacuated to Oakland, where they boarded a special train for the cross-country journey back to New York. The ultimate cost to the Conried Metropolitan Opera Company—the performing entity that held the lease for the opera house—was devastating and proved a major cause of the financial instability that, along with other factors, led to its demise two years later. The Met resumed its national touring the following season and twice even ventured as far as the Pacific coast again, though it never returned to San Francisco with staged opera performances.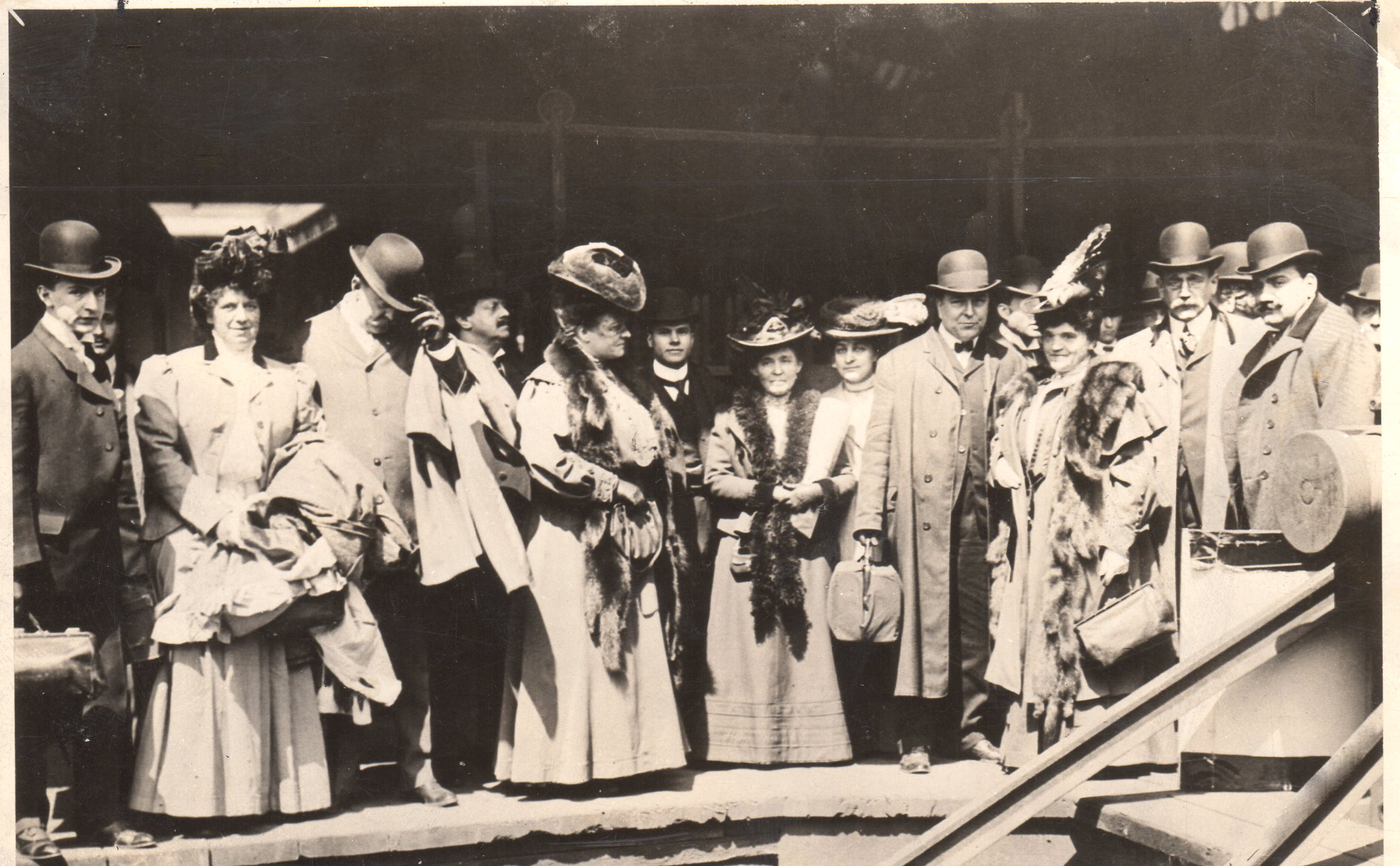 The Met company boards train for New York after the San Francisco earthquake. Caruso is on the far right and Marcella Sembrich is the first woman to the left of him.