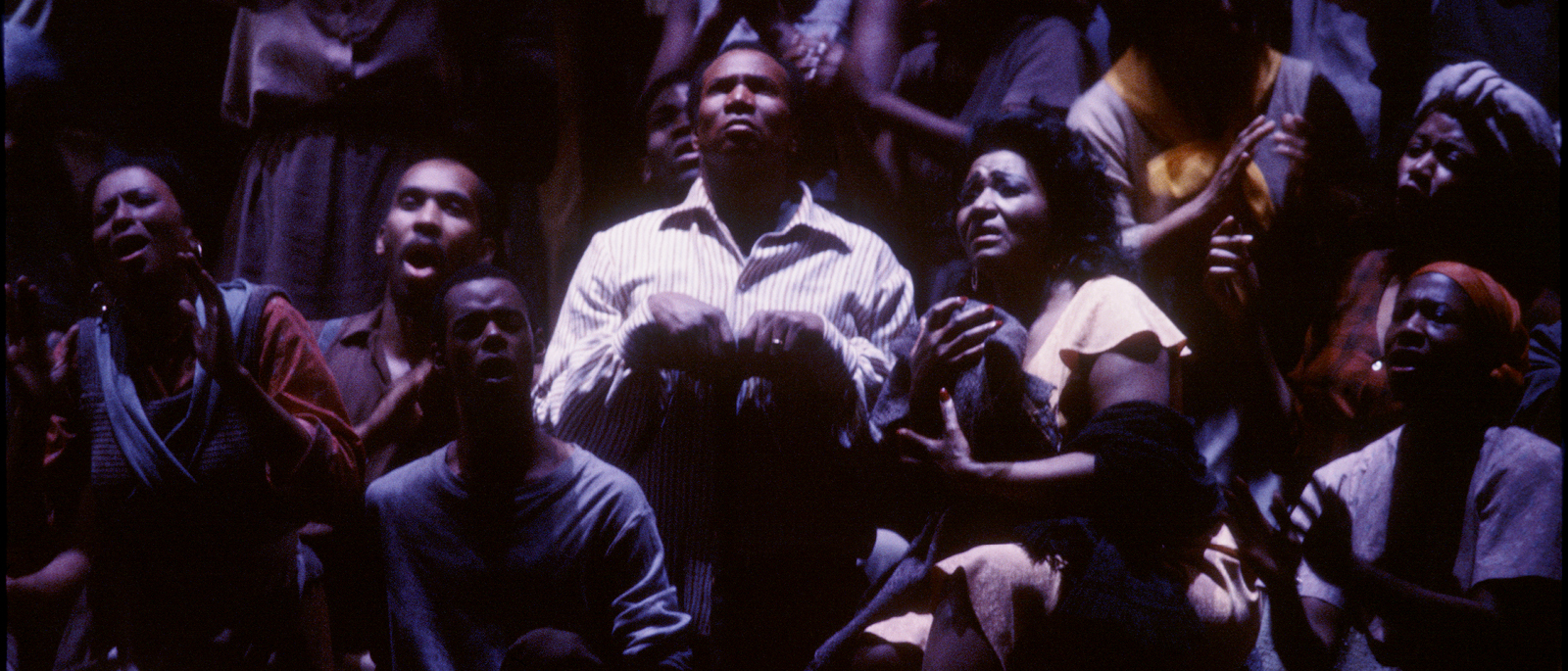 Porgy and Bess Comes to the Met
The Met flirted with the idea of staging Porgy and Bess on several occasions before it eventually premiered in 1985. First had been Otto Kahn's overture to Gershwin in the early 1930s, followed by the proposed telecast in the early Bing era. In 1965, a concert version of excerpts was performed at the company's summer Lewisohn Stadium venue with Henry Lewis, the Met's first Black conductor, on the podium. Then in 1974, General Manager Schuyler Chapin and his close collaborator Leonard Bernstein initiated plans for a Met-premiere production of Porgy and Bess. Bernstein had long championed the work, beginning with a 1945 Gershwin memorial concert at the Met that included two scenes from the opera. Ideas for casting the Met premiere were well underway when Chapin abruptly stepped down during a financial crisis and the plans were canceled.
Meanwhile, the company launched a "Mini-Met" initiative to stage small-scale operas at Lincoln Center's Forum Theater in 1973. Virgil Thomson's Four Saints in Three Acts was one of two productions slated for this short-lived project. Thomson's opera had opened on Broadway with an all-Black cast on February 20, 1934 (following its world premiere in Hartford earlier that month), just one year before Porgy and Bess. The Met engaged choreographer Alvin Ailey to cast and direct a talented group of singers, several of whom later sang other roles with the company.
On February 6, 1985, Porgy and Bess finally premiered at the Metropolitan Opera, 50 years after its world premiere on Broadway. Artistic Director James Levine conducted the work, with international stars Grace Bumbry and Simon Estes in the title roles and a lavish Nathaniel Merrill production, designed by Robert O'Hearn. Although sold out for all 16 performances, the version presented by the Met was four hours long, restoring every cut that Gershwin himself had made when the opera was first performed in 1935. The work's arrival at the Met was a symbolic triumph, signaling that, despite its early association with musical theater, Porgy and Bess was now undeniably recognized as an operatic standard.

Four Saints in Three Acts in "Mini-Met" Production
The careers of several singers were enhanced by the heightened exposure generated by the Met's 1973 production of Virgil Thomson's Four Saints in Three Acts in the 272-seat Forum Theater. Future opera luminaries Barbara Hendricks, Hilda Harris, Clamma Dale, and Arthur Thompson were first introduced to Met audiences in their roles in Thomson's opera.
Clamma Dale and Hilda Harris, Four Saint in Three Acts (1973) (Photo: MOG/Met Archives)
Hilda Harris, Arthur Thompson, Clamma Dale, Four Saints in Three Acts (1973) (Photo: MOG/Met Archives)
Curtain call at Four Saints in Three Acts with composer Virgil Thomson , Benjamin Matthews, and Betty Allen (1973). (Met Archives)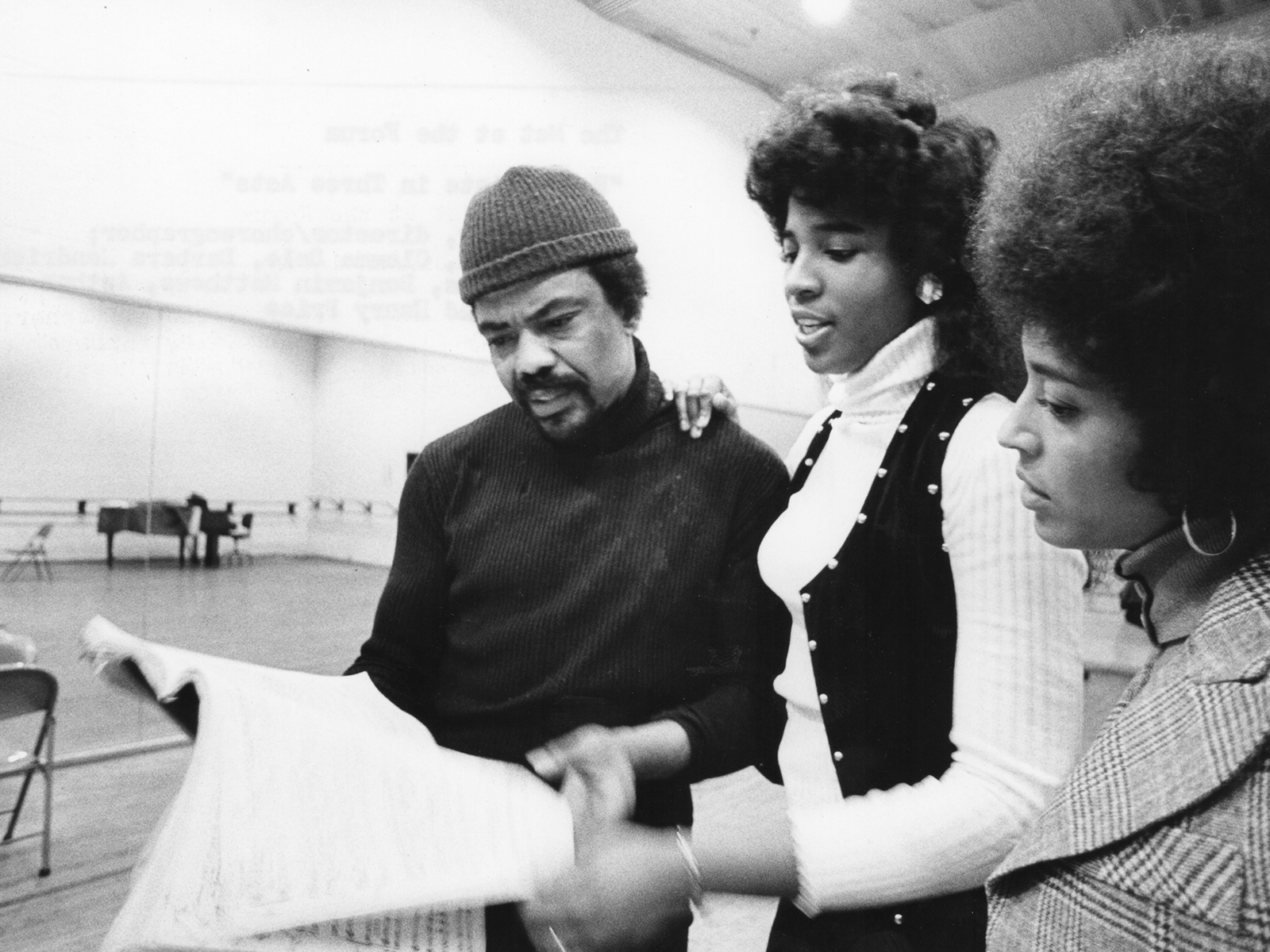 Alvin Ailey in rehearsal for Four Saints in Three Acts (1973) (Photo: Louis Mélançon, Met Archives)

Leonard Bernstein and Plans for Porgy
Conductor/composer Leonard Bernstein greatly admired and frequently programmed Gershwin's music throughout his long, influential career. He and soprano Muriel Smith performed together on a 1945 Gershwin Memorial Concert held at the Met. When Bernstein's close associate Schuyler Chapin became Met General Manager, they immediately began planning a company premiere for Porgy and Bess. Correspondence from Bernstein's manager to the head of Columbia Records about casting Gershwin's opera suggests a recording was also in the works. But when Chapin resigned amid the Met's financial problems, the project was abandoned. Plans for producing Porgy and Bess in an opera house, however, were taken up by Houston Grand Opera, where the hit staging and subsequent recording caused a re-evaluation of the work as legitimate, standard opera repertory.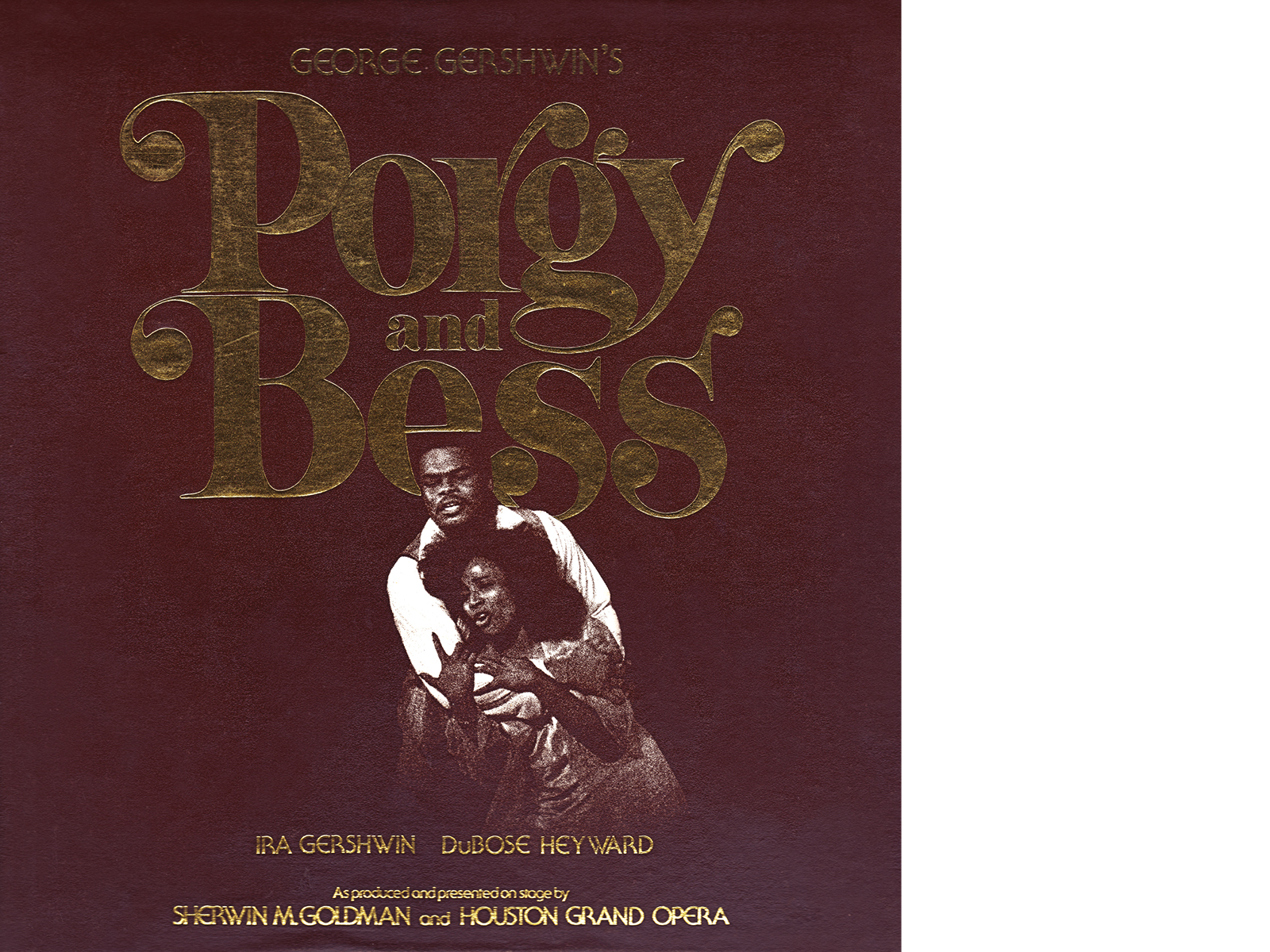 Houston Grand Opera recording (1976) LP jacket cover (courtesy of Sony Music Masterworks)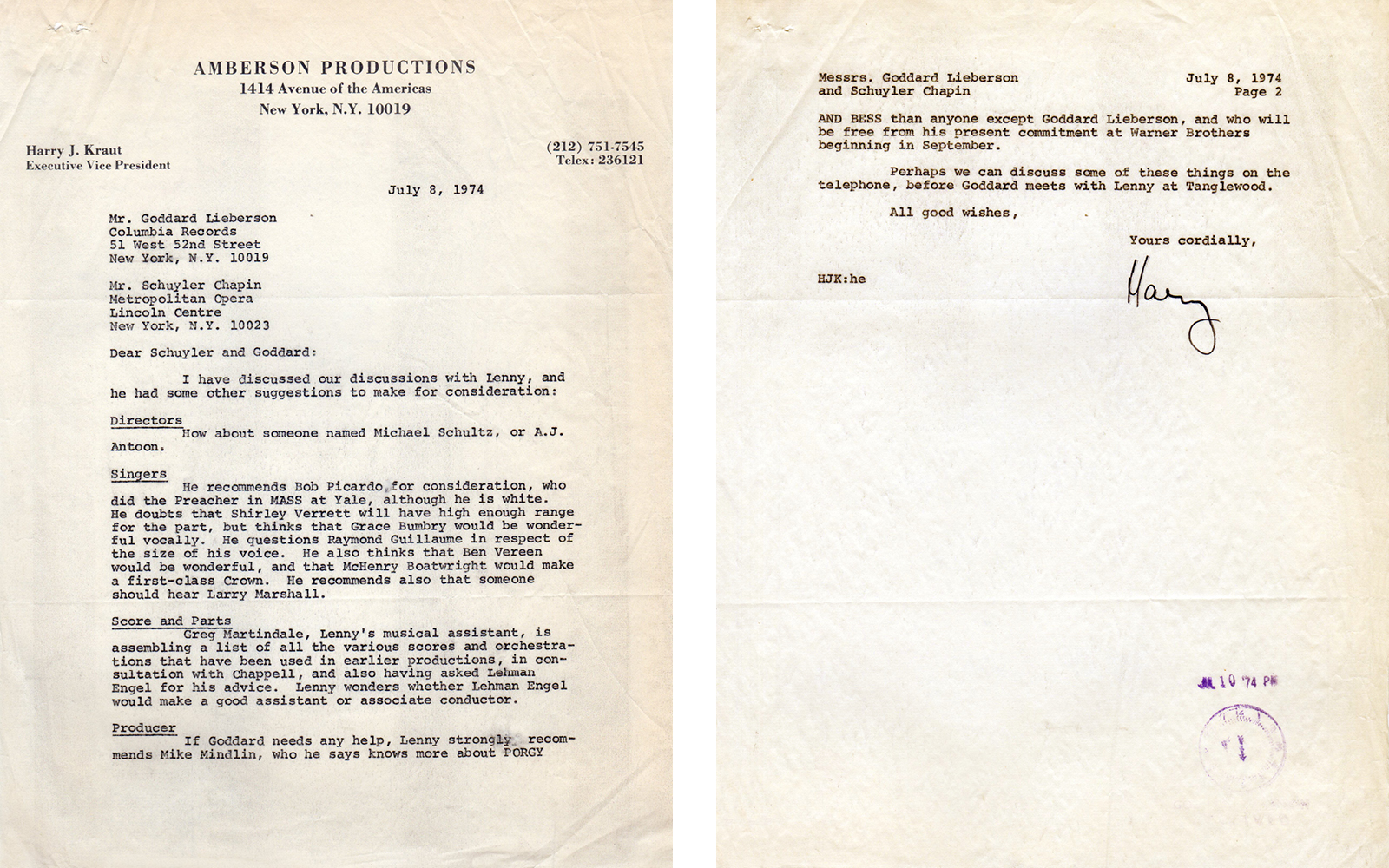 Harry J. Kraut (Bernstein's manager) letter to Goddard Lieberson (Columbia Records) and Schuyler Chapin (Met Archives)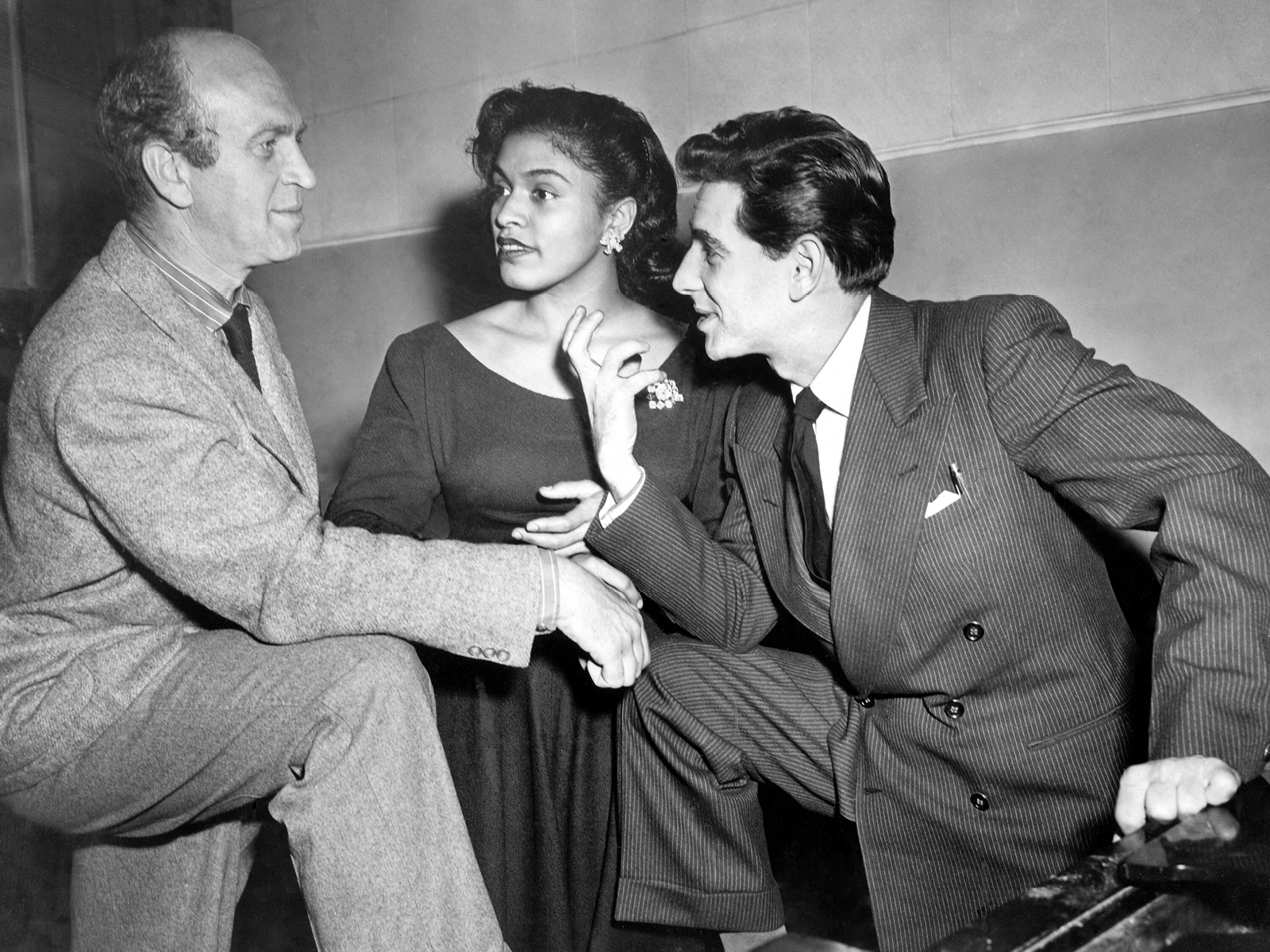 Howard Da Silva, director, Muriel Smith, and Leonard Bernstein at rehearsal for Marc Blitzstein's The Cradle Will Rock in 1947 (Photo: Photofest Digital Archive)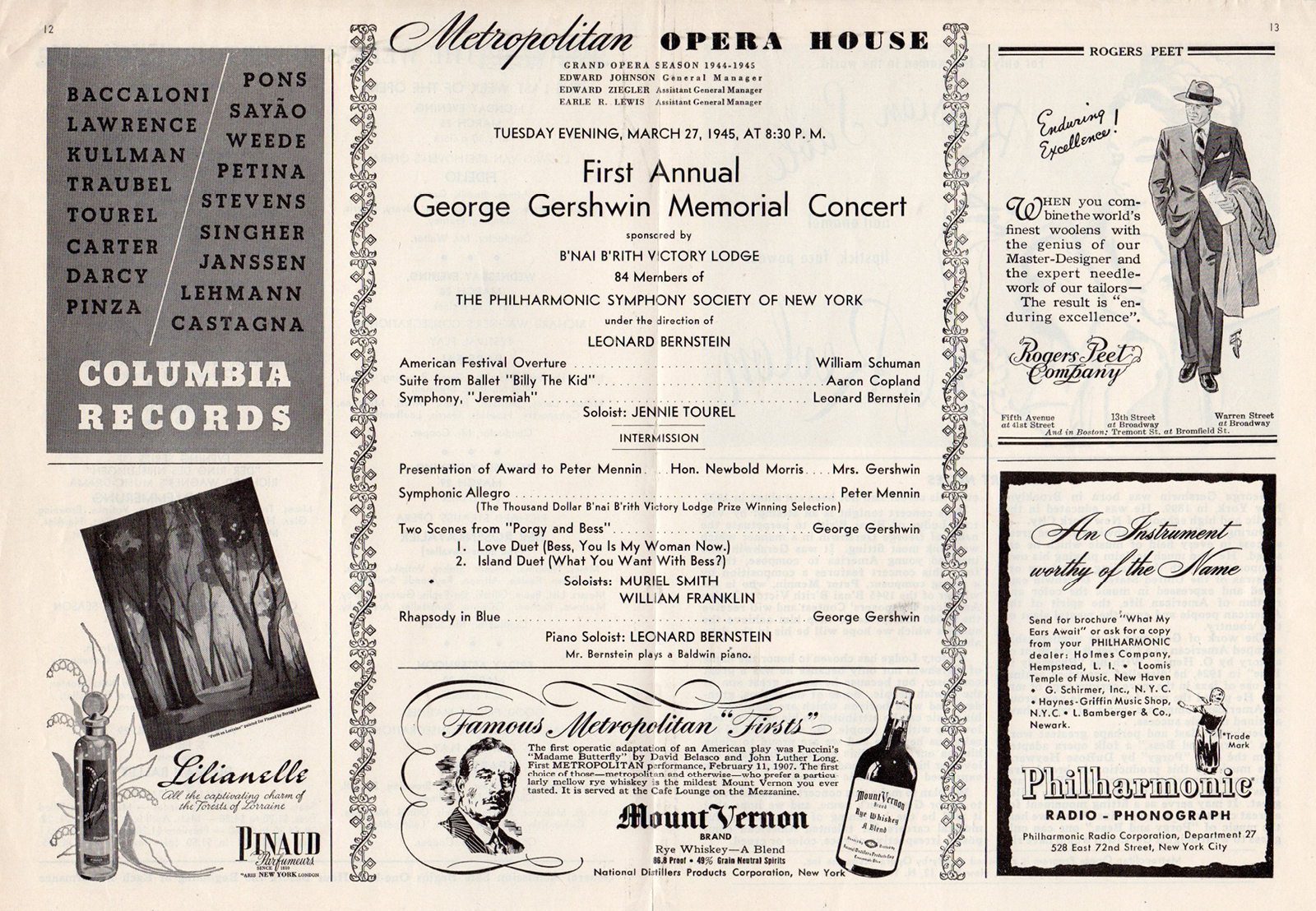 First Annual George Gershwin Memorial Concert Program, conducted by Leonard Bernstein (1945) with Muriel Smith (Met Archives)
"After 50 Years, 'Porgy and Bess' Comes to the Met as a Certified Classic"
—The New York Times, 1985
International stars Grace Bumbry and Simon Estes sang the title roles of Porgy and Bess for the opera's Met premiere in 1985, with Artistic Director James Levine on the podium. The deliberate casting of two heroic-voiced, experienced artists signaled that Gershwin's work was being treated as an opera, not as a Broadway show. In the four seasons Porgy and Bess played, nearly 40 African American singers made their Met debuts, some of them subsequently engaged for other repertory as well.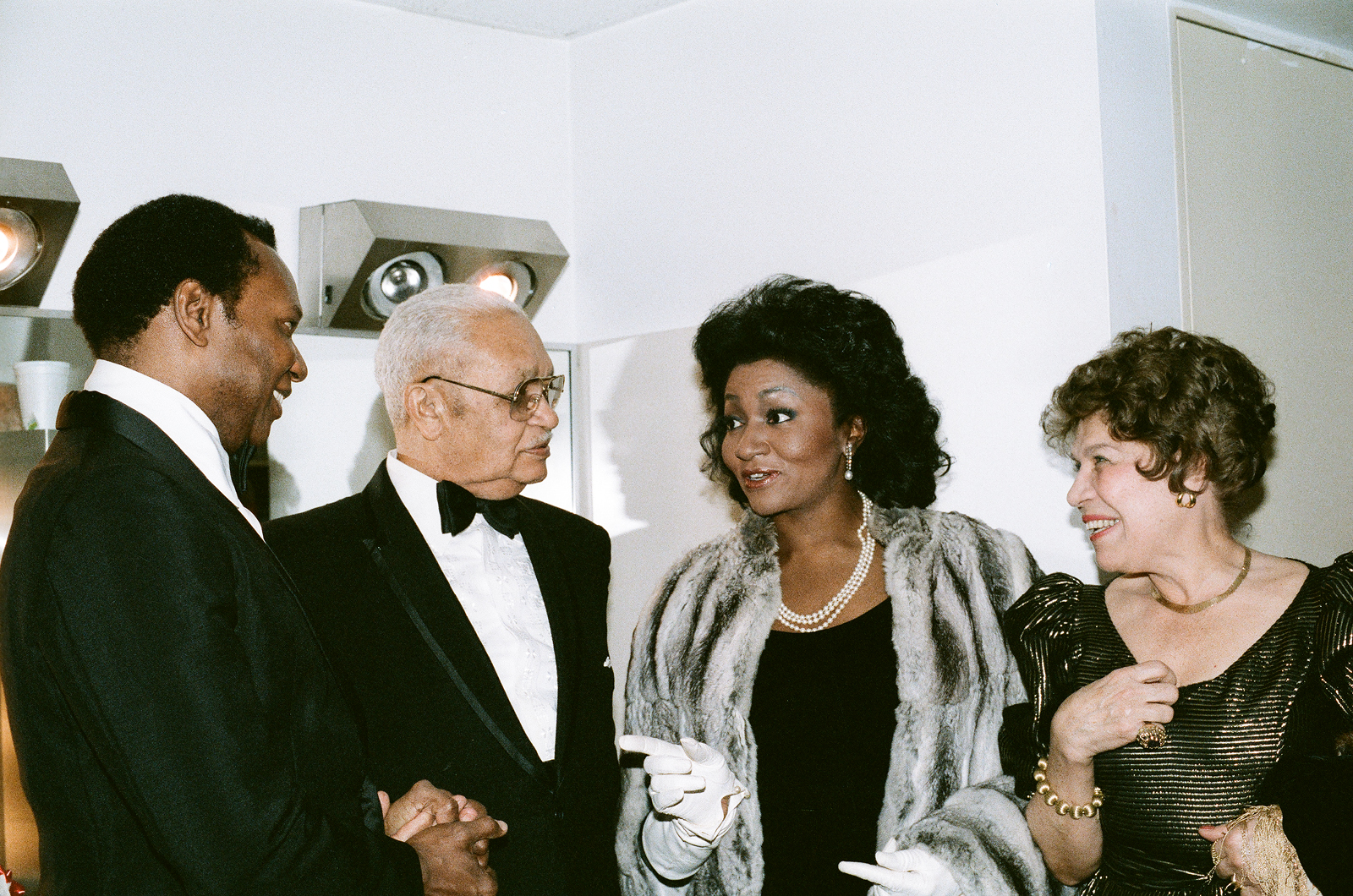 On opening night, Bumbry and Estes were greeted after the show by the original Porgy and Bess, Todd Duncan and Anne Wiggins Brown.

Estes as Porgy
Estes with Bumbry, as Bess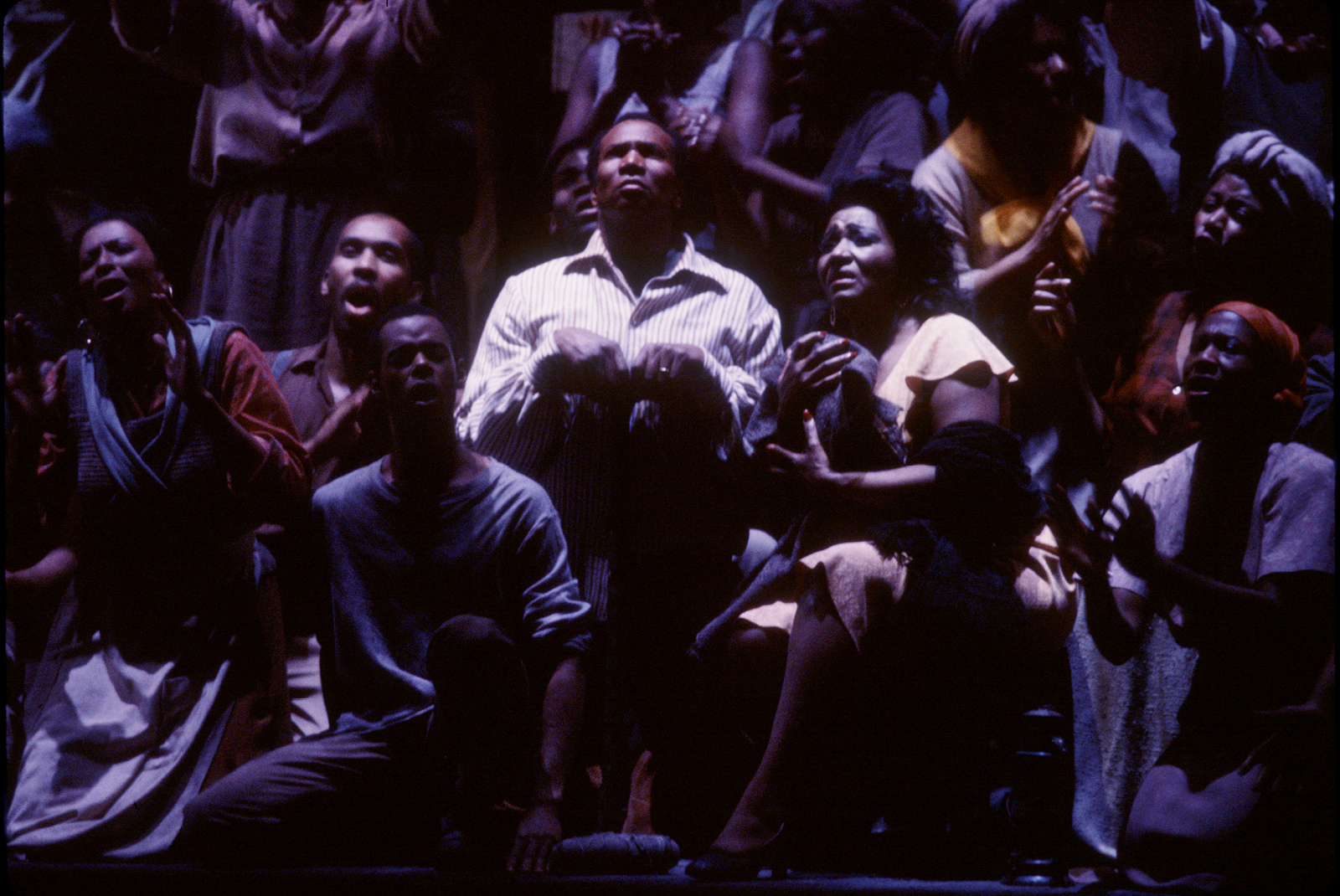 Estes and Bumbry with chorus
Grace Bumbry and Gregg Baker, as Crown
Charles Williams as Sportin' Life and Bumbry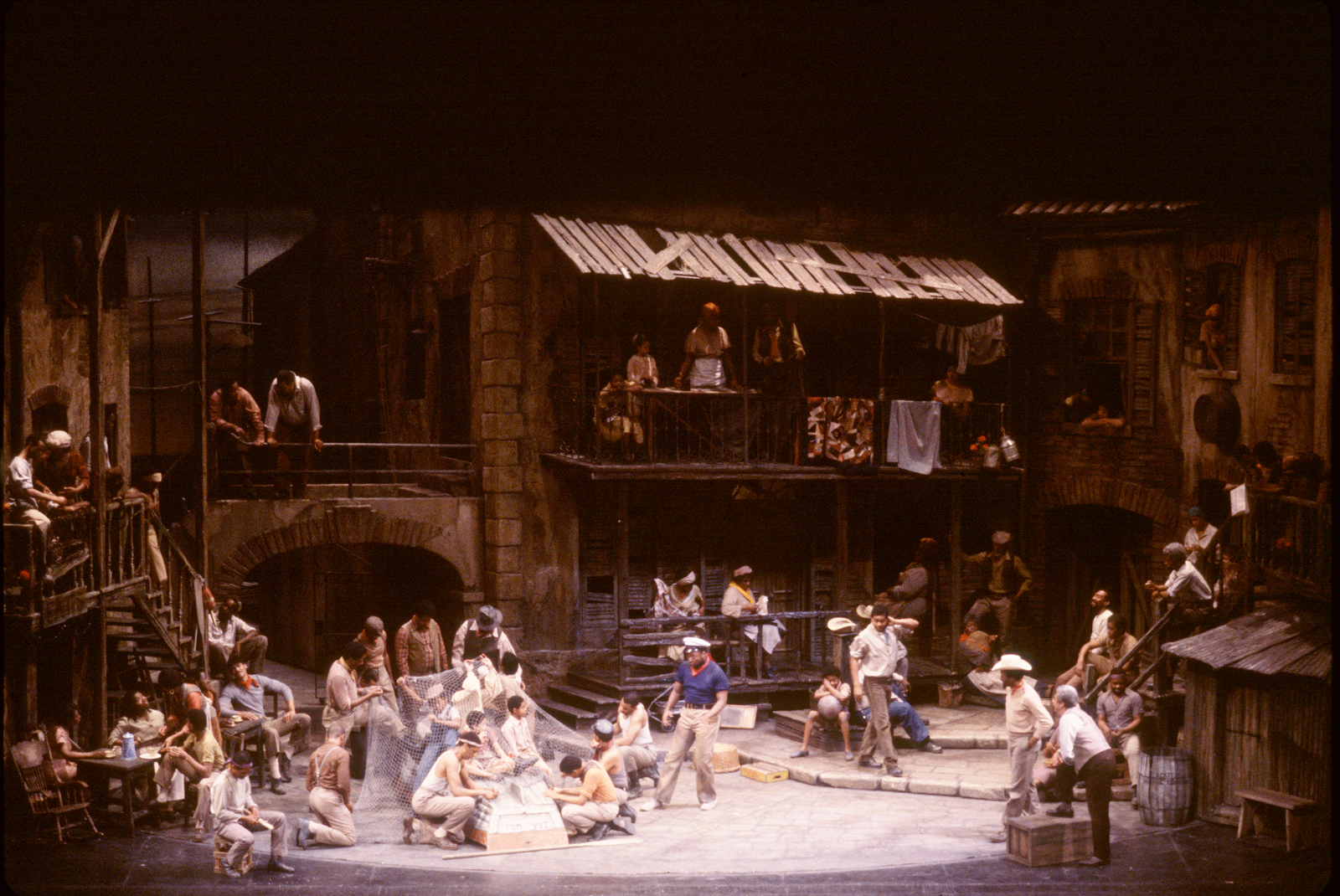 Catfish Row (Photos by Winnie Klotz, Metropolitan Opera and MOG/Met Archives)
Black Stars in Recent Decades
In the latter decades of the 20th century, many Black singers rose to prominence on the Met stage. Following African American stars who were introduced in the Bing era, succeeding generations produced such notable artists as Jessye Norman, Kathleen Battle, Leona Mitchell, Florence Quivar, Willard White, Roberta Alexander, Terry Cook, Harolyn Blackwell, Vinson Cole, and Michèle Crider—not to mention the many Black singers who debuted in the first Met production of Porgy and Bess in 1985.
The trend continues into the present century, with singers from throughout the African diaspora making their marks at the Met. Lawrence Brownlee, Morris Robinson, Russell Thomas, and Pretty Yende are a few of the best-known artists currently on the company's roster.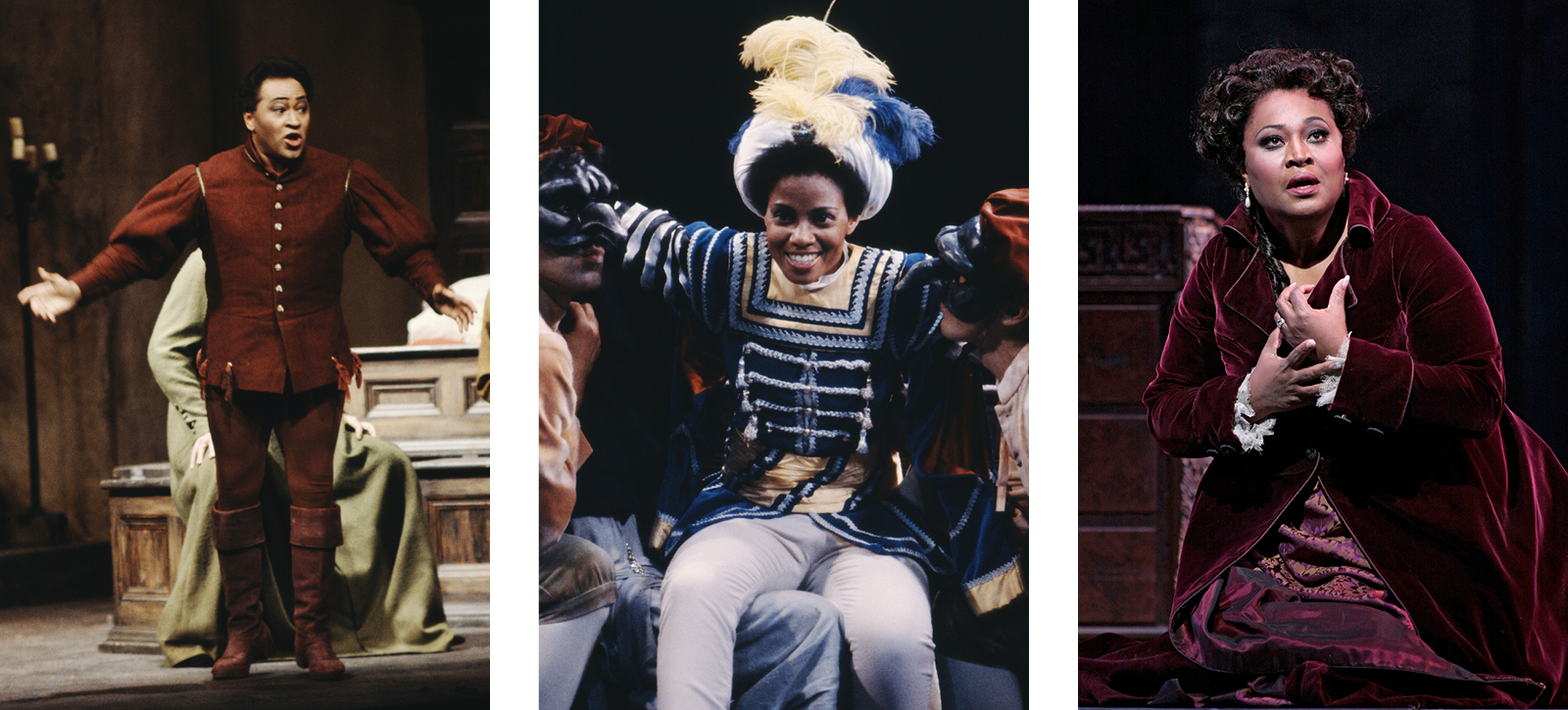 Vinson Cole as Rinuccio in Gianni Schicchi, 1990 (Photo: Winnie Klotz, Metropolitan Opera)
Harolyn Blackwell as Oscar in Un Ballo in Maschera, 1990 (Photo: Erika Davidson, Met Archives)
Michèle Crider as Amelia in Un Ballo in Maschera, 2001 (Photo: Beatriz Schiller, Metropolitan Opera)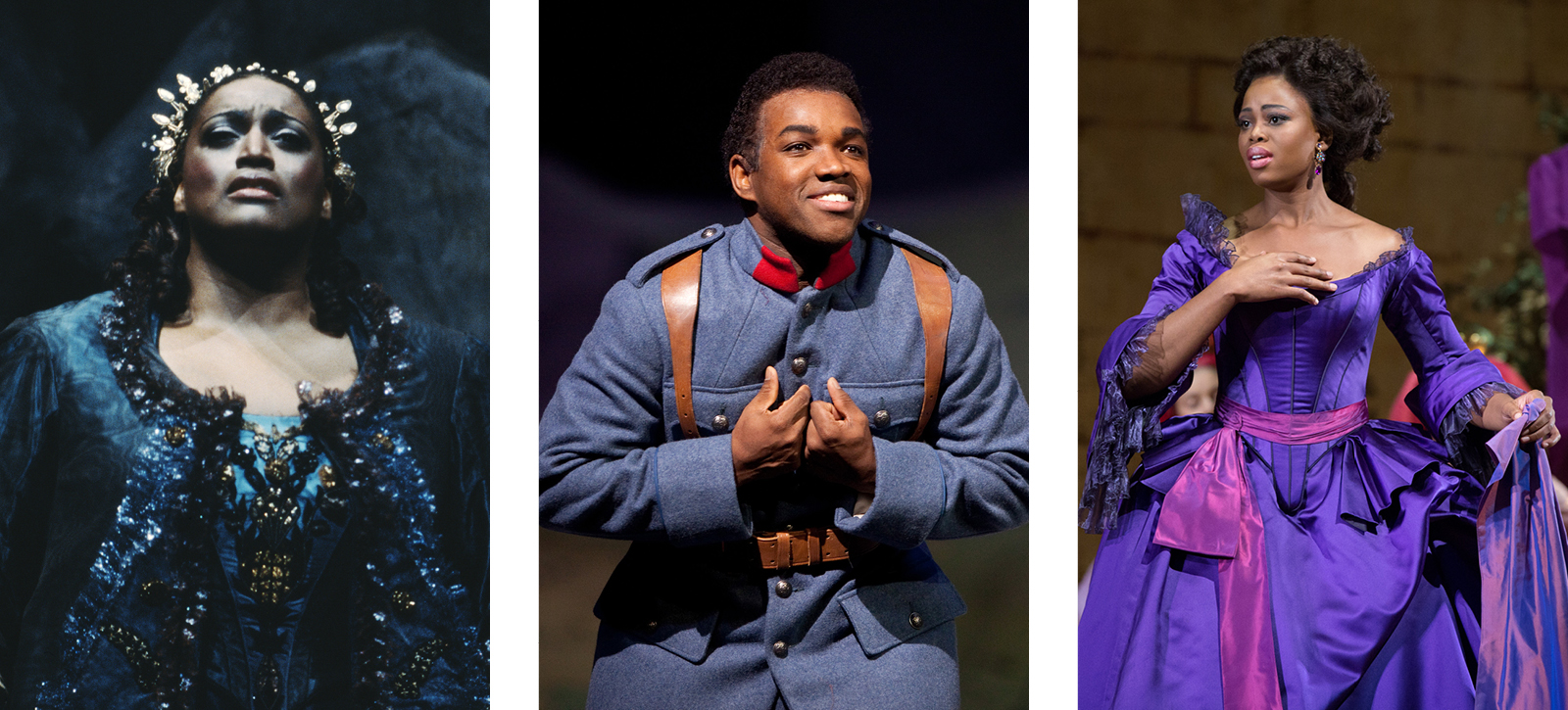 Jessye Norman in the title role of Ariadne auf Naxos, 1988 (Photo: Erika Davidson, Met Archives)
Lawrence Brownlee as Tonio in La Fille du Régiment, 2011 (Photo: Marty Sohl, Metropolitan Opera)
Pretty Yende as Countess Adèle in Le Comte Ory, 2013 (Photo: Marty Sohl, Metropolitan Opera)
Leona Mitchell as Elvira in Ernani, 1983 (Photo: Erika Davison, Met Archives)
Kathleen Battle as Pamina in Die Zauberflöte, 1991 (Photo: MOG, Met Archives)
Russell Thomas as Ismaele in Nabucco, 2016 (Photo: Marty Sohl, Metropolitan Opera)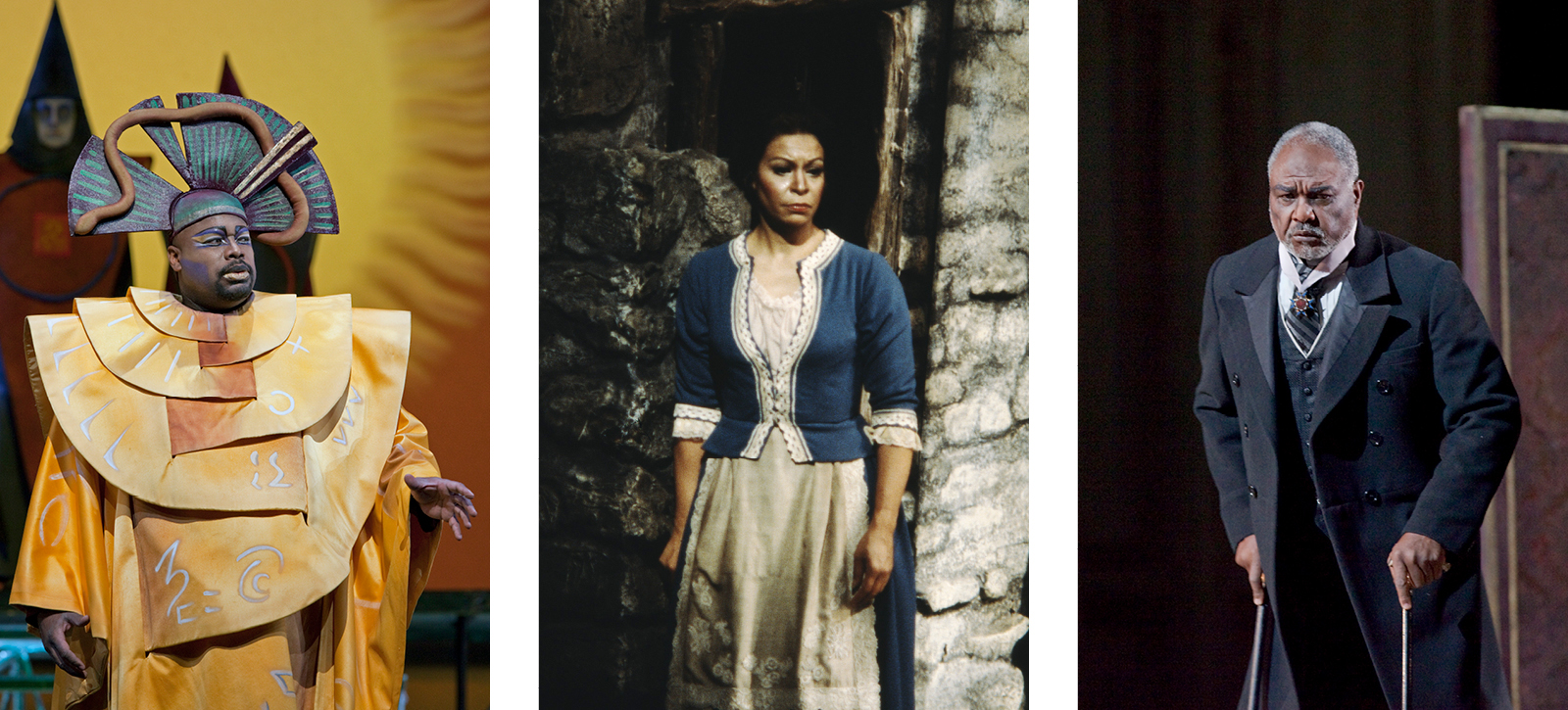 Morris Robinson as Sarastro in Die Zauberflöte, 2006 (Photo: Cory Weaver, Metropolitan Opera)
Roberta Alexander in the title role of Jenůfa, 1985 (Photo: James Heffernan, Metropolitan Opera)
Willard White as Arkel in Pelléas et Mélisande, 2010 (Photo: Ken Howard, Metropolitan Opera)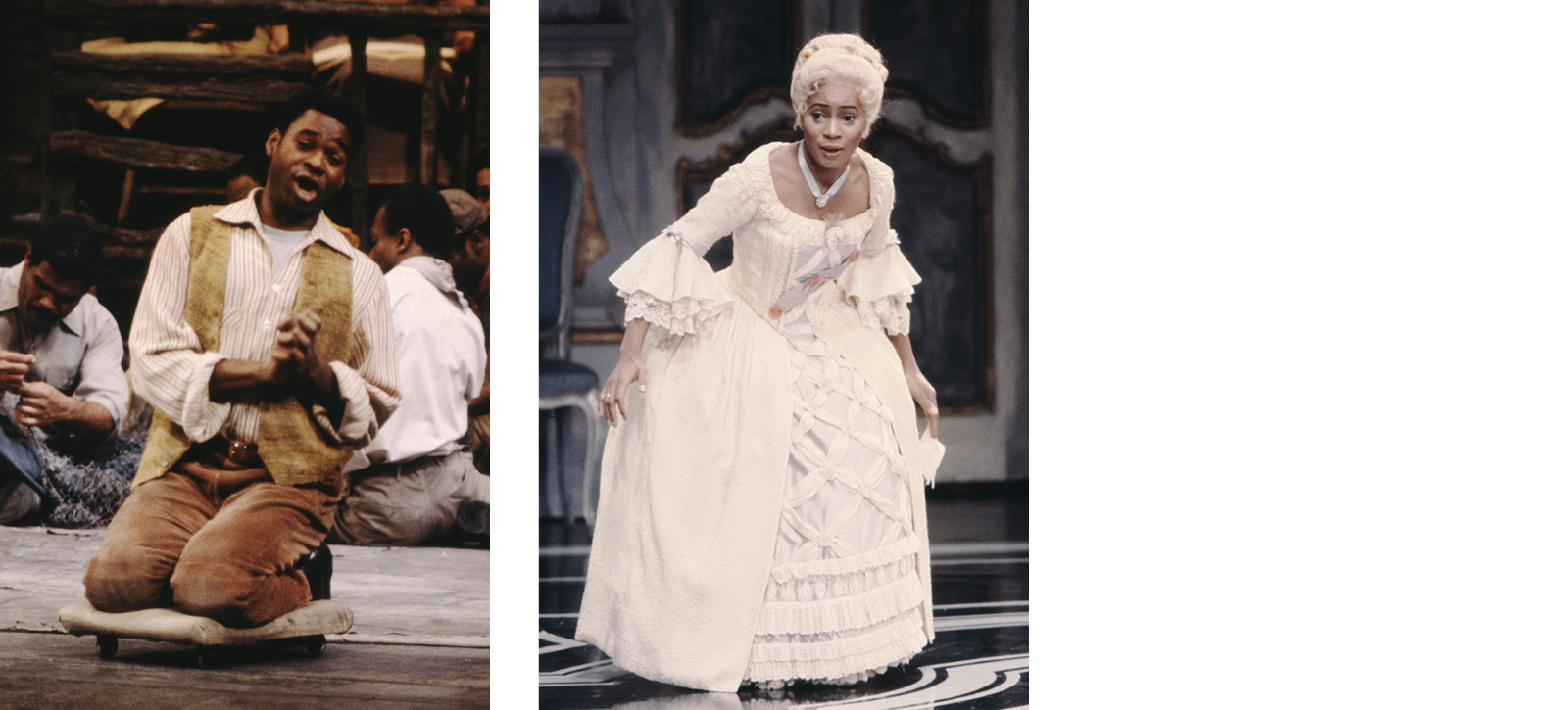 Terry Cook in the title role of Porgy and Bess, 1990 (Photo: Winnie Klotz, Metropolitan Opera)
Barbara Hendricks as Sophie in Der Rosenkavalier, 1986 (Photo: Metropolitan Opera Archives)
The First Black Artists Arrive at the Met
Gershwin's Porgy and Bess: Vision and Impact
Rudolf Bing and a New Direction for the Met
Porgy and Bess Comes to the Met