Autograph Music Manuscript - Richard Wagner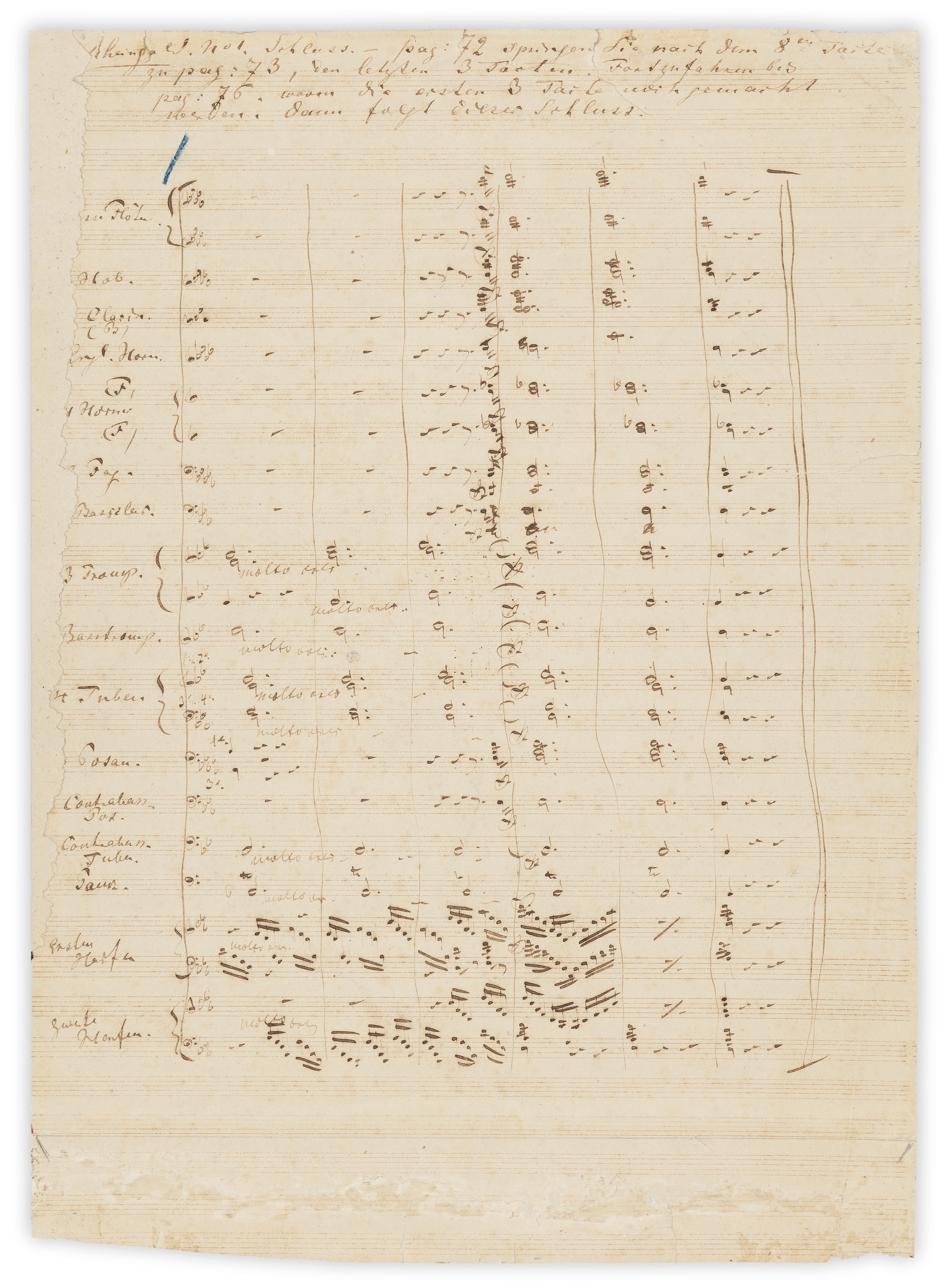 WAGNER, Richard (1813-1883). Autograph music manuscript, from the concert ending to an excerpt from Scenes I & II of Das Rheingold, WWV 86A Musik VIIb, n.d. [c.1862].

One page (344 x 247mm), 22 staves on 30-stave printed paper, (replaced loss to left margin, repaired tears and losses to top, bottom and right margins, pencil ruling towards base where previously mounted). Provenance: Siegfried Wagner, his wedding anniversary gift of the 23 September 1918 to - Eugen and Alma Bokmayer - Sotheby's, 19 December 1962, lot 777 (bought by 'Sessler') - A. Reginald Allen. [with]: a presentation postcard from Siegfried Wagner.

Six bars scored for winds, brasses, and first and second harps, autograph direction at the head of page: 'Rheingold. No 1. Ending – p. 72, after the 8th bar cut to p.73, the last 3 bars. Proceed to p. 76, the first 3 bars of which are still played. Then follows this ending'.

The concert ending for an excerpt from Das Rheingold composed specially by Wagner for a series of performances in Vienna in 1862-63: the earliest public performances of material from the embryonic Der Ring des Nibelungen. Wagner conducted a series of excerpts from scenes I, II and IV of Das Rheingold in concert on the 26 December 1862 in Vienna: the present manuscript bears the Schluss he composed to end scenes I & II. At the top of the manuscript are Wagner's directions for following the printed edition of the score, the engraving of a copyist's transcription of his own fair copy (now lost). Wagner's poem-libretti for Der Ring were written in inverse order, meaning that Das Rheingold, its opening work, was the last to be finished in November 1852. The music for the cycle, however, was written in regular order; the composition of Das Rheingold occupied Wagner from November 1853 to September 1854, while the remaining three parts of his epic tetralogy of music dramas would take two decades more to complete, the full cycle finally staged in 1876. In the meantime, Wagner, in exile since the Dresden Uprising, was in difficult personal straits, his debts spiralling and encountering difficulties both in composing and performing: in 1862, he came to Vienna to supervise the production of Tristan und Isolde, due to have its premiere at the Court Opera (see lot 86). After 77 rehearsals the orchestra would abandon it as unplayable; in the meantime, casting for a finished piece to offer the Viennese audience, Wagner presented excerpts from Der Ring – still very much in production – to the unsuspecting public.
© 2017 Christie's Images Limited.