Autograph Letter - Carl Maria von Weber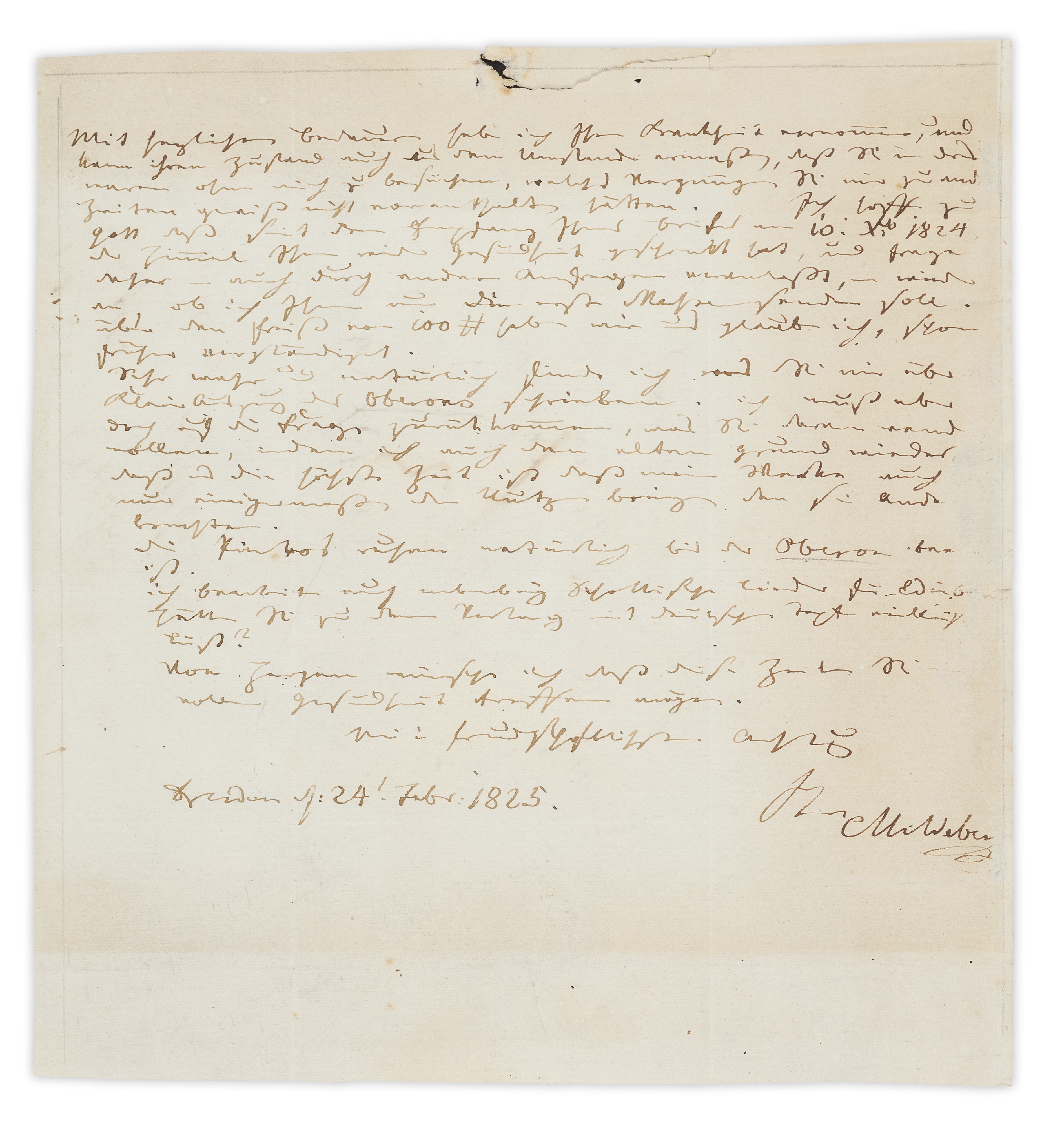 WEBER, Carl Maria von (1786-1826). Autograph letter signed ('C.M. v. Weber') to the music publisher Carl Friedrich Peters, Dresden, 24 February 1825.

In German. One page (198 x 190mm), integral address panel, docketed (pencilled frame on recto, seal tear at top edge partially repaired with tape). Provenance: Edwin Franko Goldman collection.

A rich letter on Weber's current musical projects, including the Missa Sancta, Oberon, Die drei Pintos and the Scottish songs. Weber is grieved to hear of Peters's illness, and remarks teasingly: 'I can measure your state by the fact that you were in Dresden without coming to see me, a pleasure of which you never deprived me in other times'. He asks whether he should now send 'the first Mass' (the Missa sancta no.1), for which they have agreed a price of 100 thaler, and refers to a suggestion from Peters about the piano reduction of Oberon, insisting that he needs to know how it will be used, 'for it is high time that my works brought me some of the benefit that they bring to others'. He refers briefly to his projected comic opera, Die drei Pintos, 'The Pintos are resting until Oberon is finished', and mentions also that he is working on some Scottish songs (for the Edinburgh publisher George Thomson), wondering if Peters would like to publish them with a German text. (Correspondence A042429 proposed).

In spite of the flurry of projects mentioned in the letter, Weber had at this time only just over a year to live: he died, of tuberculosis exacerbated by overwork, on 5 June 1826 in London, where he had travelled to oversee the first performance of Oberon, a commission for the Royal Opera. Die drei Pintos was left unfinished at his death, and in spite of an abortive project to have it completed by Meyerbeer (see lot 53) it was ultimately left to the young Gustav Mahler to complete it, more than sixty years later.


© 2017 Christie's Images Limited.