Autograph Musical Quotation - Pyotr Ilyich Tchaikovsky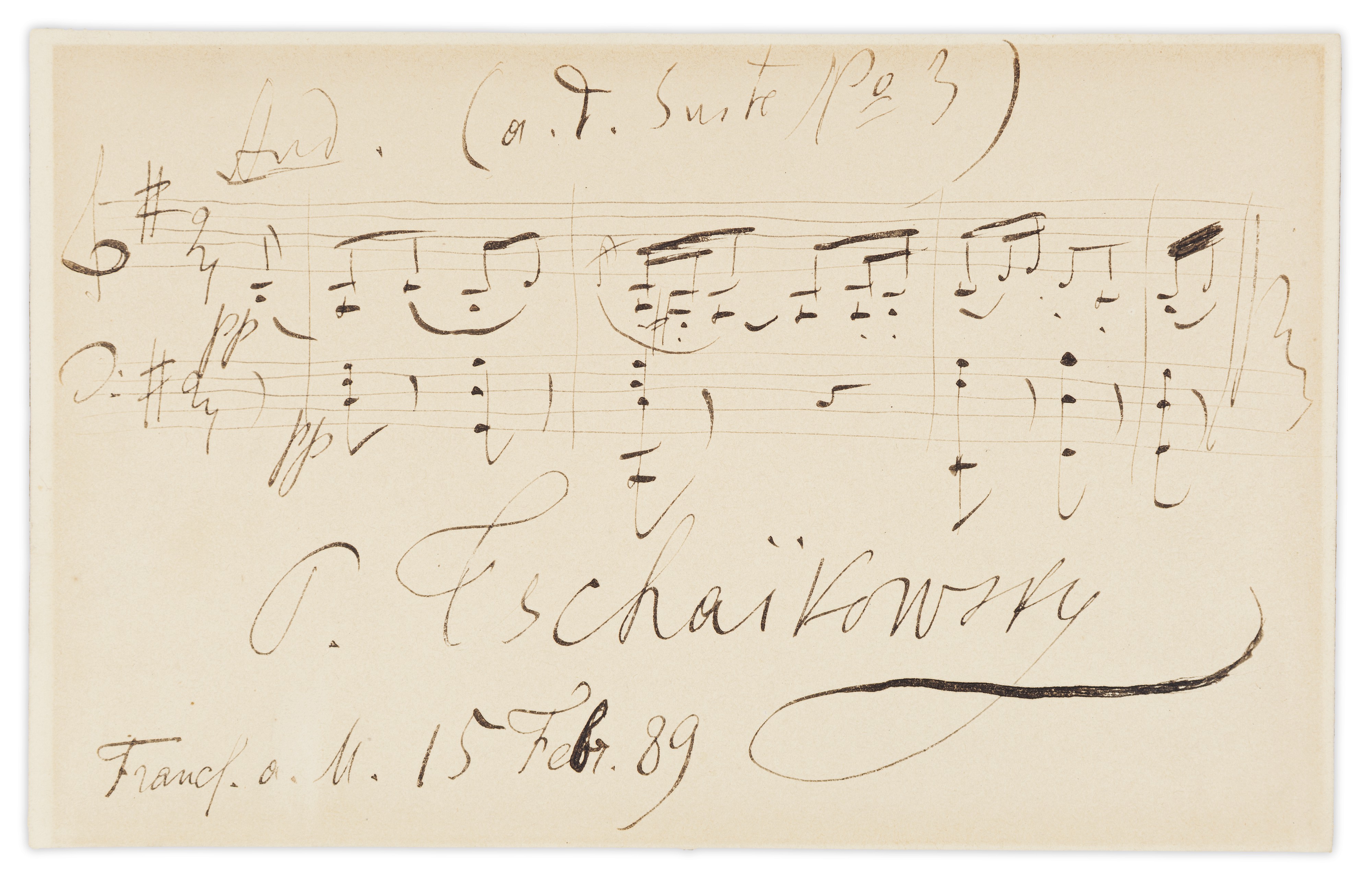 TCHAIKOVSKY, Pyotr Ilyich (1840-1893). Autograph musical quotation signed ('P. Tschaïkowsky') from the Orchestral Suite no 3 in G, Op.55, Frankfurt-am-Main, 15 February [18]89.

One page (110 x 175mm), gilt-edged card, (faint browning where previously mounted).

5 bars for the theme of the last movement, Tema con variazioni, from the Third Suite.

The final theme from Tchaikovsky's hugely popular Third Orchestral Suite, the work that represented his mastery of the genre. The orchestral suite had been a rewarding focus of new composition for Tchaikovsky since the early 1880s; it allowed him relief from the same constraints of tradition and rules that he had sought to escape at the St Petersburg Conservatory, and his earlier works – the First and Second Suites – had been warmly received by the public. The Third Suite surpassed them both: Tchaikovsky wrote to Nadezhda von Meck, describing its dazzling premiere at St Petersburg in January 1885 conducted by Hans von Bülow, 'I have never before experienced such a triumph'. The present quotation dates from the series of concerts of February 1889 given in Frankfurt by Tchaikovsky, in which he conducted the Third Suite: the rapturous reception of the audience surprised him, for 'the public there are very cold, and love only the classicists and Brahms' (according to a letter to Pyotr Jurgenson, 5/17 February 1889).
© 2017 Christie's Images Limited.