Autograph Music Manuscript - Franz Schubert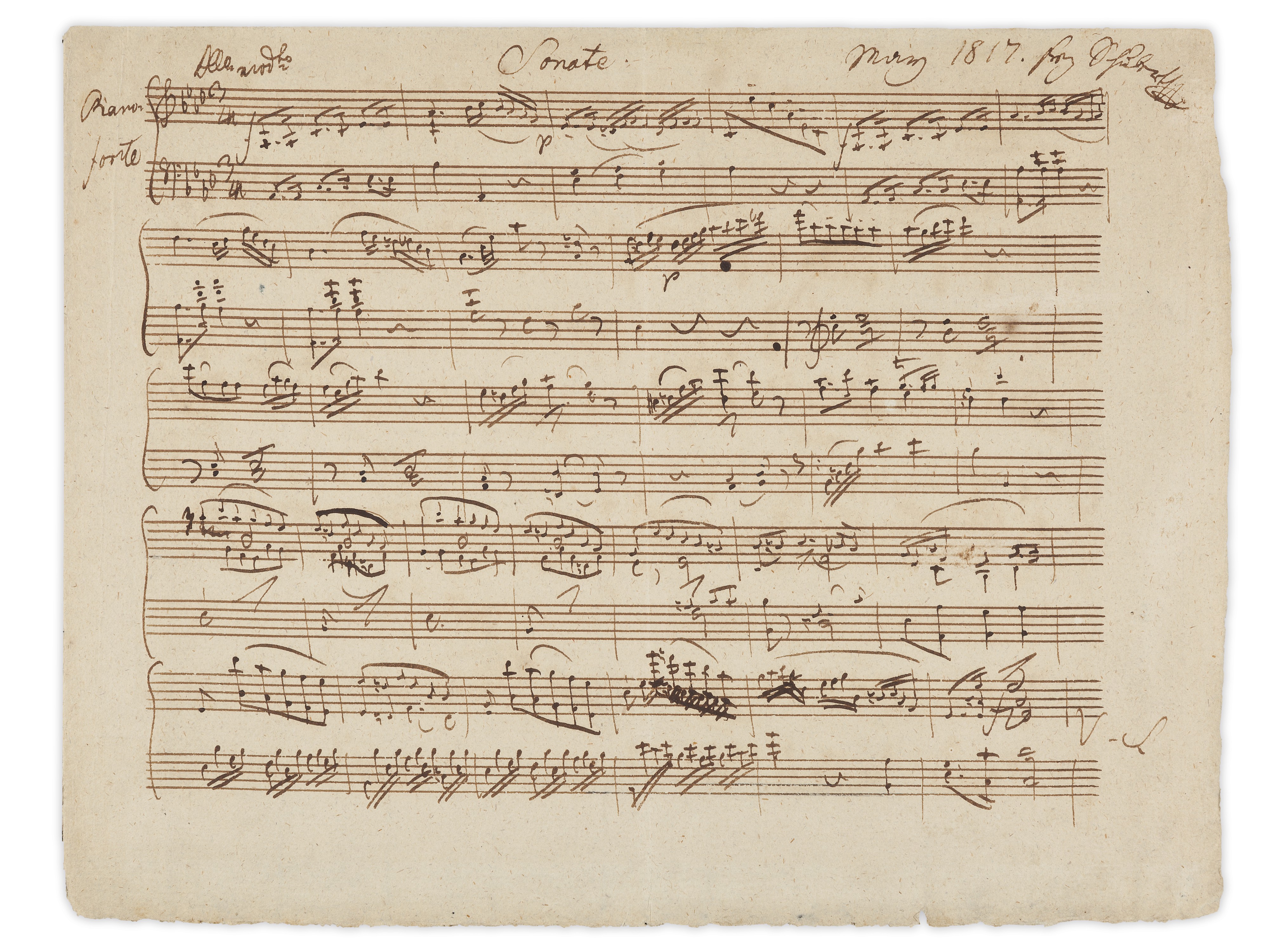 SCHUBERT, Franz (1797-1828). Autograph music manuscript signed ('Frz Schubert') for the Piano Sonata in A flat major, D.557, May 1817.
Autograph title ('Sonate'), date ('May 1817'), instrumentation ('Piano-forte') and markings for the three movements ('All[egr]o mod[era]to', 'Andante', and 'All[egr]o') and tempo, along with scattered emendations and cancellations throughout.

8 pages (240 x 315mm), ruled with 10 staves per page, drafted on rectos and versos of two interleaved bifolia, five systems of two staves on each page, (incomplete: lacking the final pages bearing the 107 bars ending the third movement, small splits and losses at the bifolia joints and at edges, light browning and tattering to edges and corners).

Provenance: Schubert's older brother, Ferdinand (1794-1859), sold before 1839 to – Anton Diabelli (1781-1858; publisher and composer. Diabelli purchased a large portion of the musical manuscripts, which he continued to publish for the next 30 years: D.557, which was published from a contemporary manuscript copy since this sole autograph manuscript is incomplete, was actually brought out by Breitkopf & Härtel in 1888) – Emil Sulzbach, Frankfurt (1855-1932; banker, composer, and president of Dr Hoch's Conservatory, Frankfurt) – Otto Haas, London, Catalogue 10, November 1938, bought by – Walter Romeyn Benjamin (1854-1943; New York bookseller).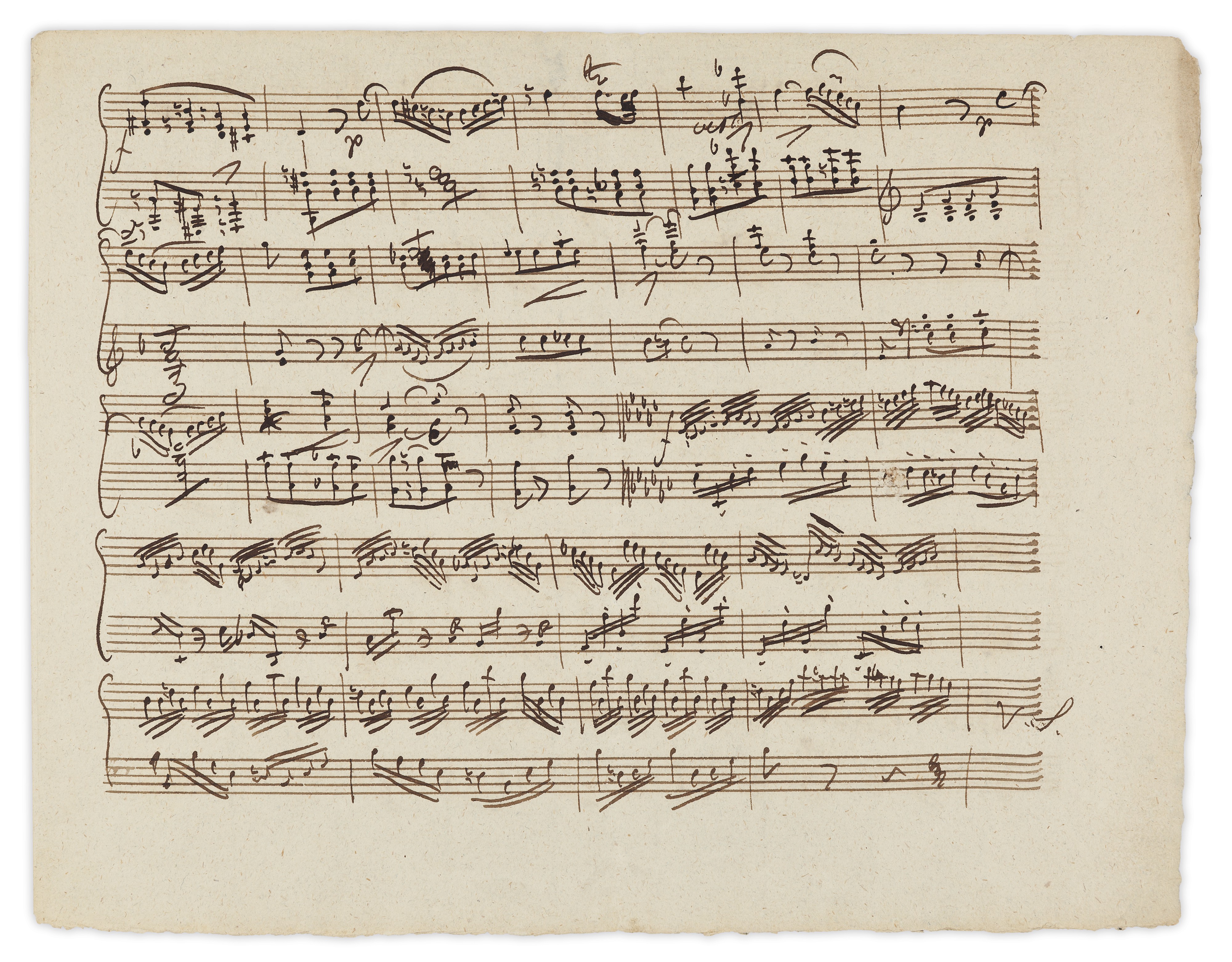 An early Schubert sonata in the Classical style written for piano, the instrument that anchored his creative life. A bright sonata, with echoes of Mozart and Haydn, D.557 opens with a tightly constructed first movement, a theme on upward arpeggios that contrasts pleasingly with the gentle, downward scalar contours of the second theme, continues with a slow movement that recalls Mozart's E flat Symphony, and finishes harking back to the early Classical period. Schubert produced a considerable body of music for solo piano in 1817 – by contrast alone, his output across other instruments was slim – and it was a year marked by experimentation. While the Sonata in A flat is in some ways a straightforward exploration of the Classical sonata form that he loved so well, certain quirks of construction raise the possibility that it may represent something more experimental: or a piece left unfinished. Schubert customarily employed a four-movement form for his piano sonatas – where the present work is in three movements – and, more importantly, it is unusual that the third and
final movement is in E flat, eschewing the tonic A flat finale (and, therefore, the Classical principle of monotonality) that might be expected to compliment the first. The three-movement form adopted for D.557 was not without precedent – Schubert's Sonata in A-minor, D. 537, also from 1817, displays the same structure – and the composer didn't always begin and end pieces in the same key (as seen in his first string quartet). It may be that Schubert, in haste to capture a musical idea on paper, set something down without reference to the key in which he would have intended to finish the sonata, but the fact that the third movement can yet be said to stand perfectly well as a finale precludes an easy conclusion to this teasing puzzle.

The Sonata in A-flat major was one of a string of works for solo piano composed during the pivotal months at the end of 1816 and beginning of 1817. Emboldened, perhaps, by the success of Prometheus in July 1816, for which he was paid 100 florins, Schubert had abandoned his teaching position at his father's school, ceased his lessons with Salieri – whose insistence that he abandon the 'barbarous German language' set them at odds – and moved out of the family home and into the lodgings of Franz Schober. While his independence may have been a short-lived – it seems most likely that it was financial pressures that pushed him back into the family fold in the autumn of 1817 – this period nevertheless marked 'the symbolic end of his apprenticeship as a composer. From now on he is a trained, full-time composer. Just as this is an end, so it is a beginning' (Brian Newbould, Schubert: The Music and the Man, 1997, p.64). Schubert would go on to compose over 700 works that made use of the piano, if his numerous vocal compositions are included, but it was the sonata among all the two-handed piano genres to which he devoted the most effort. There are seventeen more or less complete sonatas, representing an almost unbroken chain of activity from 1815 to 1828 – with a three-year silence in 1820-2 – amounting to an output broadly similar to that of Beethoven.
Listed in the Neue Schubert-Ausgabe: Kritischer Bericht zu Serie VII Klaviermusik, Abt. 2 Werke für Klavier zu zwei Händen, Band 1, Klaviersonaten I (Tübingen, 2005), p.50.
© 2017 Christie's Images Limited.