Autograph Music Manuscript - Nikolai Andreyevich Rimsky-Korsakov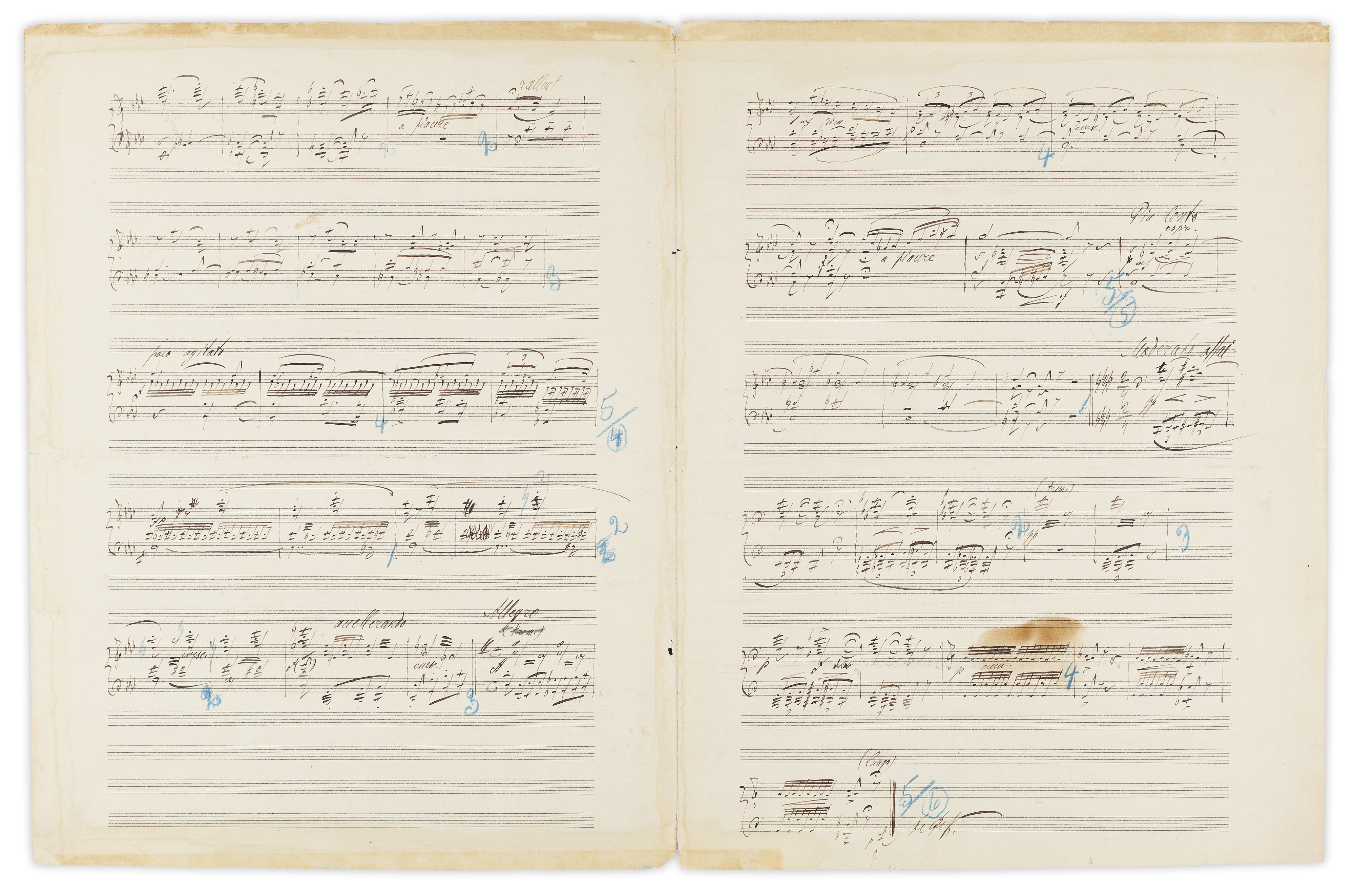 RIMSKY-KORSAKOV, Nikolai Andreyevich (1844-1908). Autograph music manuscript signed at the head in Cyrillic and roman script (N. Rimsky-Korsakov') and initialled at the end (in Russian 'N R K'), the piano arrangement for his introduction to Alexander Dargomyzhsky's opera, The Stone Guest, n.d. [c.1903].

Three pages (350 x 268mm), bifolium, 16 two-stave systems on 22-stave printed paper, (some marks where previously mounted, light water-staining at bifolium hinge, cropped at base of page 3 affecting text, small stains to p.3 and p.4). Provenance: Edwin Franko Goldman collection.

Autograph cancellations, titles and attribution (in Russian and German 'The Stone Guest/ Introduction', 'A. Dargomyzhsky – N. Rimsky-Korsakov'), marked up for publication in blue crayon and pencil.

The Stichvorlage for the piano arrangement of Rimsky-Korsakov's introduction to The Stone Guest. Rimsky-Korsakov took on the responsibility for finishing the orchestration of Alexander Dargomyzhsky's pioneering opera, The Stone Guest, after the latter's death: he and his fellow members of 'The Five' – the cohort of Russian composers who pioneered a new, distinctly Russian, style of classical music in the 19th century – decided that a work so important for the new style, an essay in continuous recitative, could not be left unfinished. Rimsky-Korsakov worked on the opera with César Cui, who wrote the original introduction, and it premiered on February 1872 at the Mariinsky. Yet he remained unsatisfied with their work, returning to it twice, years later in 1892 and 1902, revising his own orchestration, as well as some of Dargomyzhsky's own composition. He also composed an orchestral introduction to replace Cui's: the present work represents the manuscript from which the first edition of his arrangement of this introduction for piano was engraved. Printed in 1903 by V. Bessel and Co., known for representing prominent Russian composers including The Five, formal similarities between the title page of the printed edition and the present manuscript can clearly be observed, while the blue crayon numbers relate to the division of the manuscript text into lines in the printed edition.
© 2017 Christie's Images Limited.