Autograph Musical Draft - Vincenzo Bellini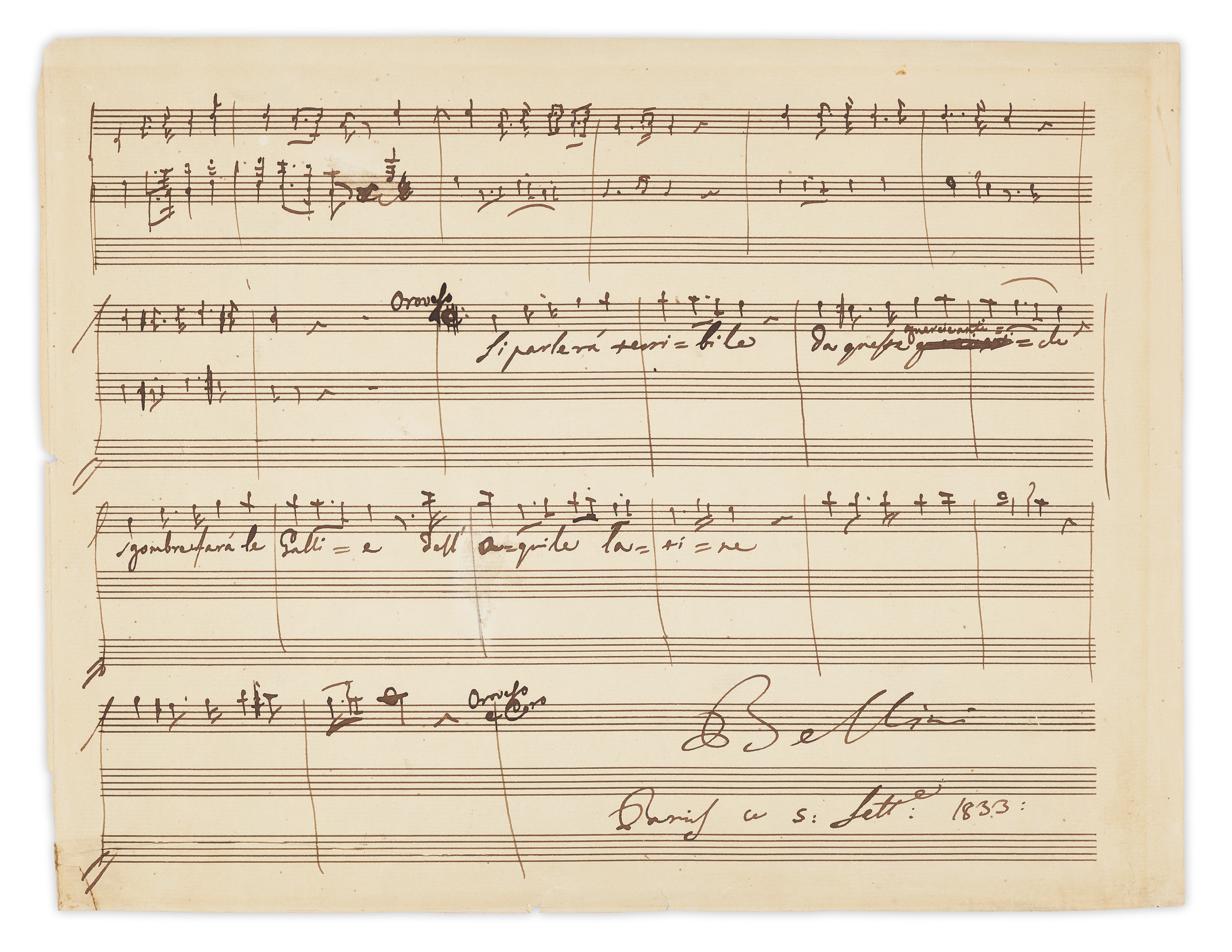 BELLINI, Vincenzo (1801-1835). Autograph musical draft for Oroveso's cavatina ('Si, parlerà terribile') from Act I of Norma, n.d. [1830-31], with dedication inscription signed ('Bellini') and dated Paris, 5 September 1833.
One page (247 x 326mm).

20 bars in total: 8 in short score followed by 12 for voice (Oroveso: 'Si, parlerà terribile ... aquile latine'), ending with the prompt for the following chorus ('Oroveso e Coro'), with autograph emendations and erasure.

A draft for Bellini's masterpiece, Norma. Autograph music from the composer's major operas is rare at auction. The present draft relates to the dramatic opening scene of Norma. Oroveso, the Archdruid, stands in the moonlit forest surrounded by his followers; as they prepare to conduct their sacred rites, the chorus swells to join him in an outburst of hatred against the Roman oppressors: 'Si, parlerà terribile / da queste quercie antiche / sgombre farà le Gallie / dall'aquile latine' [Yes, God will speak in anger / From these ancient oaks / He will free Gaul / From the Roman eagles]. There are a number of minor variants from the final version, including the last word ('latine' for 'nemiche').

In the spring of 1830, Bellini secured the contract to compose an opera for the 1831 winter season at La Scala: written with the librettist Felice Romani, and with the prodigious vocal talents of Giuditta Pasta in mind, the resulting work was Norma, one of the most famous Romantic operas of the 19th century. Along with the number of working manuscripts for Normaheld in the Museo Belliniano, Catania, the present leaf offers an insight into Bellini's drafting process and a glimpse of the early form of his masterpiece, repurposed here for presentation with a fine, large signature.
© 2017 Christie's Images Limited.