Autograph Letter - Giacomo Meyerbeer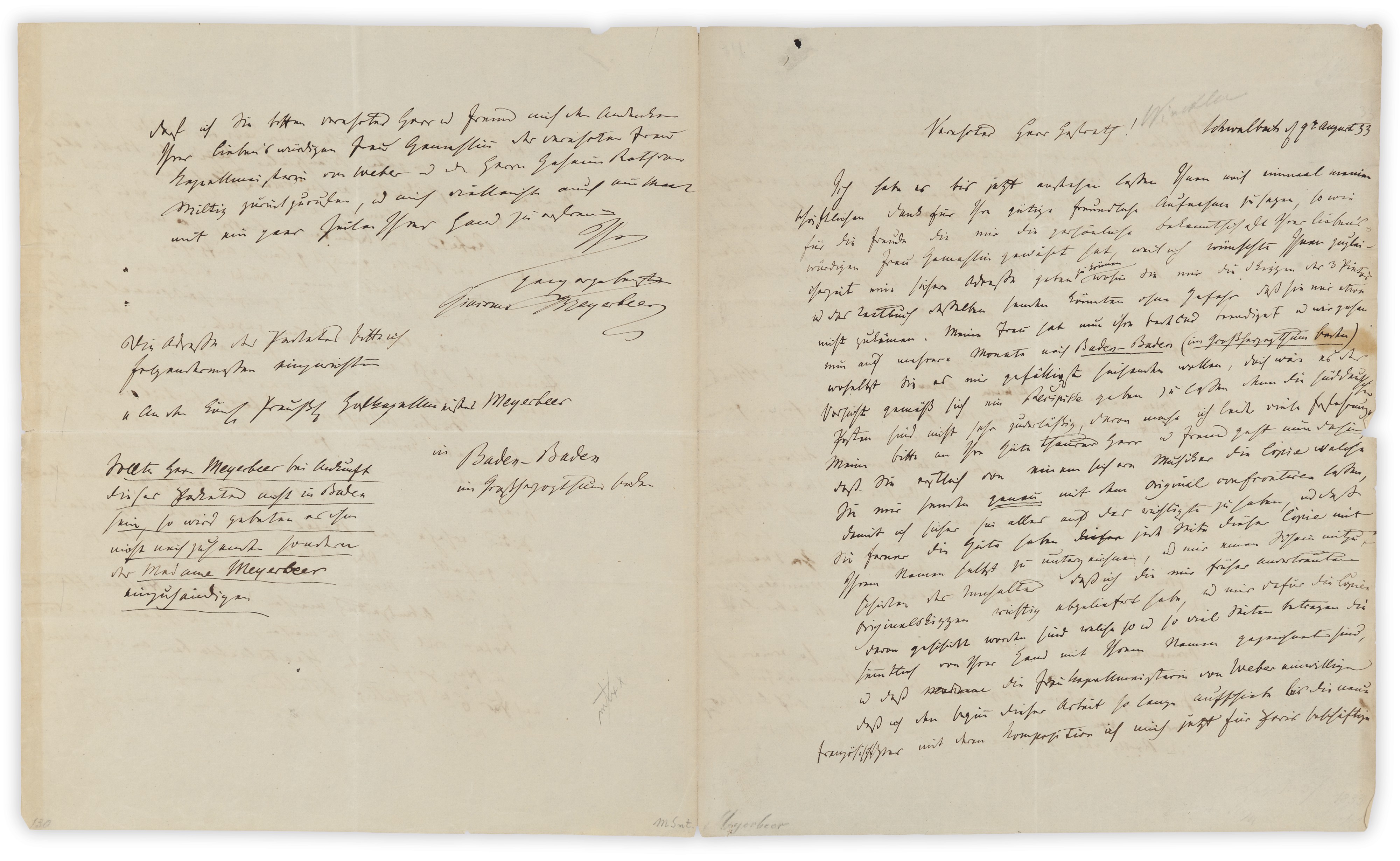 MEYERBEER, Giacomo (1791-1864). Autograph letter signed ('Giacomo Meyerbeer') to [Carl Gottfried Theodor Winkler], Schwalbach, 9 August 1833.

In German. 4 pages (265 x 225mm), bifolium, (splits at bifolium hinge and central horizontal fold, small hole on pp.1-2). Provenance: With Goodspeed's, Boston MA – A. Reginald Allen.

Completing Weber's unfinished opera Die Drei Pintos, and managing the ongoing success of Robert le Diable. The first part of the letter concerns painstaking arrangements for Winkler to send him in Baden-Baden the surviving sketches and libretto of Die Drei Pintos (the comic opera left unfinished by Carl Maria von Weber at his death, which Meyerbeer had agreed to complete). Winkler is to have the copy score he is sending checked against the original by a trained musician, to sign each page and to provide an attestation that Meyerbeer has returned the original sketches previously sent to him, and that that Caroline von Weber has agreed that he can put off work on the opera until after he has completed his projected work for the Paris Opéra (Les Huguenots), though he engages to begin work on Die Drei Pintos immediately this is completed, and not to take on any other opera in the mean time: Meyerbeer attributes this pedantic approach to a fear of the early death which afflicted his brother Michael. Meyerbeer also asks Winkler to send some adjustments to the German libretto of Robert le Diable which are needed for a performance in Munich, and asks him to oversee the casting of a forthcoming production in Dresden, paying particular attention to the role of Bertram. He reports that Robert is meeting with great success across Europe, including in Vienna and in Holland.

In the end, Meyerbeer neither completed his work on Les Huguenots in time for the Paris Opera that year, thus incurring a huge fine of 30,000 francs, nor ever proceeded with work on Die Drei Pintos: the sketches were eventually returned untouched to Caroline von Weber 26 years later, and the opera was ultimately completed only in 1888, by the young Gustav Mahler. C.G.T. Winkler (1775-1856), better known by his pseudonym Theodor Hell, was a close friend of both Weber and Meyerbeer: he was the librettist for Die Drei Pintos, and produced the German translation of the libretto of Robert le Diable.

[With:] Giacomo MEYERBEER. Autograph letter signed ('Meyerbeer') to an unidentified recipient, n.p., n.d. ('ce lundi') [?1831], asking him to have the new viola parts for the Andante in the Act V trio to be written out on a loose sheet 'so that if the effect of this change does not live up to my expectations they can play their old parts'; also asking for the last three bars of the duo bouffe in Act III to be reinserted after previously being cut (quoting the bars concerned). In French. One page (172 x 125mm), with one three-bar autograph quotation. The reference to the duo bouffe in Act III suggests that the opera in question is probably Robert le Diable. Provenance: Edwin Franko Goldman collection.
© 2017 Christie's Images Limited.