Autograph Music Manuscript - Josef Haydn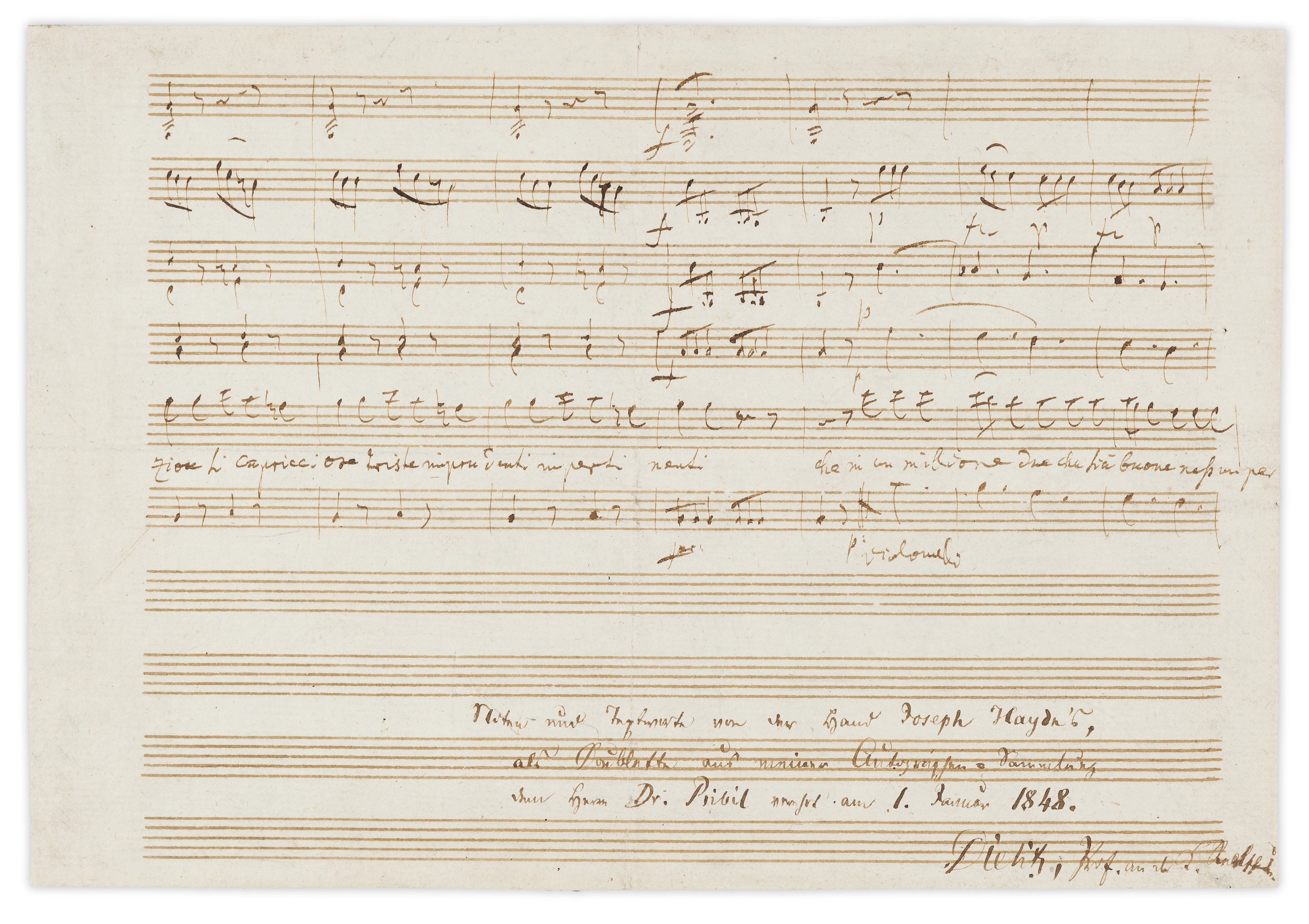 HAYDN, Josef (1732-1809). Autograph music manuscript, fragment of the insertion aria ('Dice benissimo') for Antonio Salieri's opera La scuola de' gelosi, HXXIVb:5, n.d. [1780]

Two pages (207 x 300mm), 14 bars on one six-stave system, (remnants of tape at upper, left-hand and bottom margins of recto). Provenance: Professor Theodor Dielitz (presentation and authentication inscription; Dielitz's substantial autograph collection was auctioned by Hartung in Berlin in January 1858), given to a – Dr Pribil as a duplicate, 1 January 1848.

14 bars (51-64 of the published edition) for voice, bass, two horns and strings, the text for the aria 'Sono le femmine si maliziose … nessun per certo le troverà'.

A fragment for Haydn's 'Dice Benissimo': not in Hoboken. Haydn composed two insertion arias for Antonio Salieri's dramma giocoso of 1778, La scuola de' gelosi: one is lost to us, while the present manuscript is a fragment of the aria created for the bass voice of the manservant Lumaca. One of Haydn's many responsibilities as Kapellmeister of the Esterházy family – by 1780 under Nikolaus I – was as director of the opera company, his patron's newest passion as of the mid-1770s. The palace at Esterháza was transformed, at the behest of Prince Nikolaus, into an important fixture on the opera calendar, with its theatre routinely hosting multiple productions each year. Not only would Haydn direct and produce the performances, he would compose his own works, as well as adapting those of other composers – usually choosing dramma giocoso – to suit the forces at his disposal. This often meant composing insertion arias – such as the present work – to suit the voice of a particular singer: around twenty such arias survive, dating from 1777 to 1789, although only a handful are written for bass or tenor.
© 2017 Christie's Images Limited.