Autograph Letter - Christoph Willibald Gluck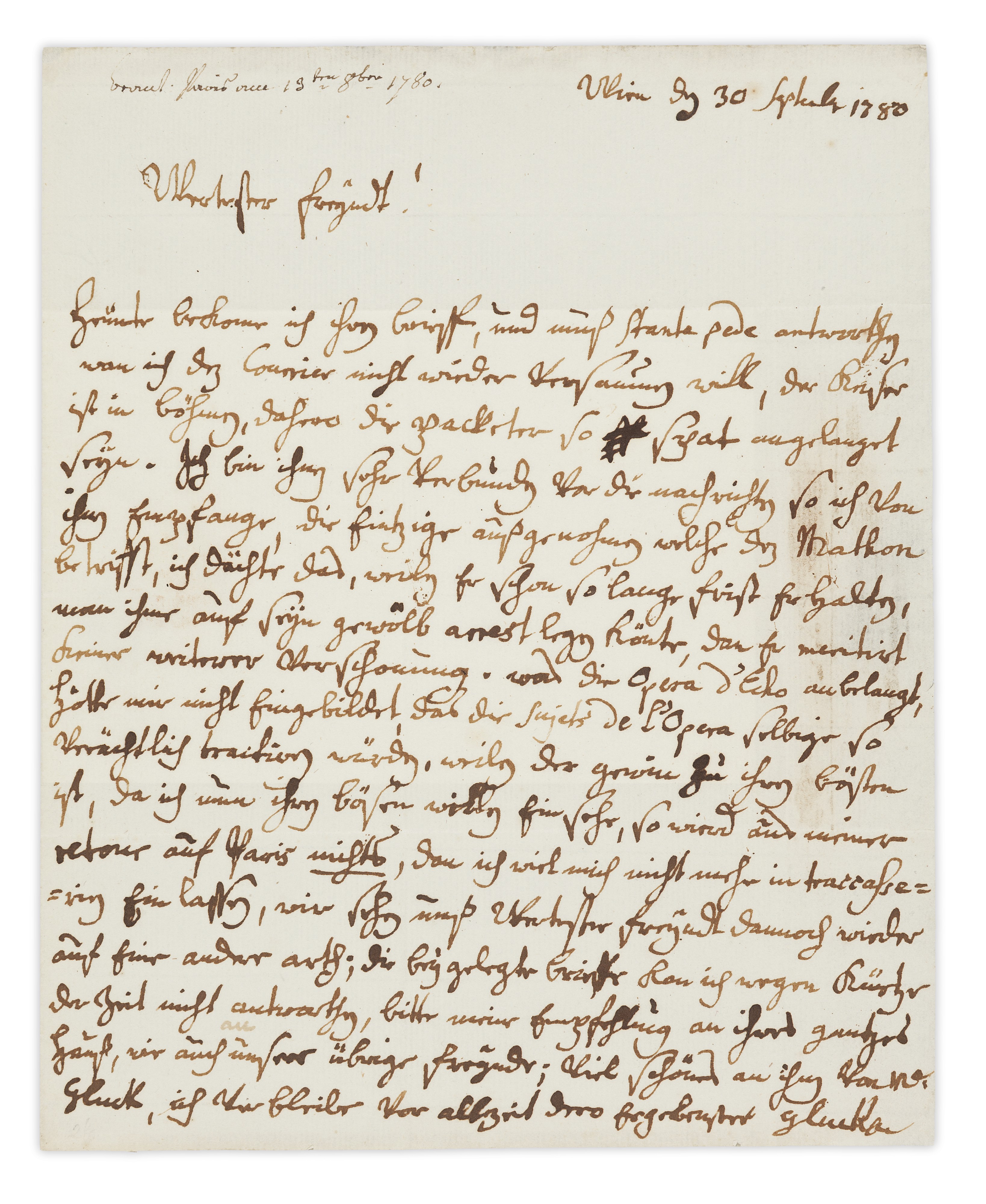 GLUCK, Christoph Willibald (1714-1787). Autograph letter signed ('Gluck') to [Franz Kruthoffer: 'Dearest friend!'], Vienna, 30 September 1780.

In German. One page (235 x 190mm), bifolium, integral address panel, seal tears, note of receipt on the 13 October 1780 in Kruthoffer's hand, (the two leaves stuck together at outer top corner). Provenance: Edwin Franko Goldman collection.

Lamenting the treatment of Echo et Narcisse; vowing never to return to Paris. Gluck must pen a hasty reply to catch the courier, noting: 'The Emperor is in Bohemia, which is why the parcels arrived so late'. He thanks Kruthoffer for his news, apart from that concerning Mathon: 'I thought that, as he had been given so much time to pay, he could be distrained, for he deserves no further consideration.' He continues, 'As regards the opera Echo, I had not imagined that the directors of the opera house would treat it so contemptuously, because the profit is theirs. As I now realise that they are not well-disposed, nothing will come of my return to Paris, for I will not become involved in any more quarrels'.

Having reached the zenith of his career just one year earlier, with the dazzling reception of Iphigénie en Tauride in Paris appearing to offer a final validation of his crusade to reform French and Italian opera, the revolutionary German composer Christoph Willibald Gluck had suffered a dramatic reversal of fortunes by 1780. The failure of Echo et Narcisse, his sixth and final opera for the French stage, compounded the effects of a stroke just before its premiere: in ill-health and having grown weary of defending his work against critics of his reforming style, he returned to Vienna, disenchanted. He lived the remainder of his days there in semi-retirement, while maintaining a foothold in the French capital chiefly through correspondence with Franz Kruthoffer (1740-c.1815), secretary to the Austrian diplomat the Comte de Mercy-Argenteau, and Gluck's agent in the city. These missives were broad in their remit, ranging from revisions to Echo et Narcisse – which fared better when re-presented in 1781 – to difficulties with publishers: here, the art critic and essayist Charles-Joseph Mathon de la Cour (1738-1793), who published the scores for Armide and Iphigenie en Tauride, is seen to have failed in his contractual obligations as a publisher, neglecting to pay Gluck what he was due. Echo et Narcisse, due to be published by Mathon, was finally brought out by Deslauriens. Georg Kinsky, Glucks Briefe an Franz Kruthoffer, (1927), no 34.
© 2017 Christie's Images Limited.