Autograph Letter - Aleksandr Porfir'yevich Borodin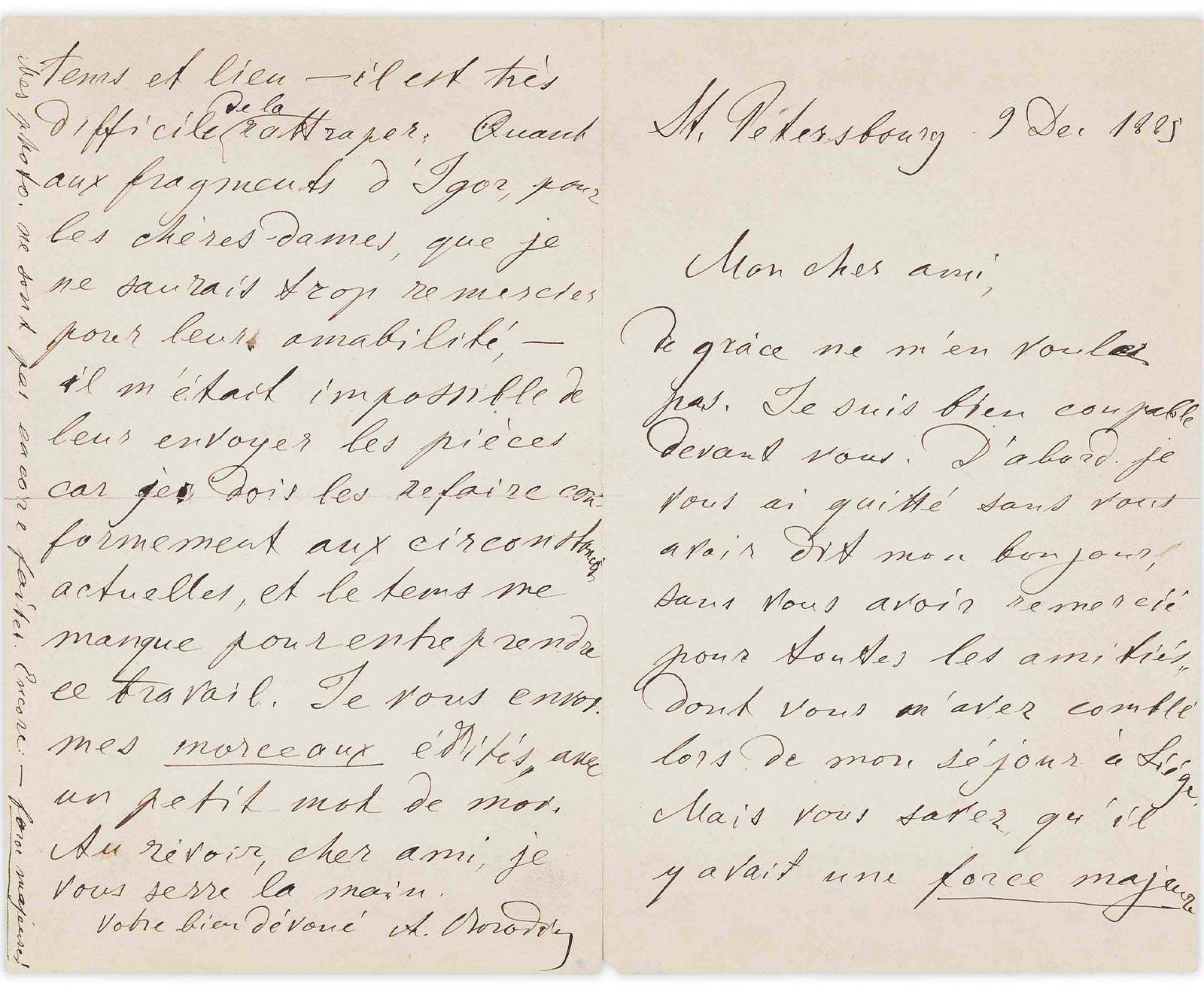 BORODIN, Aleksandr Porfir'yevich (1833-1887). Autograph letter signed ('A. Borodin') to [Theodore Jadoul: 'Mon cher ami'], St Petersburg, 9 December 1885.

In French. Four pages (131 x 209mm), (splits at central bifolium hinge and at horizontal fold), with two envelopes. [With:] portrait postcard depicting Borodin. Provenance: Edwin Franko Goldman collection.
'Force majeure, my friend! There was nothing I could do!'. Borodin apologises to his friend for his hasty flight from Liège, explaining that he cannot send the fragments from Prince Igor. Borodin opens pleading: 'Do not be angry with me. I am very guilty before you', for leaving without saying goodbye or thanking Jadoul for his friendship while in Liège. But he had no choice; he had received a message that he should return to Russia without delay. He lists his regrets, including that he was not able to get to [the Countess de Mercy-]Argenteau, and notes that his 'dear godmother will have told you all regarding my hurried flight … On arrival home, I had to go to Moscow immediately. Then my wife's illness; my own; a lot of trouble as a consequence of all this; then business, work over my head' and he is struggling to catch up. 'As for the fragments of Igor, for the dear ladies, who I cannot thank too much for their kindness, it was impossible for me to send them the pieces for I must revise them under the present circumstances and I lack the time to undertake this work'.

As his letter to the young Belgian conductor, Theodore Jadoul, well demonstrates, Aleksandr Borodin lived a life of two halves in the 1880s: in Russia it had become increasingly hard to find time for music – his concentration distracted by his wife's failing health and his time occupied by bureaucracy, he would never finish his opera masterpiece, Prince Igor – while in France and Belgium his reputation was growing. He won the patronage of the Belgian Countess Louise de Mercy-Argenteau, whose admiration was encouraged by their mutual friend, Franz Liszt. Jadoul, an associate of the countess to whom he dedicated the Scherzo in A-flat for piano in 1885, seems to have been an excellent host while Borodin was in Liège until the latter was called back to Russia, the tension between these two lives having become overwhelming.
© 2017 Christie's Images Limited.