Autograph Letter - Hector Berlioz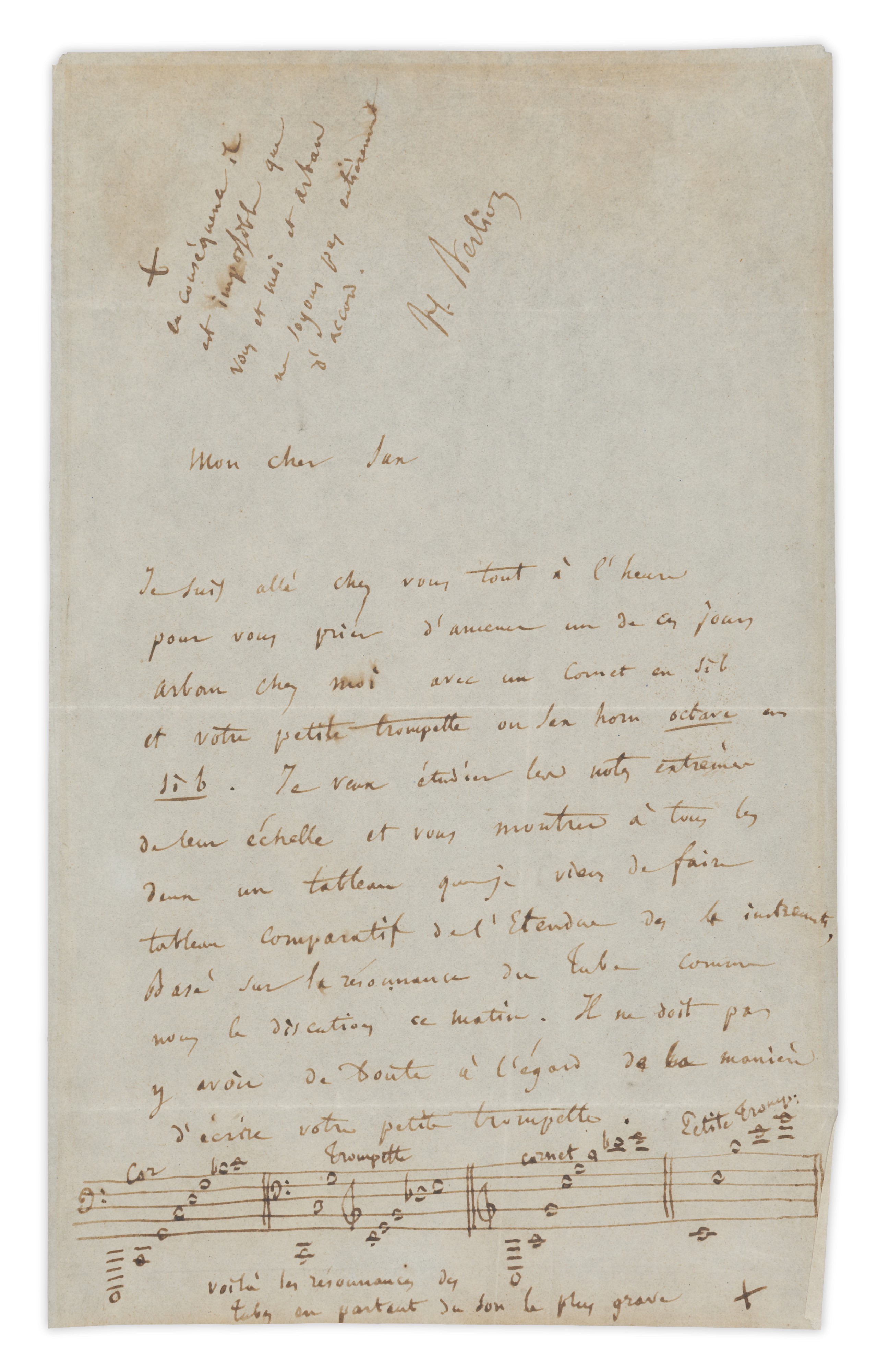 BERLIOZ, Hector (1803-1869). Autograph letter signed ('H Berlioz') to [Adolphe] Sax, n.p.[?Paris], n.d.

In French. One page (196 x 120mm), (slight fading where mounted). Provenance: Edwin Franko Goldman collection.

Berlioz invites Adolphe Sax (inventor of the saxophone) to bring Jean-Baptiste Arban to visit, along with various instruments whose ranges he wishes to compare. He has been to Sax's house with the intention of asking 'that you bring Arban to my house one of these days, with a cornet in B flat and your little octave trumpet or saxhorn in B flat. I want to study the notes at each end of their scales and show the two of you a table that I have just made' comparing the range of four instruments: he illustrates this with a musical example.

Berlioz can be credited perhaps more than any other composer for the establishment and success of the Sax musical enterprise in Paris. Although only the saxophone made it into the earliest editions of Berlioz's Treatise on Instrumentation (published 1844), his promotion of his friend Adolphe's instruments was most effective through his music: Berlioz called for the saxhorn, developed in 1844, in the Te Deum (1849) and Les Troyens (1858). Meanwhile, the cornetist and conductor Jean-Baptist Arban (1825-89), arguably the first complete technician on that instrument, collaborated with Adolphe Sax in the development of the cornet compensateur, which he demonstrated in April 1848. The present letter bears witness to the fruitful collaboration between these musicians.


© 2017 Christie's Images Limited.