Autograph Collection - Opera Singers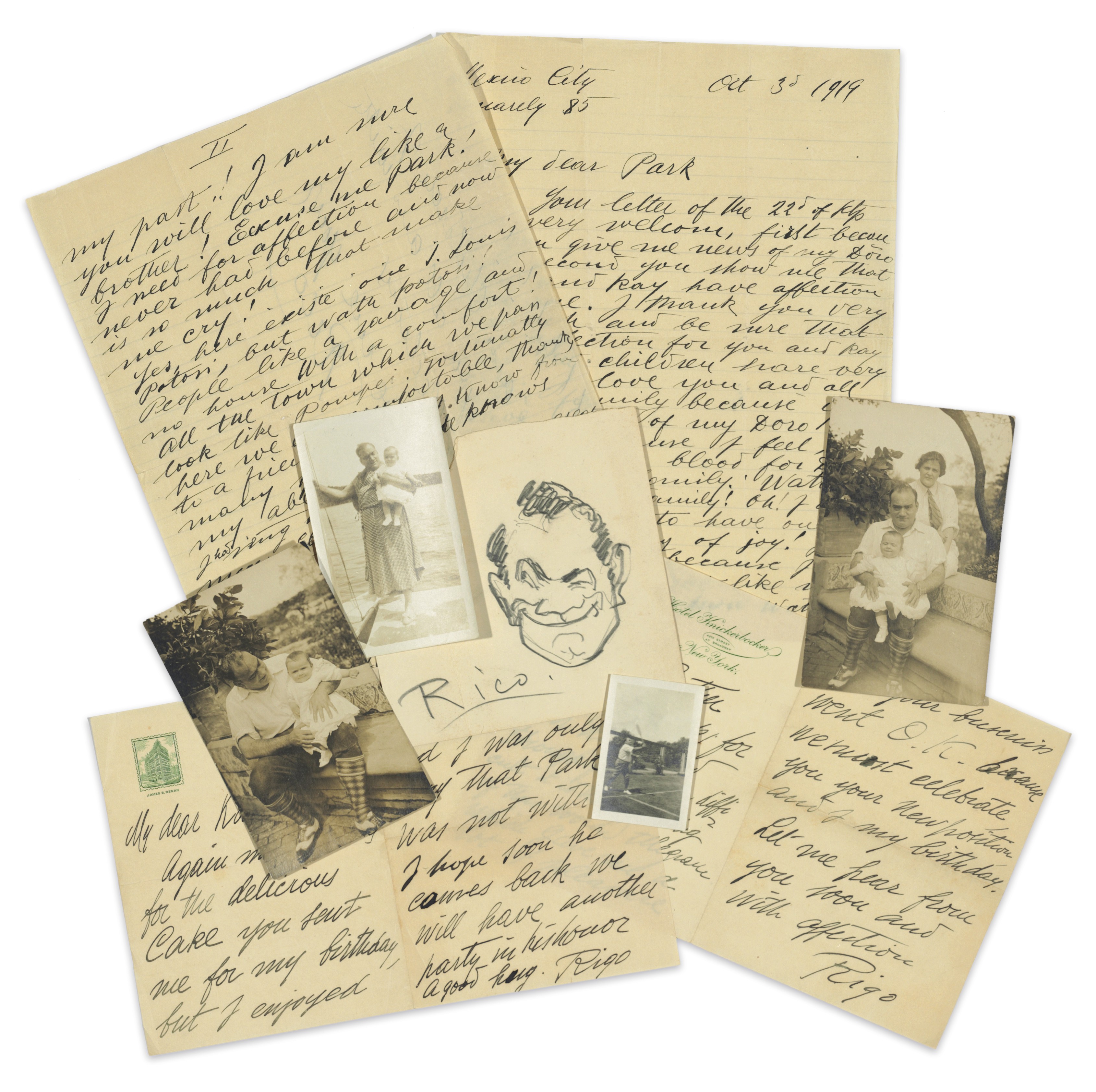 AUTOGRAPH COLLECTION – OPERA. A collection of autograph letters and ephemera, chiefly from opera singers, 1826-1960.

In English, French, Italian and German. Approx. 42 items in total (two framed).
A selection of autograph material featuring some of the leading operatic lights to grace the New York stage at the turn of the 20th century, including Caruso's letters written in the aftermath of his elopement with Dorothy Park Benjamin.
Enrico CARUSO (1873-1921). Three autograph letters signed to his brother-in-law, Park Benjamin III (one to his sister-in-law, Kate), including an emotional letter from Mexico City, 3 October 1919, thanking him for his support: 'I am sure you will love my [sic] like a brother! Excuse me Park! I need for affection because never had before and now is so much that make me cry!') [with:] an autograph letter signed by Dorothy Caruso to her brother and sister-in-law, describing her father's response to her marriage : 'What letters he wrote us – How insulting he was to Rico! … Of course I am cast out'; [with:] four photographs, depicting Caruso, Dorothy, and their daughter, Gloria [and:] a pencil self-caricature by Caruso, and a set of three caricatures in pen and ink (one a self-caricature), framed (rather faded).
The opera singers, composers, and conductors that complete the collection include: Johann STRAUSS II, Nellie MELBA (2 items), Ruggero LEONCAVALLO, Adelina PATTI (3 items), Jenny LIND (to Luise Brockhaus-Wagner, sister of the composer), Amelita Galli-Curci, Giulia Grisi, Lilli Lehmann, Christina Nilsson, Wilhelmine Schroeder-Devrient, Henriette Sontag, Pauline Viardot, David Bispham, Walter Damrosch, Kirsten Flagstad, Fromental Halévy, Lucien Muratore, Pol Plançon, Édouard de Reszke (recommending a violinist to Nahan Franko), Jean de Reszke (2 items), Anton Seidl, Marcella Sembrich, Giuseppe Verdi (autograph envelope), and others.
© 2017 Christie's Images Limited.