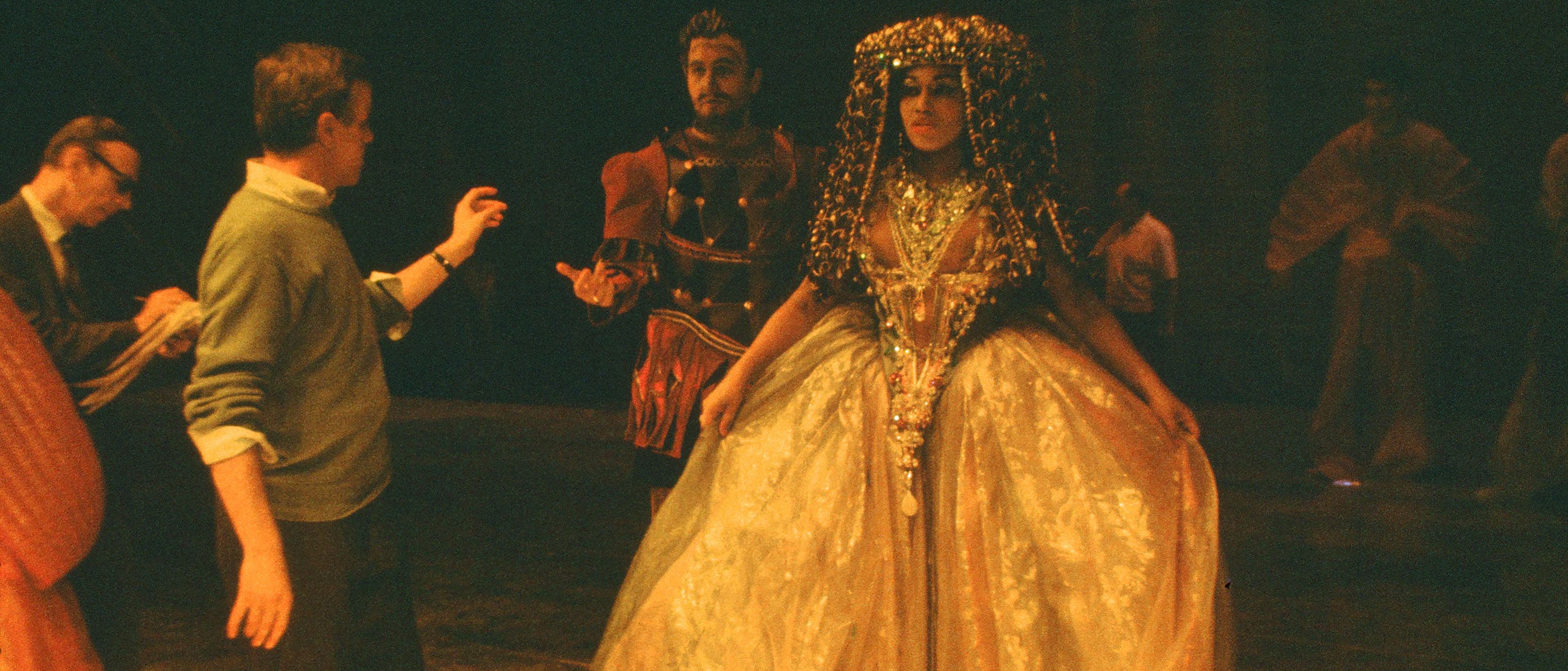 Postwar America
American operas became increasingly rare at the Met under General Manager
Edward Johnson, whose regime began in the depths of the Great Depression (1935) and encompassed World War II and its aftermath. General Manager Rudolf Bing, who took the Met's helm in 1950, was then faced with rapidly rising postwar production costs, which limited his desire to take risks with contemporary works, including American ones. Convinced that new works would do poorly at the box office, Bing wrote: "If and when the Metropolitan will be on a financial basis that it need not look to the box office every night for survival, then the time will come to further contemporary works and, in that line, American works." During Bing's 22-year regime, the Met presented only four American operas.
Bernard Rogers's The Warrior
Edward Johnson's final addition to the Met's American repertory came in 1947 with The Warrior. The one-act opera by Bernard Rogers, a composition faculty member at the Eastman School of Music, had won a prize in a Columbia University–sponsored contest for which Johnson led the jury. Among the many Americans trained by legendary French pedagogue Nadia Boulanger, Rogers reimagined the biblical Samson and Delilah story with a percussively modernist orchestration. The Warrior's lead roles were taken by Americans Mack Harrell and Regina Resnik, an exciting young singing actress who had recently made her Met debut at age 22. Though director Herbert Graf achieved a unified theatrical piece, The Warrior failed to register with the public and was abandoned after only two performances.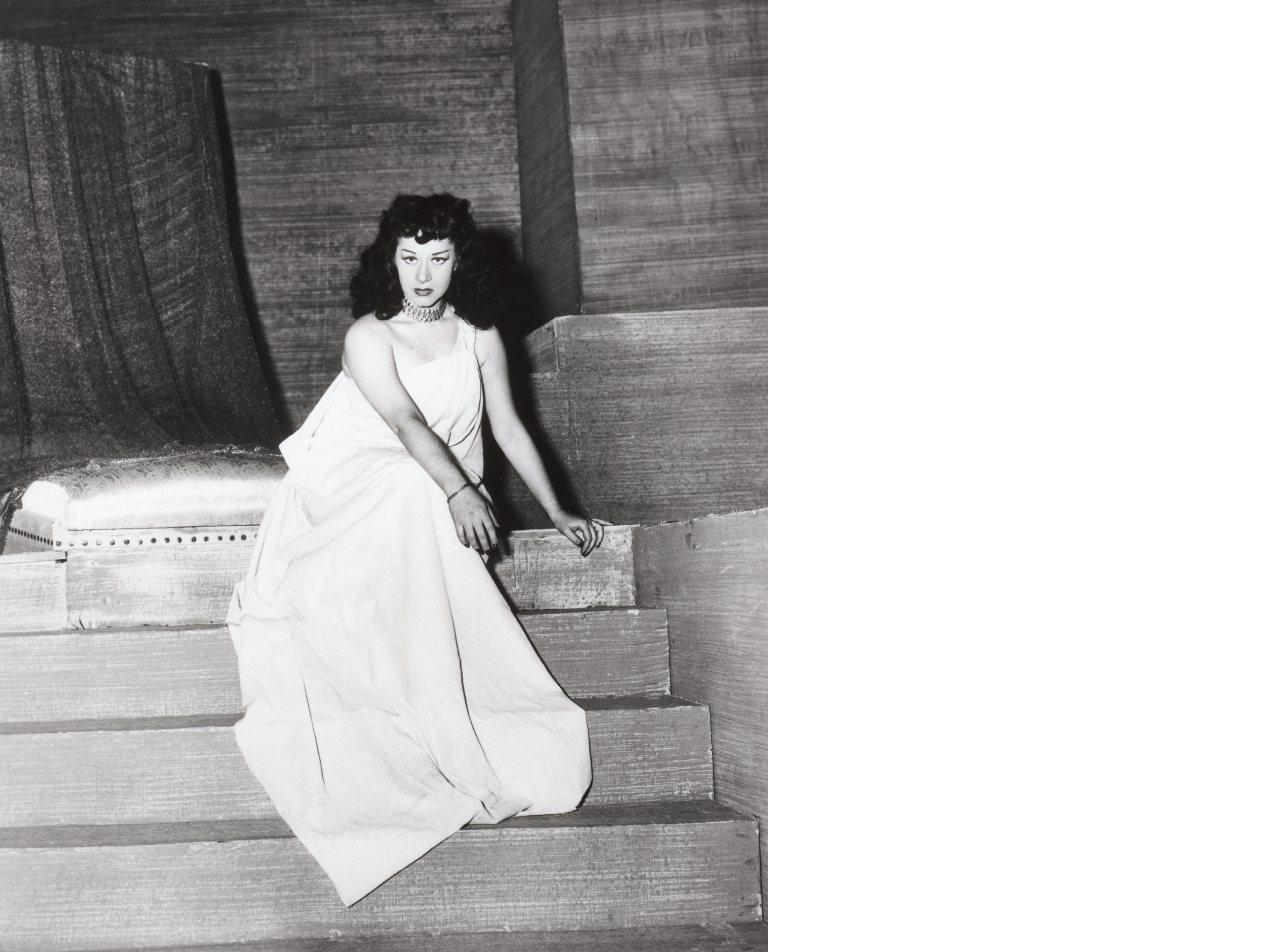 Regina Resnik in Bernard Rogers's The Warrior, 1947. Costume by Mary Percy Schenck.
Photo: Sedge LeBlang

Left: Bernard Rogers, Mack Harrell, director Herbert Graf, and Regina Resnik in rehearsal for The Warrior, 1947.
Photo: Sedge LeBlang
Right: Scene from Bernard Rogers's The Warrior, 1947, with set design by Samuel Leve.
Samuel Barber's Vanessa
After his pursuit of Aaron Copland for a setting of the classic American drama Our Town did not materialize, Rudolf Bing learned that Samuel Barber—an established composer with an international reputation—was at work on Vanessa, inspired by his life partner and librettist Gian Carlo Menotti's reading of Isak Dinesen's Seven Gothic Tales.
Typically hesitant to commit to a new opera before hearing its score, Bing waited until 1956 to place Barber's neo-Romantic work on his schedule, then engaged renowned designer Cecil Beaton for a lush production. After Barber failed to interest Maria Callas in the title role of Vanessa, Eleanor Steber—well known to the composer from her commissioning of his concert scene Knoxville: Summer of 1915—took the title role to great acclaim. The young mezzo-soprano Rosalind Elias had her first major success as Erika, and the other leads were lavishly cast with Regina Resnik as the Old Baroness, Nicolai Gedda as Anatol, and Giorgio Tozzi as the Doctor. Vanessa was rapturously received by critics. The New York Times's Howard Taubman proclaimed it "the best American opera ever presented at the stately old theater." In a sign of the growing recognition of American opera abroad, the Met production of Vanessa debuted at the prestigious Salzburg Festival the summer after its world premiere in New York.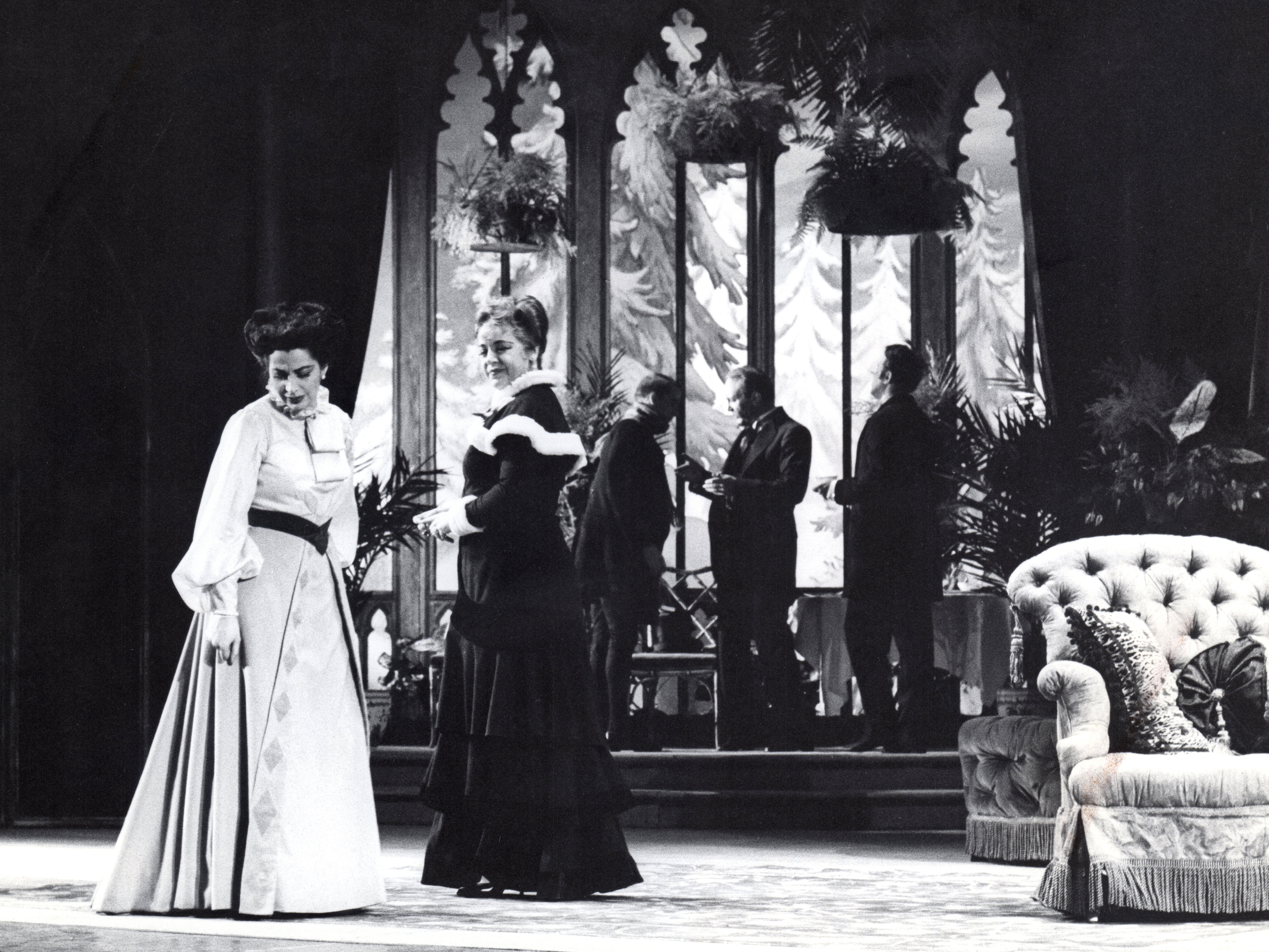 Rosalind Elias and Eleanor Steber in Act II of Vanessa, 1958.
Photo: Louis Mélançon
Act I of Samuel Barber's Vanessa, 1958. Set design by Cecil Beaton.
Photo: Louis Mélançon
Left: Eleanor Steber and Rosalind Elias in Vanessa. Regina Resnik is in the background.
Photo: Louis Mélançon
Right: Rehearsal of Vanessa, 1958. Standing, left to right: Rudolf Bing, Eleanor Steber, Samuel Barber, Gian Carlo Menotti.
Photo: Louis Mélançon
Samuel Barber's Antony and Cleopatra
In the wake of Vanessa's conspicuous critical success (including a 1958 Pulitzer Prize), Samuel Barber was formally commissioned for a new opera, Antony and Cleopatra, to open the Met's opera house at Lincoln Center in 1966. Franco Zeffirelli's exceptionally lavish production of Antony and Cleopatra (for which he adapted the libretto from Shakespeare's play), enjoyed the casting of superstar soprano Leontyne Price and young Puerto Rican bass-baritone Justino Díaz as Shakespeare's lovers, but most reviewers felt the elaborate staging buried the music and drama in a surfeit of grandeur. In any case, the high expectations around the glamorous gala event may have doomed any chance of a fair appraisal.
The poor reception of Antony and Cleopatra in such highly publicized conditions deeply affected Barber, though he continued to revise the work. Reappraisals of Antony and Cleopatra began to emerge after a revised version was performed at the Juilliard American Opera Center in 1975, with later revivals in Europe and at Lyric Opera of Chicago.
Leontyne Price in Samuel Barber's Antony and Cleopatra, 1966
Photo: Louis Mélançon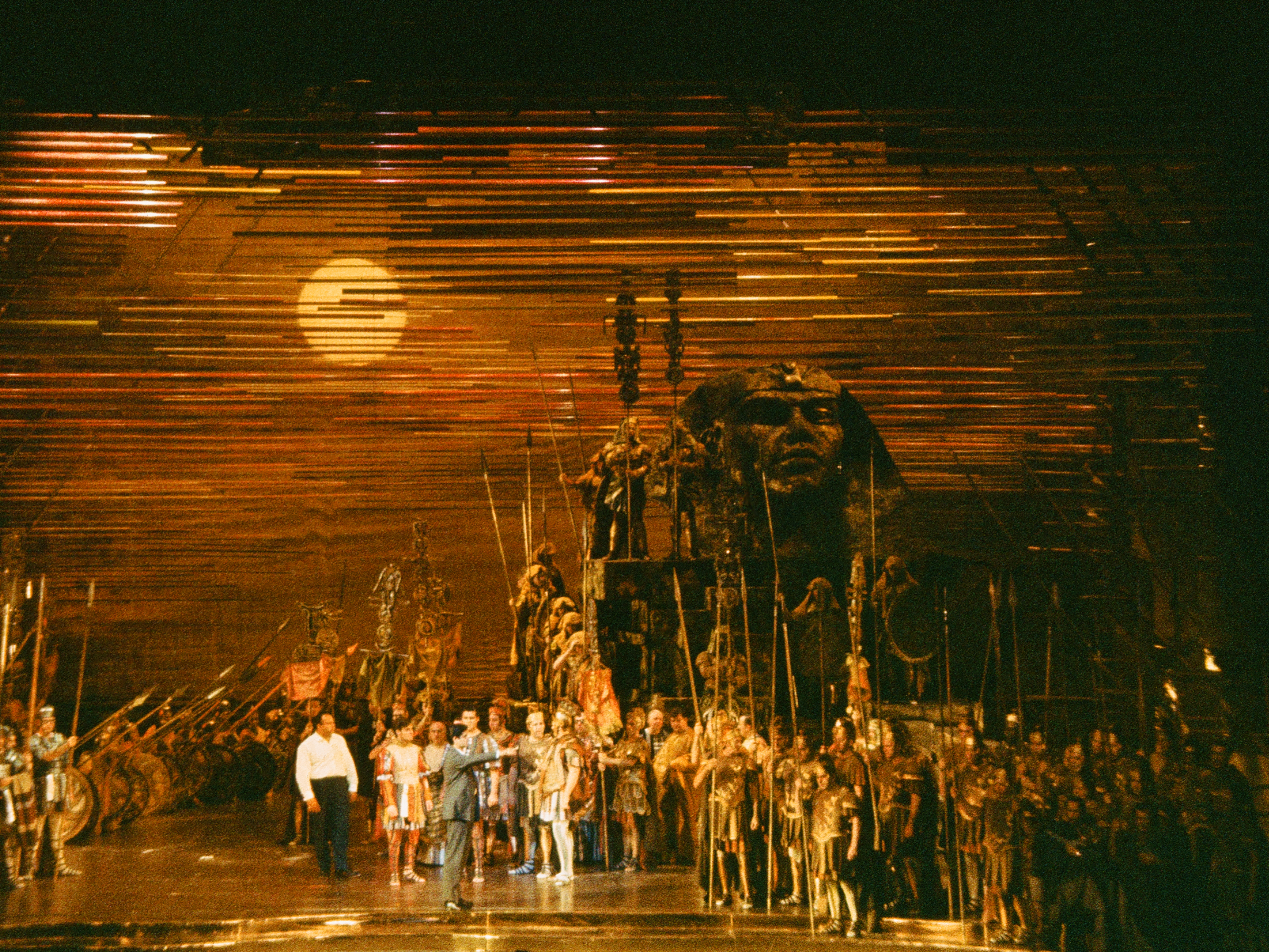 Rehearsal of Antony and Cleopatra, 1966. Set design by Franco Zeffirelli.
Photo: Louis Mélançon

Left: Franco Zeffirelli in rehearsal for Antony and Cleopatra with Justino Díaz and Leontyne Price.
Right: Justino Díaz and Leontyne Price in Antony and Cleopatra, 1958.
Photo: Louis Mélançon
Martin David Levy's Mourning Becomes Electra
The final American opera to appear at the Met under Rudolf Bing was Martin David Levy's darkly dissonant setting of Mourning Becomes Electra by Eugene O'Neill, based on the ancient Oresteia trilogy of Aeschylus. Commissioned by the Met, the opera was given for two seasons, but critical appraisal was generally more positive about the dramatic production than the music. Bing and Levy had tried to persuade Maria Callas to take a leading role, but to no avail. Evelyn Lear and Marie Collier sang the female protagonists, with the young American baritone Sherrill Milnes making a strong impression beside John Reardon in the male leads.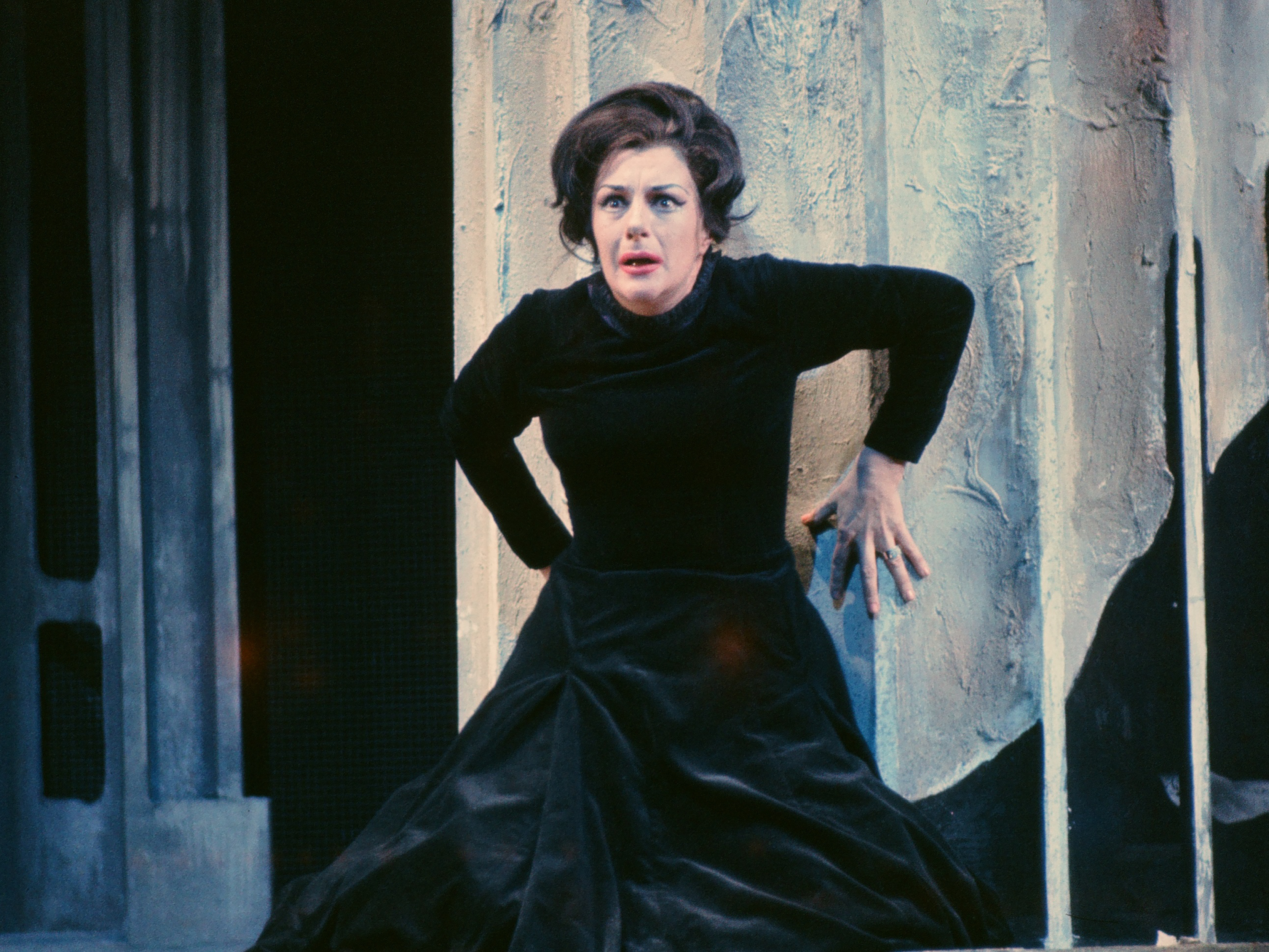 Marie Collier in Mourning Becomes Electra, 1967.
Photo: Louis Mélançon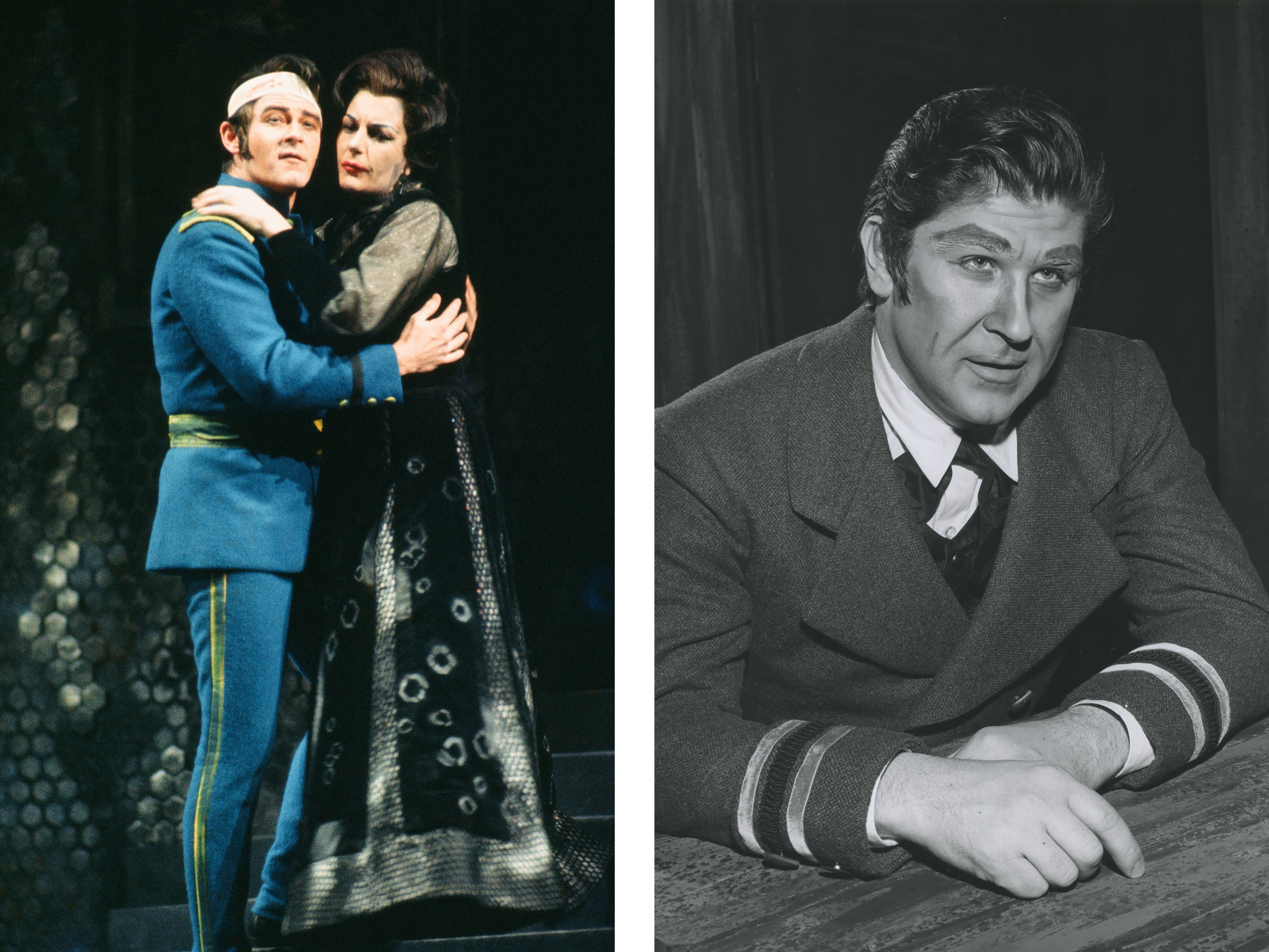 Left: John Reardon and Marie Collier in Martin David Levy's Mourning Becomes Electra, 1967.
Right: Sherrill Milnes in Martin David Levy's Mourning Becomes Electra, 1967.
Photo: Louis Mélançon
Left: Letter from Rudolf Bing to Michel Glotz, Maria Callas's agent, concerning her possible casting in Mourning Becomes Electra.
Right: Director Michael Cacoyannis, composer Martin David Levy, and librettist Henry Butler at work on Mourning Becomes Electra, 1967.
Photo: Louis Mélançon
Carlisle Floyd's Susannah
Carlisle Floyd's 1955 Susannah was a late entry to the Met's repertory despite its wide popularity at regional American companies. The Met premiere in 1999 featured three of the company's most celebrated American singers: soprano Renée Fleming, bass-baritone Samuel Ramey, and tenor Jerry Hadley. Floyd's accessible, vernacular style has proven highly successful with American audiences, and several of his dramatic works remain in the national repertory.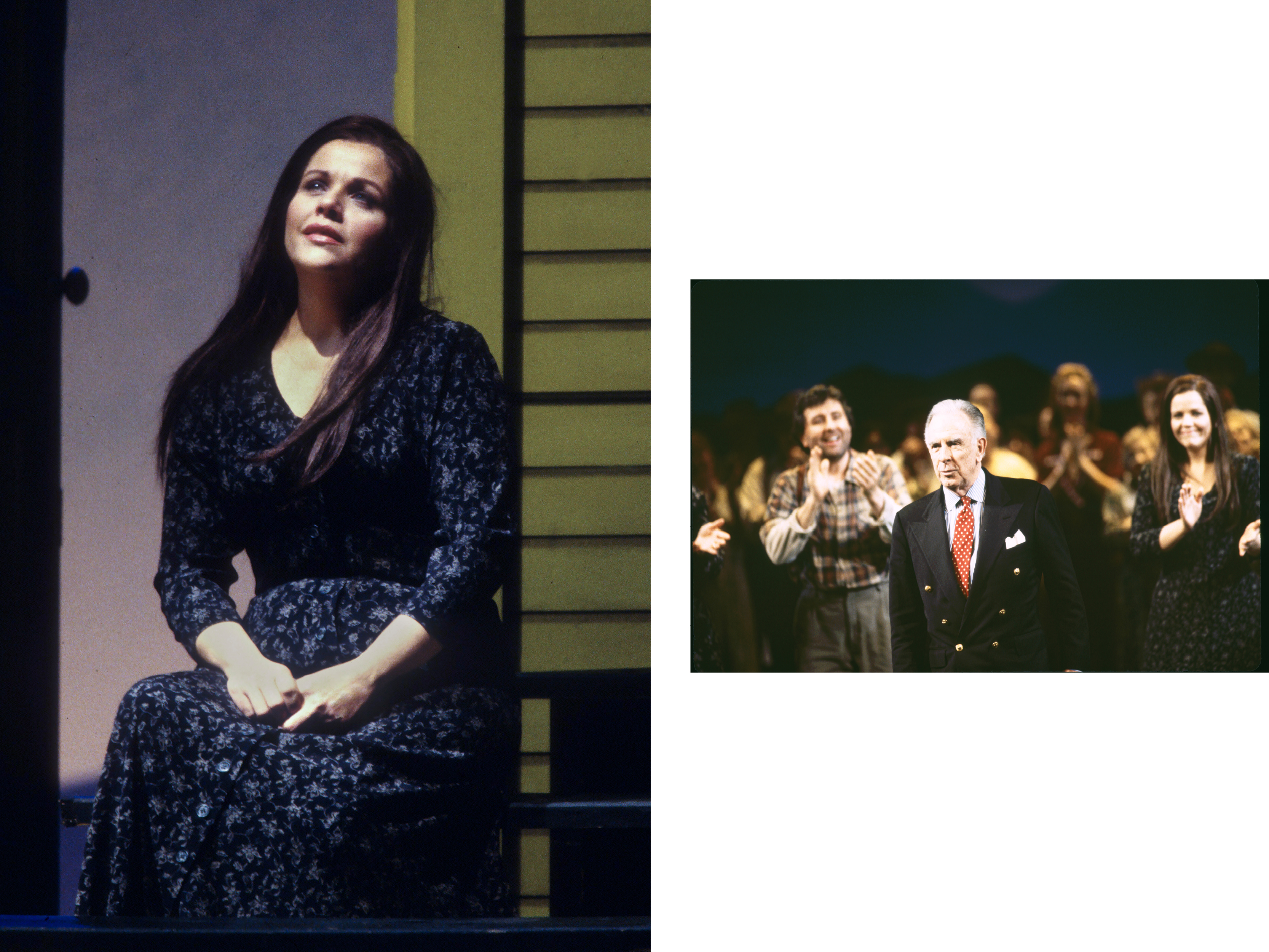 Left: Renée Fleming in Carlisle Floyd's Susannah, 1999.
Photo: Beth Bergman
Right: Composer Carlisle Floyd takes a bow at the Met premiere of his Susannah, 1999.
Photo: Erika Davidson
Searching for an American Style
American Commissions and Beyond
Postwar America
From Commercial Theater to the Met
Innovations and Collaborations