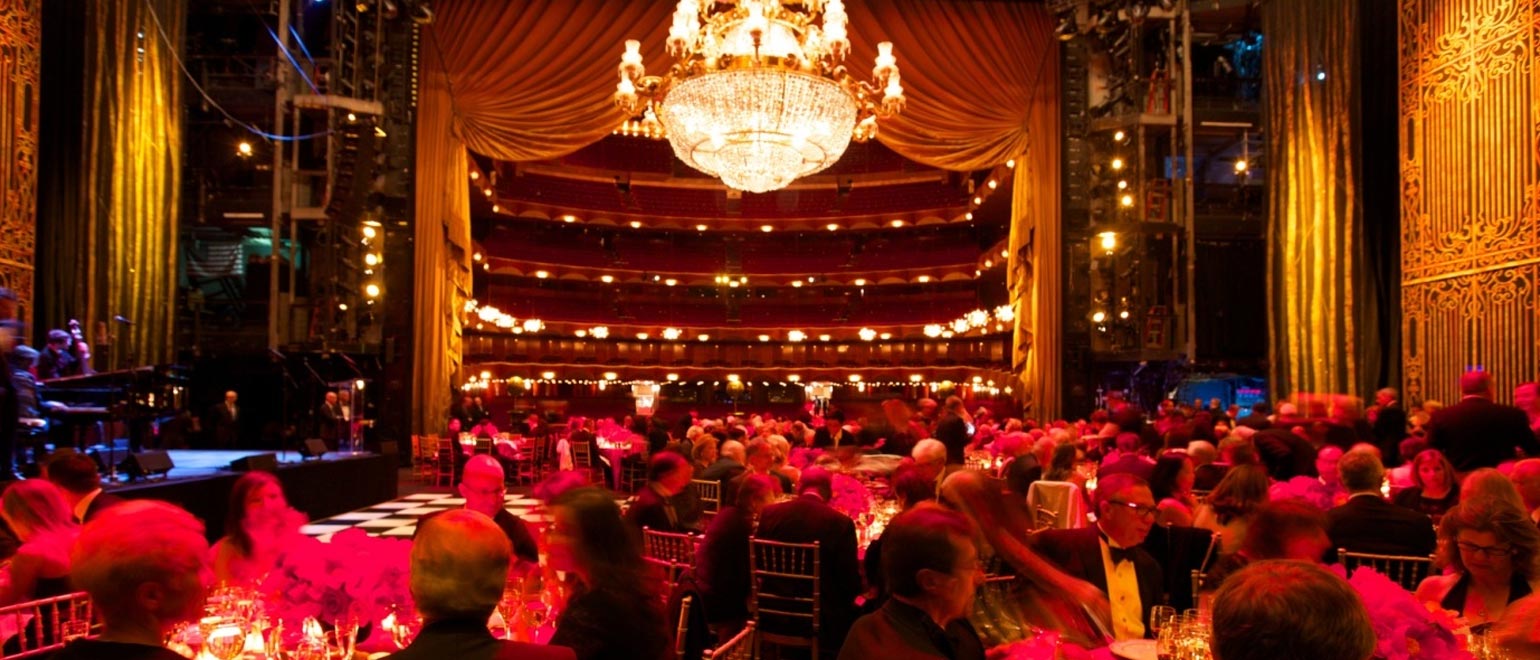 Galas & Special Events
For information about galas and other events during the 2023-24 season, please call 212.362.6000.
2023-24 Season
Jake Heggie's Dead Man Walking

Opening Night Gala
Tuesday, September 26, 2023
Celebrate the opening of a historic season with the highly anticipated Met premiere of Jake Heggie's masterpiece—based on Sister Helen Prejean's memoir about her fight for the soul of a condemned murderer—in a striking new production by Ivo van Hove. The gala evening includes cocktails on the Mercedes T. Bass before curtain and a post-performance dinner at David Geffen Hall with Met Music Director Yannick Nezet-Seguin, who conducts the landmark premiere, and the cast, including mezzo-soprano Joyce DiDonato and bass-baritone Ryan McKinny.
Music by Jake Heggie, libretto by Terrence McNally
Based on the Book by Sister Helen Prejean

Production a gift of C. Graham Berwind, III; the Ann and Gordon Getty Foundation; Ted Snowdon and Duffy Violante, in memory of Terrence McNally; and Mrs. Diane B. Wilsey

Additional support from Franci Neely; Judy and Jim Pohlman; Denise Littlefield Sobel, in memory of Phyllis Cannon Wattis; and The H.M. Agnes Hsu-Tang, Ph.D. and Oscar Tang Endowment Fund
Dead Man Walking is part of the Neubauer Family Foundation New Works Initiative
BUY GALA TICKETS
5:30PM

Cocktail Reception

6:30PM

Performance

Post-Performance

Cast Dinner

BLACK TIE
Dead Man Walking Gala Committee
GALA CHAIRMAN
Ann Ziff
GALA CO-CHAIRMEN
C. Graham Berwind, III
Marlene Hess and James D. Zirin
Cindy and Tod Johnson
Jeanette Lerman-Neubauer and Joseph Neubauer
GALA VICE-CHAIRMEN
Betsy and Ed Cohen
Mr. and Mrs. John B. Hess
PRINCIPAL BENEFACTORS
Matthew Christopher Pietras
Judy and Jim Pohlman
Denise Littlefield Sobel
PRIME BENEFACTORS
Bloomberg Philanthropies
Hearst
Henry Schein, Inc.
Rolex
So-Chung Shinn Lee and Tony W. Lee
BENEFACTORS
Linda E. Johnson
Anne Welsh McNulty
PRINCIPAL SPONSORS
Eleanor N. Caulkins
Louise G. Chapman
Samantha and Nabil Chartouni
Judith-Ann Corrente
Mr. and Mrs. Austin T. Fragomen, Jr.
Barbara and Peter Georgescu
Christian Keesee
Dr. David G. Knott and Ms. Françoise Girard
Ann Marie and Jim McCaughan
Mr. C. William Tanzi
Barbara Tober
Cynthia Vahlkamp and Robert Kenyon
Mr. Christopher Wittmann
PRIME SPONSORS
Mr. and Mrs. Andrew S. Georges
Hermione Foundation, Laura J. Sloate, Trustee
Michael and Petra Miebach
Mark H. Rosenberg
Barbara Samuelson
Daisy M. Soros
Cynthia Vahlkamp and Robert Kenyon
Mr. Michael Young and Ms. Debra Raskin
SPONSORS
Dr. Christian Alfonsi
Mr. and Mrs. Kimberly and William Anast
Noreen and Ken Buckfire
†Mr. and Mrs. Bruce R. Burton
Jennifer and Keith Cerny
Lisa Choi
David Chou
Drs. Thomas and Virginia Collier
James Demmert
Carol E. and David A. Domina
Juliana and David Dowling
Richard Gaddes
Barbara Winter Glauber
James E. and Sara Haynes
Molly K. Heines and Thomas J. Moloney
Andrew Hinek
Judith M. Hoffman
John Howard
Jake Jamison
Mr. Jack Johnson
Mrs. Mica L. Kaufmann
Anne C. Kolker, M.D.
Helen Little
The Litwin Foundation
Mark Loewen
Marcy Hnath Maguire
Hon. Carolyn B. Maloney
Lara Marcon
Dr. Pamela Marron
Mr. Andrew J. Martin-Weber
Matthew and Julie McAskin
Ms. Monika McLennan
Richard J. Miller, Jr.
David M. Moniz
Dr. Carol D. Morris
Dr. and Mrs. Edward F. Morris
Anthony Mussolino
Marta E. Nottebohm
Ms. Stephanie Olmsted
Opus Advice First
Yves Pfeiller and Arthur Hung
Mr. and Mrs. Geoffrey Pohanka
Leah Prestamo
Drs. David and Helena Rodbard
Thomas Roush and LaVon Kellner
Ms. Jean L. Shafiroff
George Shelden and Yasuko Noguchi
Natasha Slutzky
Richard and Donna Soloway
Mr. Dennis Stattman and Mrs. Beth Grosshans
Julia and Lawrence Steyn
Katherine Upchurch Takvorian
Mr. and Mrs. Jackson Tai
Tanya Thorne
Christine Van Itallie
David Warren and Helen Lee-Warren
Mr. Jeffrey Wernick
Monica Wolfson
Caio and Rebeca Zapata Espinosa
COMMITTEE MEMBERS
Beth Ann Day
Jill Enders
Marilyn and Lawrence Friedland
Mr. and Mrs. Thomas Ketchum
Mr. and Mrs. Corbin R. Miller
Rebecca and James Neary
David Sela
Mary Gene Sondericker
Sabina and Harlan Stone
Paul and Susan Tierney
Kevin and Jennifer Woodruff
1 Anonymous Donor
Committee as of September 12, 2023
Daniel Catán's Florencia en el Amazonas

Gala Premiere
Thursday, November 16, 2023
Join us for cocktails and a gala dinner before the Met premiere of Mexican composer Daniel Catan's 1996 opera—the enthralling story of a Brazilian opera diva who returns to her homeland to perform at the legendary opera house of Manaus and to search for her lost lover, who has vanished into the jungle. Soprano Ailyn Perez is Florencia Grimaldi, with Yannick Nezet-Seguin on the podium to lead a spellbinding new production by Mary Zimmerman that brings the mysterious and magical realm of the Amazon to the Met stage.
GALA CHAIRMEN
Catalina and Cesar Cadena
Production a gift of The Sybil B. Harrington Endowment Fund
Additional support from Ellen A. Michelson and Michael W. Michelson, in honor of Laura Michelson Sievers
Florencia en el Amazonas is part of the Neubauer Family Foundation New Works Initiative
BUY GALA TICKETS
6PM

Cocktail Reception

6:30PM

Gala Dinner

8PM

Performance

Intermission

Champagne and Dessert

BLACK TIE
Carmen
Bizet's Carmen

New Year's Eve Gala
Sunday, December 31, 2023
New Year's Eve at the Met ushers in a vital new production of one of opera's most enduringly popular and powerful works. Acclaimed English director Carrie Cracknell makes her Met debut, reinvigorating the classic story of deadly passion with a modern-day staging. After the performance, join Maestro Daniele Rustioni and the opera's stars for dinner, dancing, and fireworks on the Mercedes T. Bass Grand Tier.
GALA CHAIRMAN
Adrienne Arsht
The Met gratefully acknowledges the support of Adrienne Arsht, the Berry Charitable Foundation, and Elizabeth M. and Jean-Marie R. Eveillard
Verdi's La Forza del Destino

Gala Premiere
Monday, February 26, 2024
Yannick Nezet-Seguin conducts Verdi's grand tale of ill-fated love and deadly vendettas, with stellar soprano Lise Davidsen making her role debut as the noble Leonora, opposite tenor Brian Jagde as her forbidden beloved Don Alvaro. Director Mariusz Treliński delivers the company's first new Forza in nearly 30 years, a milestone worth celebrating in this gala evening, including cocktails and dinner before the performance and Champagne and dessert at intermission.
A co-production of the Metropolitan Opera and Teatr Wielki–Polish National Opera
The Met gratefully acknowledges the support of the Gramma Fisher Foundation, Marshalltown, Iowa, Lynne and Richard Pasculano, and the Rosalie J. Coe Weir Endowment Fund
Additional support from the Walter and Leonore Annenberg Endowment Fund and Marina Kellen French
Major support provided by Rolex
BUY GALA TICKETS
5PM

Cocktail Reception

5:30PM

Gala Dinner

7PM

Performance

Intermission

Champagne and Dessert

BLACK TIE
John Adams's El Niño

Gala Premiere
Tuesday, April 23, 2024
The Met celebrates the return of eminent American composer John Adams with a gala event featuring a cocktail reception and dinner before curtain followed by dessert and Champagne at intermission. Adams's acclaimed opera-oratorio has its long-awaited company premiere in a moving, fully staged new production that marks the Met debut of Lileana Blain-Cruz and brings together four fierce champions of new opera: Marin Alsop, one of the great conductors of our time; soprano Julia Bullock, a leading voice on and off stage; radiant mezzo-soprano J'Nai Bridges; and pathbreaking bass-baritone Davone Tines.
Production a gift of C. Graham Berwind, III
El Niño is part of the Neubauer Family Foundation New Works Initiative
BUY GALA TICKETS
6PM

Cocktail Reception

6:30PM

Gala Dinner

8PM

Performance

Intermission

Champagne and Dessert

BLACK TIE