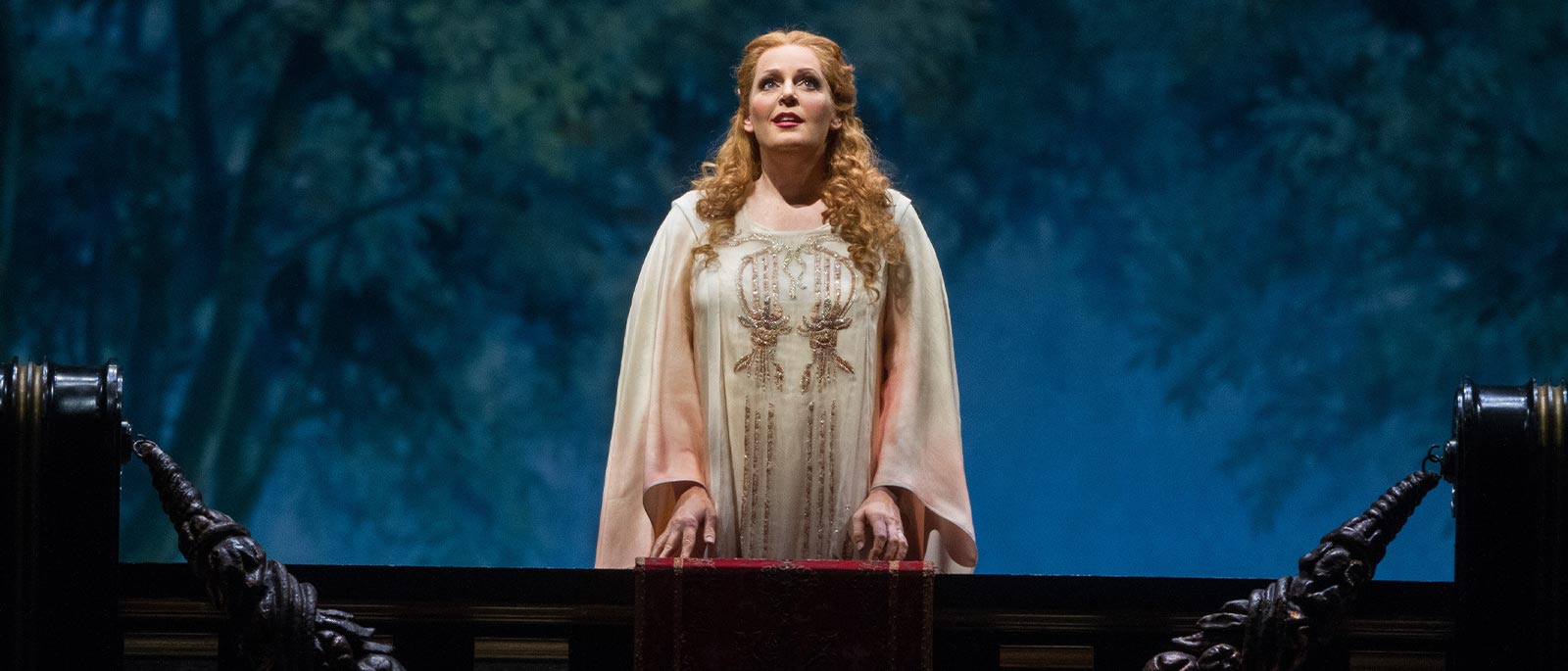 Becoming Francesca
Soprano Eva-Maria Westbroek, who sang the title heroine of Zandonai's Francesca da Rimini at the Met in 2013, explains why the role is "one highlight after another." By Philipp Brieler
Francesca da Rimini features one of the most beautiful scores in the late Romantic repertoire. What attracts you to it?
As a young singer I came across a wonderful book that has had a great influence in my life. It was The Last Prima Donnas by Lanfranco Rasponi, and it featured interviews with a great variety of singers from the early 20th century. These ladies were all so inspiring, completely devoted to the roles they sang, often being in close contact with the composers. This book soon became my bible. My favorite section was the group of singers who were famous for verismo: Augusta Oltrabella, Iris Adami Corradetti, and Maria Carbone. One of the scores they talked about was Francesca da Rimini, and I became very intrigued. Later, when I was starting my career, I met someone at a competition who had studied with Corradetti. I was over the moon to hear she was still alive and teaching! I went to see her and it was like entering another world. This lady had known Giordano and Toscanini! Sung with Strauss playing for her at the piano! We talked and talked and she always said how much she loved Francesca. This is how a fire started inside me to sing this music.

Why do you think it's not performed more often?
This is a mystery to me! The music is divine and the story is beautiful. What I do think is that there seems to be a fear of big emotions, of which the verismo scores are full, so they're sometimes branded as perhaps too sentimental. But our lives are full of emotions!

How would you describe the style of Francesca?
The score is extremely rich—it's not like anything else I know. I would say that it sometimes seems impressionistic in the orchestration, with beautiful melodies and unexpected harmonies.

You first sang Francesca in Monte Carlo last year. What do you enjoy most about playing this character?
I love everything about this role, but mostly I love her passion and tremendous love. The moment leading up to the kiss in the third act is just unbelievable. But I can't single out any one thing. The role is one highlight after another for me. I get excited even thinking about it. And I have to add that I'm extremely excited about the production by Piero Faggioni at the Met, which is just phenomenal.

You perform a wide repertoire, from Wagner and Puccini to Poulenc to Mark-Anthony Turnage's Anna Nicole. Does switching styles come easily to you?
It actually doesn't come very easily to me, but I absolutely love it. There is so much amazing music out there—I want to do it all!