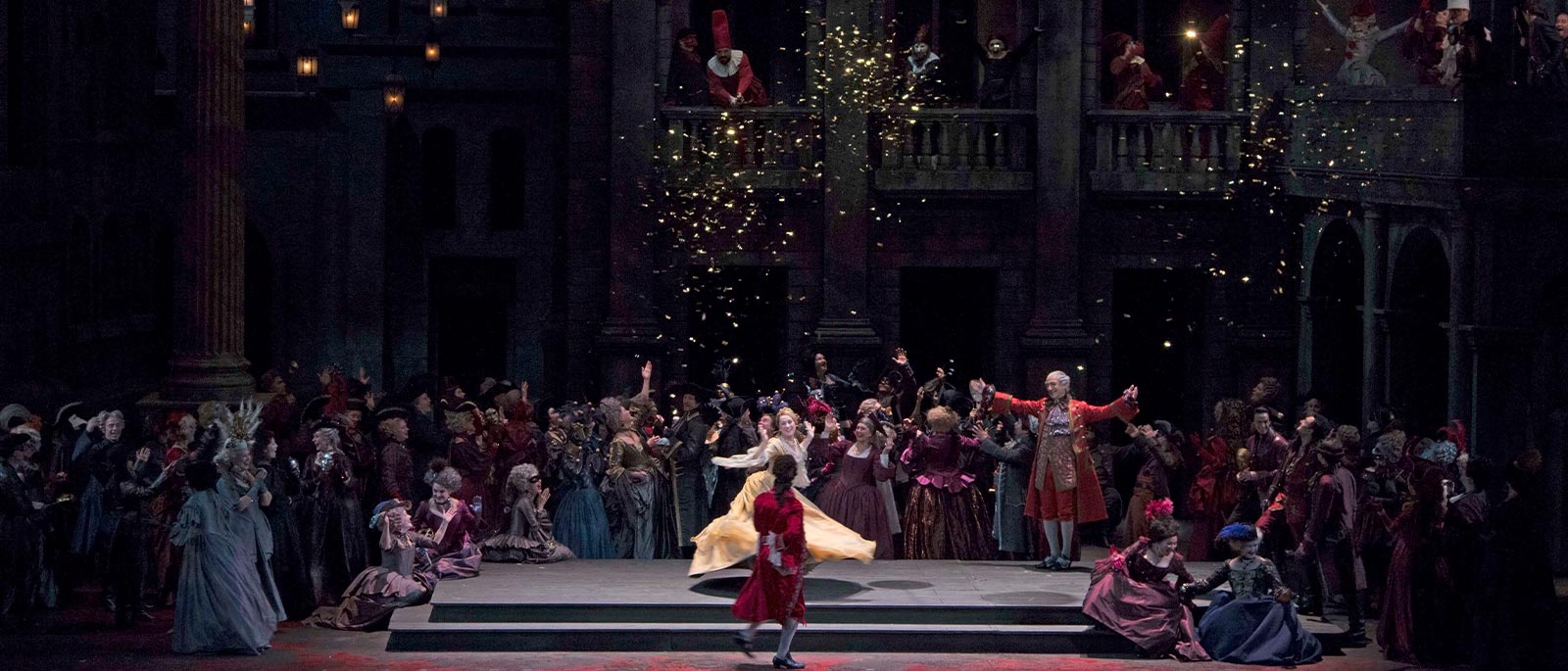 Charles Gounod
Roméo et Juliette
Overview
Two singers at the height of their powers—radiant soprano Nadine Sierra and tenor sensation Benjamin Bernheim—come together as the star-crossed lovers in Gounod's sumptuous Shakespeare adaptation, with Met Music Director Yannick Nézet-Séguin on the podium to conduct one of the repertoire's most romantic scores. Bartlett Sher's towering staging also features baritone Will Liverman and tenor Frederick Ballentine as the archrivals Mercutio and Tybalt, mezzo-soprano Samantha Hankey as the mischievous pageboy Stéphano, and bass-baritone Alfred Walker as Frère Laurent.
Please note that video cameras will be in operation during the March 19 and March 23 performances as part of the Met's Live in HD series of cinema transmissions.
A La Scala Production, initially presented by the Salzburg Festival
Production a gift of The Sybil B. Harrington Endowment Fund
Revival a gift of Rolex and Mastercard
Languages
Languages sung in
Roméo et Juliette
Titles
Title languages displayed for
Roméo et Juliette
Met Titles In
Timeline
Timeline for the show,
Roméo et Juliette
Estimated Run Time
3 hrs 10 mins
House Opens

Acts I, II, and III

80 mins

Intermission

35 mins

Acts III continued, IV, and V

75 mins

Opera Ends
Cast
Select a date from the dropdown to filter cast by date of performance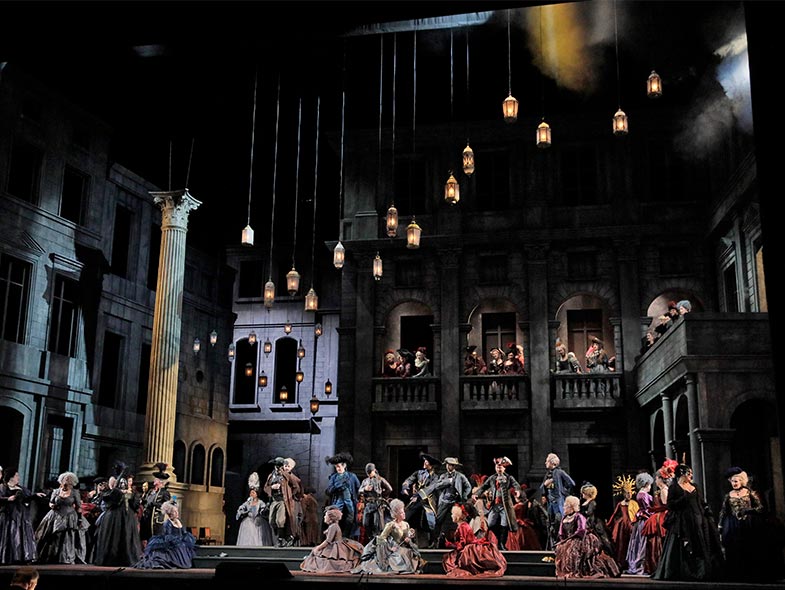 World premiere: Théâtre Lyrique, Paris, 1867. Perhaps the most enduringly successful of the many operatic settings of the world's consummate love story, Roméo et Juliette is an excellent example of French Romanticism, a tradition that values subtlety, sensuality, and graceful vocal delivery over showy effects. In the opera there is a slight shift of focus away from the word games of the original play and a greater focus on the two lovers, who are given four irresistible duets, including a brief final reunion in the tomb scene that does not appear in the play.
Creators
Charles Gounod (1818–93) showed early promise as a musician and achieved commercial success with his opera Faust in 1859. Among his most famous works is a setting of the Ave Maria based on a piece by J. S. Bach. Jules Barbier (1825–1901) and Michel Carré (1821–72) were the leading librettists of their time in France, providing the text for many other operas, including Faust for Gounod, Mignon (also from Goethe) and Hamlet for Ambroise Thomas, and Les Contes d'Hoffmann for Jacques Offenbach.
SET DESIGNER
Michael Yeargan
COSTUME DESIGNER
Catherine Zuber
LIGHTING DESIGNERS
Jennifer Tipton
CHOREOGRAPHER
Chase Brock
FIGHT DIRECTOR
B. H. Barry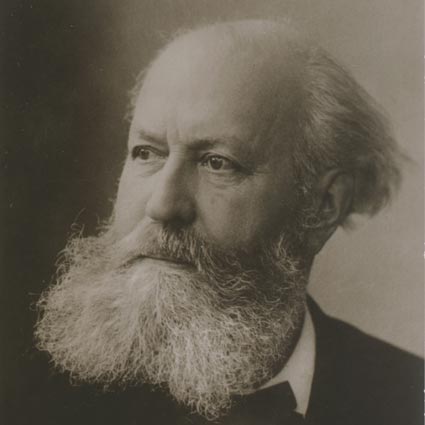 Setting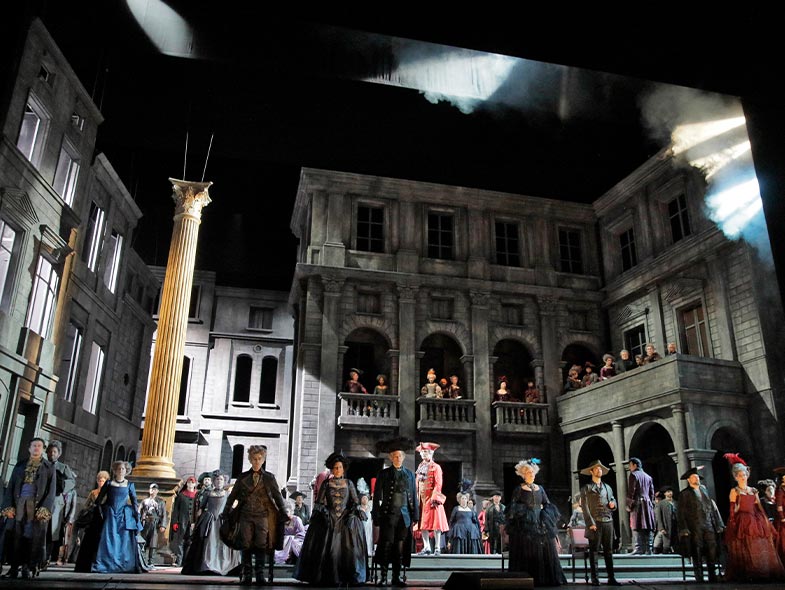 In Shakespeare's lifetime, Italy was a land of many small city-states in constant warfare with one another, but this same country was also the cradle of the Renaissance, with its astounding explosion of art and science. The image invoked by the story's setting in the ancient city of Verona, then, is a beautiful but dangerous world where poetry or violence might erupt at any moment. The Met's production moves the action to the 18th century.
Music
Gounod infuses this classic drama with an elegant musical aura that reflects the soaring poetry of the original. When the composer explores the darker and more violent side of the story, his music creates drama without resorting to bombast. A reserved melancholy creates all the necessary tension. For the story's more lighthearted moments, Gounod supplied the sort of buoyant melodies that made his Faust a huge hit with audiences. Midway through Act I, the heroine takes the stage with the giddy coloratura gem "Je veux vivre dans ce rêve." Moments such as these add musical and dramatic texture to the tragedy, admired for its contrast of light and dark.