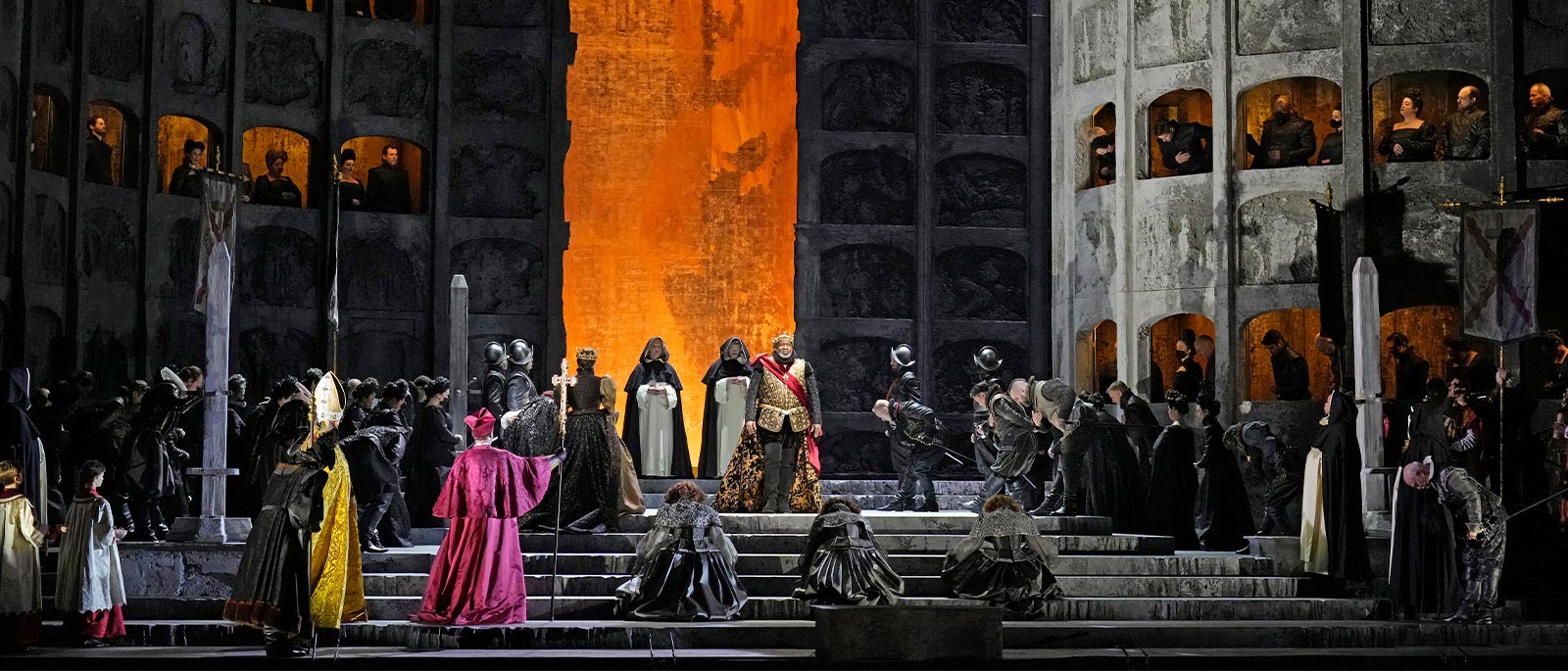 The Met Member Priority Period for Guild members at the Supporting level ($150) and above begins on June 23. The general public single ticket on sale will begin on June 27.
Patrons and Subscribers are eligible to purchase single tickets now. Please login to continue.
Overview
David McVicar's monumental production—created for the Met premiere of the original French version of Verdi's gripping drama in the 2021–22 season—returns, now sung in Italian and starring an unbeatable cast of dramatic voices. Russell Thomas, one of today's fastest-rising tenors, takes on the title role, a Spanish nobleman caught between private passion and public duty, sharing the stage with sopranos Eleonora Buratto and Angela Meade as Elisabeth de Valois, mezzo-soprano Anita Rachvelishvili as Princess Eboli, baritone Peter Mattei as Rodrigo, bass-baritone John Relyea as the Grand Inquisitor, and bass Günther Groissböck as King Philip II. Carlo Rizzi conducts one of the repertory's most epic works.
Production a gift of Elizabeth M. and Jean-Marie R. Eveillard, †Edwin C. Holmer III, and The Sybil B. Harrington Endowment Fund
Major funding from Rolex
Additional funding from the Hermione Foundation, Laura Sloate, Trustee
Cast
Select a date from the dropdown to filter cast by date of performance
Creators
SCENIC DESIGNER
Charles Edwards
COSTUME DESIGNER
Brigitte Reiffenstuel
LIGHTING DESIGNER
Adam Silverman
MOVEMENT DIRECTOR
Leah Hausman