TERENCE BLANCHARD / LIBRETTO BY Michael Cristofer
Champion
This production ran: Apr 10 - May 13
This Production is in the past
Overview
When Terence Blanchard's Fire Shut Up in My Bones opened the Met's 2021–22 season to universal acclaim, it marked a historic moment in the annals of the company. Now, the six-time Grammy Award–winning composer's operatic retelling of the dramatic story of boxer Emile Griffith arrives in New York. Bass-baritone Ryan Speedo Green stars as the closeted young hatmaker-turned-prizefighter, who rises from obscurity to become world champion and, in one of the great tragedies in sports history, kills his homophobic archrival in the ring. Yannick Nézet-Séguin leads a stellar cast that also features bass-baritone Eric Owens as Griffith's older self, haunted by the ghosts of his past. Soprano Latonia Moore is Emelda Griffith, the boxer's estranged mother, alongside mezzo-soprano Stephanie Blythe as bar owner Kathy Hagen. Director James Robinson—whose productions of Fire and Porgy and Bess brought down the house—oversees the staging, and Camille A. Brown, whose choreography electrified audiences in Fire and Porgy, also returns.
This production uses strobe-light effects.
For information on talks and events related to Champion, please visit the Upcoming Talks and Events web page
Content Advisory: Champion contains adult themes, sexually explicit language, and physical violence.
An opera by Terence Blanchard
Libretto by Michael Cristofer
Commissioned by the Metropolitan Opera. Originally commissioned by Opera Theatre of Saint Louis, co-commissioned by Jazz St. Louis.
A co-production of the Metropolitan Opera and Lyric Opera of Chicago
Production a gift of C. Graham Berwind, III and Lynne and Richard Pasculano
Additional funding from the Edgar Foster Daniels Foundation, The Ford Foundation, The Francis Goelet Trusts, The National Endowment for the Arts, and Ann Ziff
Languages
Languages sung in
Champion
Titles
Title languages displayed for
Champion
Met Titles In
Timeline
Timeline for the show,
Champion
Estimated Run Time
2 hrs 50 mins
House Opens

Act I

70 mins

Intermission

30 mins

Act II

70 mins

Opera Ends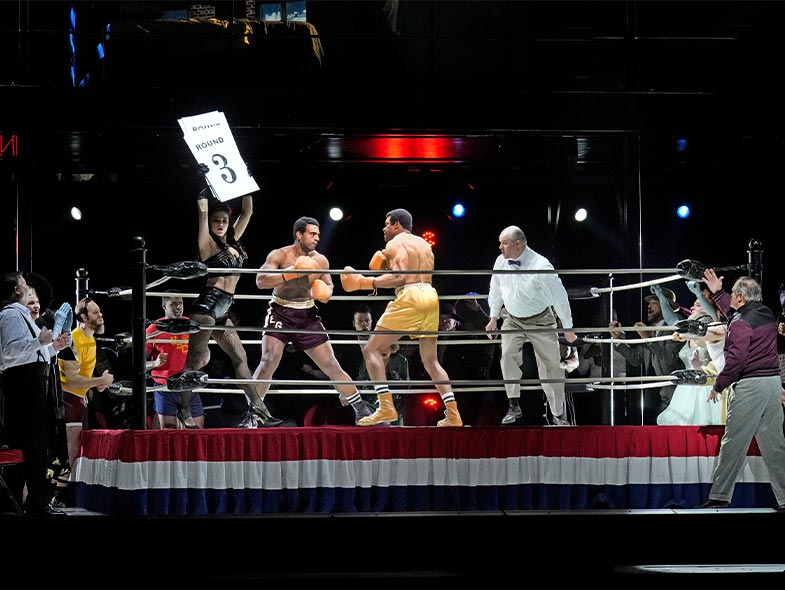 World premiere: Opera Theatre of Saint Louis, 2013
Champion was the first opera composed by Terence Blanchard—following numerous high-profile film scores and many years as a leading jazz artist—and depicts the conflicts and crises in the life of boxer Emile Griffith. When Blanchard was initially approached to write an opera, this subject emerged as the story that he felt most inspired to set to music. He saw the truly operatic dimensions in the confluence of love, violence, death, and forgiveness, and in bringing them to the stage, he wove together both contemporary and classical musical idioms to create a wholly new sound world, one that he characterizes as "opera in jazz."
Creators
Seven-time Grammy Award–winner Terence Blanchard (b. 1962) is a celebrated composer whose many works express his roots in jazz but defy further categorization. His opera Fire Shut Up in My Bones opened the Met's 2021–22 season and was the first opera by a Black composer to be performed by the company. Pulitzer Prize­–winning playwright, filmmaker, and actor Michael Cristofer (b. 1945) provided the opera's libretto.
Production
James Robinson
Costume Designer
Montana Levi Blanco
Lighting Designer
Donald Holder
Projection Designer
Greg Emetaz
Choreographer
Camille A. Brown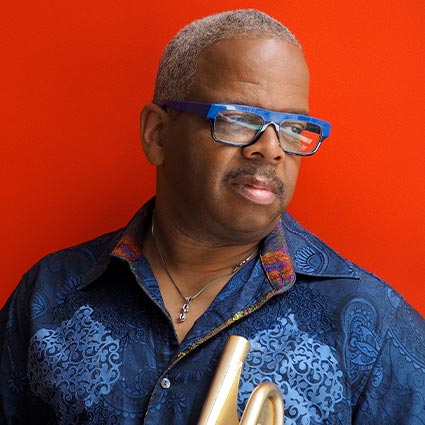 Composer
Terence Blanchard
Librettist
Michael Cristofer
Setting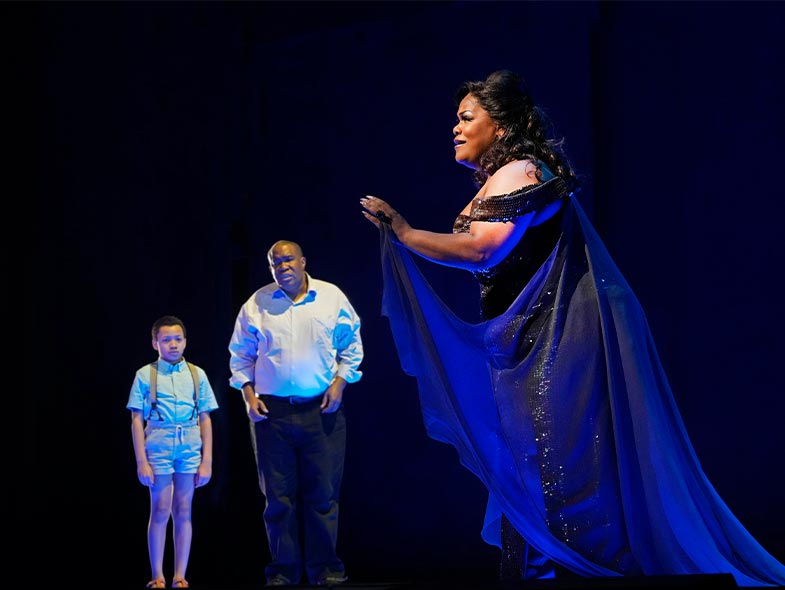 The opera opens in a nursing home in Hempstead, Long Island, in the early 21st century but unfolds largely through extended regressions to important times and places in Griffith's life: St. Thomas in 1957, New York City from the 1950s to the 1990s, and flashbacks to moments in his international boxing career—from Las Vegas to Paris to Buenos Aires and beyond—in the 1960s.
Articles
Music
All of Blanchard's musical background, from his gospel-infused youth to his experience as a jazz soloist to his mastery as a film composer, comes through in the score of Champion. He employs a compositional approach rooted in—but not limited to—the many different possibilities of jazz itself, from dream-like internal states to rhythm-driven dissonances of the external modern world. Orchestral richness is also evident throughout the score, as are bravura vocal solos, most notable in the Puccinian sweep of young Emile's stirring Act I aria, "What makes a man a man?".