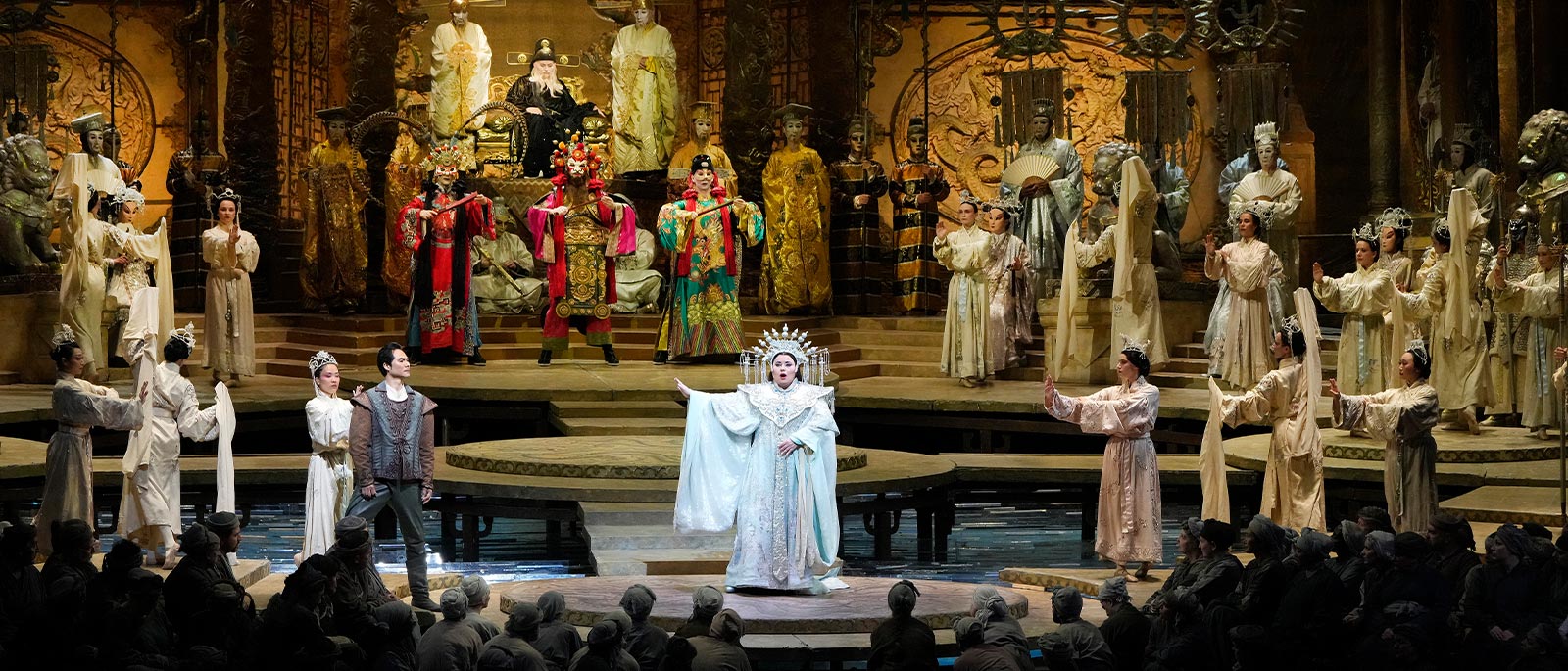 This production ran: Oct 7 - May 14
This production is in the past.
Overview
Thrilling sopranos Christine Goerke and Liudmyla Monastyrska share the title role of the legendary cold-hearted princess. Tenors Yusif Eyvazov and Yonghoon Lee trade off as the bold prince determined to win Turandot's love, alongside sopranos Gabriella Reyes, Michelle Bradley, and Ermonela Jaho as the devoted servant Liù and bass-baritone James Morris and basses Alexander Tsymbalyuk and Ferruccio Furlanetto as the blind king Timur. Marco Armiliato conducts Puccini's stirring score.
All audience members must be fully vaccinated against Covid-19 and wear face masks at all times inside the Met, except when eating or drinking in designated areas. For more information on health and safety policies, visit our commitment page.
Production a gift of Mrs. Donald D. Harrington
Revival a gift of Viking
Read the program note for Turandot, which includes a discussion of the opera's cultural insensitivities.
Languages
Languages sung in
Turandot
Titles
Title languages displayed for
Turandot
Met Titles In
English
German
Spanish
Italian
Timeline
Timeline for the show,
Turandot
Estimated Run Time
3 hrs 15 mins
House Opens

Act I

35 mins

Intermission

40 mins

Act II

45 mins

Intermission

30 mins

Act III

45 mins

Opera Ends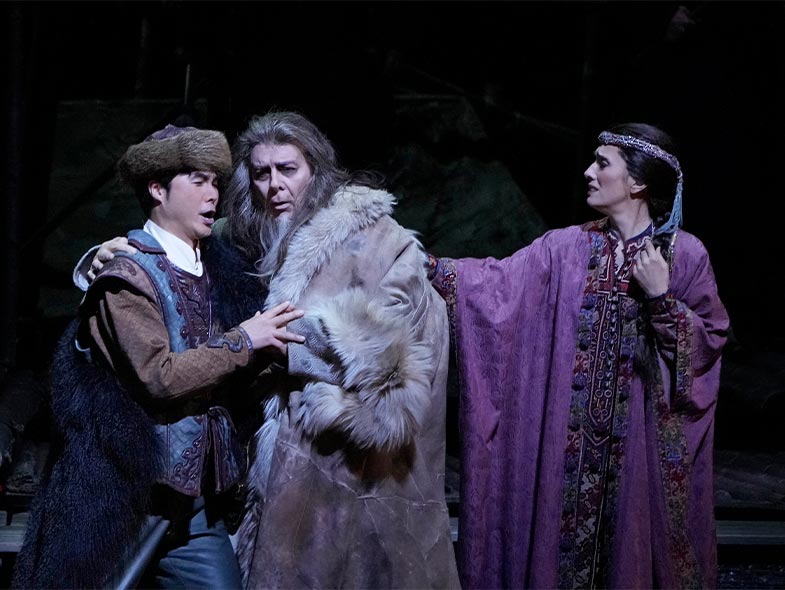 World premiere: Teatro alla Scala, Milan, 1926. Puccini's final opera is an epic fairy tale set in a China of legend, loosely based on a play by 18th-century Italian dramatist Carlo Gozzi. Featuring a most unusual score with an astounding and innovative use of chorus and orchestra, it is still recognizably Puccini, bursting with instantly appealing melody. The unenviable task of completing the opera's final scene upon Puccini's sudden death was left to the composer Franco Alfano. Conductor Arturo Toscanini oversaw Alfano's contribution and led the world premiere.
Creators
Giacomo Puccini (1858–1924) was immensely popular in his own lifetime, and his mature works remain staples in the repertory of most of the world's opera companies. Franco Alfano (1875–1954) wrote nine operas, of which Cyrano de Bergerac (1936) is still occasionally performed today. The librettists for Turandot were the playwright Giuseppe Adami (1878–1946), who had previously worked with Puccini on Il Tabarro and La Rondine, and the journalist Renato Simoni (1875–1952).
PRODUCTION
Franco Zeffirelli
Set Designer
Franco Zeffirelli
COSTUME DESIGNERS
Anna Anni and Dada Saligeri
LIGHTING DESIGNER
Gil Wechsler
CHOREOGRAPHER
Chiang Ching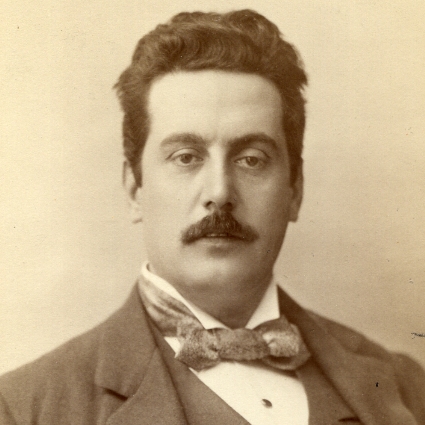 Setting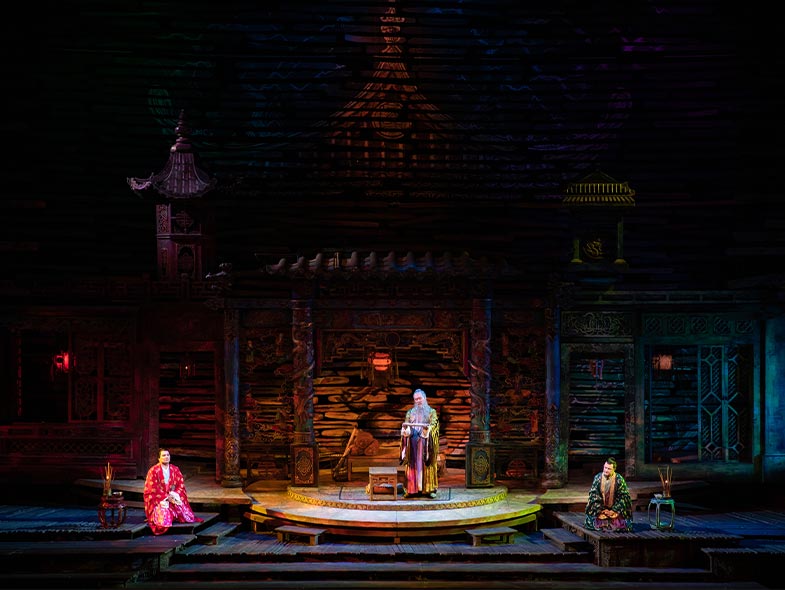 In Gozzi's play, the original commedia dell'arte characters wandered from Italy to China and were members of the Imperial court. Their comments satirized Venetian politics and mores of the times. Puccini and his librettists dispensed with any such relevance. The China of this opera, set in "legendary times," is a mythic realm viewed from the exoticizing perspective of 20th-century Europeans.
Music
The large Turandot orchestra calls for a wide variety of instruments, including alto saxophones, celesta, bass xylophone, harps, and an organ. There are several genuine Chinese themes that are integrated into the score in a suave and brilliantly original manner, including the big imperial anthem in Act II. The opera also contains moments of sheer melodic beauty in Puccini's most lyrical vein, most notably in the tenor's unforgettable song of triumph, "Nessun dorma," which opens Act III.