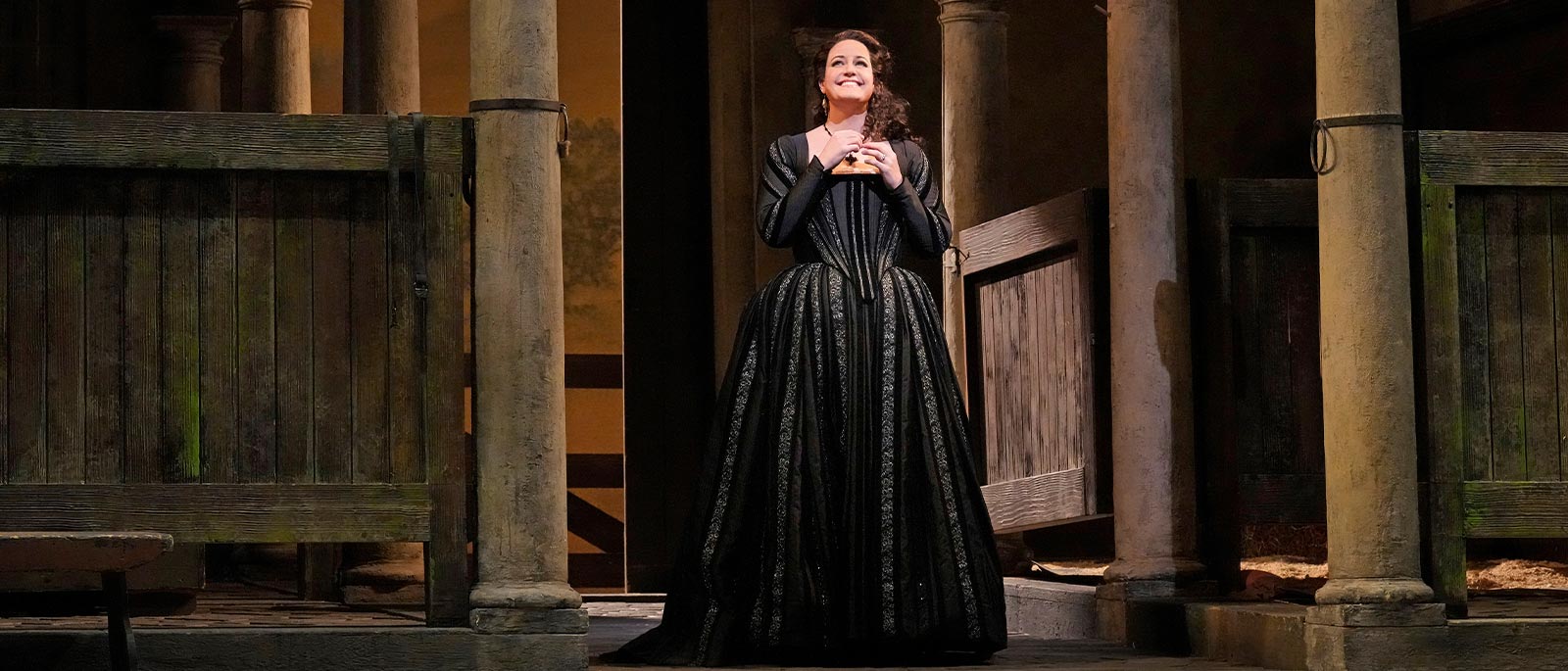 George Frideric Handel
Rodelinda
This production ran: Mar 11 - Mar 27
This Production is in the past
Overview
A model of virtuosity and versatility, soprano Elza van den Heever further expands her Met repertoire, adding the noble heroine of Handel's grand Baroque drama Rodelinda. Harry Bicket, a champion of the composer's operas, takes the podium to conduct the Met's moving production, which also stars mezzo-soprano Sasha Cooke, countertenors Iestyn Davies and Anthony Roth Costanzo, tenor Paul Appleby, and bass-baritone Adam Plachetka.
Due to scheduling challenges caused by the pandemic, the performance of Rodelinda planned for March 31, 2022, has been canceled. The value of any tickets purchased to this performance will be credited to your Met Opera account. For more information, please call Met Customer Care at 212.362.6000.
All audience members must be fully vaccinated against Covid-19 and wear face masks at all times inside the Met, except when eating or drinking in designated areas. For more information on health and safety policies, visit our commitment page.
Production a gift of John Van Meter
Additional funding from Mercedes and Sid Bass, and the Hermione Foundation
Revival a gift of C. Graham Berwind, III
Languages
Languages sung in
Rodelinda
Titles
Title languages displayed for
Rodelinda
Met Titles In
English
German
Spanish
Italian
Timeline
Timeline for the show,
Rodelinda
Estimated Run Time
4 hrs
House Opens

Act I

60 mins

Intermission

35 mins

Act II

60 mins

Intermission

30 mins

Act III

55 mins

Opera Ends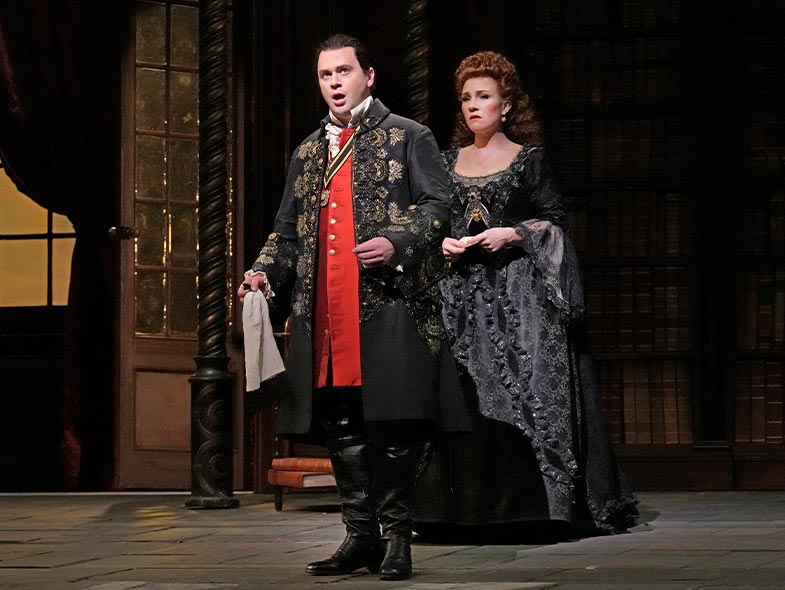 World premiere: King's Theatre, London, 1725
One of Handel's most successful operas in its day and one of his most highly regarded in recent times, Rodelinda is an involving, taut, and remarkably modern drama. Much of its power lies in the appeal of its protagonist, a realistic portrait of a woman rather than an allegorical type, and every character is driven by dramatically credible motivations and the human emotions that accompany them, all masterfully captured in Handel's music, by turns subtle and bold.
Creators
George Frideric Handel (1685–1759) was born in Germany, trained extensively in the music capitals of Italy, and spent most of his brilliant career in London. While his great choral and orchestral works—most notably Messiah and the Music for the Royal Fireworks—have remained extraordinarily popular for, his operatic creations only found renewed appreciation in the mid-20th century. Nicola Francesco Haym (1678–1729) was a librettist as well as a theater manager, cellist, and composer in his own right, He wrote the libretti for several of Handel's greatest operas, including Tamerlano and Giulio Cesare.
PRODUCTION
Stephen Wadsworth
Set Designer
Thomas Lynch
COSTUME DESIGNER
Martin Pakledinaz
LIGHTING DESIGNER
Peter Kaczorowski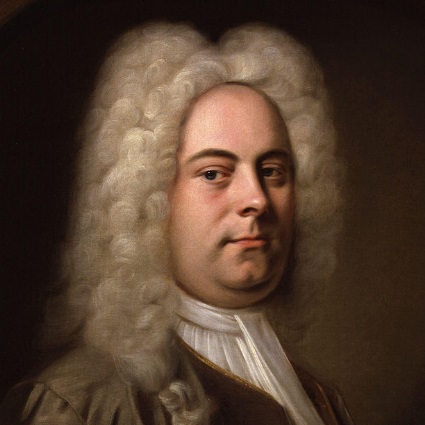 Composer
George Frideric Handel
Setting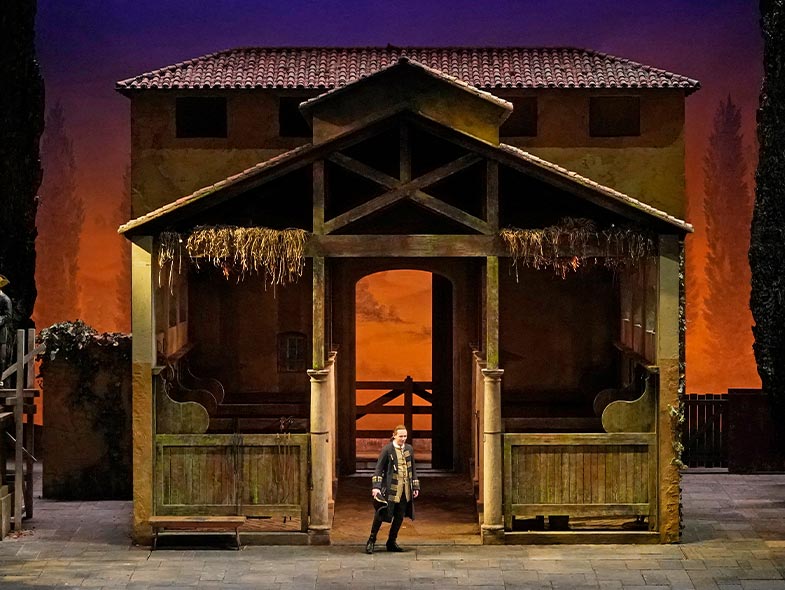 The story takes place in and around Milan, the capital of the northern Italian kingdom of Lombardy. Stephen Wadsworth's Met production moves the action from its original early-medieval setting in the seventh century to Handel's own time.
Music
The orchestra for Rodelinda, as for Baroque opera in general, is quite small by today's standards—a total of 40 instrumentalists, including recorders, theorbo (a specific kind of bass lute), and harpsichord. Handel creates remarkable effects with this ensemble, both independently and as accompaniment for the singers. According to the dramatic conventions of 18th-century opera seria, action and plot development are found in the harpsichord-accompanied recitatives, while virtuosic solo arias are the primary mode of emotional expression.