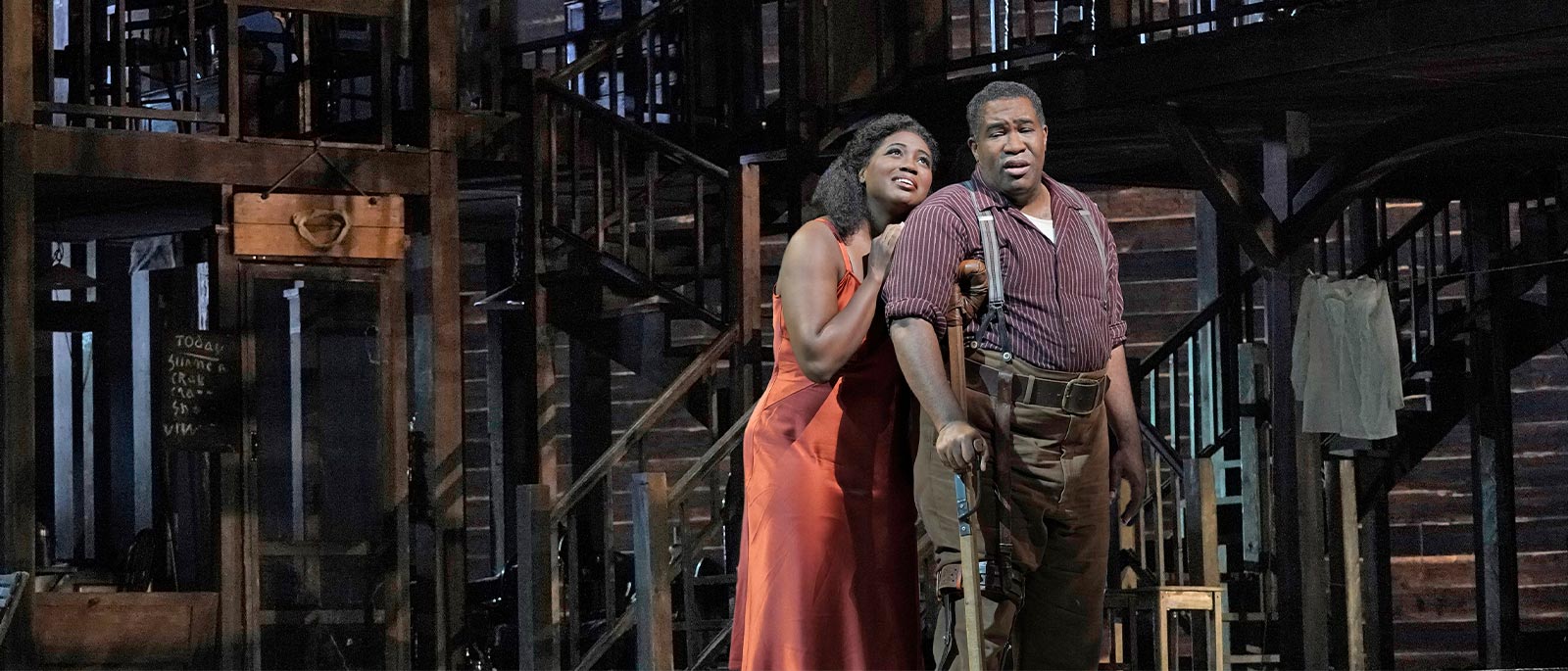 The Gershwins'
Porgy and Bess
Patrons, 2020–21 Subscribers, Members ($150 Supporting level and above), and audience members with money on account or who donated their canceled performance tickets are eligible to purchase single tickets now. Please login to continue.
Single tickets go on sale to the general public August 9 at 12PM ET.
Overview
By George Gershwin, DuBose and Dorothy Heyward, and Ira Gershwin
Smashing box office records when it premiered during the 2019–20 season, the Met's landmark staging of this American classic returns, with many of its original cast members reprising their celebrated portrayals. Bass-baritone Eric Owens and soprano Angel Blue reunite as the title couple, leading a superb ensemble that also includes soprano Janai Brugger as Clara, soprano Latonia Moore as Serena, mezzo-soprano Denyce Graves as Maria, tenor Frederick Ballentine as Sportin' Life, bass-baritone Alfred Walker as Crown, and bass-baritone Ryan Speedo Green as Jake. David Robertson once again takes to podium to conduct.
The worldwide copyrights in the works of George Gershwin and Ira Gershwin for this presentation are licensed by the Gershwin family.
GERSHWIN is a registered trademark of Gershwin Enterprises. Porgy and Bess is a registered trademark of Porgy and Bess Enterprises.
A co-production of the Metropolitan Opera; Dutch National Opera, Amsterdam; and English National Opera
Revival a gift of NPD Group, Inc.
Languages
Languages sung in
Porgy and Bess
Titles
Title languages displayed for
Porgy and Bess
Met Titles In
Timeline
Timeline for the show,
Porgy and Bess
Estimated Run Time
3 hrs 30 mins
House Opens

Act I

100 mins

Intermission

35 mins

Act II

75 mins

Opera Ends
Cast
Select a date from the dropdown to filter cast by date of performance
Creators
PRODUCTION
James Robinson
Set Designer
Michael Yeargan
COSTUME DESIGNER
Catherine Zuber
LIGHTING DESIGNER
Donald Holder
PROJECTION DESIGNER
Luke Halls
CHOREOGRAPHER
Camille A. Brown
FIGHT DIRECTOR
David Leong
Written by George Gershwin, DuBose and Dorothy Heyward, and Ira Gershwin