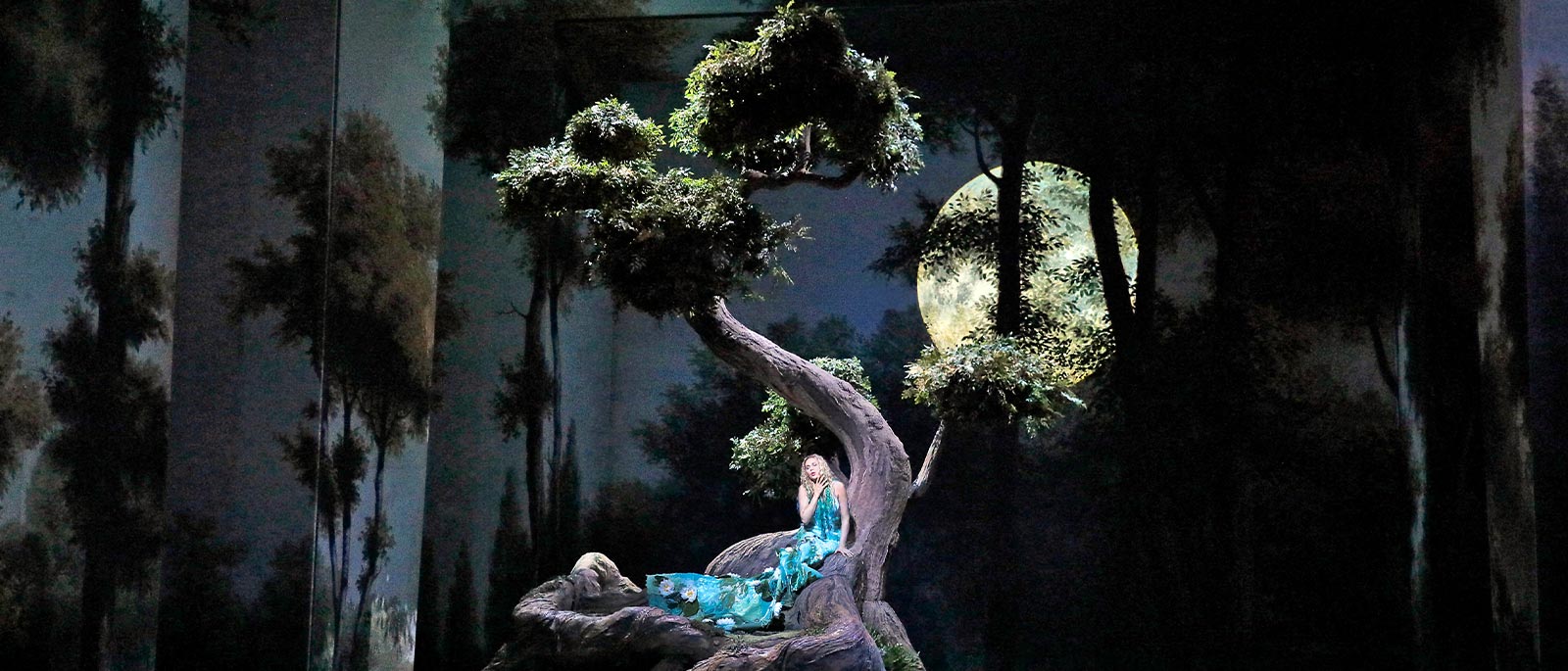 All exchange fees will be waived for tickets purchased in the 2020–21 season.
Overview
All performances of Rusalka originally announced remain on the schedule, but some curtain times have changed. Please see individual dates below for updated curtain times.
Star soprano Sonya Yoncheva adds a new role to her repertoire: the water sprite Rusalka, who yearns to become human in order to find love—singing the sublime Song to the Moon in the process. In Mary Zimmerman's evocative staging of Dvořák's tragic take on the Little Mermaid fable, the soprano shares the stage with tenor Piotr Beczała as her smitten prince and bass-baritone Eric Owens, fresh off last season's historic run as Porgy in Porgy and Bess, as her father, Vodník. Czech conductor Jakub Hrůša makes his Met debut.
Production a gift of Betsy and Ed Cohen / Areté Foundation
Additional funding from Mr. William R. Miller, in memory of Irene D. Miller; and the National Endowment for the Arts
Revival a gift of Rolex
Languages
Languages sung in
Rusalka
Titles
Title languages displayed for
Rusalka
Met Titles In
English
German
Spanish
Italian
Timeline
Timeline for the show,
Rusalka
Estimated Run Time
3 hrs 41 mins
House Opens

Act I

59 mins

Intermission

31 mins

Act II

46 mins

Intermission

34 mins

Act III

51 mins

Opera Ends
Cast
Select a date from the dropdown to filter cast by date of performance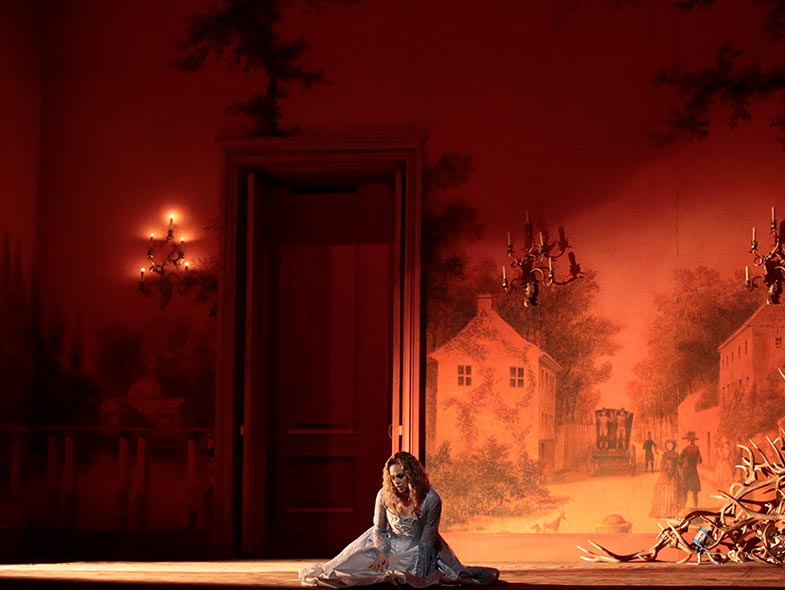 World premiere: National Theater, Prague, 1901. The only one of Dvořák's operas to gain an international following (so far), Rusalka is in many ways a definitive example of late Romanticism—containing folklore, evocations of the natural and the supernatural worlds, and even a poignant interpretation of the idea of a love-death. The story has a strong national flavor as well as universal appeal, infused by the Romantic supernaturalism of Friedrich de la Motte Fouqué's novella Undine (previously set as an opera by E.T.A. Hoffmann, Tchaikovsky, and others) and Hans Christian Andersen's The Little Mermaid.
Creators
Czech composer Antonín Dvořák (1841–1904) was celebrated internationally during his lifetime for his chamber, choral, and symphonic music, while his nine operas found little renown beyond his native Bohemia. He was especially popular in London and in New York, where he served for a while as director of the short-lived National Conservatory of Music. Jaroslav Kvapil (1868–1950) was a Czech author and poet who had written the libretto for Rusalka before Dvořák became interested in it.
PRODUCTION
Mary Zimmerman
SET DESIGNER
Daniel Ostling
COSTUME DESIGNER
Mara Blumenfeld
LIGHTING DESIGNER
T. J. Gerckens
CHOREOGRAPHER
Austin McCormick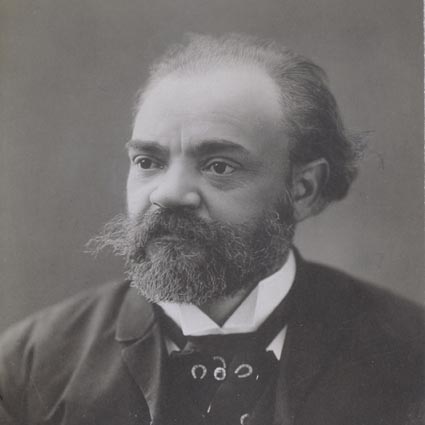 Setting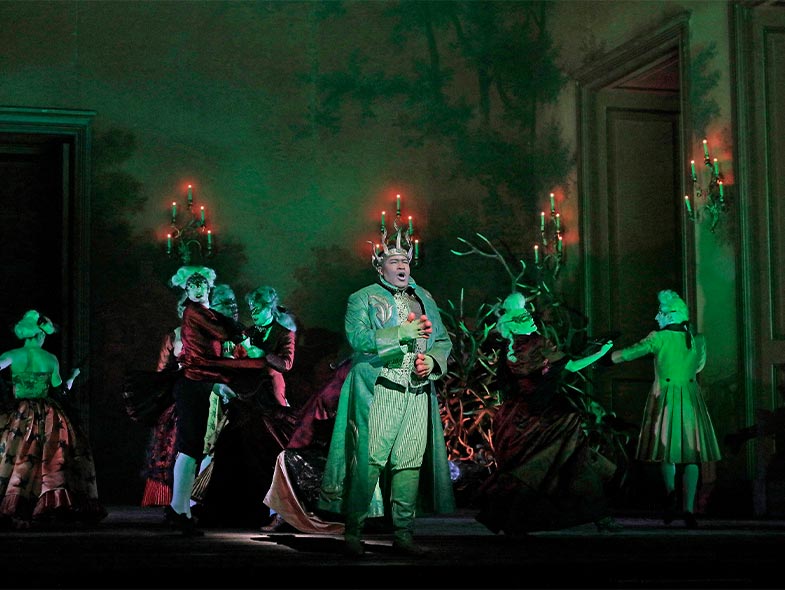 The opera takes place in an unspecified fairy-tale setting. Contrasting unspoiled and "honest" nature (the woods and lake of the framing acts) with corrupt human culture (the Prince's palace in Act II) was a favorite theme of Romantic artists.
Music
The orchestral score of Rusalka is magically evocative, particularly for the passages depicting the forest and the lake in Acts I and III. These scenes are effectively contrasted with the bright brass flourishes depicting the glittering court of the prince. The vocal writing is built around emotional outbursts riding waves of orchestral sound, notably in the final confrontation between the hero and heroine. The most popular moment comes in the form of the title character's ravishing Song to the Moon, famous from concerts and recitals long before the rest of the opera was known outside of the Czech world.