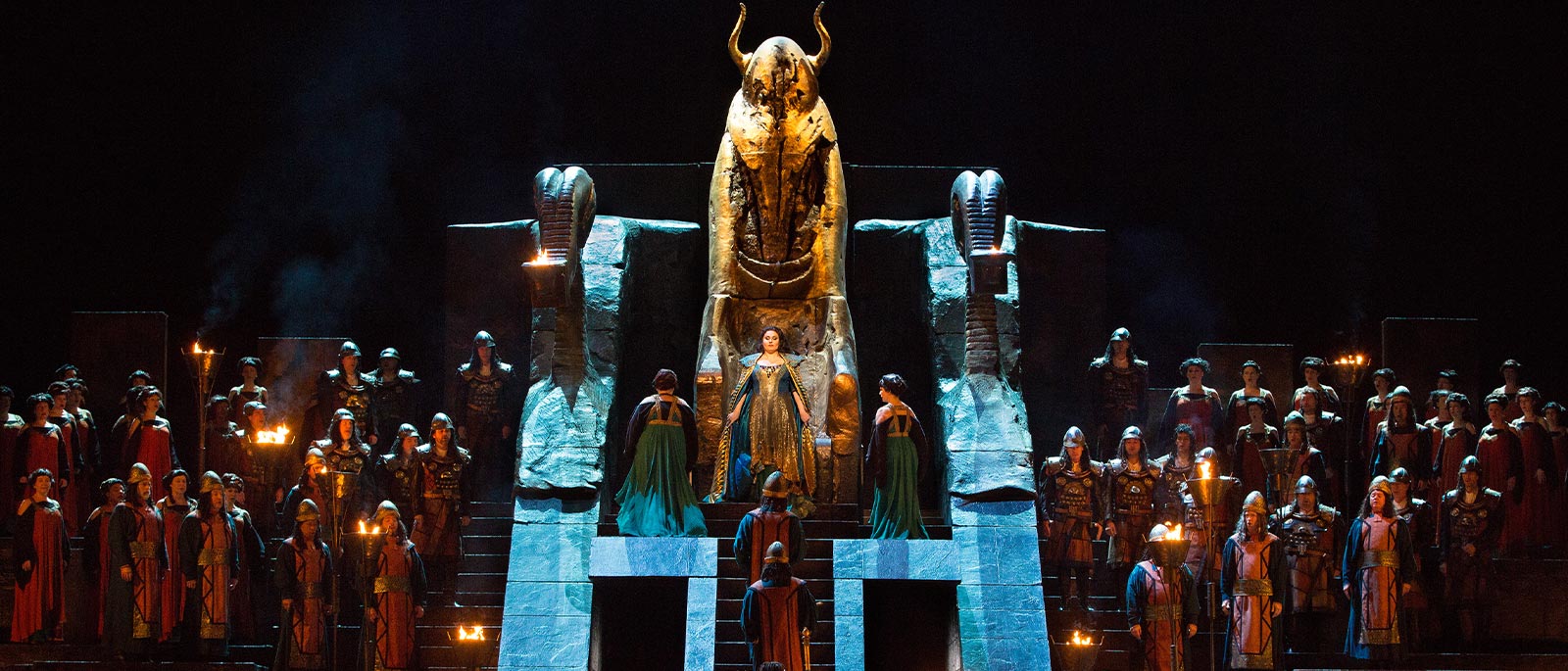 Single tickets go on sale to the general public on June 21 at noon.
Patrons and 2020–21 Subscribers are eligible to purchase single tickets now. Please login to access your benefits.
Member Priority week (for $150 Supporting level and above) begins on June 14 at noon.
Overview
Further cementing her place as one of history's most riveting dramatic sopranos, Anna Netrebko adds the bloodthirsty Babylonian princess Abigaille to her already impressive lineup of Met roles—trading off with Oksana Dyka. Baritone George Gagnidze is the tyrannical ruler Nabucco, alongside mezzo-soprano Varduhi Abrahamyan as Fenena, tenor Najmiddin Mavlyanov as Ismaele, and basses Morris Robinson and Dmitry Belosselskiy as Zaccaria. Marco Armiliato conducts.
Production a gift of Bill Rollnick and Nancy Ellison Rollnick
Major funding from Mr. and Mrs. Ezra K. Zilkha, Mercedes and Sid Bass, and Mr. and Mrs. Paul M. Montrone
Additional funding from the Gilbert S. Kahn and John J. Noffo Kahn, The Eleanor Naylor Dana Charitable Trust, and the National Endowment for the Arts
Revival a gift of C. Graham Berwind, III
Languages
Languages sung in
Nabucco
Titles
Title languages displayed for
Nabucco
Met Titles In
English
German
Spanish
Italian
Timeline
Timeline for the show,
Nabucco
Estimated Run Time
2 hrs 50 mins
House Opens

Acts I & II

77 mins

Intermission

36 mins

Acts III & IV

57 mins

Opera Ends
Cast
Select a date from the dropdown to filter cast by date of performance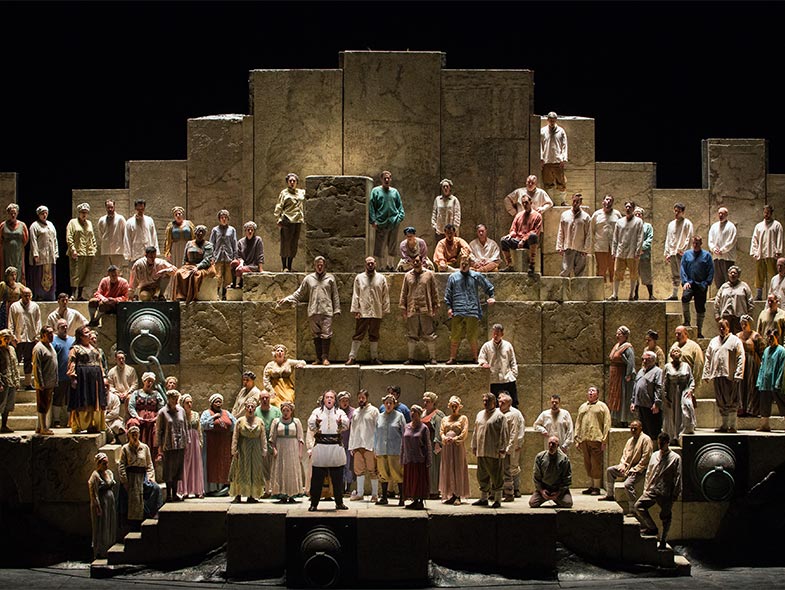 World premiere: Milan, Teatro alla Scala, 1842. The success of Verdi's third opera, a stirring drama about the fall of ancient Jerusalem at the hands of Nebuchadnezzar (Nabucco), catapulted the 28-year-old composer to international fame. The music and Verdi himself were subsumed into a surge of patriotic fervor culminating in the foundation of the modern nation of Italy. Specifically, the Chorus of the Hebrew Slaves ("Va, pensiero"), in which the Israelites express their longing for their homeland, came to stand for the country's aspirations for unity and that exciting era in Italian history, the Risorgimento, or "Resurgence."
Creators
In a remarkable career spanning six decades in the theater, Giuseppe Verdi (1813–1901) composed 28 operas, at least half of which are at the core of today's repertoire. His role in Italy's cultural and political development has made him an icon in his native country. Temistocle Solera (1815–1878) was a professional librettist and, early in his career, a composer of moderate success. He also provided Verdi with the librettos for his first opera, Oberto, and the subsequent I Lombardi, Giovanna d'Arco, and Attila.
PRODUCTION
Elijah Moshinsky
COSTUME DESIGNER
Andreane Neofitou
LIGHTING DESIGNER
Howard Harrison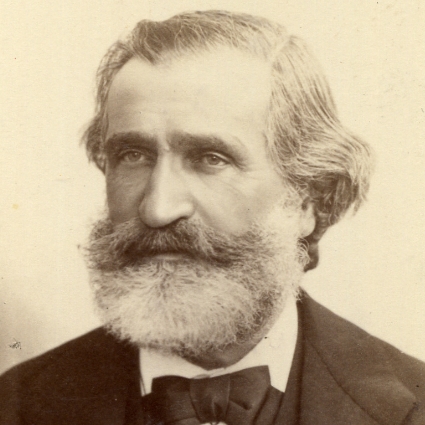 Setting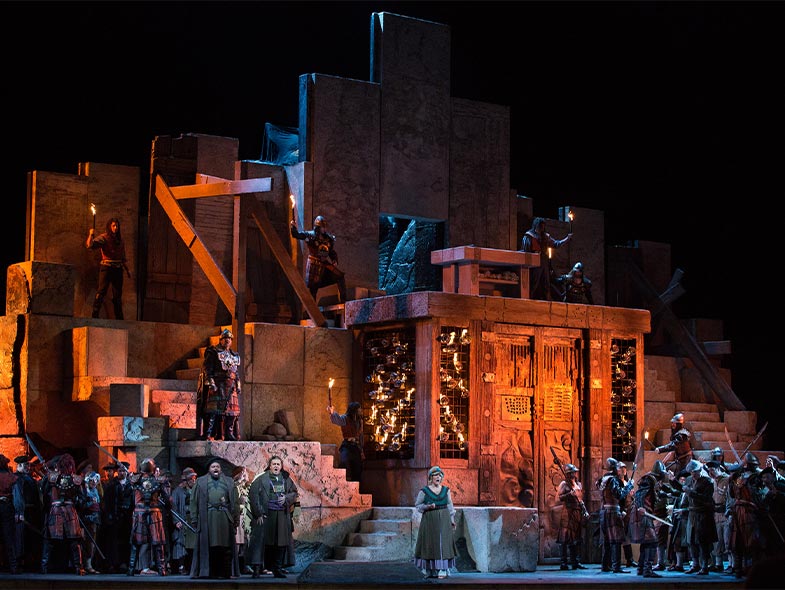 Solera's libretto takes some liberties with biblical history, and the characters other than the title role are dramatic inventions. But the story as a whole stays close to events as they are related in Jewish scriptures: primarily Jeremiah, as well as 2 Kings, 2 Chronicles, Daniel, and the Psalms. The first part takes place around the destruction of the first temple in Jerusalem in 586 BCE, with the remainder of the opera set in various locations in the city of Babylon.
Music
Nabucco's score, with its contrasts of the dynamic and the serene, provides an ideal frame for the personal and communal aspects of the drama. The chorus is assigned a major role, giving voice to a wide spectrum of feelings, from terror at the beginning to despair, faith, and finally bright hope. Rather than depicting a character that goes mad, as in so many other operas, Abigaille's music reflects a personality that embodies madness through sheer malice. The opera contains a brief mad scene for the title character, but Verdi gives more emphasis to Nabucco's return to sanity in his poignant Act IV aria "Dio di Giuda." The supreme example of operatic prayer, of course, is found in "Va, pensiero." The simplicity of the choral melody and the unity of the vocal line perfectly encapsulate the communal sentiment.